Defensive gems help Blue Jays in clincher
Pillar, Goins, Donaldson make great plays in ALDS Game 5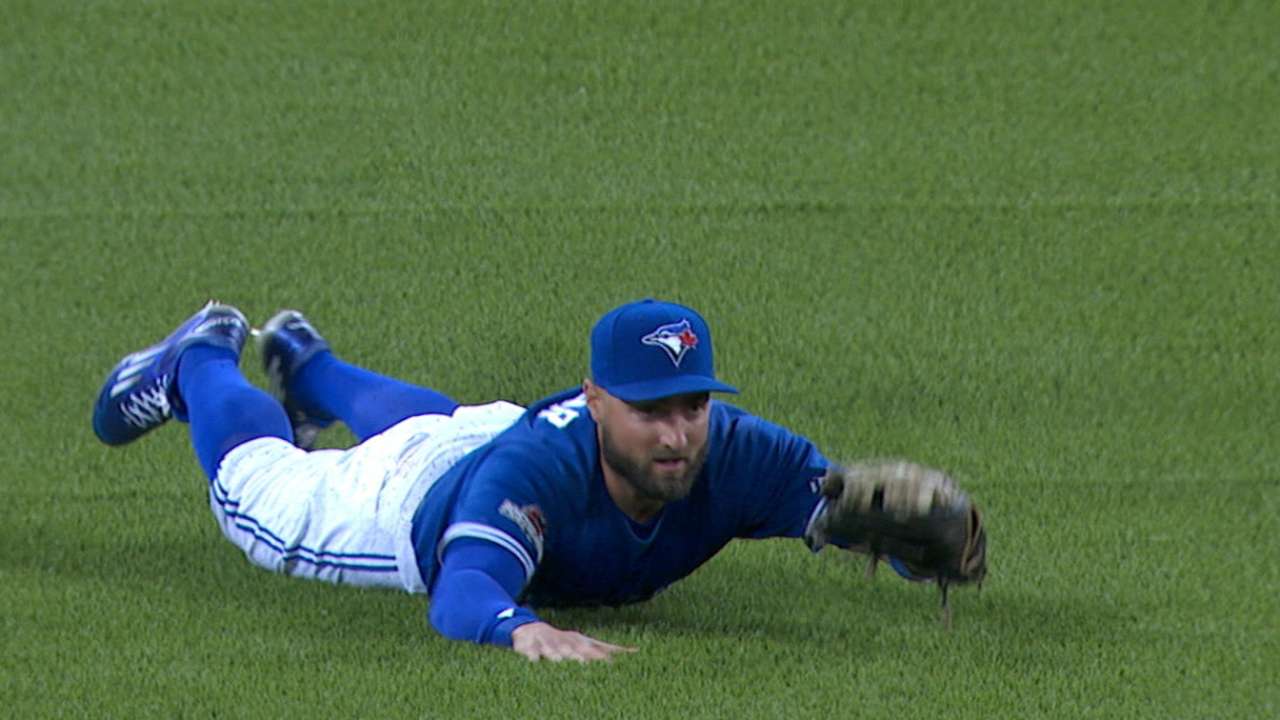 TORONTO -- The Blue Jays rallied to win Game 5 of their American League Division Series with help from Rangers miscues. But it took some good defensive play to put them in position, from a Josh Donaldson barehand catch and throw to a Kevin Pillar diving catch.
Add in a run-saving stop by Ryan Goins in what was then a tie game, and the Blue Jays had a case that they defended their way to a 6-3 win, despite Russell Martin's bizarre throwing error that scored a go-ahead run. Toronto advanced to the AL Championship Series against the Royals, starting Friday in Kansas City (7:30 p.m. ET, FOX/Sportsnet).
"Personally, I haven't been able to make it to this next step that we're about to reach," Donaldson said while celebrating after the victory, "and I'm very excited to be a part of that. Our team is just amazing."
• Shop for Blue Jays postseason gear
The first gem came from Pillar, who has made more than his share of highlight plays on the Blue Jays' run to the postseason. Instead of crashing into the fences, however, he had to go sprinting toward shortstop on Josh Hamilton's shallow fly ball leading off the fourth.
Pillar went full speed and dove to reach the ball. His slide along the turf left a mark that could still be seen after the game. According to Statcast™, Pillar covered 94.26 feet with a top speed of 21.1 mph and a route efficiency of 94.8 percent.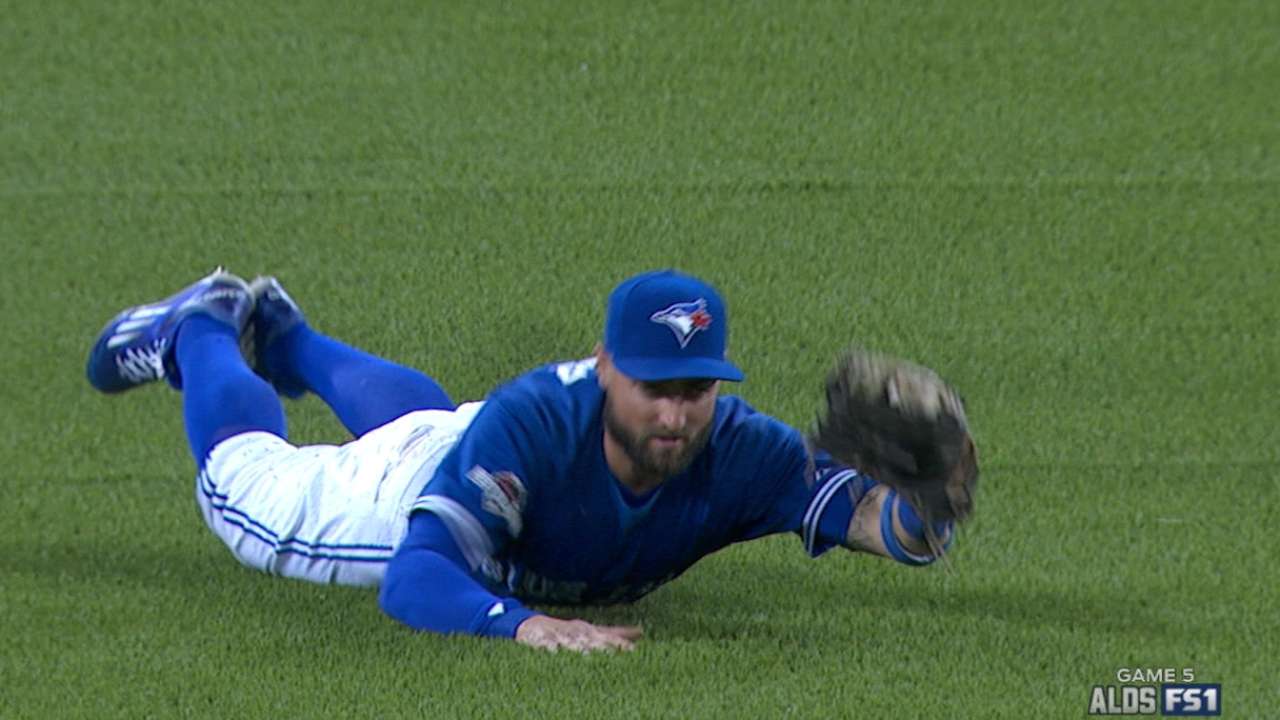 Two innings later, Hamilton was on second base with a two-out double and on the move with a 3-2 pitch. Elvis Andrus hit a comebacker that hopped off the mound and past Marcus Stroman, seemingly headed toward center field. Goins ranged up the middle and slid, catching the ball off the hop, and fired to first to end the threat.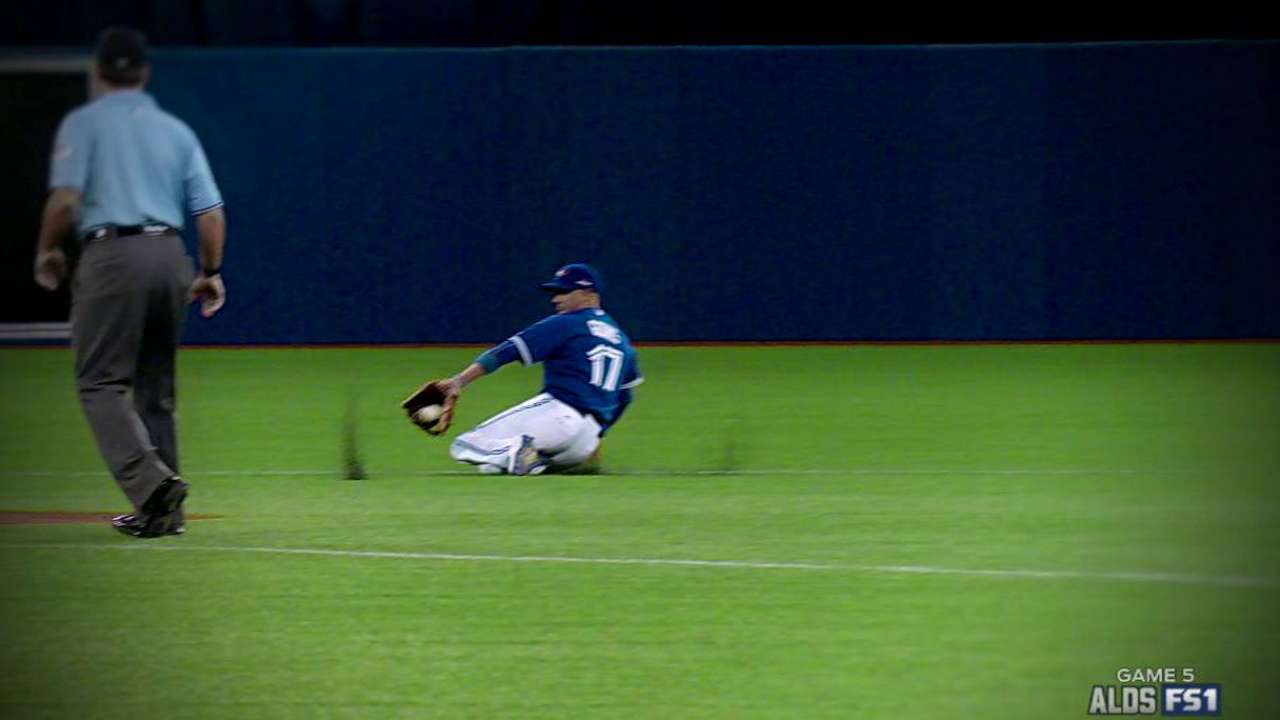 Texas put the potential go-ahead run back on second in the next inning for Delino DeShields, who hit a soft chopper to the third-base side of the mound. Donaldson raced across shortstop after it, then made a barehanded grab behind his body to stay in stride for a throw to first. Rougned Odor advanced to third, setting up the crazy play from Martin, but the infield had done its part.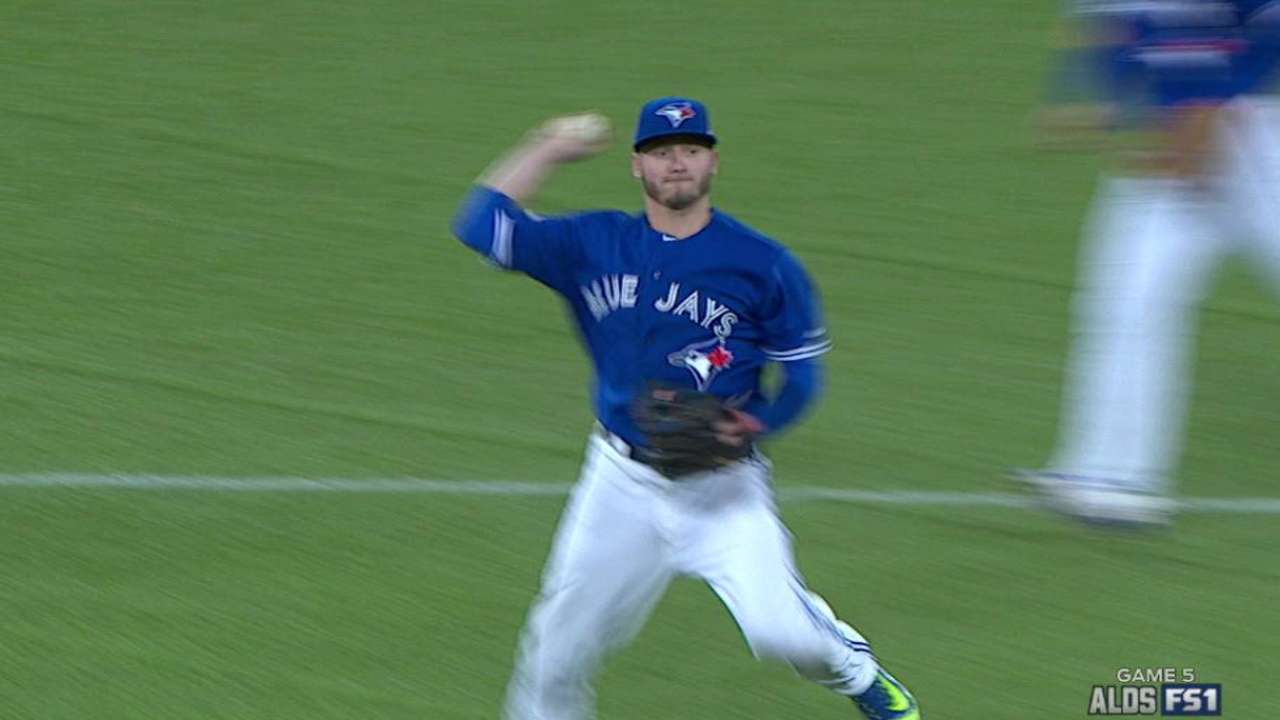 Jason Beck is a reporter for MLB.com. Read Beck's Blog, follow him on Twitter @beckjason and listen to his podcast. This story was not subject to the approval of Major League Baseball or its clubs.