MLB.com Columnist
Phil Rogers
Cubs hope Russell's back up the middle in NLCS
Rookie has earned starting shortstop role in 2015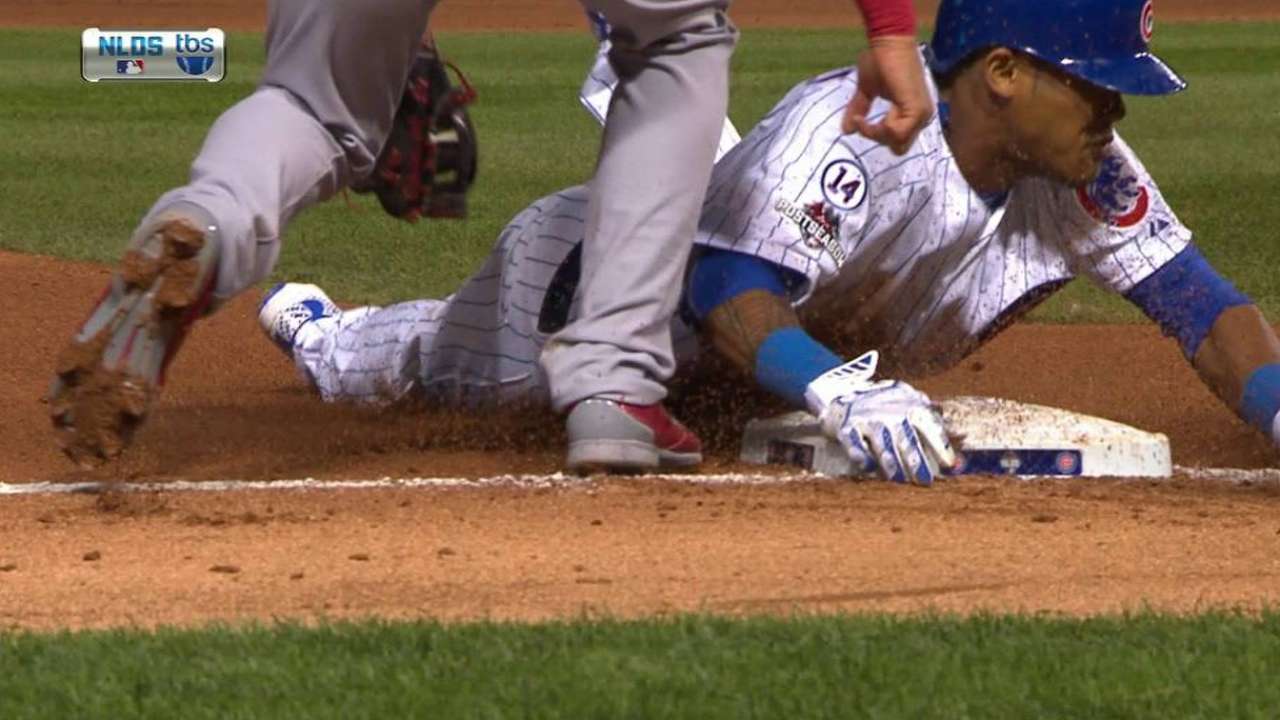 CHICAGO -- One way or another, the Cubs will feel good about themselves when they step on the field to face the Dodgers or the Mets in the National League Championship Series, beginning Saturday.
They would be fine to play with their backup shortstop, Javier Baez, in the middle of their infield. But 21-year-old Addison Russell is the guy who has earned the chance to be introduced with manager Joe Maddon's starting lineup.
• Dress for the NLCS with Cubs gear
It would be a real shame if the left hamstring he strained on Monday kept him off the NLCS roster.
"Right now it's just day to day,'' Russell said after the Game 4 NL Division Series clincher, standing on the Wrigley Field infield, appearing clear-eyed and calm. "I'm going to rest up tonight, come back [Wednesday], see where we're at. We have two, three days to rest. That's good. Then we'll go from there.''
Russell was asked if he expected to be on the NLCS roster even if he isn't 100 percent.
"I'm not sure,'' Russell said. "I want to be on it and be 100 percent.''
That would be the best-case scenario for everyone. But it seems likely that Russell will present president of baseball operations Theo Epstein and Maddon with a difficult decision to make on Saturday, when they submit their 25-man roster for the NLCS.
If they include Russell and he aggravates the strained hamstring, they would probably lose him for the World Series, if they can get that far.
Players who are injured during a postseason series can be replaced during that round but then are ineligible to play in the next series. The Cubs will have to weigh Russell's presence versus the time it would take for him to fully heal, which could allow him to play at his highest level in the World Series.
Baez, a first-round pick in 2011, hit 37 home runs in the Minor Leagues two years ago but suffered through a difficult '15 season due to the death of his sister and a broken finger. He worked hard to shorten the swing that led to a flurry of strikeouts but didn't join the Cubs until September. Baez started at shortstop only six times for the Cubs, including Game 4 of the NLDS. He's been anything but overmatched, as he showed by flicking his wrists to deliver a three-run, opposite-field home run into the right-field bleachers off John Lackey.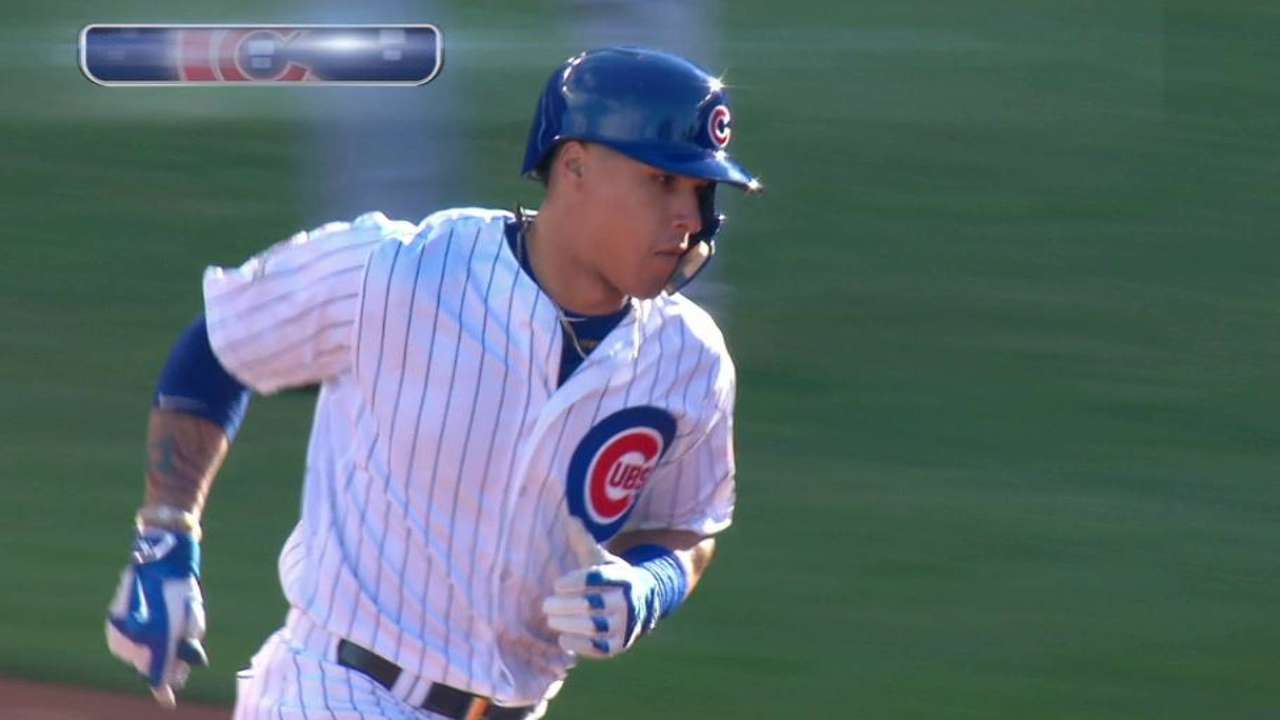 Yet there will be no shortstop controversy for the Cubs.
Russell may not seem as dynamic as some of his fellow rookies, Kris Bryant and Kyle Schwarber in particular, but his team is 43-18 since Aug. 6, when Maddon finally benched Starlin Castro to shift Russell over from second base to short, his natural position. Russell generated 2.9 fWAR overall -- fifth among Cub position players -- and ranked fifth in the Major Leagues with 10 Defensive Runs Saved at short, even though he played second base for four months.
The move to the left side of the bag had seemed inevitable for months given how Epstein values fielding up the middle, but Maddon gave Castro four months to hang onto the job that had been his since 2010. Russell, a former first-round pick who Epstein acquired from the A's in a trade for Jeff Samardzija, is as sure-handed as Castro has been inconsistent, and that became impossible to ignore.
Russell had committed only two errors in 47 games for Double-A Tennessee in 2014 and opened Maddon's eyes with his understanding of how to play shortstop during Spring Training.
"I remember walking down to the back field in Spring Training, seeing him for the first time pick up balls, and [afterward] I walked over and asked him, 'Who taught you that?'" Maddon said. "Because it was very simple, precise, [like the] Spalding guide to picking up a ground ball and throwing it to first base. That's what I saw. No chrome attached, no wasted movement. He told me some guy, might have been a high school coach or a coach from where he was from, had showed him how to do that, which was spectacular, because it is right."
Russell made one of the signature plays of the Cubs' late-season run to 97 victories, diving to his left to turn a Stephen Piscotty single into a game-ending double play against the Cardinals on Sept. 19. Bryant called it one of the best plays he's ever seen, while Anthony Rizzo termed it "the play of the year.''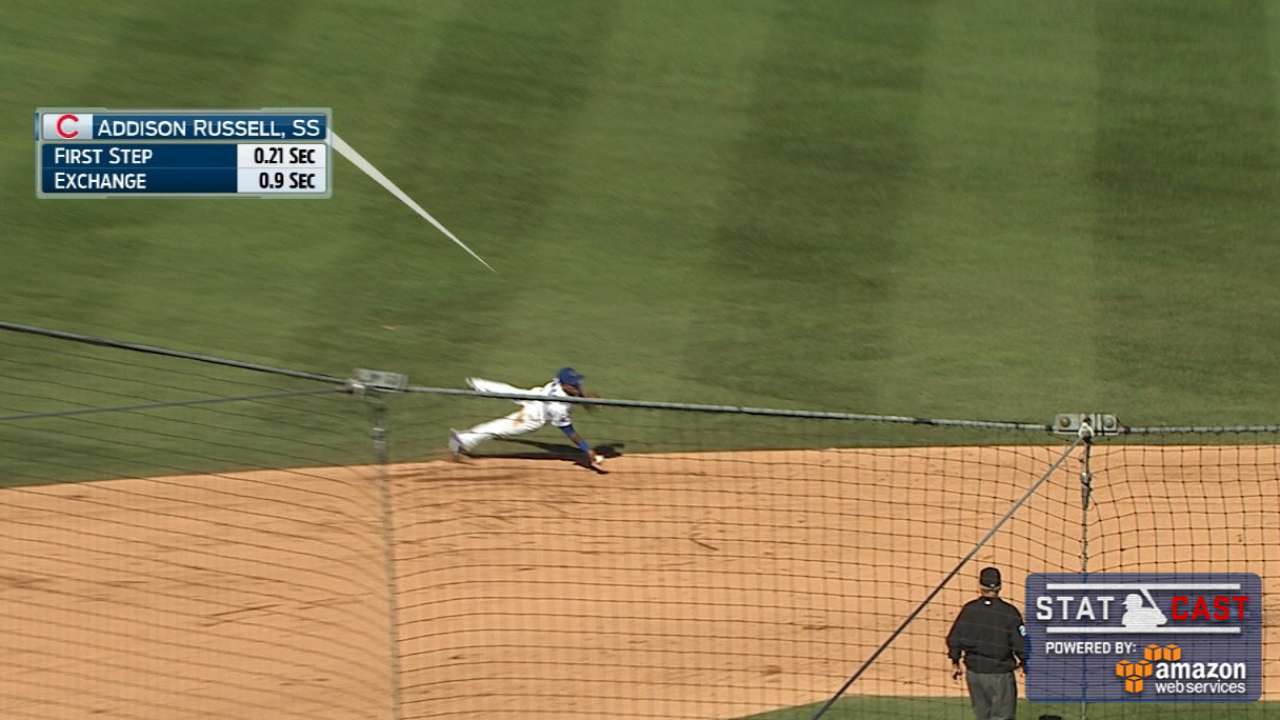 Maddon credited Russell for willing the ball into his glove. To the manager, it showed Russell's constant state of alertness. "That would be just anticipation, being in the moment, just totally being focused, not worrying about an at-bat or anything else that happened over the last 24 hours,'' Maddon said. "He was just in the moment, and that was what permitted him to make that play.''
It would be easy for the Cubs to take Russell's mental preparation and confidence for granted but Maddon and his coaches are vigilant in these matters. They pay lots of attention to the state of mind of their young players, and were concerned about Russell before the Wild Card Game against the Pirates.
He didn't seem quite himself in the dugout before the game, the pressure of the moment apparent. There was concern on the bench when Pirates center fielder Andrew McCutchen smoked a grounder at Russell in the sixth inning, and he muffed it, putting runners on first and second for Starling Marte.
The Pirates' cleanup man followed McCutchen's lead, with a bullet on the ground at Russell. This time the rookie knocked it down, picked it up and made an under-handed pitch to start a big double play.
When Russell got back to the bench, he was asked what he had been thinking after making the error.
"I hope this next guy hits the ball to me,'' Russell said. "I wanted the ball hit to me again.''
That's the way perennial All-Stars think, not rookies. But it's the prevailing attitude among the young Cubs, who are kids in age alone.
"We get the question, 'Do you feel like rookies?' " Russell said. "We kind of don't. Because we feel like we've been experienced coming up, especially being put on this stage, in this limelight, being able to deliver. I think that speaks a lot.''
When Russell counts his blessings, he includes the day that the A's traded him to the Cubs.
"It's been awesome,'' Russell said. "Just to be able to see these [other talented, young] guys walk into the clubhouse, knowing who they are, what their potential is. You know they're clutch, they've got a good work ethic and they're good people. In the clubhouse, it's been amazing. Also on the field, it's been even better. It's a great group of guys. I can't wait to just grow up with them.''
Phil Rogers is a columnist for MLB.com. This story was not subject to the approval of Major League Baseball or its clubs.