MLB.com Columnist
Lyle Spencer
Five things Dodgers need to do to take NLDS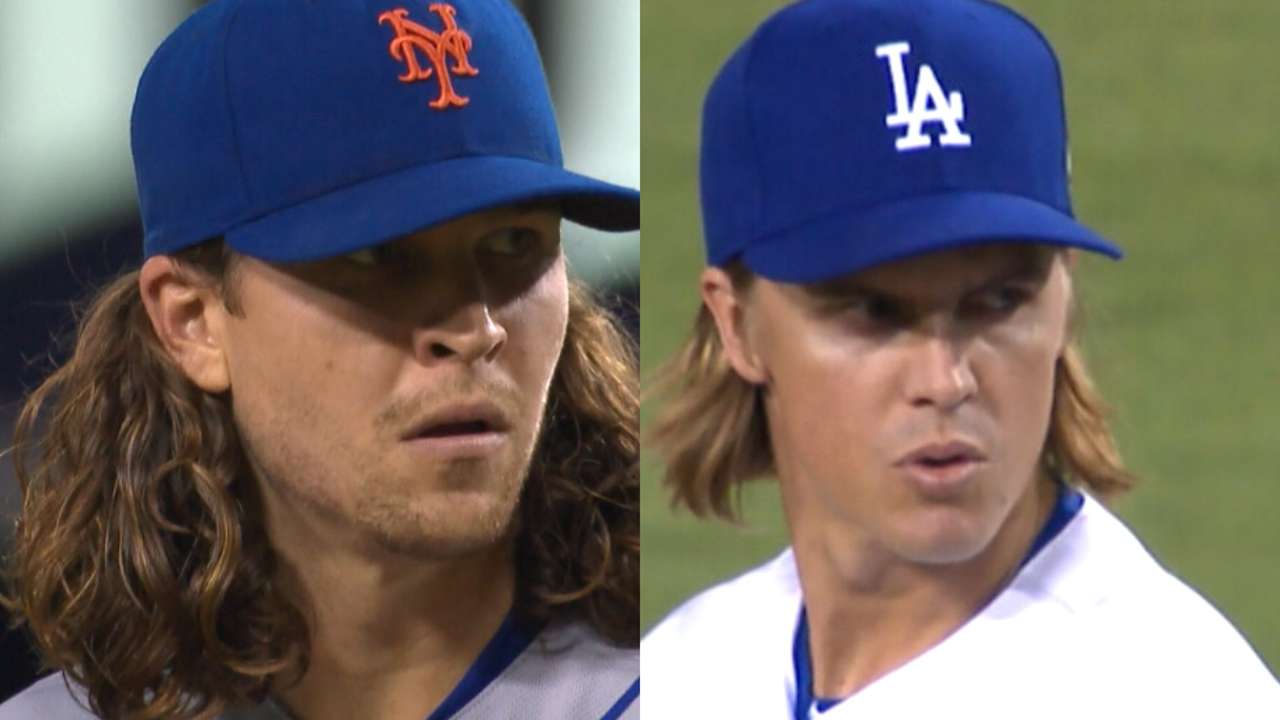 LOS ANGELES -- Here are five things the Dodgers need to do in order to seize Game 5 of the National League Division Series from the Mets on Thursday at 8 p.m. ET (TBS) at Dodger Stadium and move on to engage the Cubs in the NL Championship Series:
1. Produce a standard Zack Greinke work of art
No pitcher has been as consistently excellent this season as Greinke with his 1.66 ERA, the Majors' best in 20 years. If Greinke, facing Jacob deGrom, can navigate eight innings yielding his norm, 1.5 runs, the Dodgers should be in decent shape. Oh, right, not even he can hold a team to half a run. How about seven innings and one run?
Greinke gave up a pair of second-inning rockets in Game 2 to Yoenis Cespedes and Michael Conforto, and two singles after that, in seven innings. But Noah Syndergaard was just as good. Claiming a 5-2 decision, the Dodgers finally broke through against the Mets' bullpen -- and there was the Chase Utley maneuver at second base you may have heard about that played a role.
• Shop for Dodgers postseason gear
Utley made it safely out of New York along with his team, thanks to Clayton Kershaw. The great lefty hopefully can put to rest all that seventh-inning postseason spookiness now. Actually, it was one very bad seventh in 2013 and one unlucky one, with one bad pitch, in 2014, both against the Cardinals.
Snuffing the Mets in the seventh at Citi Field in Game 4, Kershaw put the ball in Greinke's right hand for the showdown. Nobody is as great as Kershaw, but Greinke is close.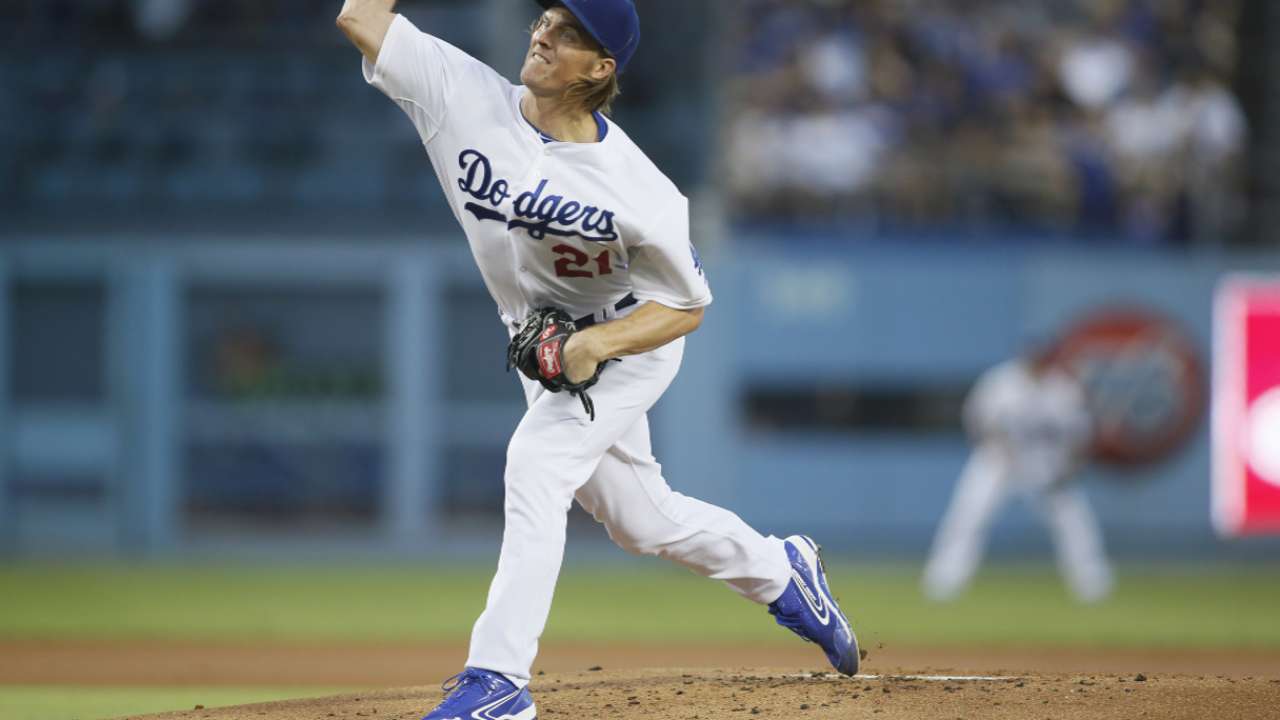 2. Attack deGrom early in counts
It might seem counterintuitive, given the emphasis on driving up pitch counts and getting into the bullpen, but the Dodgers need to come after deGrom. He produced 13 strikeouts in seven scoreless innings in Game 1, taking a 3-1 decision from Kershaw. It's hard to score when you're walking back to the dugout.
Against a strike-thrower like deGrom with his 95-98 mph heat, getting behind in counts is the recipe for a K. Hitters should approach him as they do Kershaw. If he unleashes a first pitch in your zone, take your best hack. It might be the last hittable pitch you see.
Opponents this season hit .305 and slugged .451 with first pitches in play against deGrom - compared to .195 and .284, respectively, after falling behind 0-1 in counts. Seven of the 16 home runs deGrom yielded came when or after hitters swung at first pitches.
This postseason has been a theme park of long balls, many launched on first or second pitches. It's a good plan. Attack first and think about working counts later.
3. Contain Curtis Granderson and Cespedes
The Mets have weapons around them -- David Wright, Daniel Murphy, Lucas Duda -- but Granderson and Cespedes are most dangerous: Granderson as a catalyst leading off, Cespedes with his muscle to launch balls beyond walls and speed to score from first on a double.
Granderson, enjoying a terrific series, singled twice in three at-bats against Greinke in Game 2. Cespedes hammered a Greinke fastball the other way for a lead, followed by Conforto's missile, which Syndergaard protected into the seventh.
Duda, who grew up about an hour from Dodger Stadium in Riverside, has struggled making contact in this series, but handle with care. He's a classic power hitter. He can launch anything straying into his happy zone.
4. Stick with Chris Hatcher, Luis Avilan, J.P. Howell setting up
There will be a clamor to bring Kershaw dramatically out of the 'pen, a la Orel Hershiser in 1988, but that was a once-a-lifetime experience. It's too risky.
The Dodgers finally seem to have that shaky bridge in front of Kenley Jansen capably staffed with lefty specialists Avilan and Howell fronting Hatcher. Since Sept. 5, Hatcher has yielded one run on six hits and four walks, striking out 17, in 15 appearances across 13 innings. He's firing in the high 90s in the series, with no runs, one walk and four K's in 2 2/3 innings.
5. Go with Kiké Hernandez and A.J. Ellis
Hernandez is the jump-starting energy source the Dodgers need leading off and playing center field. He fearlessly makes things happen.
Yasmani Grandal, the catcher of the future, has handled three-fourths of Greinke's starts. But Ellis is a take-charge presence with the Majors' best catchers' ERA (3.31) since 2008. He is working on a franchise-record 12-game postseason hitting streak and has a 1.085 postseason OPS (.373 batting average) in 60 plate appearances. Grandal has had one hit in eight postseason at-bats, a two-run single in Game 3.
The catchers' numbers with Greinke this year are virtually identical: 1.64 ERA with Grandal, 1.72 with Ellis. If Greinke feels strongly about Grandal, who provides a lefty bat against deGrom, go with him. If not, play Ellis, the more experienced, hotter hand.
Lyle Spencer is a national reporter and columnist for MLB.com. Follow him on Twitter @LyleMSpencer. This story was not subject to the approval of Major League Baseball or its clubs.