Rangers proud, ready for more in 2016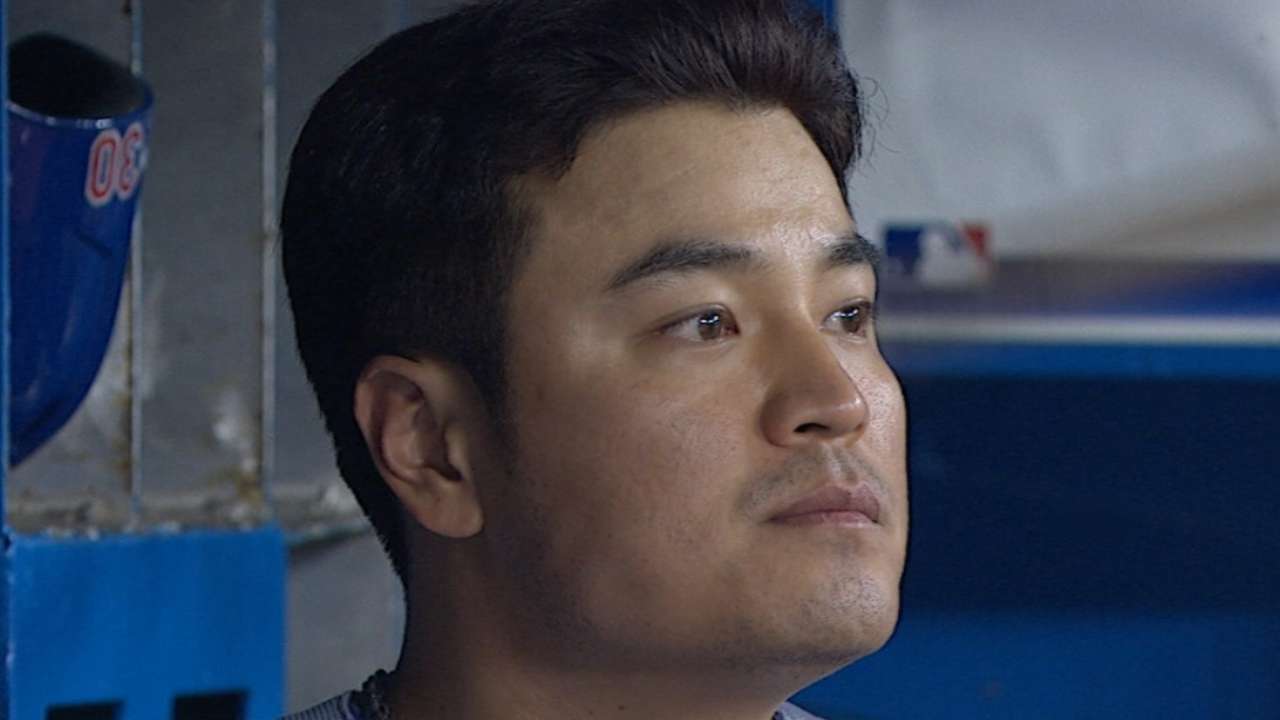 TORONTO -- The Rangers are going to have a hard time absorbing this one. They just needed one victory in three tries to advance to the American League Championship Series, and they were nine outs away in Game 5 against the Blue Jays on Wednesday night.
It didn't happen. Despite winning the first two games of the AL Division Series in Toronto, the Rangers couldn't win one more in Arlington, and then let a late 3-2 lead in Game 5 slip away in a 6-3 loss to the Blue Jays at Rogers Centre.
Their season is over. But manager Jeff Banister made it clear that what happened in the end will not diminish what the Rangers accomplished in 2015.
"Here's what I told our guys: Where we started in Spring Training, the entire baseball world had us, I think, picked 27th, I believe," Banister said. "One inning in a set of three games will not define our season. We don't get to go where we believe we can go. I don't know that I've ever been around a group of guys that are grittier, have more resilience, love to play the game, and show up every single day to play this great game, and to play it the way that they have played it all year long.
"We are not a perfect ballclub, by any stretch of the imagination, but what we do is we go out and play hard every single day. We won the American League West when nobody thought we would do anything. I'm most proud of how those guys played all year long, and how they showed up. One game, one inning, a set of three, will not define what this group of guys were capable of doing this year."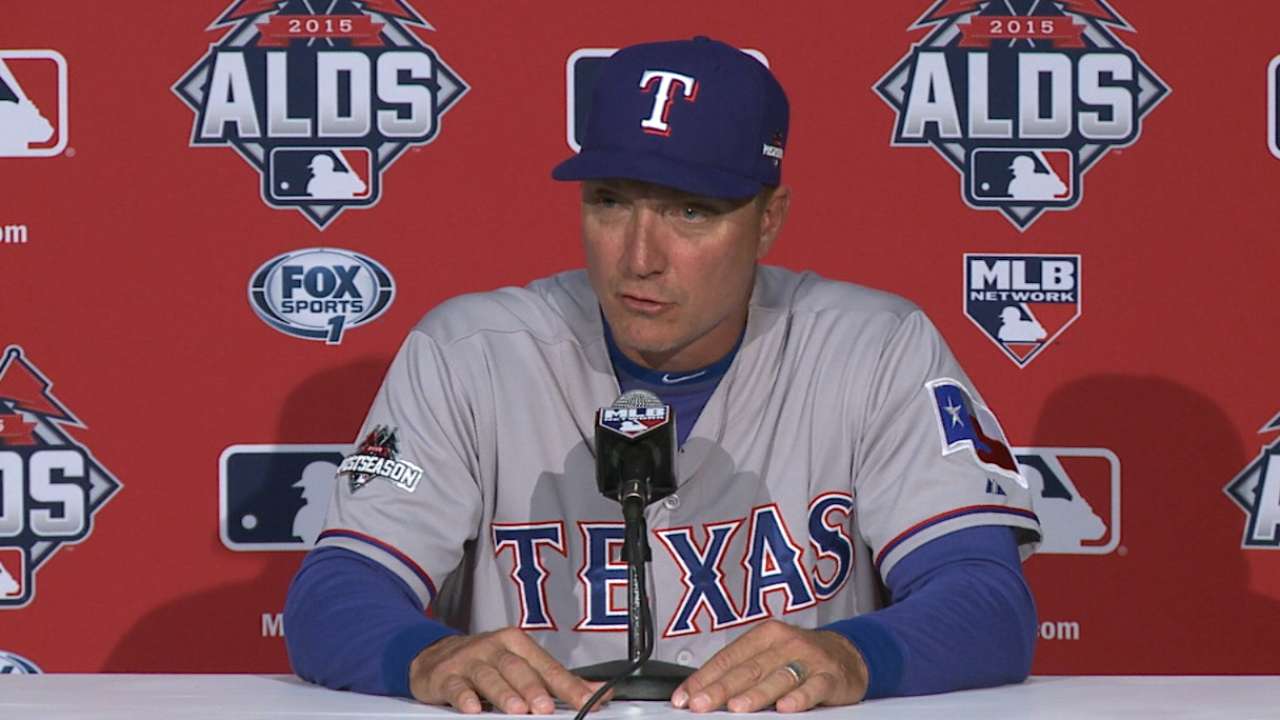 The Rangers were 67-95 in 2014 and came back to win the sixth division title in club history with an 88-74 mark.
"The toughest part is our season being over and I don't get to keep playing baseball with these guys," first baseman Mitch Moreland said. "It's an unbelievable group, something we can look forward going into the offseason with and take into next year."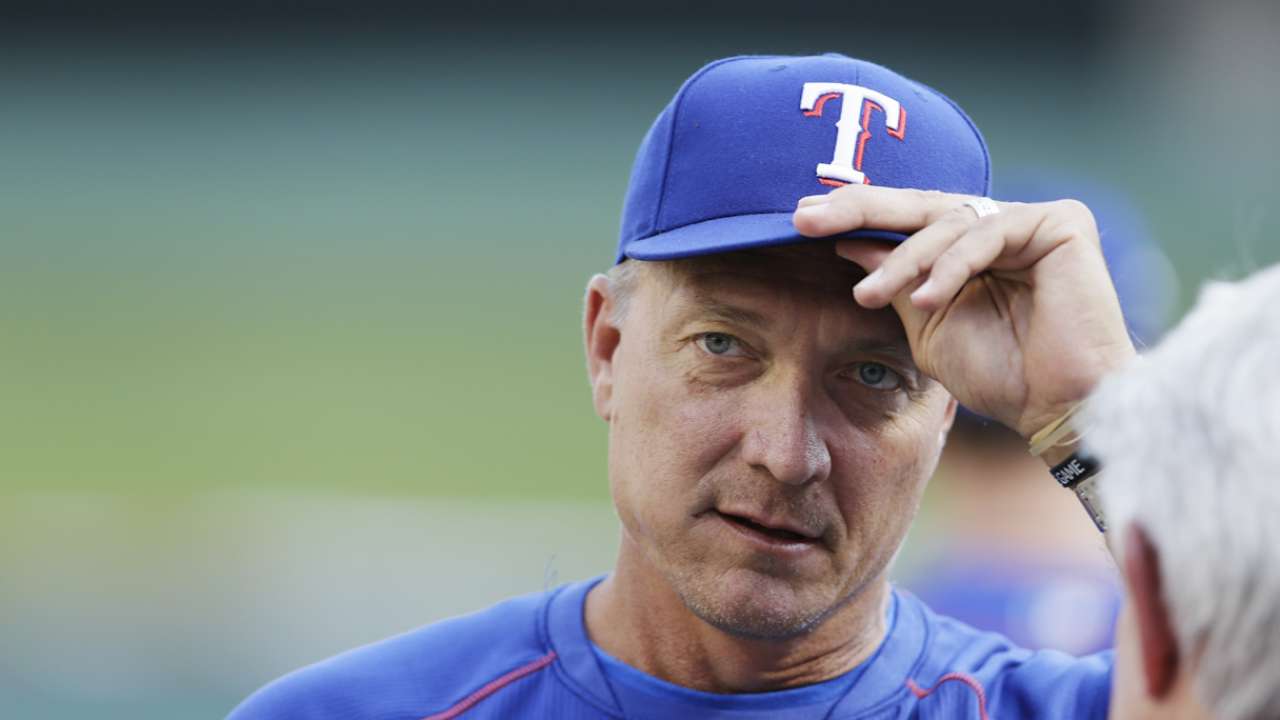 "What a year, from the beginning in Spring Training," outfielder Delino DeShields said. "Of course we wanted to advance and continue our season, but to be at the point where we ended up at, I think it's huge to build going into the offseason and getting ready for next season. We've got a goal on our mind, even though this is the end of the year. This is going to hurt for a while, but I think it's going to motivate everybody to come back ready and be more prepared than ever."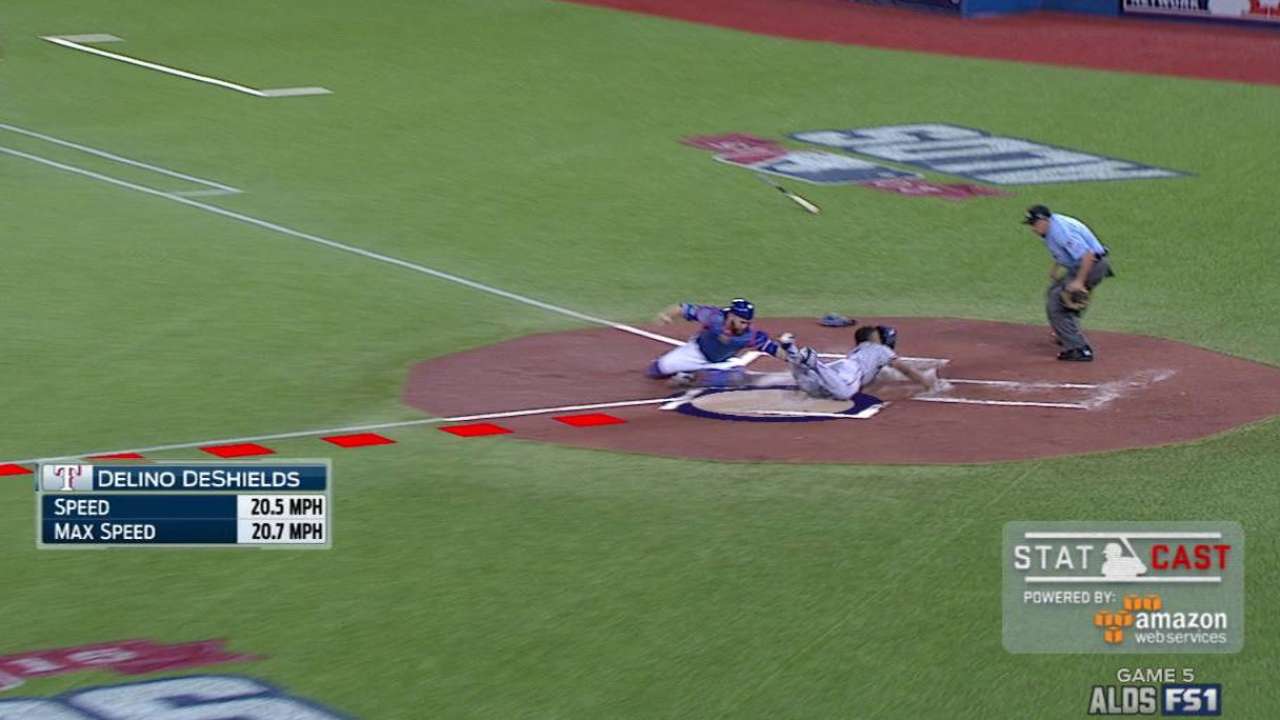 The Rangers have reason to look forward to next season. If everybody is healthy, there is not much work to be done in the offseason. The most significant free agents are starters Colby Lewis and Yovani Gallardo, so the Rangers will have to address their starting rotation.
But they can build around Cole Hamels, Derek Holland and Martin Perez while looking forward to the return of Yu Darvish from Tommy John elbow reconstruction surgery. They will likely try to re-sign Lewis, and they will almost assuredly at least extend a qualifying offer, reportedly set for approximately $15.8 million, to Gallardo.
Bench players Mike Napoli, Will Venable and Drew Stubbs are all free agents, but the starting lineup, including catchers Robinson Chirinos and Chris Gimenez, are under control for next season. Ross Ohlendorf is the only free agent in the Rangers' bullpen.
"We've got some exceptional talent, great young rookies and some good veteran leadership," Hamels said, "so I think being able to look forward to next year, having Yu back, we'll have a full, healthy [Adrian Beltre] back, what's there not to like?
"I think that's something that we're really excited about. To have guys that are healthy that are huge parts of this team and big parts in baseball, it's going to be fun to partner up with them and see what we can do next year."
T.R. Sullivan is a reporter for MLB.com. Read his blog, Postcards from Elysian Fields, follow him on Twitter @Sullivan_Ranger and listen to his podcast. This story was not subject to the approval of Major League Baseball or its clubs.