Lindor on next season: 'I want to wear a ring'
Cleveland's ROY contender is watching the playoffs -- and getting motivated for the future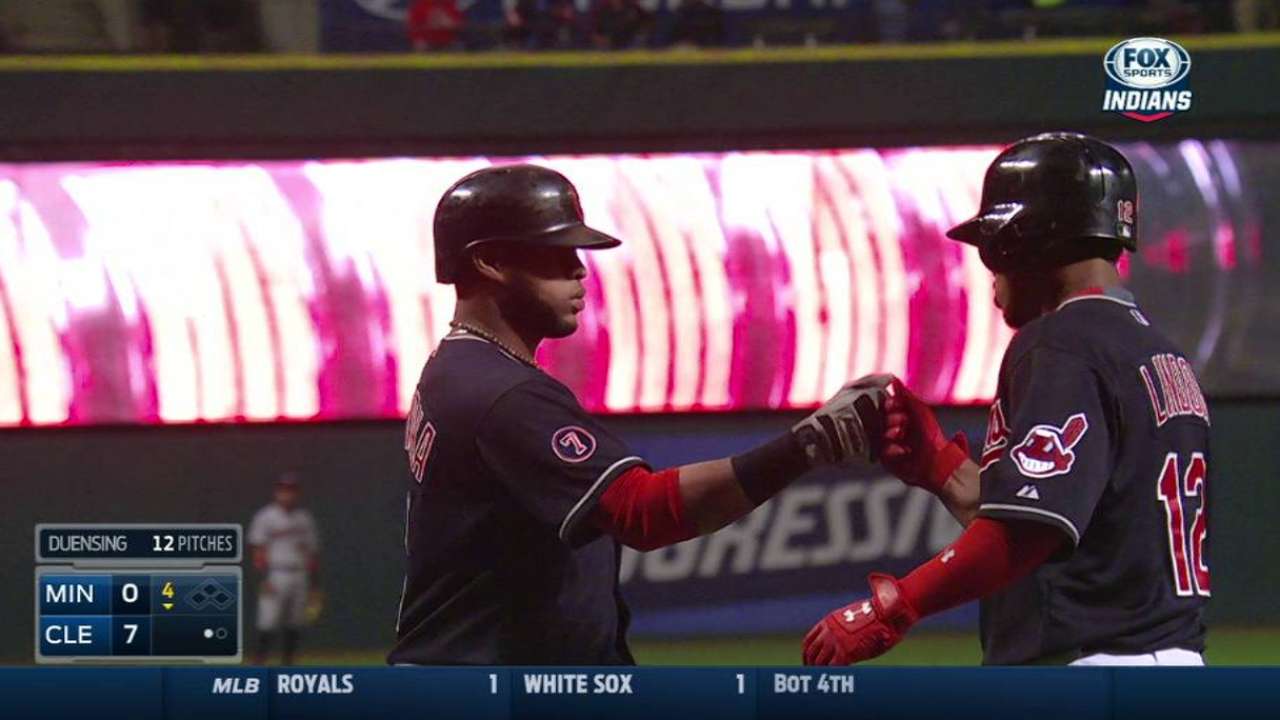 NEW YORK -- It was the bottom of the eighth inning at Citi Field on Tuesday night, and Kenley Jansen came out of the Dodgers' bullpen to protect Clayton Kershaw's 3-1 lead with two out and Curtis Granderson on first. Granderson stole second and David Wright walked.
Francisco Lindor, the Indians' American League Rookie of the Year contender, was in the crowd of 44,183 fans. He was surrounded by the kind of electricity you can only truly sense by being there. Mets fans were starving for this moment, and they were as loud as LaGuardia. Then there was a coaching visit to the mound, a payoff pitch to Daniel Murphy and a catch by Yasiel Puig in right to end the threat.
In that moment, taking it all in, Lindor saw his version of the future. On the one hand, he said that watching this postseason firsthand as a spectator is "upsetting," but on the other, he sees it as a theater where he must play a role -- and Cleveland must be front-and-center.
Looking sharp, @Lindor12BC. pic.twitter.com/tl7ZLVSQKC

— MLB (@MLB) October 14, 2015
"That eighth inning was popping -- it was amazing," Lindor said during a visit Wednesday to the MLB.com headquarters in Manhattan. "It's kind of like the first taste of not playing. I've never been to a playoff game, so it was cool seeing that. Hopefully it happens a lot in the years to come in Cleveland.
"I want to be in the ALCS. I want to be in the World Series. I want to win the World Series. That's ultimately what I play for. I play to try to bring a championship to the city of Cleveland, and I want to wear a ring. That's what I want. I want to continue to get better to help my team win, and I want to be part of a winning team.
"My message to Indians fans right now is, enjoy it, watch the games, have fun. We'll be there. We'll have our time where we are playing in the playoffs. We're going to be winning series and hopefully win a championship. That's my goal, that's everybody's goal on the team, and as a city, that's going to be our goal. Everybody is going to pull in the same direction, and it's going to be a special thing like the Cubs have right now. It's going to be a beautiful moment and we are going to enjoy it. Just keep on believing."
The 2015 Indians were eliminated from AL Wild Card contention on the last Wednesday of the regular season. In each of the last three seasons, they have entered at least Game 157 in possession of or in contention for a postseason spot.
But this was the first year they had Lindor, at least since his June 14 call-up. The shortstop from Puerto Rico batted .313 with 12 home runs, 51 RBIs, 50 runs, 12 stolen bases and an .835 OPS -- to speak nothing of the upgrade he brought the club on defense. His 122 hits were third-most in the AL since his call-up, and it's possible he might come back to New York during the winter to pick up a Rookie of the Year trophy.
People commonly debate whether he or Astros shortstop Carlos Correa will win that close AL race. Lindor also is a nominee for Best Rookie in the Esurance MLB Awards, in which fans can vote at MLB.com/awards, with no league differentiation. As for himself, Lindor is leaving that chatter to others and recharging, while focused on being part of what he is watching now.
"It's an honor to be mentioned that way, and it's a blessing to be even mentioned for the Rookie of the Year Award," he said. "I'm doing my thing, I'm enjoying my offseason, I'm enjoying my family and my time off. Watching them play, in a way I'm happy but in a way it's a little upsetting, because I want to be there. I want the Indians to be playing right now instead of us sitting on the couch watching them."
This postseason has been typical of the entire season, in that the greatest crop of 25-and-under talent in Major League history is having a major impact. Watching his good friend Javier Baez participate in the longball explosion at Wrigley Field, Lindor is only further determined.
"It's awesome. It's what you want," Lindor said. "You want the younger guys to come out and have a big impact in the game, and that way the game continues to grow and get better. I'm happy for them, I'm happy for [Kris] Bryant, [Kyle] Schwarber, Baez, Correa, [Noah] Syndergaard, [Steven] Matz, [Corey] Seager ... there are a lot of young players coming through that I either played against or played with. It's pretty cool seeing them play in the field, I wish them nothing but the best."
Lindor faced 158 Major League pitchers this season, building a loves-to-face library that includes Chris Sale (4-for-11) and Jeff Samardzija (5-for-7). He somehow missed Chris Archer during six games against Tampa Bay in his first month in The Show, but they connected on Wednesday.
While doing a Twitter chat on @MLB during his visit, Lindor was tweeted a question by Archer, who was posing a question from Taiwan.
"Who was your favorite player growing up?" Archer asked.
"Roberto Alomar," Lindor replied. "And what's up!"
Lindor said during his visit that he would especially savor the chance to face an elite pitcher like Kershaw. He sees it as a way to keep getting better, and already knows what the key challenge would be there: "He changes your eye level." Lindor also said he has found that "once a pitcher owns you, he owns you. They know it and you can't change it."
As for his own 2015 season, Lindor said it was "OK, because I helped the team win," but he again brought up the final standings.
"I helped the team win, but I think I can do a lot more to help my team win," he said. "I want to impact my team in a bigger aspect so we can make it to the playoffs. It's not only going to take me, it's going to take all the guys that we have.
"That chemistry we had at the end of the year was unbelievable. I got to know everybody because they were already up there. That chemistry we already had, we made it stronger, so hopefully for next year it's even more powerful."
Mark Newman is enterprise editor of MLB.com. Read and join other baseball fans on his MLB.com community blog. This story was not subject to the approval of Major League Baseball or its clubs.