3 keys for Mets to beat Dodgers in Game 5
deGrom, Duda breaking out of slump, deep roster pivotal for New York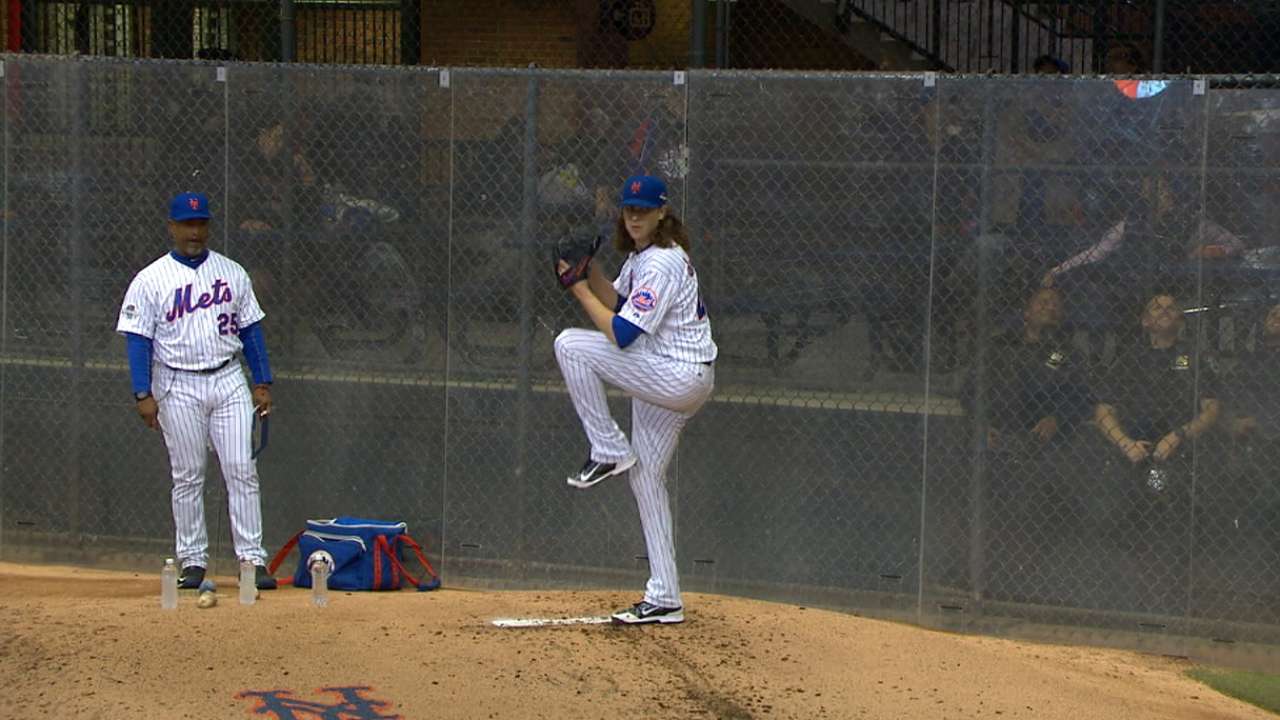 NEW YORK -- National League Division Series Game 5 looms for the Mets after a 3-1 loss to the Dodgers in Game 4 on Tuesday, and their best season in nine years has come down to nine innings of winner-take-all baseball.
Not much has differentiated these two clubs over the first four games of this series, both of them featuring standout starting pitching, a few offensive bright spots and shaky middle relief. Now the margin for error for both clubs is zero, with Jacob deGrom and Zack Greinke set to square off in Game 5 on Thursday (8 p.m. ET, TBS).
• Shop for Mets postseason gear
Here are three keys for the Mets in their most important game since 2006:
1. Vintage deGrom
The most important Mets player in Game 5 will be deGrom, who delivered the most impactful start of his career in a Game 1 victory, striking out 13 over seven scoreless innings. If deGrom can repeat his efforts, it won't much matter what Greinke does for the Dodgers. A battle of the bullpens favors the Mets on paper, so for deGrom, matching Greinke is of paramount importance.
Though deGrom was certainly brilliant in Game 1, he did need 121 pitches -- one short of his career high -- to complete seven innings. Increased efficiency could allow him to pitch into the eighth or even the ninth, giving him an advantage over Greinke, who is notorious for tiring late in games and has never thrown more than 110 pitches in a postseason start.
2. Dude, where's my power threat?
One of the few Mets to have had success against Greinke is Lucas Duda, who has been missing in action for most of the NLDS. Duda's 0-for-4 performance in Game 4 dropped him to 2-for-15 with nine strikeouts in the series. In Duda's defense, most of those plate appearances have come against left-handed starters. But Duda was also 0-for-3 against the right-handed Greinke in Game 2, batting fifth behind Yoenis Cespedes. If he can come through at the plate, the Mets' lineup will become that much more dangerous.
"It's a must-win game, obviously," Duda said. "You have to stay loose, stay positive and have fun. It'll be a hard-fought game."
• Mets a confident bunch heading into Game 5
3. All hands on deck
Had the Mets held a slim lead in the middle innings of Game 4, manager Terry Collins said, he would have turned to deGrom for three outs. So imagine Collins' options in a win-or-go-home Game 5.
Noah Syndergaard will be on regular rest and should be available for an inning or more. Though Collins insists that Matt Harvey will be unavailable out of the bullpen, Steven Matz could conceivably face a tough left-handed batter in a pinch. And while Jeurys Familia has pitched three times in the series, his overall pitch counts have been extremely low. Expect the Mets' best reliever to be available for as many as six outs if needed.
"It's going to be fun," catcher Travis d'Arnaud said. "This is what baseball's all about. It's going to be a fight in Game 5."
Anthony DiComo is a reporter for MLB.com. Follow him on Twitter @AnthonyDiComo and Facebook, and listen to his podcast. This story was not subject to the approval of Major League Baseball or its clubs.