Smith's bat proves clutch in Fall League win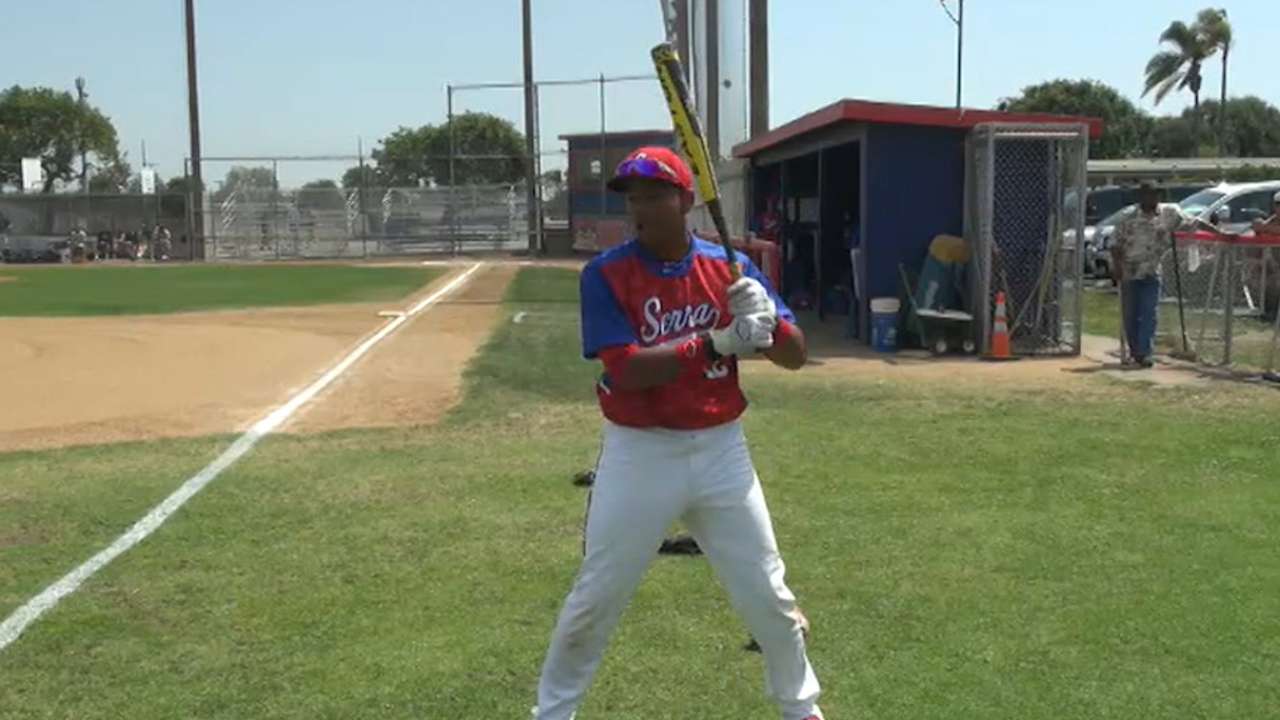 SCOTTSDALE, Ariz. -- Mets prospect Dominic Smith and Blue Jays prospect Rowdy Tellez led the way offensively as the Salt River Rafters topped the Scottsdale Scorpions, 5-3, on Tuesday night.
Smith, the Mets' No. 5 prospect according to MLBpipeline.com, is off to a fast start in the Arizona Fall League as he went 2-for-3 with a walk, two doubles and a run scored.
"It was a good, team win," Smith said. "The boys came out, we were pretty hungry. We felt really good and the guys really set the table for me and Rowdy and we got clutch hits. It's always good when we can come out with the first win of the season."
Tellez, Toronto's No. 7 prospect, hit behind Smith and went 2-for-3 with four RBIs.
"He's a good hitter," Smith said. "Me and him, we talk a lot about hitting. We bounce ideas off of each other and we see how the pitcher pitches each other. We are both similar [as] lefties hitting in middle of order."
Smith was on base all four times Tellez came to the plate and showed an ability to hit the ball to all fields. The 20-year-old first baseman flashed opposite-field power with a double in the first inning, then showed an ability to pull the ball as he led off the fourth with a double down the right-field line.
"I just tried to stay closed," Smith said. "I haven't played a game in over a month and a half so I was really fired up, pumped up, to get out there. It was exciting to get in a game I had a lot of energy, a lot of butterflies, but after my first at-bat I was able to settle in."
Smith, the 11th overall selection in the 2013 Draft, is coming off a strong 2015 season in which he was named the Florida State League MVP.
In 118 games with Class A Advanced St. Lucie, Smith hit .305 with 33 doubles and a league-leading 79 RBIs.
"I just tried to swing at good pitches and when you swing at good pitches, good things tend to happen," Smith said.
While the Mets are likely happy to see Smith's production with the bat, hitting has always been a strength as he was regarded as one of the best hitting prospects in the 2013 Draft.
However, to be a complete player, Smith knows he needs to perform defensively too.
To begin the fifth, Smith made a highlight-reel play, diving to his left to pick up a hard-hit ground ball. But he bobbled a bad throw in the fourth inning when he was unable to make a pick on a ball in the dirt. He wasn't charged with an error as the throw was bad, but felt it was a play he should have made.
"I feel I could be better [defensively]," Smith said. "Players are our own worst critics. You have a good game and still feel like you could do better. Like I said, I haven't played a game in a month, so it was good to get on my feet once again and see balls live off the bat. Hopefully in a few weeks I won't be missing that easy pick."
William Boor is a reporter for MLB.com. Follow him on Twitter at @wboor. This story was not subject to the approval of Major League Baseball or its clubs.