Mets or Dodgers up next for Cubs in NLCS
Chicago will be on the road for first two games of Series
CHICAGO -- The Cubs punched their ticket to their first National League Championship Series since 2003 on Tuesday night, clinching a Division Series victory over the Cardinals with a 6-4 win at Wrigley Field, the first time they've won a postseason series at Wrigley.
The next time they take the field will be Saturday. Where, and against whom? The Cubs will have to wait until tonight to find out.
Game 1 of the NLCS will take place Saturday at 7:30 p.m. ET on TBS, with the Cubs traveling to play in either Los Angeles or New York. Their opponent will be determined in Game 5 of the NLDS between the Mets and Dodgers tonight at 8 p.m. ET (TBS) at Dodger Stadium. The winner gets the Cubs; the loser goes home.
"We want to watch that game. Whoever wins, we've got to play," Cubs second baseman Starlin Castro said. "Play hard and play like we are, and keep winning games."
The Cubs finished the regular season with a better record (97-65) than either the Dodgers (92-70) or Mets (90-72), but division winners hold the home-field advantage over Wild Card entrants, regardless of their records. So NLCS Game 1 on Saturday will be at either Citi Field or Dodger Stadium. The Cubs will host Games 3, 4 and, if necessary, 5 at Wrigley Field on Tuesday through Thursday next week.
Though they wouldn't say so publicly, the Cubs have to be hoping the Mets win Thursday night behind right-hander Jacob deGrom. They went 7-0 against the Mets this season, beating them by a combined score of 27-11.
They swept the Mets in a four-game series at Wrigley Field in mid-May, then swept a three-game set at Citi Field from June 30-July 2.
But the Cubs haven't seen the Mets since their season-changing non-waiver Trade Deadline, when they added outfielder Yoenis Cespedes and bolstered their bullpen with setup man Tyler Clippard. About a month later, veteran third baseman David Wright came off the disabled list.
By comparison, the Cubs lost their season series against the Dodgers, 4-3, and were outscored, 20-12. They split a four-game series at Wrigley Field from June 22-25, then lost two of three at Dodger Stadium in late August.
While the Mets are loaded with young arms and a deep lineup, the Dodgers' one-two punch of Clayton Kershaw and Zack Greinke presents an imposing challenge for any club. Greinke will start Game 5 for the Dodgers on Thursday.
The good news if Greinke leads the Dodgers into the NLCS? Presumptive Game 1 or 2 starter Jake Arrieta no-hit the Dodgers on Aug. 30 at Dodger Stadium.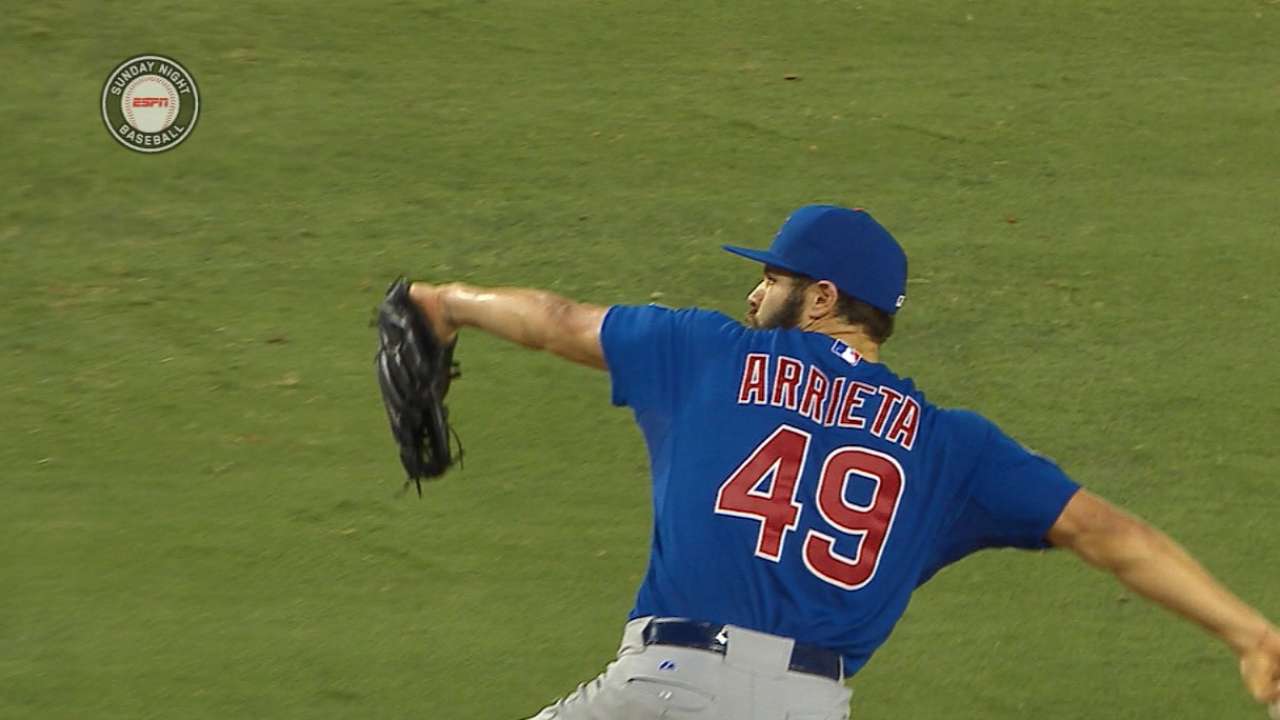 When closer Hector Rondon struck out Stephen Piscotty, sending the Cubs to the NLCS, their next opponent was the first thing on manager Joe Maddon's mind.
"Who we playing, L.A. or the Mets? That was it," Maddon said. "That's exactly what I thought. Where are we going next?"
Arrieta, meanwhile, was content to wait another day or two as the Cubs kicked off a long-awaited celebration Tuesday night.
"When the sun's coming up, we might just be winding down," Arrieta said. "But that's what we're supposed to do."
Adam Berry is a reporter for MLB.com. Follow him on Twitter at @adamdberry. This story was not subject to the approval of Major League Baseball or its clubs.