Cubs' bullpen secures NLDS victory
Maddon challenged relievers to step up, and they delivered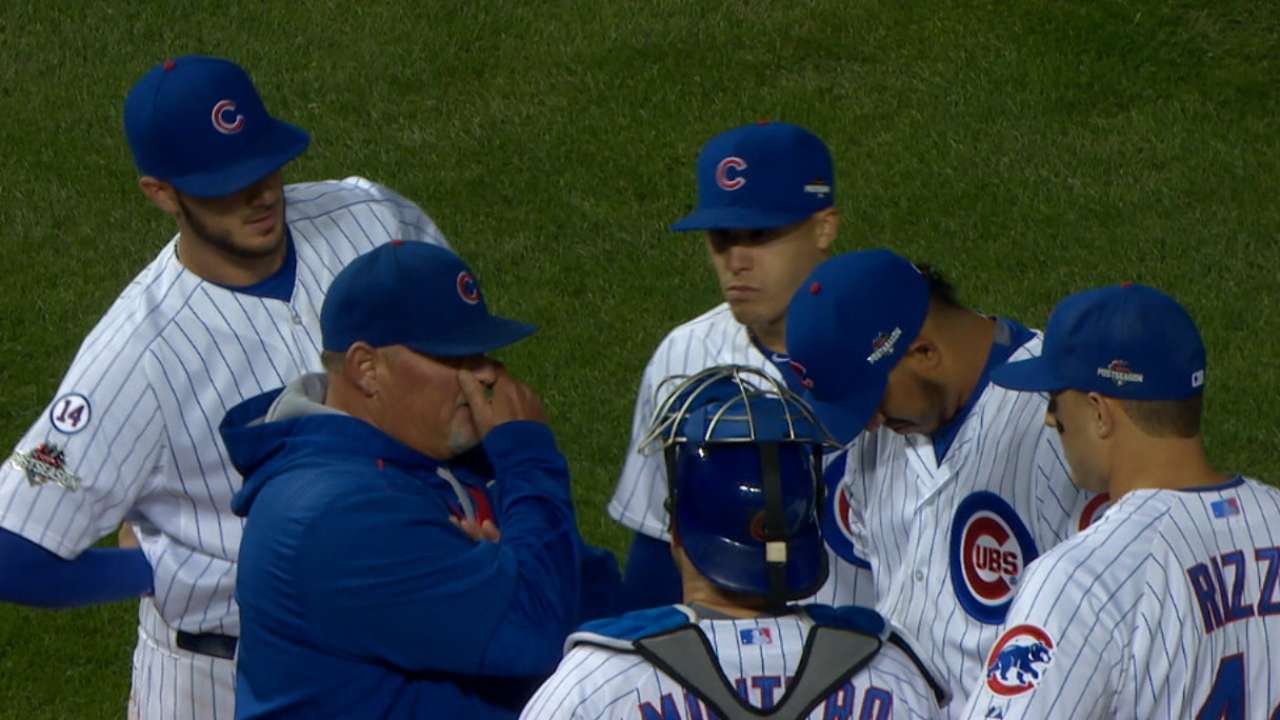 CHICAGO -- After winning Game 3 of the National League Division Series on Monday night, manager Joe Maddon issued a challenge: If the Cubs were going to get where they wanted to go, the entire bullpen would have to step up.
On Tuesday, the entire bullpen -- all seven relievers -- stepped up and held on as the Cubs beat the Cardinals, 6-4, and advanced to the National League Championship Series. Picking up six innings after Jason Hammel's three-inning start, the Cubs' bullpen allowed two runs on five hits and struck out 13.
"From the beginning to the end, the bullpen was fabulous," Maddon said.
It started in the fourth inning, when Hammel issued a leadoff walk to Cardinals shortstop Jhonny Peralta. Maddon decided he had seen enough, but he needed 18 outs from his relievers.
Right-hander Justin Grimm, plagued by walks for much of the year, took care of the first three, striking out the side in the fourth. Fifteen outs to go.
"He comes in and just really lifts our dugout right now by getting those outs," first baseman Anthony Rizzo said. "Just set the tone for the entire bullpen right there."
Left-hander Travis Wood, who struggled in the Cubs' rotation to start the year, pitched a perfect fifth. Twelve outs to go. After Jason Heyward's leadoff single in the sixth, Maddon summoned right-hander Trevor Cahill.
A little more than a month ago, Cahill was pitching for Triple-A Iowa. Yet there he was, trying to push the Cubs into the NLCS. He gave up a single, and then he struck out the next two batters before finally cracking.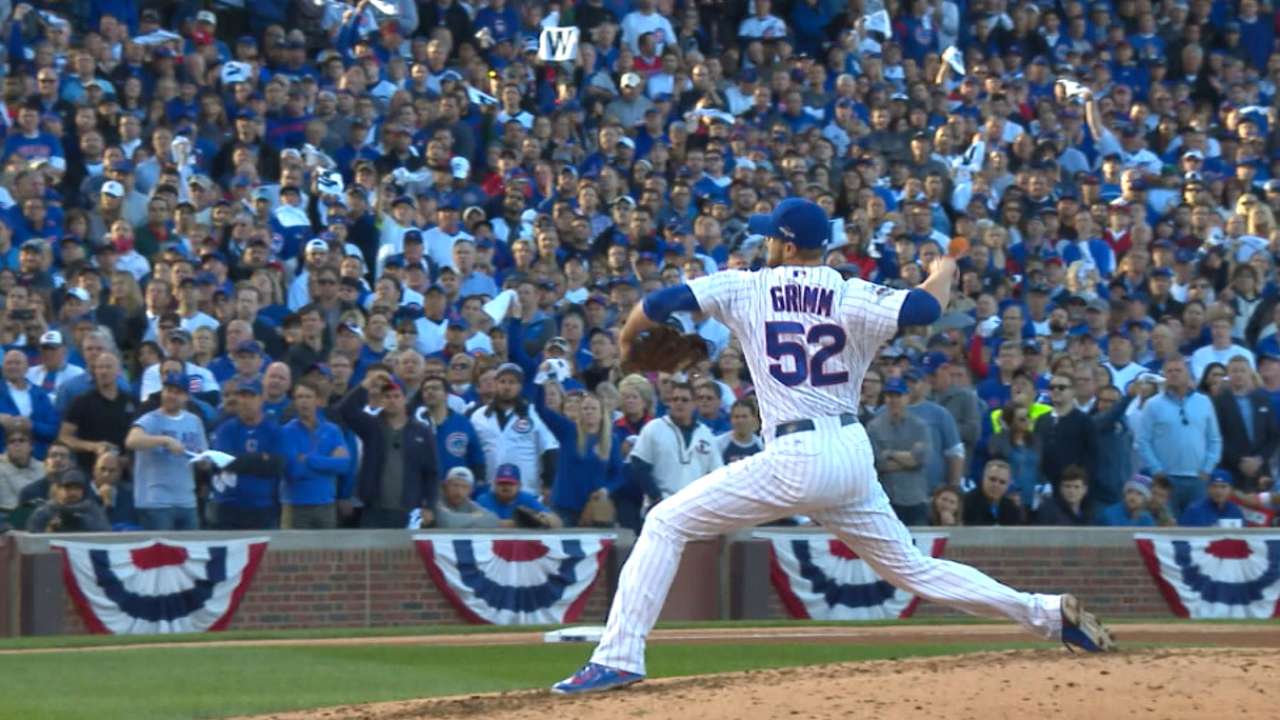 Cardinals catcher Tony Cruz doubled in a run off Cahill, and Brandon Moss singled in another to tie the game.
"Cahill gave up a couple runs, but he threw the ball great," Maddon said. "I mean, it's a two-strike, base hit down the right-field line, and he elevated a changeup to Moss. Otherwise, he had great stuff, too."
The Cubs immediately regained the lead on Rizzo's homer to right field. Nine outs to go, and Cahill was now set up to earn the win.
"It's unbelievable what this team has done," Cahill said. "These guys are resilient."
Fernando Rodney, unused in the playoffs until Tuesday, entered in the seventh. He walked one of the three batters he faced, and he retired the other two, pausing as he walked into the dugout to perform his arrow-shooting celebration.
Left-hander Clayton Richard, who began the year fixing his delivery in the Pirates' extended spring camp, struck out Heyward to end the seventh. After getting six outs from three pitchers who had been designated for assignment earlier in the season, the Cubs needed six more.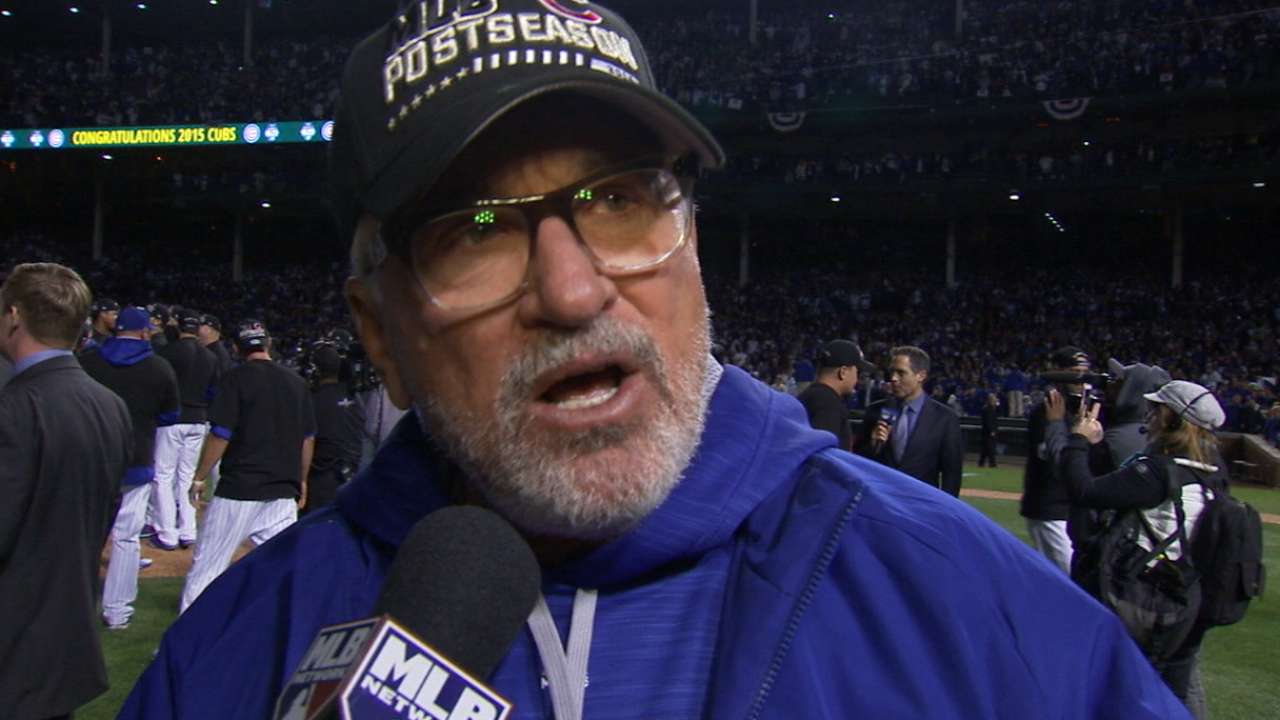 "I have a lot of confidence and faith in all our guys," Maddon said. "It does say a lot, the fact that you sometimes have to look underneath some stones, you have to turn them over and see what's underneath there."
Right-hander Pedro Strop retired three in a row in the eighth, his second solid outing against a Cardinals team that had given him fits all year.
Closer Hector Rondon took care of the final three. He struck out Stephen Piscotty on a slider down and away, setting off a celebration on the mound at Wrigley Field, and punctuating the bullpen's answer to Maddon's challenge a night earlier.
"They've been criticized so much through the year, and here they are doing a great job for us," catcher Miguel Montero said. "They've been shutting down people. They've been outstanding. … I'm proud of the guys."
Adam Berry is a reporter for MLB.com. Follow him on Twitter at @adamdberry. This story was not subject to the approval of Major League Baseball or its clubs.