Collins doesn't want Duda to press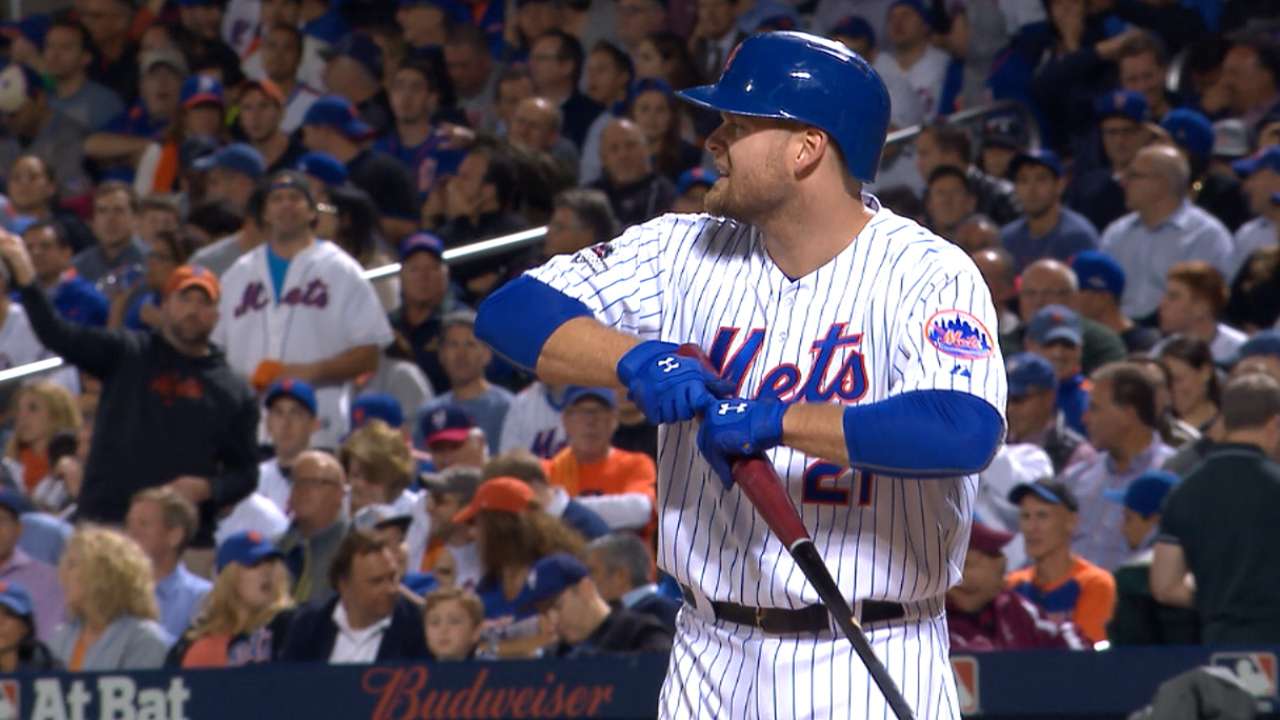 NEW YORK -- Lucas Duda knows he can carry a team when his swing is right. That, Mets manager Terry Collins thinks, may be the problem right now.
"He gets himself into situation where he thinks he's gotta hit home runs instead of just getting some line drives and base hits," Collins said after the Mets dropped Game 4 of the National League Division Series, 3-1, to the Dodgers on Tuesday night at Citi Field. "He's a piece of our lineup that we desperate need to produce runs for us, and right now he's struggling."
Notoriously streaky, Duda appears to be in a rut again after hitting .320 over the last eight games of the regular season. He went 0-for-4 on Tuesday, extending his postseason woes to a 2-for-15 slump. He's struck out nine times in four games, including four times in Game 3 and three times over Games 1 and 4 against Dodgers ace
Clayton Kershaw
.
• Shop for official Mets postseason gear
That New York's lefty-heavy lineup would struggle against Kershaw wasn't unexpected. Most hitters do, righty or lefty, and the reigning NL MVP held left-handed hitters to a .203 batting average this season. Kershaw recorded 77 strikeouts against them vs. just five walks.
But Collins stuck with his lefty regulars against Kershaw in Game 1 and they rewarded him by collecting all four hits Kershaw allowed. Collins stayed with those regulars -- Duda, Curtis Granderson and Daniel Murphy -- against southpaw Brett Anderson in Game 3. And after mixing up his lineup regularly during the second half of the season to find advantageous matchups, Collins held steadfast with his lefty hitters again in Kershaw's Game 4 encore.
Duda has 10 plate appearances this series against left-handed pitchers. His average against southpaws this season (.285) trumps his career mark (.229).
Collins said the Mets need Duda to produce in Thursday's win-or-go-home Game 5 (8 p.m. ET on TBS), particularly with NL Cy Young Award candidate Zack Greinke pitching for Los Angeles. The right-handed Greinke held Duda hitless in Game 2.
"They've got great stuff," Duda said, alluding to Greinke and Kershaw. "You just have to go out there and try to battle, see how it goes."
Joe Trezza is an associate reporter for MLB.com. This story was not subject to the approval of Major League Baseball or its clubs.