deGrom gets the call for decisive Game 5 in LA
Mets ace hasn't allowed a run to Dodgers in two starts this season, including Game 1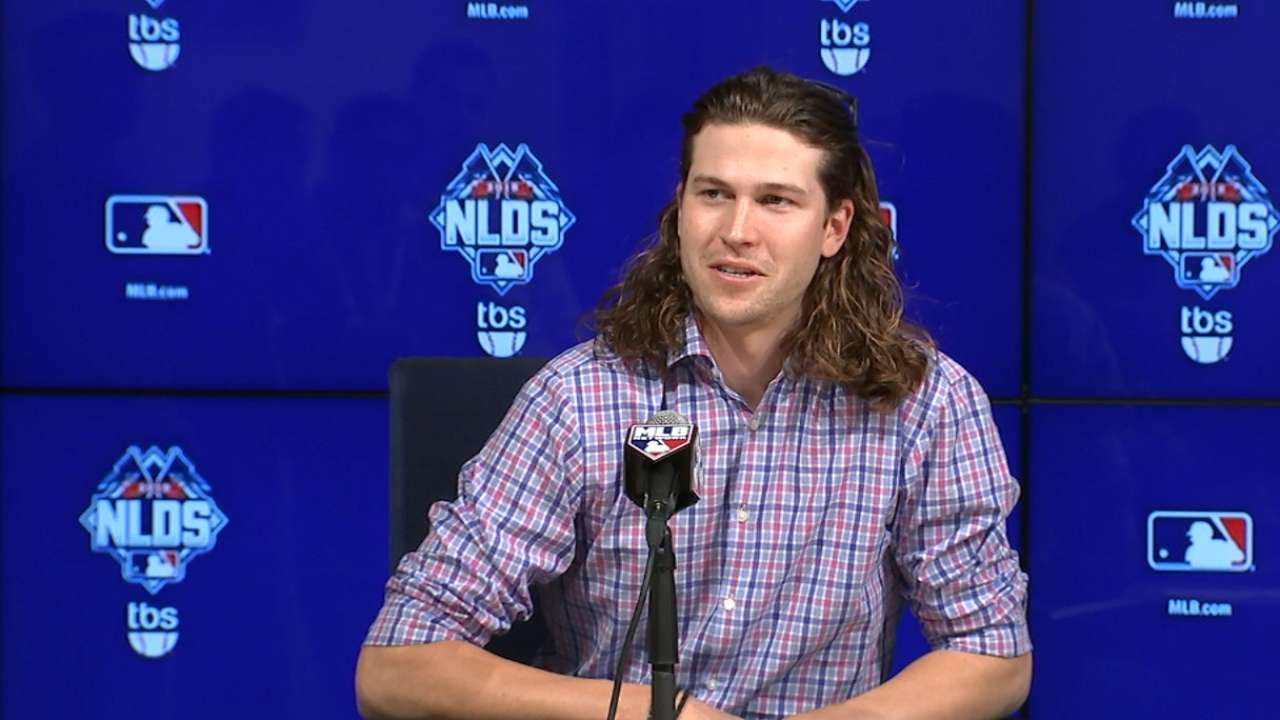 NEW YORK -- Jacob deGrom grabbed the attention of the baseball world when he needed just 10 pitches to strike out each of the three batters he faced while making his first All-Star Game appearance this year. This impressive brief performance might have actually been trumped last week, when he outpitched Clayton Kershaw in the Mets' Game 1 victory while overcoming the nerves surrounding the first postseason start of his blossoming career.
Now, the long-haired right-hander, who has established himself as the ace of an elite Mets starting rotation, faces the challenge of extending this success in what will be the most significant start of his career to date. deGrom will return to the same Dodger Stadium mound that he owned last week to oppose Zack Greinke and the Dodgers in Thursday's decisive Game 5 of the National League Division Series (8 p.m. ET, TBS).
• Shop for Mets postseason gear
"He took the ball in Game 1 for us, and he's been doing it all season long," Mets right fielder Curtis Granderson said. "He's been able to kind of adapt and get better and better each outing. I'm definitely looking forward to him taking the ball again on Thursday."
Courtesy of Tuesday night's Game 4 loss at Citi Field, the Mets will again play at Dodger Stadium with the hope that deGrom will do what he did in Game 1, when he notched 13 strikeouts and scattered five hits over seven scoreless innings. The outing was similar to the one the 27-year-old hurler completed on July 26, when he limited the Dodgers to just two hits over 7 2/3 scoreless frames.
The Mets are hoping deGrom will benefit from the extra day of rest he gained after throwing 121 pitches in Game 1. He exceeded 110 pitches three previous times this season, with each instance occurring since the start of July.
"I think now, he's a little more comfortable, so hopefully his first few innings are a little easier than they were in the first game for him," Mets manager Terry Collins said. "I'm really confident he's going to go out there and pitch another great game."
After throwing a season-high 117 pitches against the Nationals on Aug. 1, deGrom entered his Aug. 7 start against the Rays with an extra day of rest. He allowed two runs while throwing 108 pitches over 6 1/3 innings that day in St. Petersburg.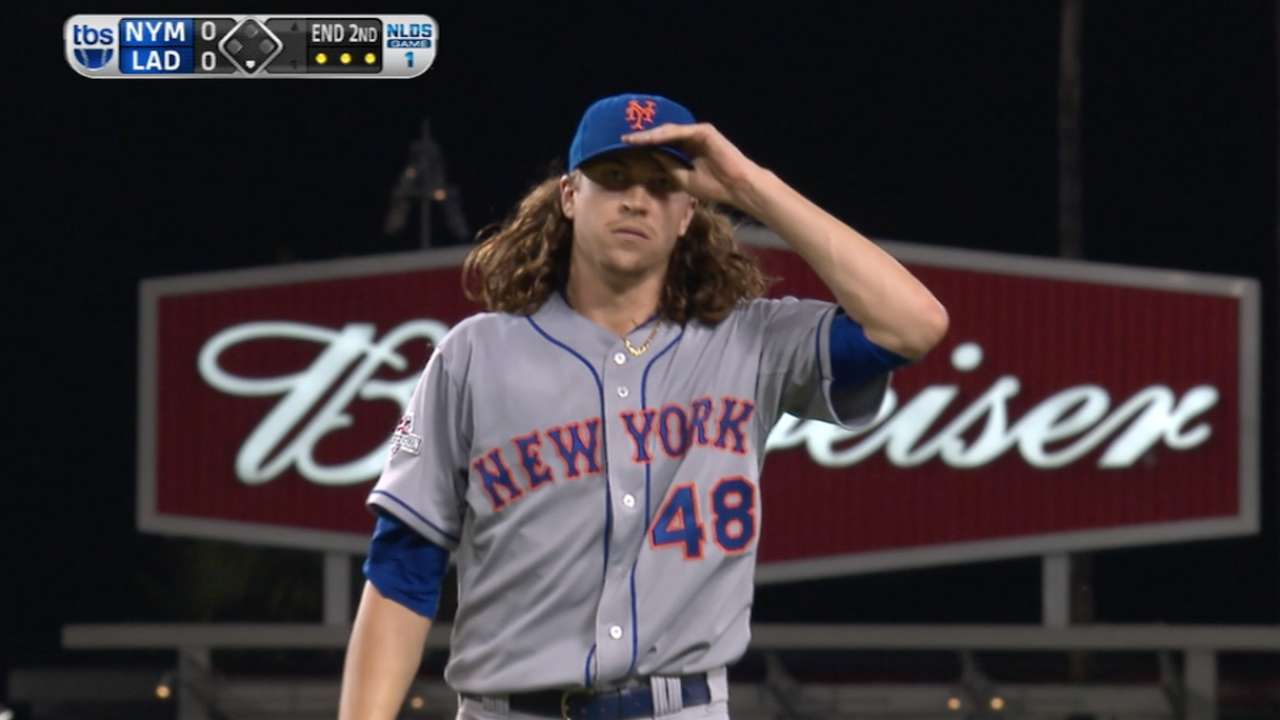 "I felt good [during Tuesday's side session]," deGrom said. "I think I feel good today. But an extra day never hurts you."
The Dodgers certainly aren't the only victims deGrom slayed while producing a 2.54 ERA, limiting opponents to a .215 batting average and recording 9.66 strikeouts per nine innings. After experiencing a mediocre April, he allowed two earned runs or fewer in 20 of his last 25 regular-season starts.
• Tale of the tape: deGrom vs. Greinke in Game 5
Although Matt Harvey might have been ticketed to be the Mets' ace for many years to come, deGrom has seemingly gained that distinction as he has produced a 2.36 ERA dating back to Aug. 29, 2014. Jake Arrieta, Greinke and Kershaw are the only Major Leaguers to produce a better ERA while making at least 35 starts during this span.
deGrom limited right-handed hitters to a .181 batting average and a .225 on-base percentage during this year's regular season. Left-handed hitters batted .245 and got on base at a .283 clip against him. But as Game 1 progressed last week, the Dodgers likely lost any confidence that had been gained via the slight difference in these splits.
While opening this NLDS with a masterpiece, deGrom struck out 12 of the 18 left-handed batters he faced and limited them to one hit in 17 at-bats. Now, he will attempt to experience similar success with a chance to help the Mets advance and move one step closer toward the ultimate goal of winning the World Series.
"Going into tomorrow, it's probably the biggest game I've ever pitched," deGrom said. "I think that will be on my mind, and I'll go out there and just try to put up zeros."
Mark Bowman is a reporter for MLB.com. This story was not subject to the approval of Major League Baseball or its clubs.