Kershaw steps up in huge must-win game
Dodgers lefty ace silences critics with clutch seven innings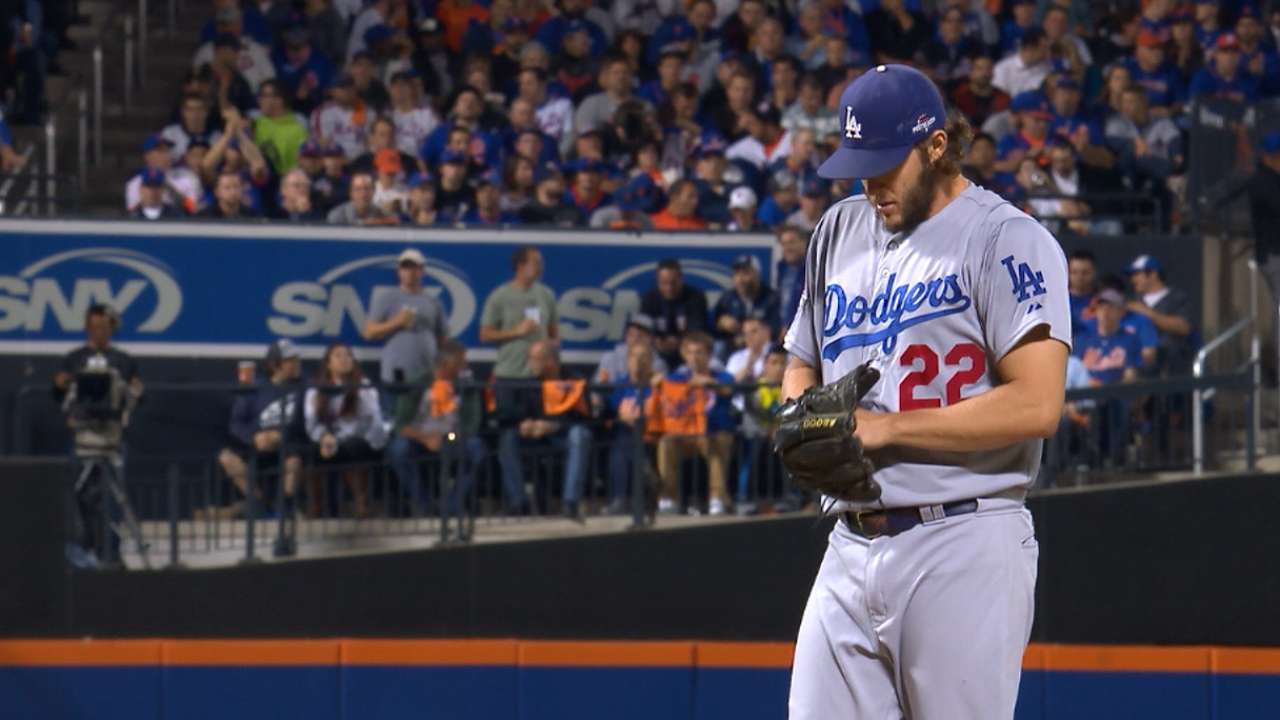 NEW YORK -- Clayton Kershaw has carried the Dodgers on his back pretty much since he arrived on the scene, and Tuesday night he carried them into a sudden-death Game 5.
Shaking off short rest and a reputation that he can't win in the postseason, Kershaw threw a three-hitter for seven innings to beat the Mets, 3-1, and send a deadlocked National League Division Series to Los Angeles for a decisive Game 5 on Thursday night (8 p.m. ET, TBS), Jacob deGrom facing Zack Greinke.
He made it past the dreaded seventh inning, which has been his undoing three times in the last two postseasons. He fought through the seventh, which began with a 40-foot infield single off his glove, then after 94 pitches handed it off to relievers Chris Hatcher and Kenley Jansen to lock it down, then fought off reporter's questions about it.
"I mean, there's no curse or anything," he said. "Just gotta get through the seventh."
• Shop for Dodgers postseason gear
Maybe no curse, but at least a little negative karma for those around him.
"There's no secret the seventh inning has kind of been a tough spot for him these past few postseason outings," said catcher A.J. Ellis, who went to the mound to take inventory of Kershaw's emotions after the inning began with Yoenis Cespedes' 40-foot single that Kershaw couldn't glove.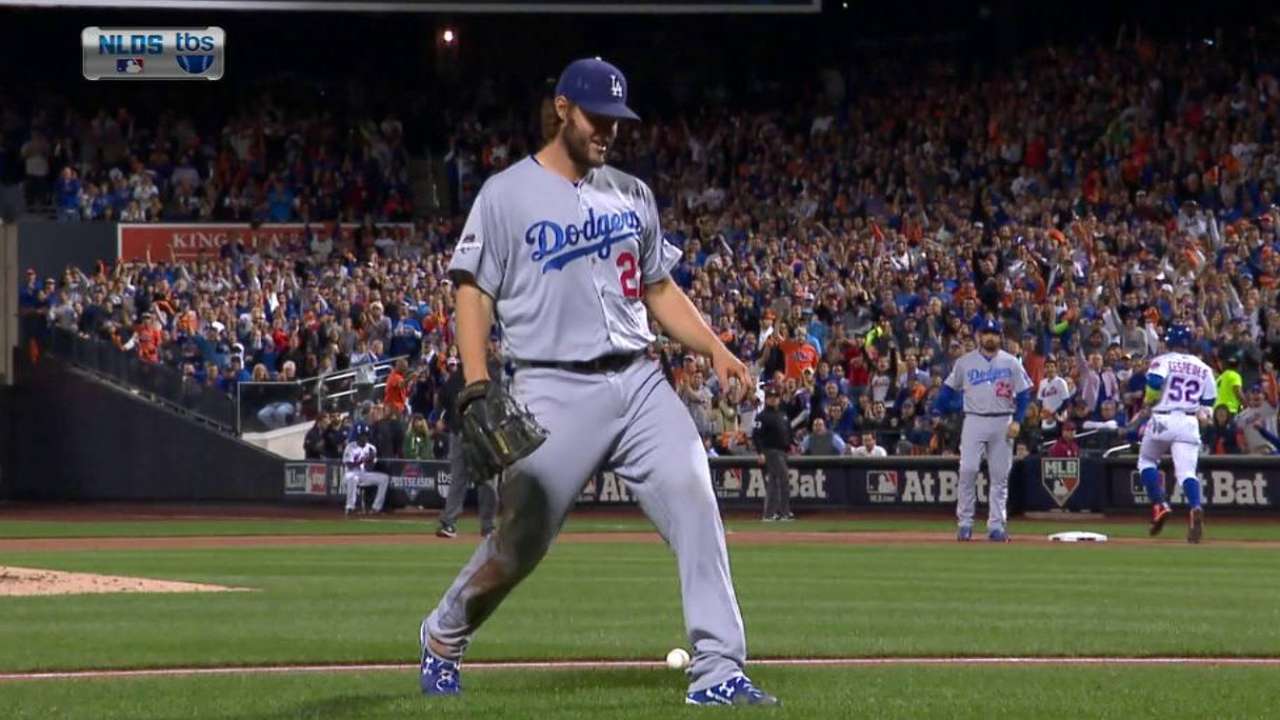 "So the flood of emotions that happens after Cespedes' dribbler down the third-base line, just trying to keep the positive thoughts in there. Negativity is going to creep in, 'Here we go again.' Keep him focused on the task. Talk about the next hitter and how we're going to attack him.
"He definitely wanted this badly, and I'm so proud of him. I'm so proud of what he was able to do tonight, especially getting those last three outs, which were the toughest for him tonight, and I'm just thankful and blessed that I was 60 feet away from him and got to be along for the ride. He deserves this moment. He deserves to be on this stage."
After losing Game 1 to the Mets with more seventh-inning struggles, Kershaw came into this game 1-6 in the postseason with a five-game losing streak, including defeats in elimination games the past two years. Now he's 1-1 with a 1.89 ERA, 23 strikeouts and four walks in three career postseason starts on short rest.
Former Met Justin Turner, who wasn't healthy enough to take batting practice with his teammates before the game, delivered a two-run double in a three-run third inning that began with a Kershaw base hit off starter Steven Matz.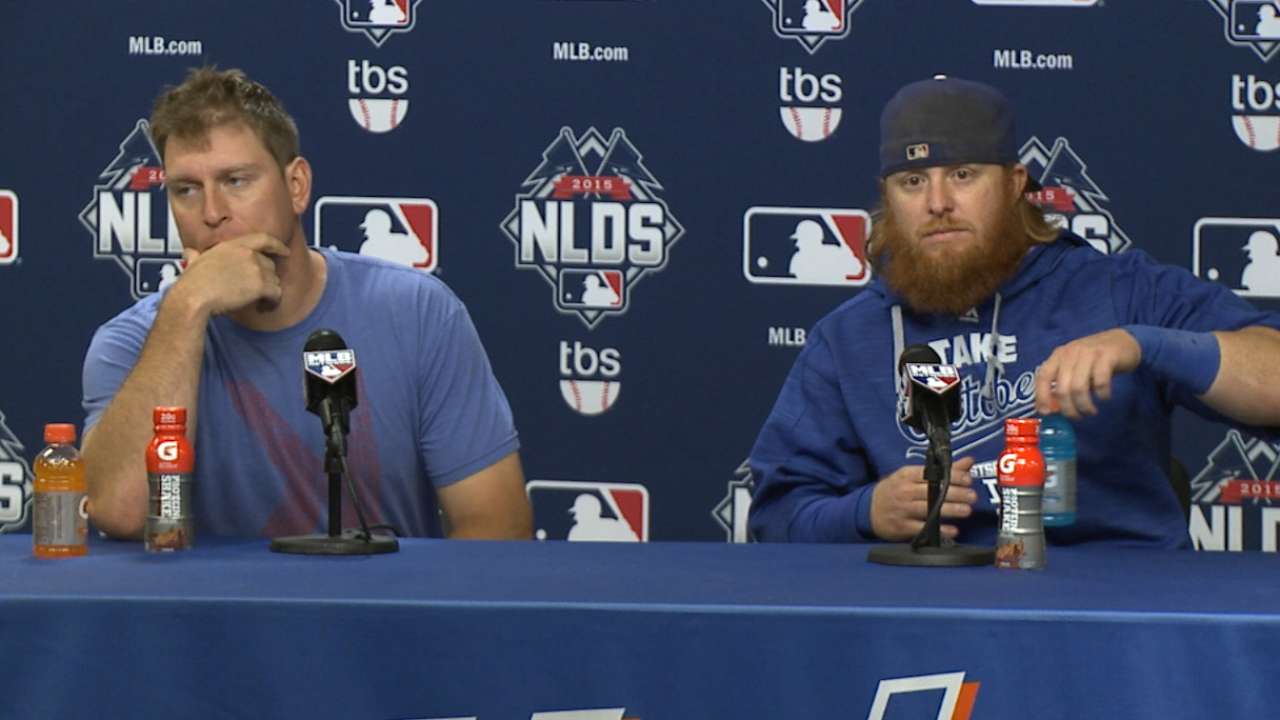 "He happened to throw a strike curveball again and for some reason I got a hit," said Kershaw. "I don't know why or how, but I did. And I didn't end up scoring [forced out at second], but I think that maybe got the guys going a little bit, which was -- you know, that was the inning, so that was huge."
And Citi Field, a thunderous and hostile venue for Chase Utley's team in Game 3, was silenced by the rally.
"The crowd wasn't a factor by any means," said Adrian Gonzalez, whose broken-bat single brought in Kiké Hernandez with the first run. "The crowd at Dodger Stadium is louder. But it was not about fighting the crowd, it was about getting runs for Kershaw. We played the game we wanted to play and he gave us a Kersh-like performance, dominated them, and it was great to see. There was no doubt in our minds he'd give a great performance."
As usual, Kershaw deflected the satisfaction from himself to the team.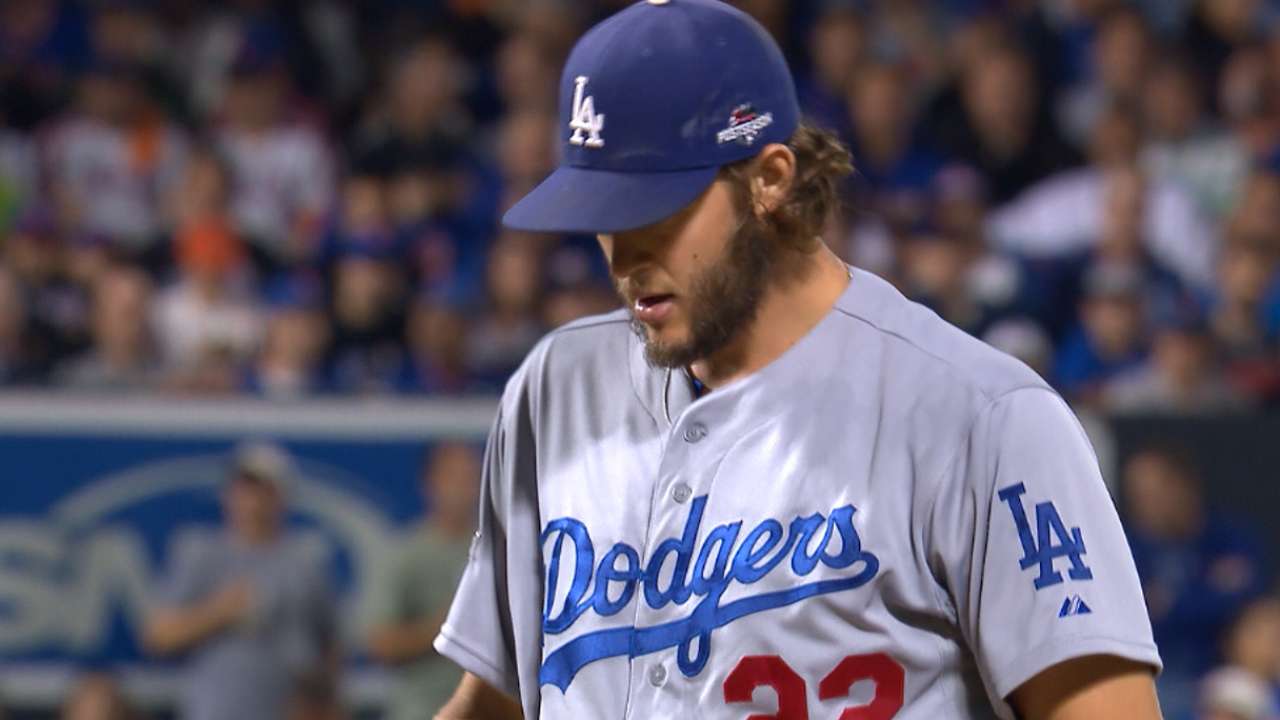 "Definitely wanted to send this back to L.A.," he said. "I feel confident with Zack going in Game 5 back home. So really just wanted to push it. I really wanted to win tonight, definitely. For a lot of reasons, but obviously most important was just to give Zack a chance. But yeah, it felt good to prove Donnie [manager Don Mattingly] right, I guess, and get that opportunity."
But good buddy Ellis could tell how much this game meant to Kershaw, whose fastball averaged 94.5 mph Tuesday night -- his highest in a game all year.
"He was really amped up coming into the game," he said. "You could see that in the first inning. He warmed up great, which is for me a big indication, especially on short rest. Strength was there. Command was there. But I think when he got out there on the stage he was a little amped up. Breaking balls probably weren't as crisp in that first inning especially. But he made some pitches and got out of that inning, which was huge. Cespedes with the groundout to end things there. Then he kind of settled in from there."
Kershaw's teammates seemed sincerely as happy for him as they were for themselves.
"In the first game everybody was like he gave it up, but he struck out 11," said Game 3 loser Brett Anderson. "I'd cut off my right pinkie to strike out 11 in a playoff game. He stepped up when we needed it the most. He's as humble as he can be, but I'm sure deep down inside he's ecstatic. I hope we have a big Game 5 so he can prove everybody wrong again."
Ken Gurnick is a reporter for MLB.com. This story was not subject to the approval of Major League Baseball or its clubs.