Joe, Cubs, Joe: Maddon guides Cubs to NLCS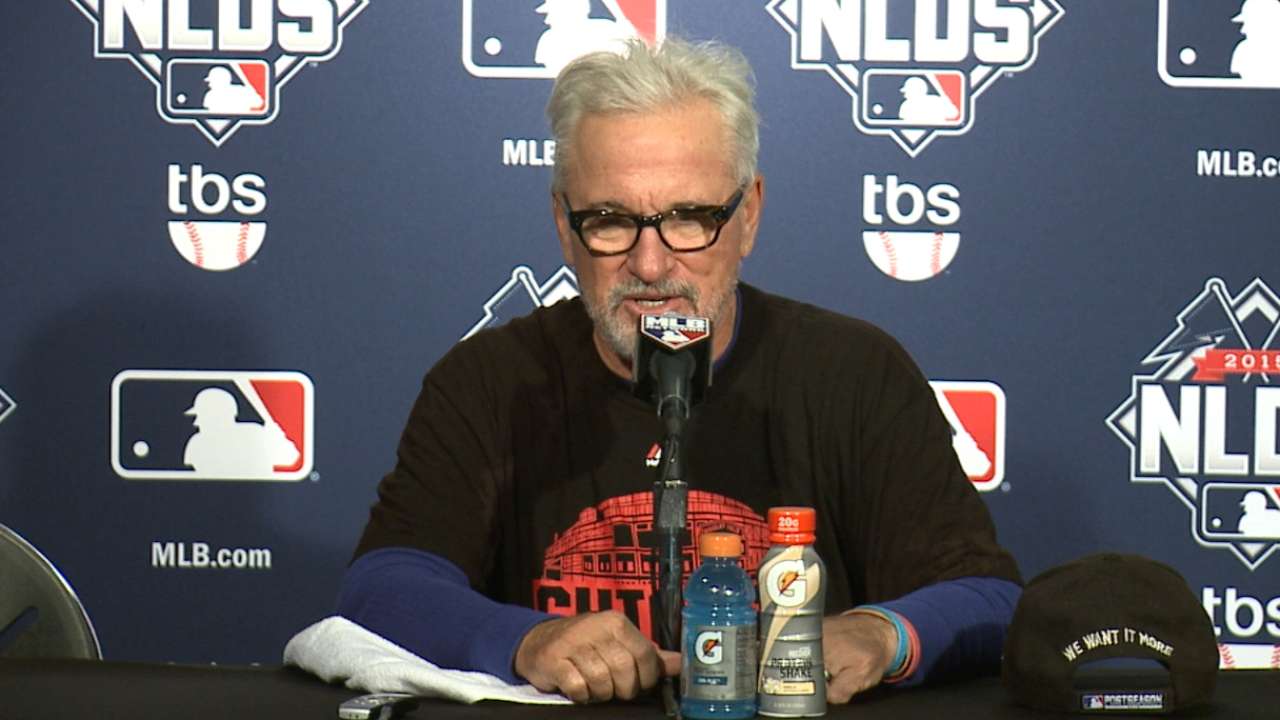 CHICAGO -- When Joe Maddon joined the Cubs a year ago, he brought with him a keen sense of how to manage a clubhouse, a knack for getting the most out of young players and a remarkable ability to handle a bullpen. Above all else, he never lost his boundlessly optimistic outlook.
Maddon showed that the day he was introduced as the Cubs' newest manager, informing media and fans alike that he was going to talk about making the postseason. He was going to talk about winning the World Series, and he meant it.
It might have been hard to believe at the time, especially for a franchise without a World Series since 1908 and a fanbase worn down by years of disappointment. But after leading the Cubs to their first National League Championship Series since 2003 with a 6-4 win over the Cardinals on Tuesday at Wrigley Field, Maddon has given Chicago a reason to believe.
"They're putting their trust in me and us to do this, and this is what's happening right now," Maddon said on the field after a series-clinching Game 4 victory. "That's pretty rewarding."
Maddon's fingerprints were all over the Cubs' first postseason series victory since 2003, too. Before the game, he mapped out a pitching plan that would empty the Cubs' bullpen, and the Cubs executed it almost exactly as he envisioned.
• Dress for NLCS: Celebrate Cubs' postseason run
With Addison Russell out, Maddon started Javier Baez at shortstop rather than move Starlin Castro over from second base. He told Baez to "own the game like you do," and Baez responded with a game-changing three-run homer that put the Cubs on top in the second inning.
One batter before Baez's blast, Maddon let starter Jason Hammel hit for himself with two runners on. Hammel delivered an RBI single up the middle.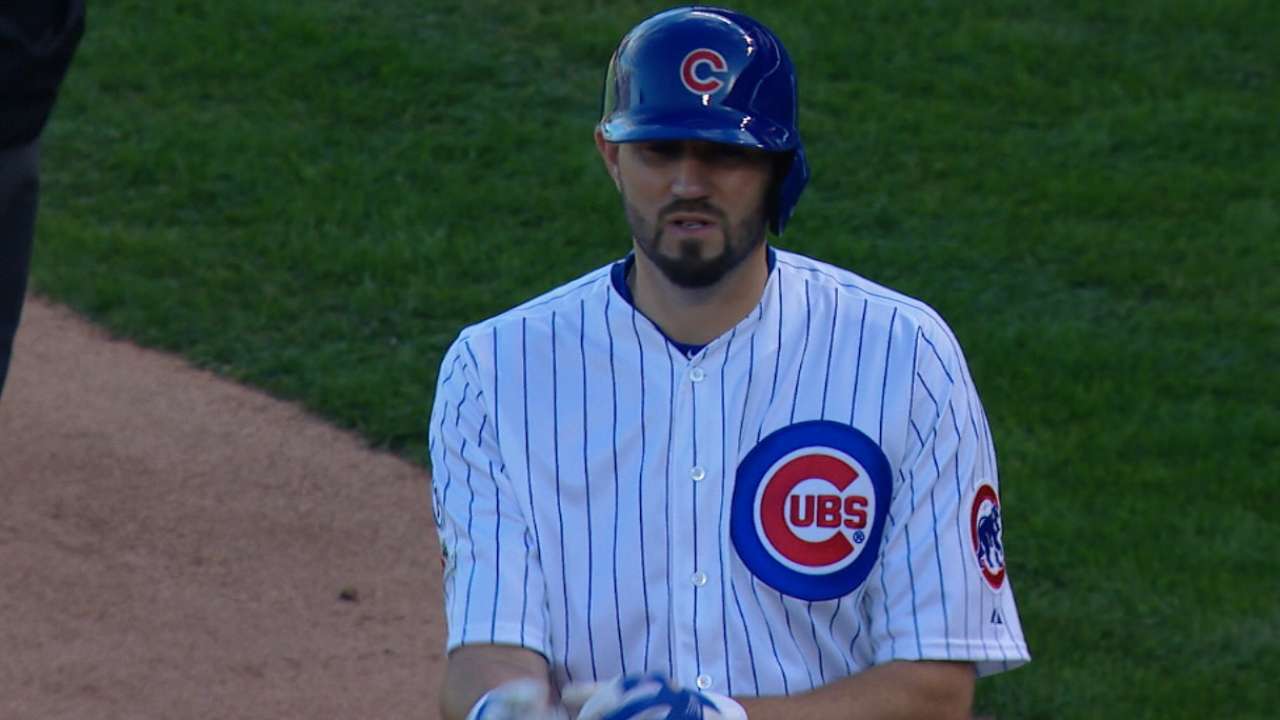 "Just incredible," Cubs president of baseball operations Theo Epstein said. "That's so Joe."
All year, Maddon allowed the club's veteran players to set the tone in the clubhouse. In turn, they have guided the pack of talented rookies and young players as they matured.
"It was one of those things where we're going to get better every month, for the most part. We're going to have guys develop," first baseman Anthony Rizzo said. "We're going to have young guys come up, do well, struggle, do well again, first time in the big leagues. So it was just a whole-year process, and now it's all coming together, and it feels really nice."
As he did in Tampa Bay, where he helped turn an unproven young club into a perennial contender, Maddon has preached the process, not the outcome.
• Rizzo, Schwarber provide late power
"I can't emphasize this enough, that the process is fearless," Maddon said. "If you want to go out a little bit wide-eyed and worry about outcomes, you're not going to play as good as you can. You're not."
The Cubs' rookies have been anything but wide-eyed and worried this year. Kyle Schwarber was playing in instructional league games a year ago. But Maddon trusted in Schwarber, as he did in Russell, Kris Bryant and Jorge Soler. He treated them like everyone else, not like rookies.
"It could have been a totally different story if I was on a different team," Schwarber said. "They made it so easy on me to come up and just do my job, and that's play baseball. It could have been, 'Rookie this, rookie that, you do that.' It wasn't any of that. It was, 'You're here to help us win, let's go.'"
In his first year with the Cubs, Maddon has already made an obvious impact on the organization and on the fans behind the dugout who chanted "We want Joe!" toward the field more than an hour after the game.
In Maddon's view, the Cubs needed to believe they could beat the Cardinals and Pirates, their chief NL Central opposition. They did just that to reach the NLCS, disposing of the Pirates in the Wild Card Game presented by Budweiser before pushing aside the Cardinals in the NL Division Series, getting one step closer to the supposedly unrealistic goal he set a year ago.
• Maddon, Cubs praise Cardinals as opponents
"You have to at some point teach yourself a lesson and show yourselves you can beat them," Maddon said. "I've always been a proponent of that.
"Even though you might not get it done early in the year, you definitely want to see progress by the end, and we did."
Adam Berry is a reporter for MLB.com. Follow him on Twitter at @adamdberry. This story was not subject to the approval of Major League Baseball or its clubs.