Oct. 13 Terry Collins postgame interview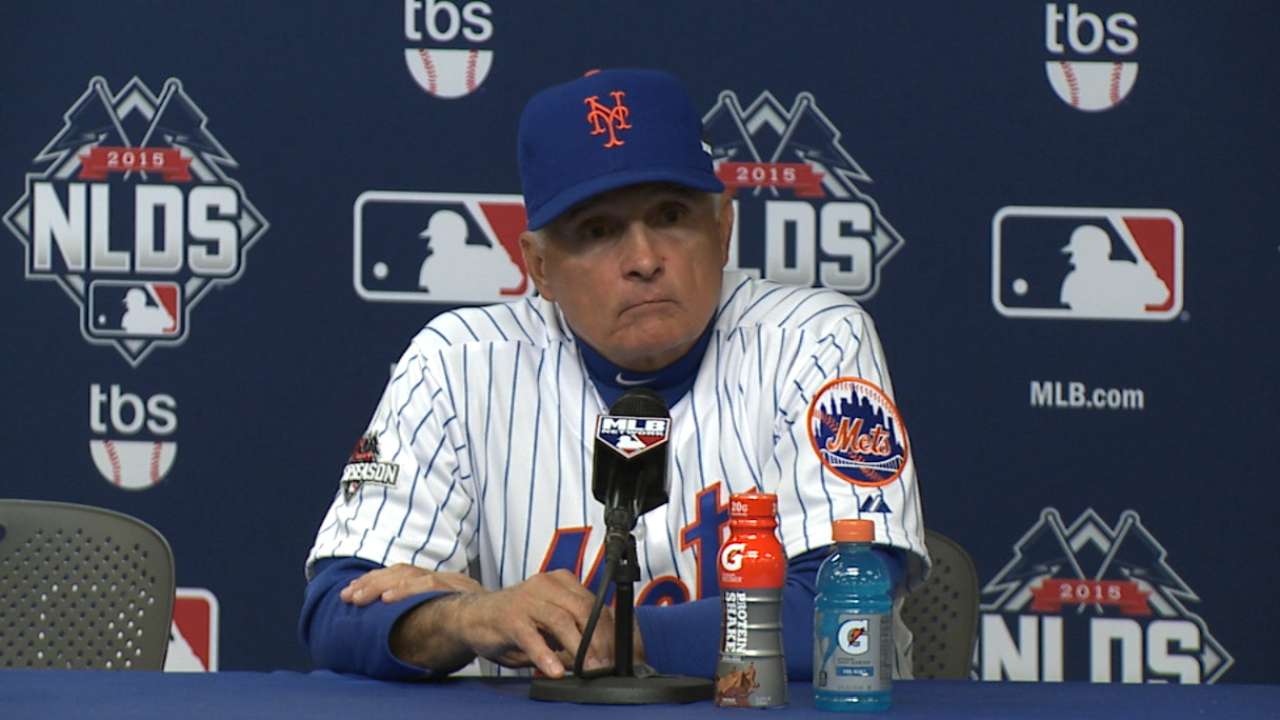 THE MODERATOR: All right. We'll take our first question for Terry.

Q. Terry, just obviously a tough loss, but in terms of what Bartolo Colon did for you the last couple of nights, if you could speak to that. And also when you knew that he was going to be such an important part of your bullpen here in this series?
TERRY COLLINS: Well, to start off with he was outstanding again tonight. Anytime you mention Bartolo Colon's name, it's the same. He pounds the strike zone, keeps the ball down for the most part, fields his position, all the things you want done, holds runners.

And as far as did we think about what we had in the bullpen, we didn't know because he hadn't done a lot of relieving in his career. We just said when we put him down there, we knew we had somebody that could come in. We used him in LA because we knew we were going to get a groundball and we got a groundball. It's nice to know you've got a guy down there that you're not concerned about base on balls. They got to swing the bat.

Q. In terms of usage (No microphone).
TERRY COLLINS: He was only going to -- I mean, in the National League, when you talk about a long man in relief, they're two-inning guys, because they gotta come up and hit again. So for the most part that's all we thought we'd use him to get a couple of innings out of him and see what we had left.

Q. As geared up as you guys were to close it out here and not make the trip, it was a daunting task with Kershaw. In any way does it feel like a missed opportunity?
TERRY COLLINS: I don't know. He's really good. You know, we played a pretty good ballgame I thought. Steven was outstanding. He had one bad inning. Probably if he'd want one pitch back it's probably the hanging slider he threw Kershaw. He threw a fastball by him and hung a slider. That's probably the pitch he'd like to get back. But other than that it's a very, very good game, and you're facing a pitcher, who when he's right, they just don't get a lot of hits and he was right.

Q. You obviously had Justin Turner here. What's the difference between him from then to now?
TERRY COLLINS: Well, I mean he's changed his batting style a little bit, but he's a good baseball player. He always has been. He did a great job while he was here. We root for him. We all cheered for him. We like him. We like him in the clubhouse. Tremendous guy in the clubhouse. And he's a good player. When he was here there wasn't a position that he played that we were concerned about.

He was also, I thought, my best bat off the bench. My first year here when Jose Reyes got hurt, he stepped in. And Dan got hurt, he stepped in and did a tremendous job.

So we're happy for him. He's got an opportunity to play every day in LA and he's making the most of it.

Q. Clayton threw a lot of pitches in the first and had some pretty short ones in the middle there. Was it your game plan to swing early and not let him get ahead of you guys too much?
TERRY COLLINS: Yeah, that was it. I mean, you know you're going to get fastballs of this guy, and what you don't want to do is get yourself in counts where you gotta try to hit that breaking ball. So it was hey, look, look for a fastball but look for a strike, and he just made some pretty good pitches. He was on the corners, as he can be. So we just -- you know, we didn't hit a lot of balls good, but I thought the game plan was good.

You know, I knew probably hundred pitches was going to be max. We tried to do the best we could, but we had to charge some fastballs and we didn't get a lot of good swings.

Q. Obviously you go cross-country now for a fifth and deciding game. Can you talk about the confidence you have in deGrom on the hill to extend your season?
TERRY COLLINS: Well, there's a reason why we thought, hey, look, if we're up 2-1 in Game 4 that we're going to save him because he's the guy we want on the mound. I mean, we'll have a whole host of guys in the bullpen behind him. But you know, he's had regular rest, so that's a good sign. That's good for him. And you kind of feel real confident that he's pitched well out there that he's going to go out and do it again. And once again, this is a time when you need your guys to step up and you certainly think he'll do that.

Q. What do you see from Lucas right now? It's tough matchups; I think he has nine strikeouts in four games.
TERRY COLLINS: Yeah. Well, we've talked about this before. You know, there are times when he gets himself in situations where he thinks he's gotta hit home runs instead of just getting some line drives and getting some base hits, and right now he's not getting good pitches to hit. And when he does, he might foul them off. I mean, the pitch he saw late in the game off of Clayton, he finally got a ball off the plate that he hit pretty good. But he's a piece of our lineup that we desperately need to produce runs for us and right now he's struggling.

Q. Just wanted to check on deGrom. He was warming up there late. Was that just bullpen work or was there a chance he might have if, it was tied --
TERRY COLLINS: We had decided that we were going to save him till later, just in case we thought maybe we might need him. So we told him this afternoon not to throw his pen until later in the game, and had we needed a bridge, had we got the lead and we felt we needed a bridge, we were going to use him.

But I don't know, about the sixth inning, we were still down 2, I said get him throwing and so we can get that over with.

Q. How would you assess Matz's performance? And how much confidence do you have in him, if you advance?
TERRY COLLINS: I got all the confidence in the world. He pitched very good. Like I said, the one pitch I know he wants back is the pitch to Kershaw. Got a changeup in the strike zone to Justin. But the pitch that Gonzalez hit, he's a great hitter, and especially with guys in scoring position, he's a tremendous hitter.

Other than that, he was outstanding, outstanding. We got all the confidence in the world that if we get to the next round, he's going to be a part of that rotation.