MLB.com Columnist
Bernie Pleskoff
Scouting Profile: Aaron Judge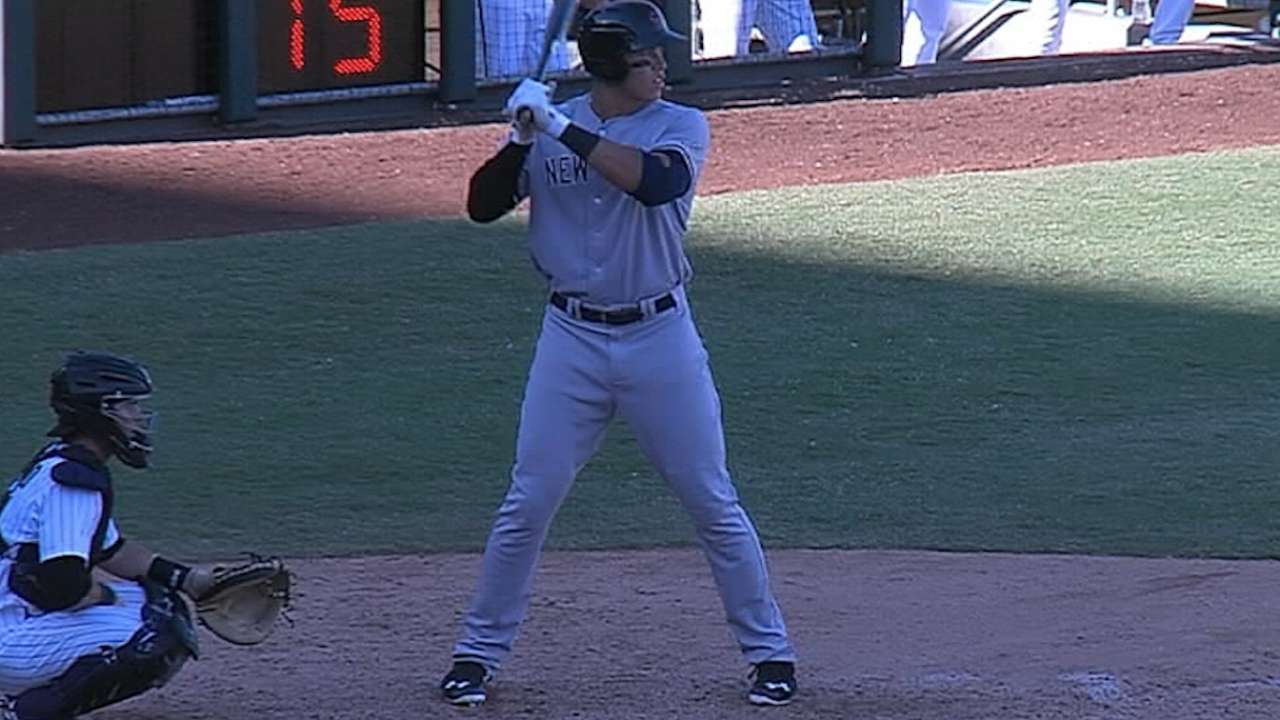 Background
Any scouting report of right-handed hitting Aaron Judge has to begin with his physicality. Judge is huge at 6-foot-7, 275 pounds. But one should not be fooled by his size. He's very athletic and agile. But everything must begin with his strength. Judge has the upside of a game-changing, dynamic power hitter.
Judge was a star athlete at Linden (Calif.) High School. He played football, basketball and baseball. After high school the Oakland Athletics chose him in the 31st round of the 2010 First Year Player Draft. Instead of signing, he elected to attend Fresno State University in the Mountain West Conference. He was an All-Conference selection in each of his three seasons.
The Yankees selected Judge in the first round of the 2013 June Draft. He is the No. 1 prospect on the team's Top 30 Prospects list.
Hitting
I was fortunate to get extended scouting looks at Judge in the 2014 Arizona Fall League when he played as part of the Scottsdale club. He finished the autumn hitting .278, with four home runs and 15 RBIs in 106 plate appearances. He also had five doubles among his 25 hits. He was an imposing figure at the plate, causing scouts to project his future power.
With his massive body and great strength, Judge, MLBPipeline.com's No. 17 overall prospect, has the upside to hit enormous home runs. When he centers the ball on the barrel, there will be few parks that can hold his long drives.
Judge has good bat speed. He uses his strong arms and legs to get his entire body behind his swing. He likes to extend his arms and reach pitches on the outside of the plate.
Judge is at his very best against left-handed pitching. This season he hit .305 against lefties and .241 versus right-handers. The story was similar last year in his rookie season, when he hit .339 against southpaws.
In two Minor League seasons, Judge has hit 37 home runs and driven in 150 runs.
Judge has a very smooth, well-disciplined swing. While he will strike out, he has the potential to hit for average.
Defense
Judge, MLBPipeline.com's No. 3 outfielder, has good speed for his size. He gets a good jump on the ball and will make the routine play as an average right field defender.
Judge has a strong and accurate arm. That should allow him to remain in right field throughout his career.
Strengths
Judge has the potential to hit 30 home runs once he adjusts to better pitching. He has the temperament to modify his game and make adjustments without getting frustrated and lengthening his swing if he scuffles.
A complete player, Judge will be evaluated first and foremost on his power production, but he also stands out for his running ability and defense.
Weaknesses
Judge struggled to turn on inside fastballs when I scouted him in Arizona. But if he can adjust to being pounded inside, he can succeed.
There will be strikeouts. That can be expected from a player with his power potential.
I find this interesting
Judge missed the 2013 baseball season due to a torn quadriceps femoris muscle that occurred during a baserunning drill. He made his professional debut the following year, batting .308 with 17 home runs playing for Class A Charleston (nine) and Class A Advanced Tampa (eight).
The future for Judge
Judge is a dynamic power hitter. He should get a chance to graduate to the big league lineup as soon as next season.
While he has outstanding power, I believe he will become an excellent hitter with increasing selectivity at the plate. He has the potential to clobber pitcher's mistakes. In addition, he can help his club with solid defense and a very good arm. He may also steal some bases.
Judge in a word
Imposing
Bernie Pleskoff has served as a professional scout for the Houston Astros and Seattle Mariners. Follow @BerniePleskoff on Twitter. This story was not subject to the approval of Major League Baseball or its clubs.