Cardinals' pitching staff runs out of gas late
Fatigue might've played factor for Wacha, Siegrist; losing Martinez in September hurt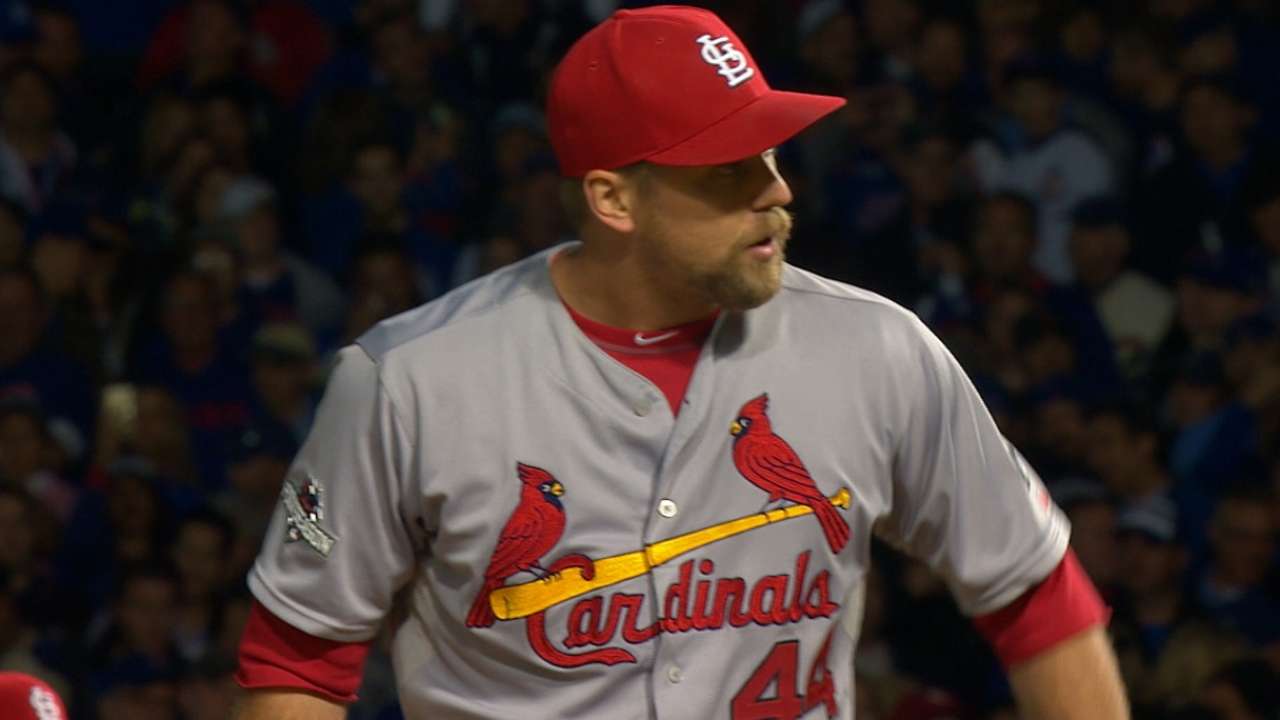 CHICAGO -- It was pitching, the backbone of the organization, that made it possible for the Cardinals to register an MLB-best 100 wins in 2015 despite an incessant string of injuries that could have derailed the season much earlier than Tuesday night.
Yet this team that spent much of the season wondering where it would get enough offense found itself suddenly incapable of stopping another in the National League Division Series. The pitching that had been so good -- historically good -- and had carried the Cardinals through six adversity-laced months couldn't for another.
In the end, the Cardinals didn't have enough of it -- and what they had wasn't good enough.
It left St. Louis booted from the postseason via a 6-4 Chicago win in Game 4, a victory in which the Cardinals endured a final gut punch of power that ultimately exposed their late-season pitching vulnerabilities.
"We scored runs -- six yesterday, four today," Matt Carpenter pointed out. "It's been the [story] of the season [where] we found ways to win with less. The difference in this series was they swung the bats better than we did. We just couldn't keep them from scoring."
It was in stark contrast to how the Cardinals had gotten here, their streaky offense so often masked by the sensational pitching behind it. This was a team that had a lower season ERA (2.94) than any pitching staff since 1988, and one with an ERA nearly a full run lower than league average.
The unit allowed two or fewer runs in 49 percent of their regular-season games, held opponents to a .210 average with runners in scoring position and served up just 123 homers, second fewest in the Majors.
That pitching was on display in Game 1, when John Lackey dominated over 7 1/3 scoreless innings before Kevin Siegrist and Trevor Rosenthal sealed the 4-0 shutout. But the Cubs would proceed to pound out 20 runs over the next three games. A team that allowed six runs in a game just 26 times all year allowed at least that many in all three of those games, denying the Cards a fifth-straight NL Championship Series appearance.
And Chicago's swings were mighty, too, as St. Louis became just the sixth team to serve up 10 home runs in an LDS. Home runs accounted for 15 of the Cubs' 20 runs.
"In this series, we kept the ball up a lot, so that's why they put good swings on it," said catcher Yadier Molina, who had to vacate his place in the lineup for Game 4 due to his thumb injury. "In the playoffs, anything can happen. I'm proud of my team. I'm proud of my pitchers. But they put good swings on us this series."
How the Cardinals' pitching staff was suddenly exposed was due to a variety of factors and matchup disadvantages. Arguably chief among them was the absence of Carlos Martinez, whose presence in either the rotation or bullpen would have given manager Mike Matheny a different look to both.
In his first year as a full-time starter, Martinez hit a wall as he approached 180 innings in late September. His shoulder went stiff and Martinez, whose previous high was 108 innings between the Minors and big leagues in 2013, was officially shut down for the season on Sept. 26.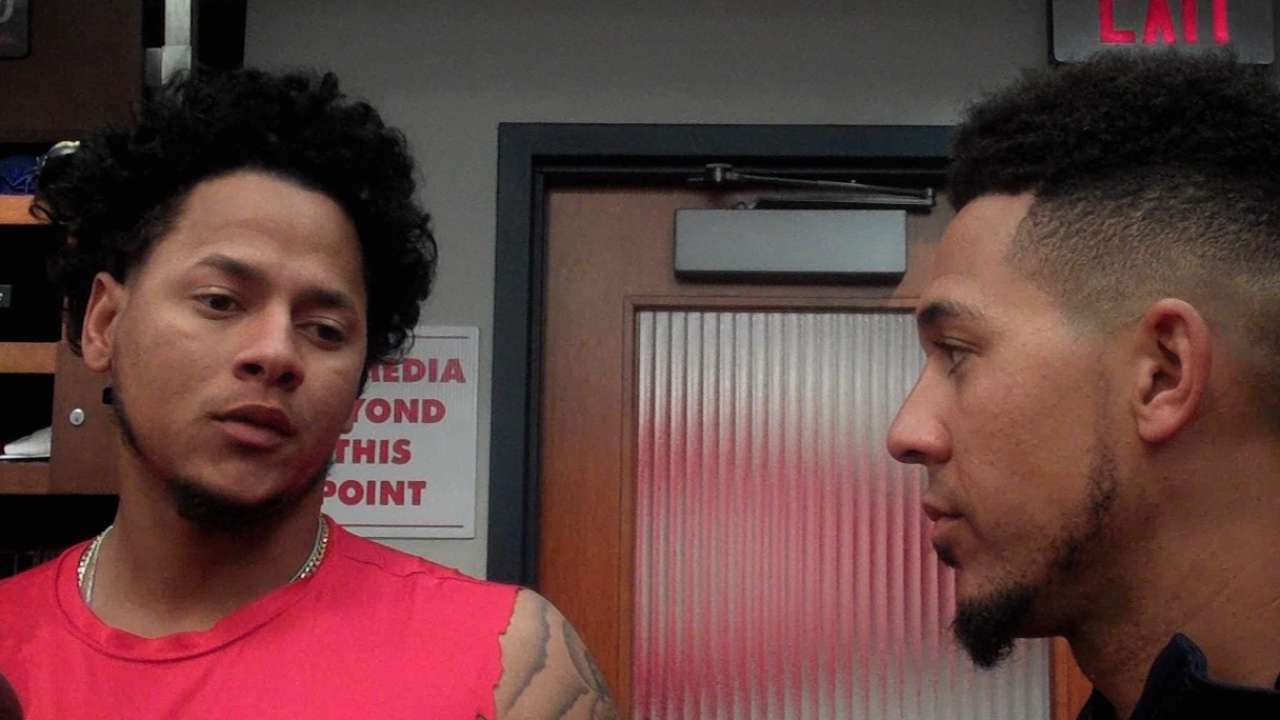 "How we would have parceled up who got the starting innings versus the bullpen, it would have just given us more flexibility," general manager John Mozeliak said of the Martinez factor. "There's no doubt when you lose Martinez the last week or so, things changed. And the dynamics changed."
Had he pitched out of the bullpen, Martinez would have been a multiple-innings weapon, who, like Adam Wainwright, could have been deployed in key spots. Martinez's September success against the Cubs -- he started the only two games St. Louis won of the six it played against Chicago -- also would have made him a strong starting option.
Without him, the Cardinals were left to scramble and start John Lackey on three days' rest, an indication that they were none-too-comfortable sending the fastball-heavy Lance Lynn to the mound against an offense that feasts on that pitch.
Lackey, despite a gutsy effort, lasted just three innings and allowed four runs in the decisive Game 4.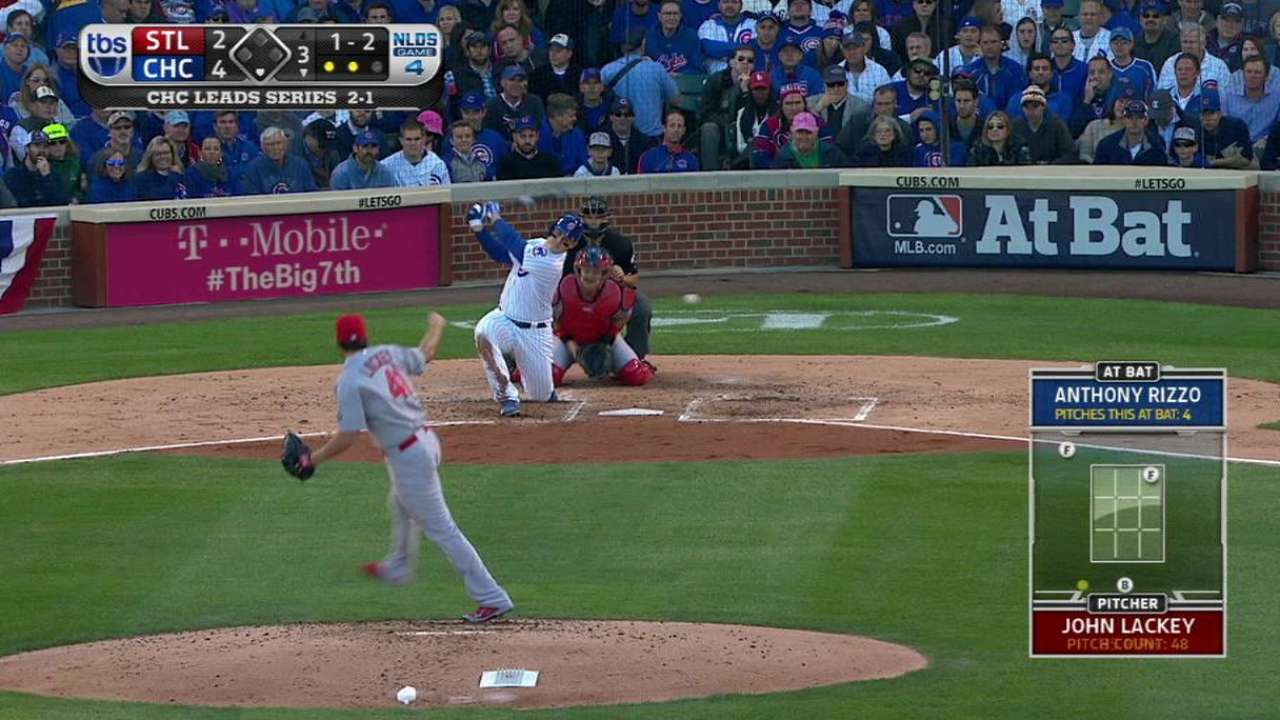 It didn't help, either, that Michael Wacha's September swoon (7.88) extended into October, or that Jaime Garcia lasted only six outs into a Game 2 start while dealing with a stomach virus that he disclosed to the club just an hour before first pitch. Combined, the Cardinals got only 9 1/3 innings out of their starters in their three losses.
"They got timely hits and made pitches when they needed to," Wainwright said. "That's the name of the game in the postseason. Their hitters just did a tremendous job of capitalizing on our mistakes."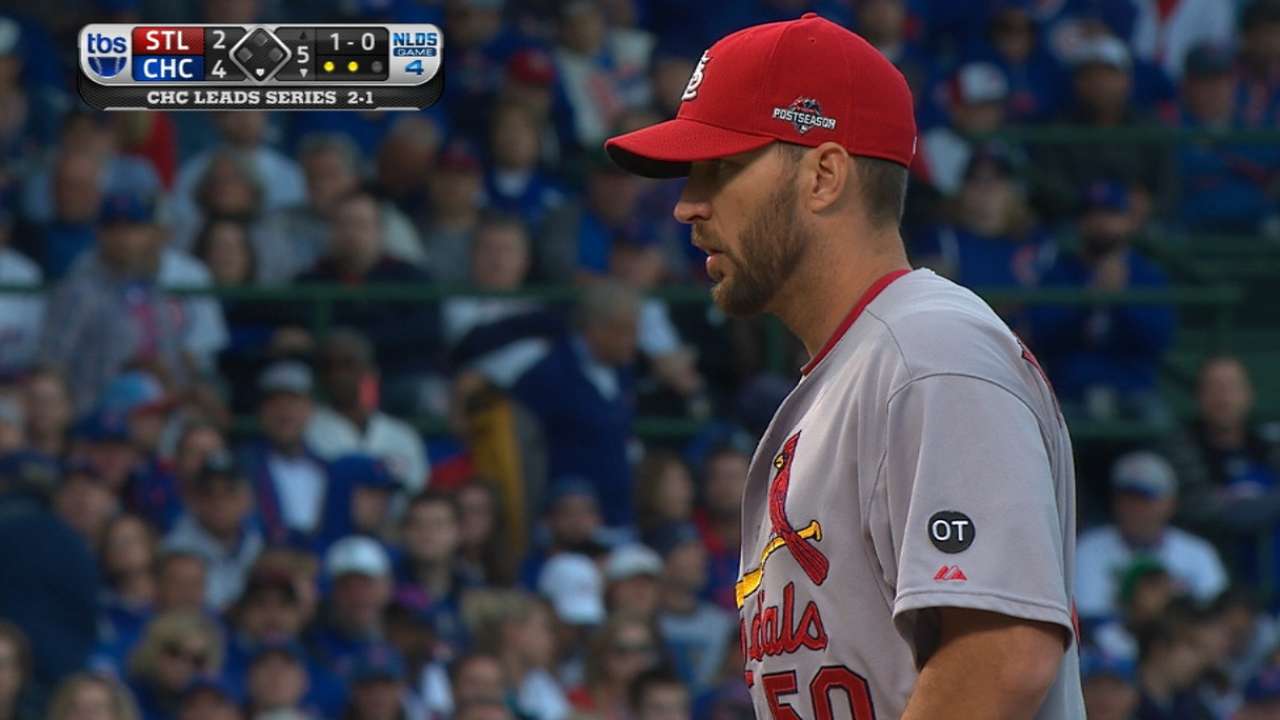 St. Louis' perceived advantage in the bullpen also proved naught. Cardinals relievers gave up seven runs in 17 1/3 innings, including demoralizing home runs off Kevin Siegrist in Games 3 and 4 to negate his team's own rallies. The Cubs' bullpen, in contrast, limited the Cardinals to five runs over 14 1/3 innings.
Matheny was aggressive with his bullpen management, and that included leaning heavily on Siegrist, who had already appeared in a Major League-most 80 games this season. It was a sizable workload for a pitcher coming off an injury-plagued season, as it was for Wacha to throw 185 2/3 innings after missing nearly half the 2014 season.
Mozeliak acknowledged that workload could have been a contributing factor in the untimely deterioration.
"I don't know if I'd use fatigue, but I do think the first half of the year was certainly a different look than the last part," Mozeliak said. "I would imagine part of it is fatigue, or maybe just volume."
And indeed, there were signs of regression coming into October. The Cardinals posted a 3.22 ERA over the season's second half and had as many starts of five or fewer innings (20) over the final two months as they did over the first four.
In a season defined by the Cards' ability to seemingly always find a way, their pitching staff ran out of that mojo when it mattered most.
"Our expectations are always high," Mozeliak said. "That's really a compliment to everybody in this room that that's what we're playing for. Knowing that October matters is important. So to not get to where we wanted to, of course, is disappointing. But it still shouldn't take away from everybody's success this year."
Jenifer Langosch is a reporter for MLB.com. Read her blog, By Gosh, It's Langosch, follow her on Twitter @LangoschMLB, like her Facebook page Jenifer Langosch for Cardinals.com and listen to her podcast. This story was not subject to the approval of Major League Baseball or its clubs.