Bosio says Lester makes sense for Game 1
Cubs pitching coach prefers to keep hurlers' work on schedule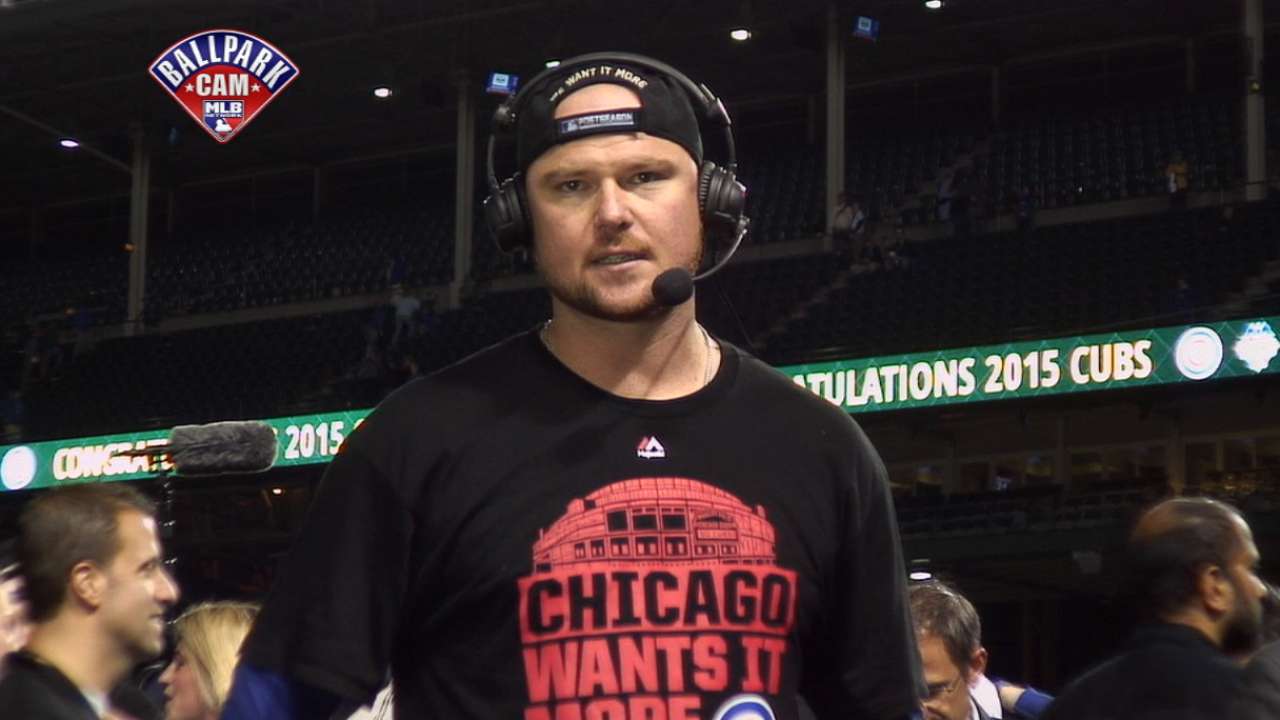 CHICAGO -- Jon Lester, who lobbied to start Game 4 of the National League Division Series on Tuesday over Jason Hammel, will start Saturday's Game 1 of the NL Championship Series.
During an interview Wednesday on ESPN 1000 radio in Chicago, Cubs pitching coach Chris Bosio projected the left-hander to be the starter vs. either the Mets or Dodgers, who will play Game 5 of their NLDS on Thursday (8 p.m. ET on TBS).
• Dress for the NLCS with Cubs gear
"The way it's laid out is probably how it's going to be," Bosio said the day before the club announced Game 1 would go to Lester.
If the Cardinals had forced a Game 5 of the NLDS to be played on Thursday, then Lester would have started, but the Cubs ended the series with a 6-4 win Tuesday at Wrigley Field. Jake Arrieta, who threw a shutout in the Wild Card victory over the Pirates but wasn't as sharp in Game 3 of the NLDS, also could have started Saturday.
The Cubs were to work out on Thursday at Wrigley Field as they waited to see where they'll play next. The NLCS will open on the road in either New York or Los Angeles on Saturday. Games 3-4-5 will be played at Wrigley Field, Oct. 20-22.
"[Manager] Joe [Maddon] doesn't want us to change a lot of stuff," Bosio said. "That's why I don't see us doing anything real crazy. There's a comfort level with their work days, which for me is really important. Each of these guys has a routine."
Before Tuesday's game, Maddon said Arrieta's command was off in Game 3 against the Cardinals on Monday and that the right-hander didn't finish his pitches well. Arrieta served up four runs over 5 2/3 innings, but got the win.
Arrieta has set career highs in innings pitched and starts this season. Could he be fatigued?
"You have to be careful with that," Maddon said Tuesday. "I think, more than anything, was the emotional component of pitching and winning the Wild Card Game. I think that may have taken something out of him a little, but not that he can't regain it. I didn't think he was stressed physically [against the Cardinals] but I thought he was off. I thought he was off mechanically, too.
"I know him and [Bosio] talked about that," Maddon said. "I don't normally go to mechanics often -- I think it's more about what a guy's thinking -- but I thought he was getting a little side to side and spinning off things and that's why the pitches were where they were. Sometimes that can be fatigue related. I just thought he was off mechanically."
Hammel's outing Tuesday lasted three innings before Maddon turned to the bullpen. Lester was one of the Cubs' relief options as well and walked down to the bullpen late in the game. The lefty, who has made two starts in his career on short rest, both in the regular season, wanted to contribute.
"I don't want to take anything away from what Jason Hammel has done all year or what he did tonight, I just really wanted to pitch," Lester said. "That's nothing against any of my teammates or not believing in anybody. I just really wanted to pitch. I wanted to win it here, that was the big thing."
Lester said he and Maddon had a "good conversation," and when the manager said no regarding starting in Game 4, the lefty's response was: "That's fine, but I'll be in the bullpen."
"[Maddon] said, 'OK,' and you saw what that got me -- that got me a walk down to the bullpen," Lester said. "I just wanted to pitch. The moment and being here in front of this crowd and playoffs and the chance to win here, just being a competitor, I wanted to try to be a part of that moment a little bit."
Starter Kyle Hendricks, who started Game 2 of the NLDS, also was an option in the bullpen on Tuesday.
Arrieta was 2-0 with a 1.13 ERA in two starts against the Mets this season, and threw a no-hitter against the Dodgers on Aug. 30. Lester was 1-0 in two starts against the Mets, and 0-2 with an 8.10 ERA against the Dodgers. Lester could start Games 1 and 5 of the NLCS, with Arrieta in Games 2 and 6, if necessary.
"We've got a deep staff," Lester said. "It's nice to be able to line guys up and give proper rest and all that. Whoever steps in there will be good for us. Whatever they decide, we'll just go."
Carrie Muskat is a reporter for MLB.com. She writes a blog, Muskat Ramblings. You can follow her on Twitter @CarrieMuskat and listen to her podcast. This story was not subject to the approval of Major League Baseball or its clubs.