Mariners' Peterson steps up in Fall League victory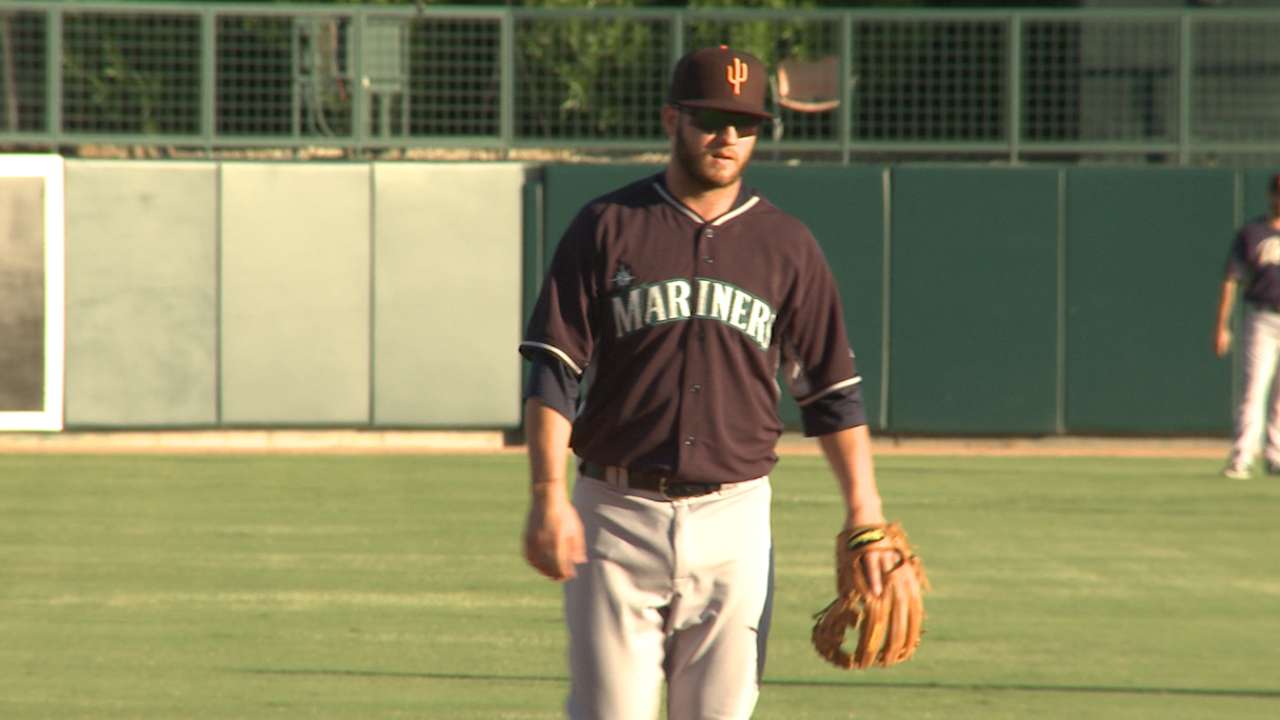 PEORIA, AZ -- Arizona never gets old for D.J. Peterson.
Peterson, an Arizona native and the No. 3 prospect in Seattle's organization according to MLB Pipeline, played a starring role in a huge comeback on Opening Day of the Arizona Fall League season.
Peterson, playing through his second tour in the AFL, drove in the tying run and scored the go-ahead run in a 6-5 win for the Peoria Javelinas over the Surprise Saguaros. Peoria trailed for most of the game but scored five runs in the bottom of the eighth inning to flip the script on the Saguaros.
"It seems like we've got a scrappy team. Everyone here is having fun," said Peterson. "We're coming here to win the whole thing. It should be a fun Fall League, and our team, we're pretty good."
Peoria got home runs from Mike Yastrzemski and Nick Torres in the winning rally, and Peterson, the No. 12 overall pick in the 2013 MLB Draft, doubled in the tying run with two outs. The 23-year-old moved up to third base on a passed ball and scored the eventual winning run on a single by Gabriel Quintana.
And for Peterson, that was an excellent start on recasting his season. The corner infielder struggled this year, batting .223 with a .287 on-base percentage in 93 games for Double-A Jackson. Peterson finished up with four games at Triple-A Tacoma before a foot injury ended his year prematurely.
Peterson had also played a half-season at Double-A last year, and he batted .169 in a 16-game run in the 2014 Arizona Fall League. But this year, he said, is way different for a number of reasons.
"Last year, I had some ups and downs and really learned a lot," said Peterson. "I got hurt this year, so I didn't play very many games. I'm more fresh. ... Last year, my tongue was dragging a little bit. This year, I'm coming with a new perspective. I'm just trying to get after it and to have fun."
Peterson, born in nearby Chandler, hit just seven home runs in 97 games this year after swatting 31 combined between Class A and Double-A last season. But he's looking at this year as a wash, and he belives he can get himself back on the right track by swinging the bat well for Peoria.
"I'm working on my whole game," he said. "I'm working on my infield at first and third base. I'm working on hitting the ball the other way and staying on the slider. I'm trying to work on everything."
Peterson, who played his college ball at the University of New Mexico, came into this season with a career .299 batting average in the Minor Leagues. His confidence is still intact despite a difficult season, and he said he's fully healthy after missing all but one game in the month of August.
Perhaps most important, Peterson has seen the best the Minor League has to offer. He got his first look at upper-level pitching in last year's AFL, and he briefly tasted the quality of play in the Triple-A Pacific Coast League. Now, the trick is to forget this year and to come out swinging in 2016.
"I think Double-A has a little bit more talent," he said, contrasting the two levels. "I think Triple-A guys are a little more crafty. They're in-and-out, mixing it up, and they throw all three pitches for strikes. That was the big difference. [Velocity] is down at Triple-A, but they're hitting their spots a little more."
The Mariners, much like their top infield prospect, had a difficult season this year, and Peterson knows that better things are ahead for the franchise that drafted and developed him.
"I think we had all the tools," said Peterson of Seatle, which finished with a 76-86 record. "We got plagued with some injuries with our position players. I think next year we're going to be the team to beat."
Spencer Fordin is a reporter for MLB.com. This story was not subject to the approval of Major League Baseball or its clubs.