Holy pow: Cubs in NLCS, make Wrigley history!
Rizzo tags Siegrist for 2nd straight day; rookie hits 3rd postseason homer, calls shot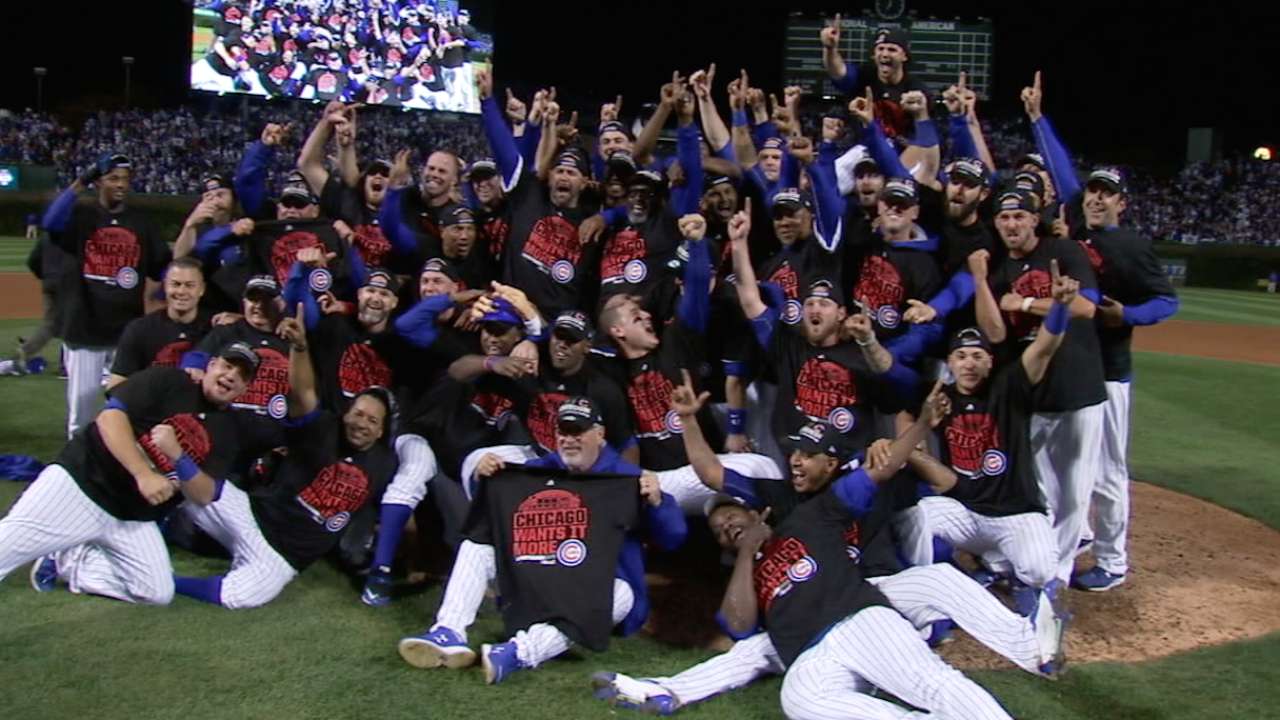 CHICAGO -- In January, Anthony Rizzo boldly predicted the Cubs would win the National League Central. They may have come up short in that quest, but on Tuesday, they did one better. They knocked off the powerful Cardinals to clinch the NL Division Series.
Rizzo hit a tiebreaking home run in the sixth inning to power the Cubs to a 6-4 victory over the Cardinals in Game 4 of the NLDS, and he had nothing but praise for St. Louis.
• Dress for the NLCS with Cubs gear
"We just beat a really good team," Rizzo said of St. Louis, which led all of baseball with 100 wins. "They know how to win. They've dealt with so many injuries, and they still were the best team in baseball. How they did that, no one has any idea. I think some of their guys don't even know how they did it, but that's a credit to their organization and how good they are.
"We're going to celebrate this. We deserve to celebrate this. It's been a long time coming for this city, and hopefully it's just a sign of things to come."
It's the first time the Cubs have ever clinched a postseason series at Wrigley Field, and the players, including Rizzo, sprayed each other and then the fans with champagne. The NL Championship Series doesn't start until Saturday.
Rizzo connected on an 0-2 pitch from Kevin Siegrist, and it was his second home run in as many at-bats over as many games against the Cardinals' lefty. The two at-bats were completely different, Rizzo said.
"All three sliders [Tuesday]," Rizzo said. "The first night was all fastballs. There's no cat-and-mouse game with these teams. We know what everyone has. We know what their pitchers have. They know what we have. ... I don't know how I got him, but it was just an unbelievable game overall."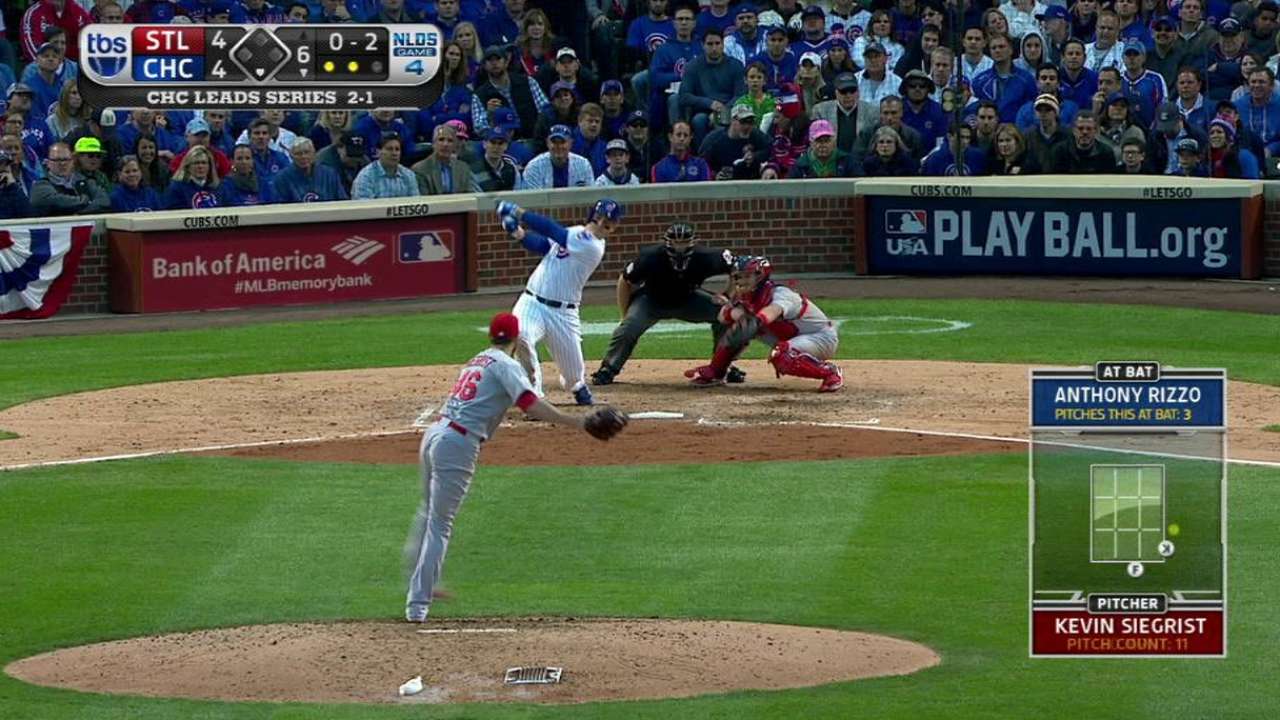 Kyle Schwarber made a prediction of his own on Tuesday, telling teammate Dexter Fowler he was going to hit a home run. And he did. The rookie led off the Cubs' seventh with his third postseason home run, and the ball would've landed in Lake Michigan if not for the video board in right field.
• Cut4: Kyle Schwarber called his HR over scoreboard
"We were out in center field, and Joe [Maddon] was making a pitching change, and I was just joking around," Schwarber said of his called shot. "I said, 'I'm going to hit a home run off this guy,' and [Fowler] is like, 'Well, do it.' There you go."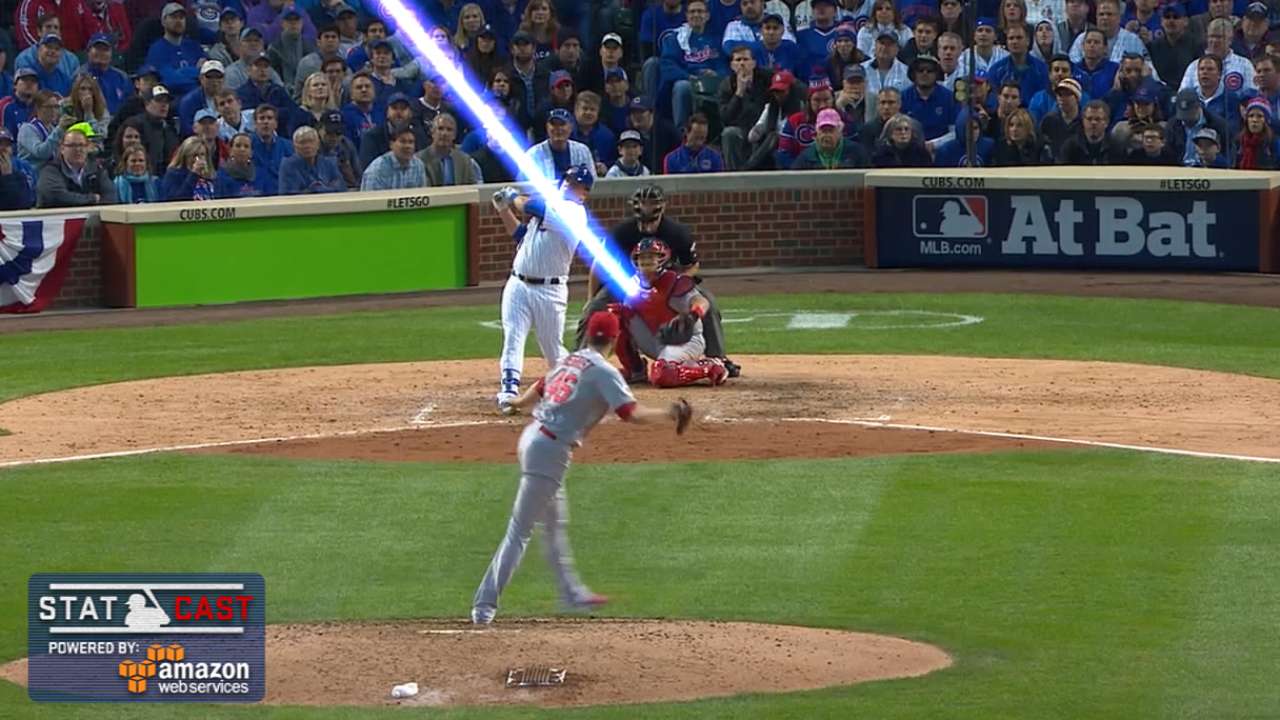 Confident? The Cubs' kids are oozing with confidence. Don't bother mentioning how long it's been since the team played in a World Series. They're focused on the here and now.
"Our guys don't buy into the old narratives," Cubs president of baseball operations Theo Epstein said. "They're doing it for each other, the whole organization. The pressure, the history doesn't bother these guys. They're young. They're innocent in a great way. They were in instructional league last year. You think they're worried about history? They're worried about getting their laundry done in time for Saturday."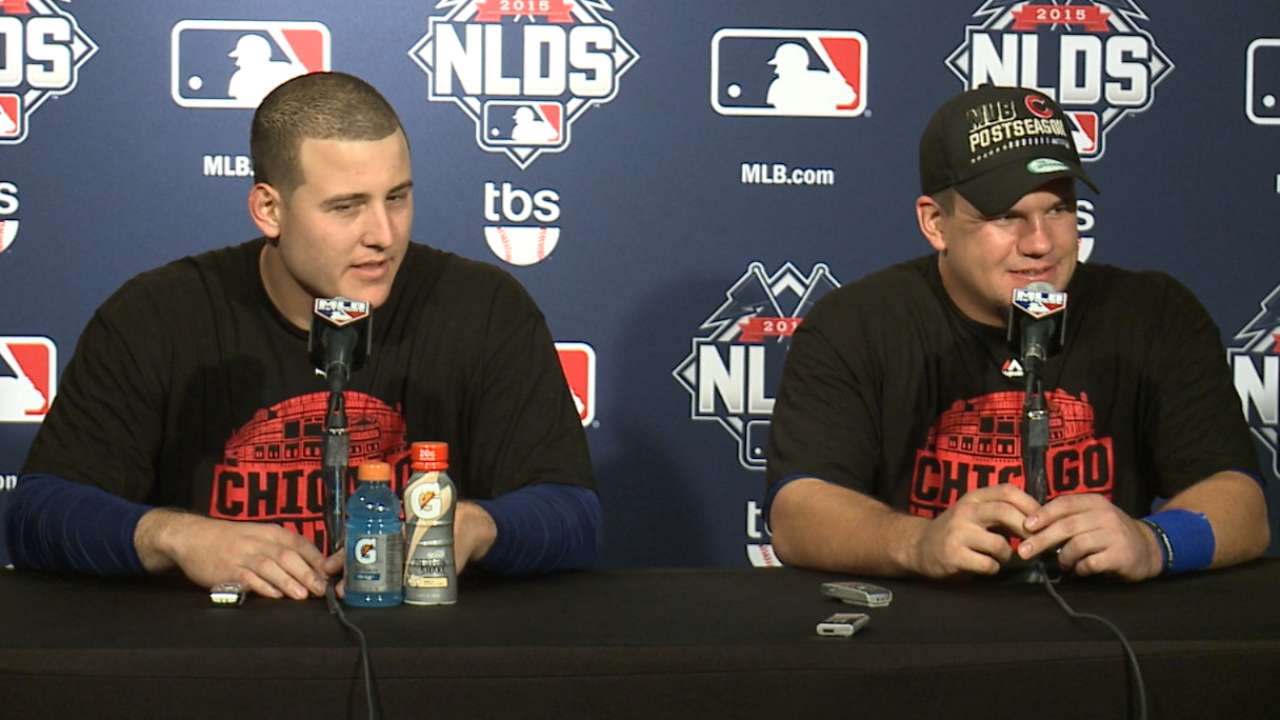 Schwarber was the only one in instructs last October, and yes, he most likely will be scrambling to wash the champagne out of his clothes in time for the NLCS.
"It's been a crazy ride," the rookie said, "and I'm blessed to be here. It could have been a totally different story if I was on a different team. Coming into this organization, and them believing in me all the way from our front office to our ownership to our coaches -- and then when I did come up with our players, they made it so easy on me to come up and just do my job, and that's play baseball. It could have been, 'Rookie this, rookie that, you do that.' It wasn't any of that. It was, 'You're here to help us win, let's go.'"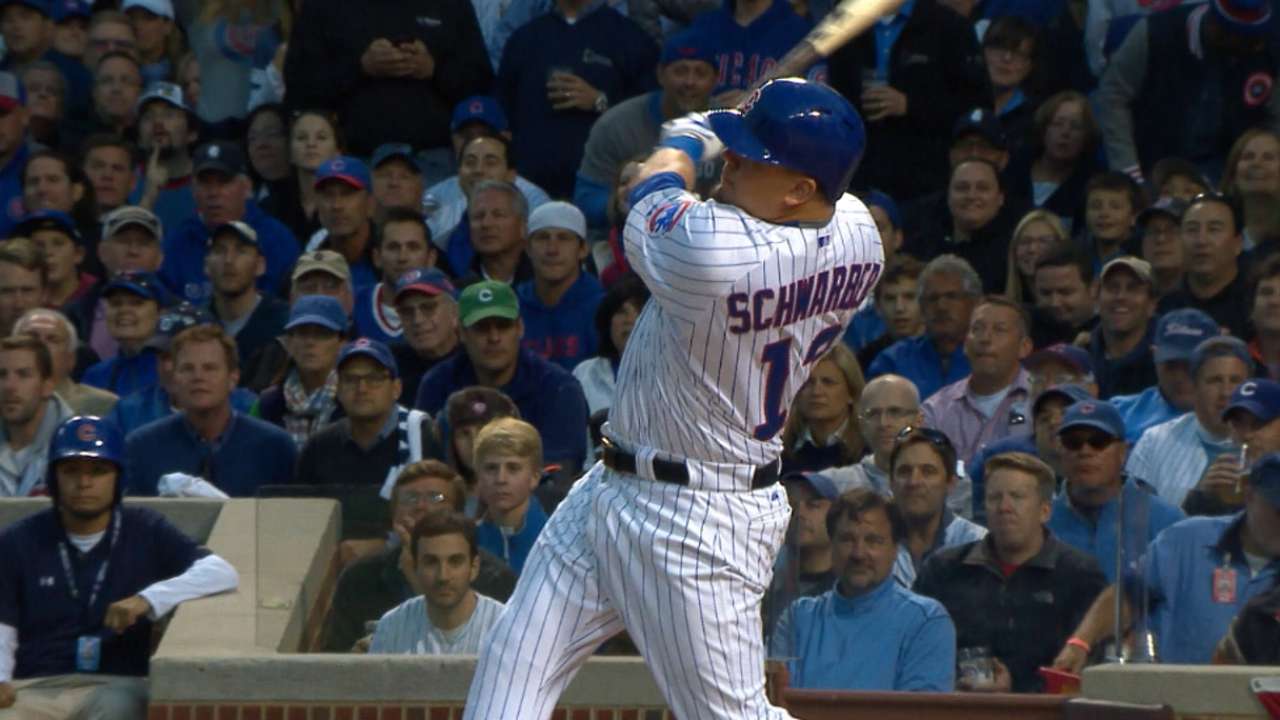 Schwarber now has hit safely in all four of his postseason starts and is 5-for-10, so far.
"We're good baseball players," Schwarber said of the Cubs' rookies. "That's why we're here. You can't look at it as young. We're baseball players. We know what needs to be done, and so whatever situation comes up, we'll get it done."
The Cubs are the first team in postseason history to have four players 23 or younger hit home runs, with Javier Baez hitting a three-run homer in the second inning and Kris Bryant and Jorge Soler connecting in Game 3.
• Super sub: Baez delivers big blast for Cubs
How far can they go? Epstein said he talked to Pearl Jam lead singer and Cubs fan Eddie Vedder, who was at the game, about what the 2015 team is doing and the music business.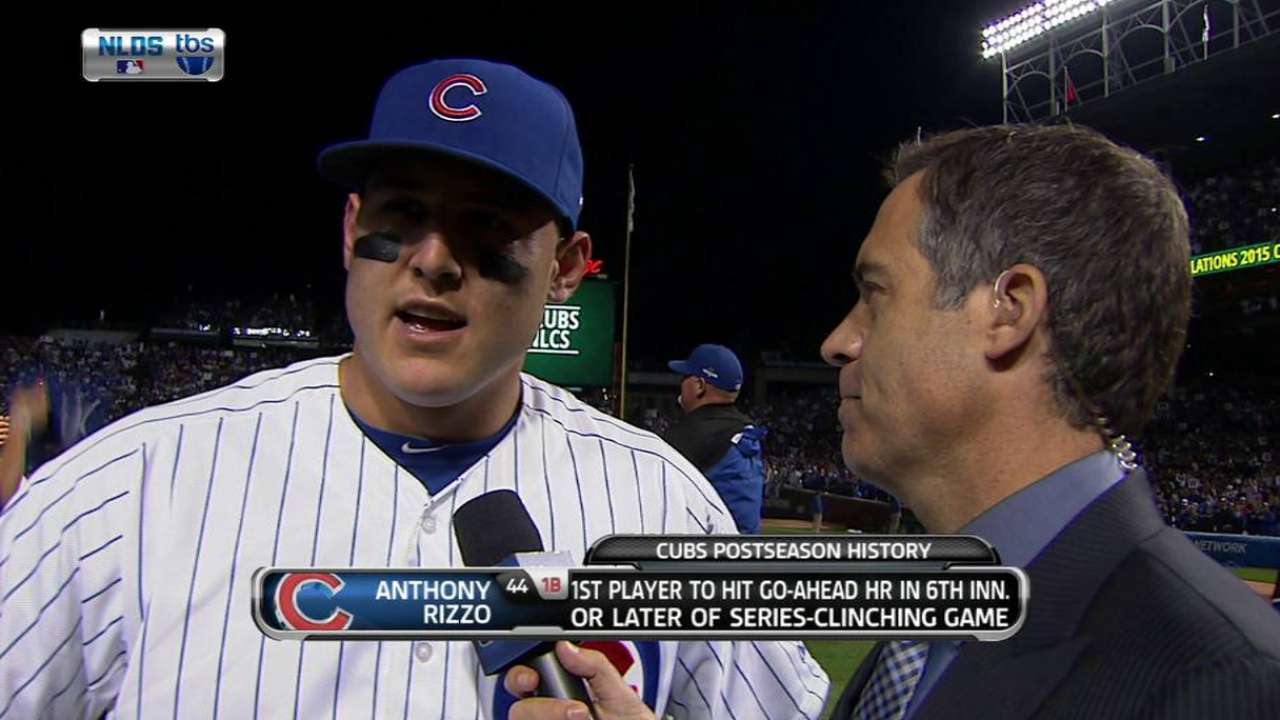 "This is like our first record," Epstein said. "You put that record out, and then things blow up and it's a wonderful time of innocence and exceeding expectations, bursting on the national scene.
"These guys care so much about each other. Maybe it'll get more complicated as time goes by, but I don't think it'll get any less special. They really care about each other. These guys not only have a lot of talent, but a lot of character. To see it manifest on such a big stage is incredible."
Carrie Muskat is a reporter for MLB.com. She writes a blog, Muskat Ramblings. You can follow her on Twitter @CarrieMuskat and listen to her podcast. This story was not subject to the approval of Major League Baseball or its clubs.