Moose's rally call resonated in Royals' dugout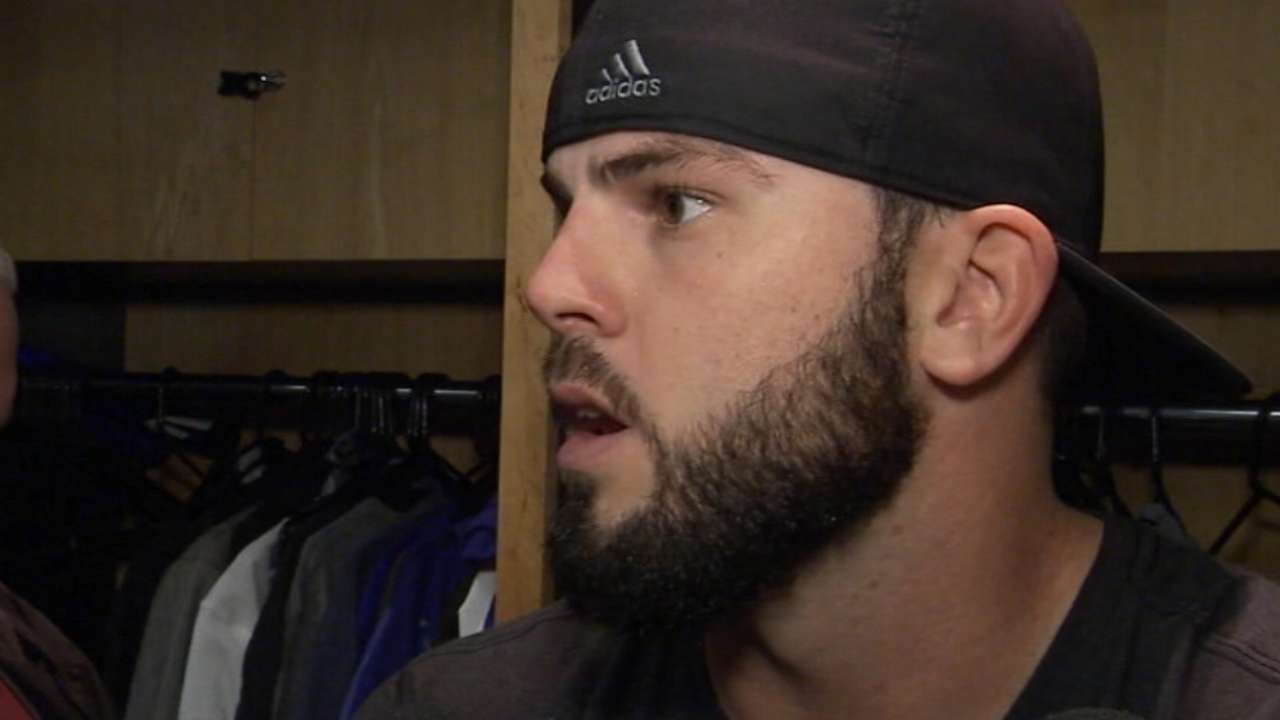 KANSAS CITY -- Before addressing the media at his locker after a workout day on Tuesday, Royals third baseman Mike Moustakas joked that if anyone asked him to recite what he told his teammates before their epic eighth-inning comeback in Game 4 of the best-of-five American League Division Series on Monday, he couldn't remember it.
Moustakas tried to downplay his role in Kansas City's five-run eighth that erased a four-run deficit and forced a decisive Game 5 on Wednesday (8 p.m. ET on FOX Sports 1), but his teammates all credited him for firing them up before the inning, telling them they weren't going to lose the game. It was a similar rallying cry that Raul Ibanez gave to the Royals last year, when they were down by four in the eighth against the A's in the AL Wild Card Game before their unbelievable win that helped propel them to Game 7 of the World Series.
• Shop for official Royals postseason gear
"It wasn't just me, everyone in that dugout was fired up," Moustakas said. "I think I just might've been the loudest. But we were all fired up and saying we weren't going to lose this game. We weren't ready to go home yet. We were able to battle back and find a way to win, and push it to a Game 5, which was huge."
But as left fielder Alex Gordon noted, it was Moustakas who led the charge in the dugout before the eighth.
"Moose just started yelling and saying we weren't going to lose this game and it kind of fired up the dugout," Gordon said. "One thing led to another and it kept rolling."
Moustakas said he saw after the game just how improbable the comeback was, as the Astros had a 96.8 percent chance of winning entering the eighth with a four-run lead, according to Fangraphs.com. But Moustakas said the Royals always believed they would win, and that in that sense, he wasn't amazed they beat the odds once again.
"I saw that stuff on TV with the 3.2 percent chance or whatever," Moustakas said. "When you're down four runs in the eighth against a good pitcher, it's obviously not a likely scenario to come back. But again, this team never stops believing and we were able to get the job done."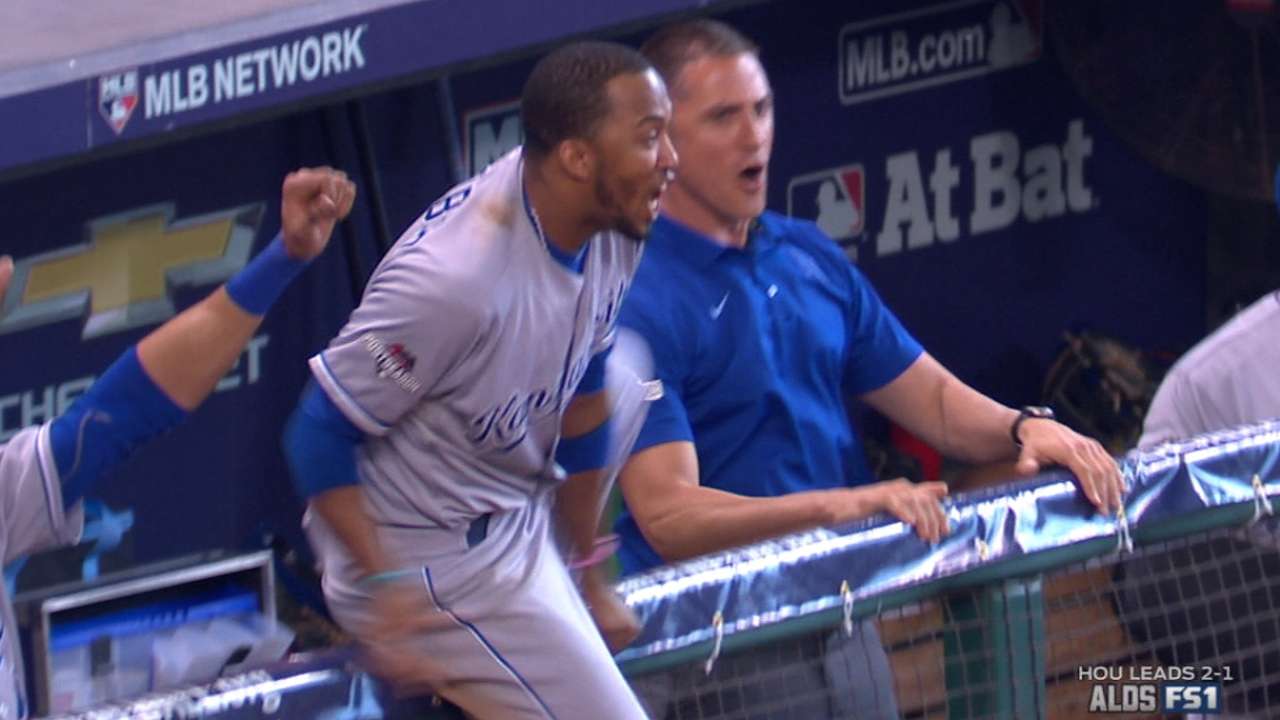 That belief the Royals would come back despite the odds was echoed by manager Ned Yost, who had a similar feeling during last year's Wild Card Game. He said the rallies had the same feel and he was always confident his team would pull through.
"They weren't really different," Yost said. "They were rallies with your back against the wall. You knew that sooner or later, we had to get the bats going if we were going to win that. It was just the same type of rally."
The Royals, though, know their rally won't have as much meaning as last year's if they can't come through in Game 5 on Wednesday, but Moustakas said he likes his team's chances in the deciding game.
"Yesterday was a huge win for us and there's a lot of momentum our way right now," Moustakas said. "We played great with our backs against the wall and to find a way to win was huge. It can only help us going into tomorrow."
Rhett Bollinger is a reporter for MLB.com. Read his blog, Bollinger Beat, follow him on Twitter @RhettBollinger and listen to his podcast. This story was not subject to the approval of Major League Baseball or its clubs.