3 keys for Blue Jays to top Rangers in Game 5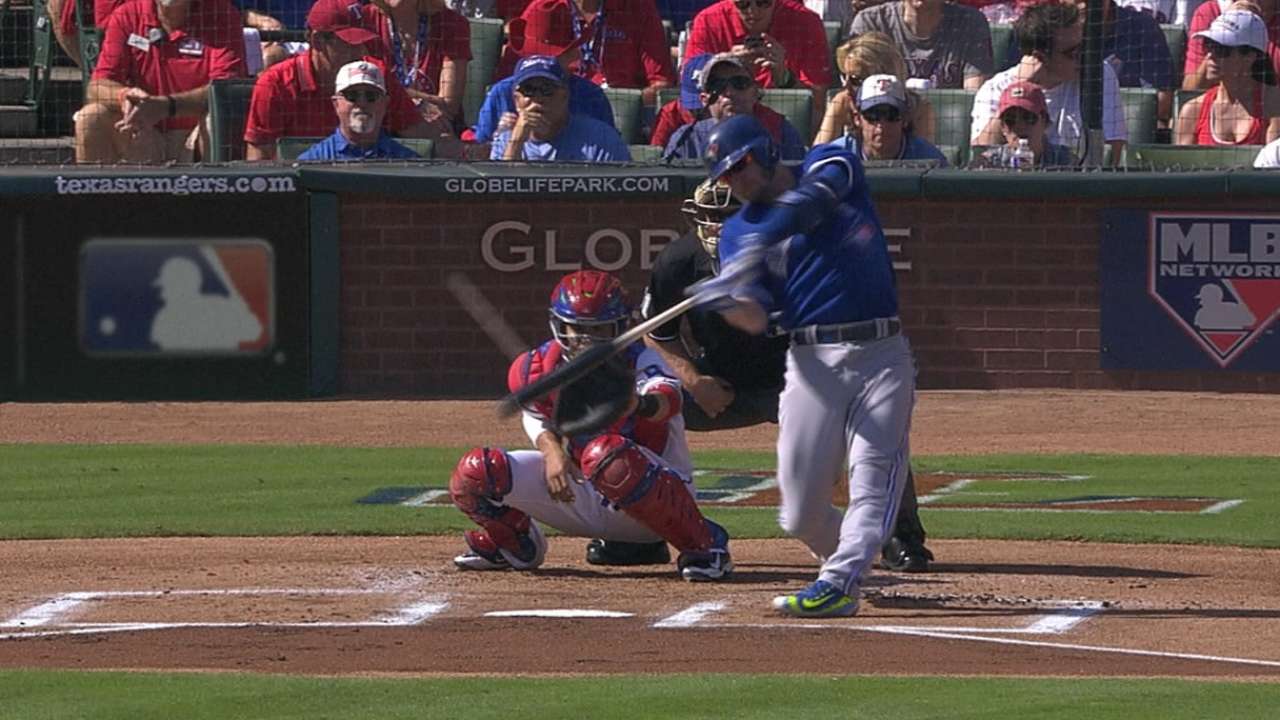 TORONTO -- The Blue Jays have a chance to become the sixth team in the history of the Division Series to overcome an 0-2 deficit and advance to the next round, but the task will not be easy.
It's another win-or-go-home situation for Toronto with right-hander Marcus Stroman taking the mound for the Blue Jays against Rangers lefty Cole Hamels. With Game 5 scheduled for Wednesday at 4 p.m. ET on Sportsnet and FOX Sports 1, here's a closer look at three keys for the Blue Jays to advance to the American League Championship Series.
1. Marcus Stroman must pitch well. The Blue Jays' ability to avoid elimination will rest squarely on the shoulders of their Game 5 starter. Stroman's performance in the series finale will go a long way in determining whether the Blue Jays live to fight another day or instead pack up for the winter. Stroman has spent his entire baseball career defying the odds and he'll have to do it once more against Hamels.
• Shop for Blue Jays postseason gear
Toronto made the somewhat controversial decision to go with Stroman instead of left-hander David Price in Game 5. That would have seemed unfathomable a few weeks ago, but based on recent results it does make some sense. Price struggled in Game 1 and historically does not pitch well against the Rangers (5.15 ERA), while Stroman came through with a strong outing in Game 2.
Four runs over seven innings might not sound good, but a pair of missed catches by Jose Bautista and Ryan Goins in the first inning combined with a throwing error by Russell Martin were the main reasons behind his early struggles. After that, he was lights out and he'll need to be again in Game 5 if Toronto is going to have a chance.
2. Lefty mashers. Toronto's lineup is potent no matter what type of pitcher is the mound, but the club is even more effective against lefties. The Blue Jays led the Majors with an .818 OPS against southpaws this season and the results carried over into Games 3 and 4 of the ALDS against Martin Perez and Derek Holland.
Hamels isn't just any regular lefty, though, and there's a reason why he has been one of the best pitchers in the game for years. In Game 2, Hamels surrendered four runs, but like Stroman, he was a victim of shoddy defense. Two of the runs were earned and his 3.05 ERA in 14 career postseason starts is a testament to his success at this time of the year.
One key for the Blue Jays will be Edwin Encarnacion, who has been hitting the ball hard all series, but doesn't have a whole lot to show for it. He's 5-for-17 with a homer and two walks in his career against Hamels. Josh Donaldson homered off Hamels in the first inning of Game 2 and an early lead would go a long way in helping Stroman settle into the game.
3. The bullpen. There are a whole lot of questions in Toronto's bullpen and not a lot of answers. Brett Cecil is done for the year because of a torn calf muscle, manager John Gibbons maintains that Price will not be used out of the bullpen after throwing 50 pitches in Game 4 and Aaron Loup's status for the series finale is unknown because of a family situation.
The Rangers feature five left-handed hitters in their lineup and Toronto faces the very real possibility of going to the bullpen without an available lefty. That will put even more pressure on the rookie pairing of Roberto Osuna and Aaron Sanchez, while Mark Lowe should figure prominently into a setup role.
Marco Estrada should be available out of the bullpen, while Ryan Tepera and his .568 opponents' OPS also may be pressed into duty for the first time this series. If this turns out to be a close game, Gibbons' biggest challenge of the series will be figuring out which reliever to go to and when. The longer Stroman can go, the better it will be for Toronto's chances of advancing.
Gregor Chisholm is a reporter for MLB.com. Read his blog, North of the Border, follow him on Twitter @gregorMLB and Facebook, and listen to his podcast. This story was not subject to the approval of Major League Baseball or its clubs.