Red Sox announce front-office changes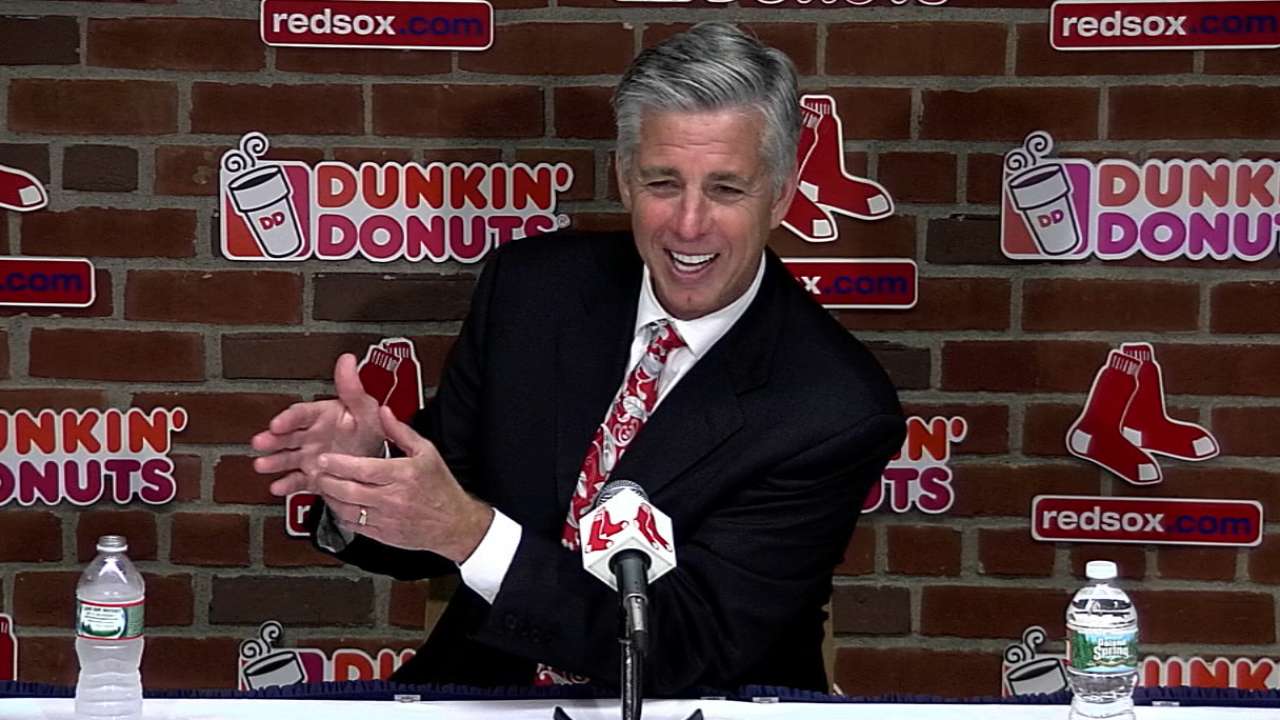 BOSTON -- President of baseball operations Dave Dombrowski completed his re-shaping of the Red Sox' front office by announcing a series of moves on Tuesday.
Eddie Romero was promoted to vice president of international scouting after serving as the director of that department for the last several years. Adrian Lorenzo, who was in charge of replays for the Red Sox last season, as well as serving as an interpreter for Rusney Castillo, is now a coordinator in interational scouting.
Brad Sloan, who has over 35 years of scouting experience, was brought in to be a special assignment scout.
Harrison Slutsky was promoted to coordinator of advance scouting. Alex Gimenez was hired as an assistant in pro scouting.
"Our staff is pretty well set," Dombrowski said. "We are in a position from a professional scouting perspective, we worked hard to get that accomplished."
Most of Dombrowski's moves have come from within, but Frank Wren and Sloan serve as two prominent exceptions.
While there will be a lot of stability in the front office, with departments running much the way they have in the past, Dombrowski looks forwards to deploying a new formula when it comes to pro souting.
"We have seven people that are going to cover four organizations from low A through the Major Leagues," Dombrowski said. "Low A, High A, Double-A, Triple-A and up through the Majors Leagues. So five clubs times four, they will have 20 clubs they will be responsible for and Gus Quattlebaum will cover a couple of clubs from top to bottom.
"We will have three guys responsible for Major-League coverage and those three will be Frank Wren, Steve Peck and Eddie Bane, those will be our three special assignment scouts, and then Brad Sloan, who just got on board, will also help us in that regard, and those guys will also help us when it comes to scouting in the Far East or Cuban players that have come out, people who will be more of a Major League impact type of decisions."
What does Dombrowski like about this setup?
"I like having the idea of having these individuals at the professional level on a full-time basis," Dombrowski said. "And in Detroit, we didn't go all the way down to A-ball with our professional coverage. I like the idea of having those three guys that are responsible for Major League clubs; that's their responsibility, they'll have 10 clubs each, but they'll also cross over at times with coverage. So when you're making a trade, you're looking at that person, 'How do you feel about this deal?' I like dealing like that. I like having people be responsible for that.
"It's just a little bit different. People had the responsibility, but they also had other responsibilities that took up a lot of their time. It's not right, not wrong, not indifferent. It's just how I like to do it."
Ian Browne is a reporter for MLB.com. This story was not subject to the approval of Major League Baseball or its clubs.