Brewers' Phillips building off strong season heading into AFL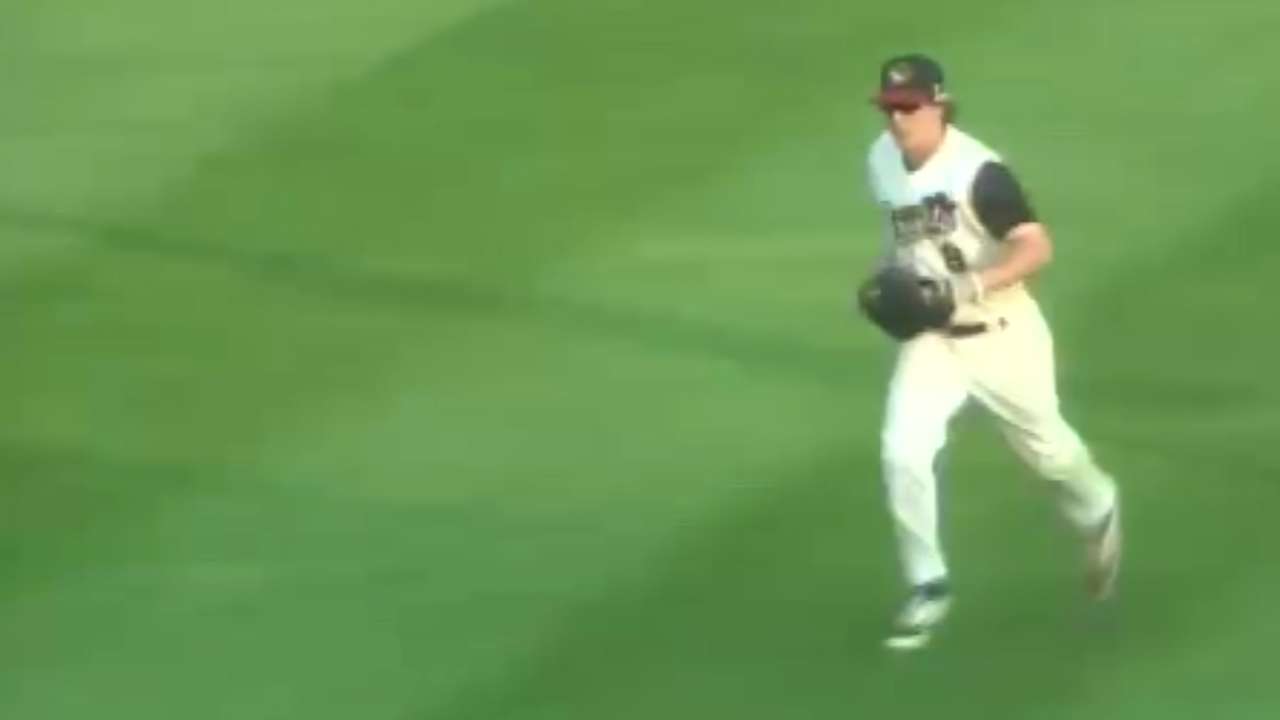 PEORIA, AZ -- The uniform has changed, but Brett Phillips has maintained the same mentality. Phillips, ranked by MLB Pipeline as the No. 32 prospect in baseball, was traded from Houston to Milwaukee during the summer, and he's capping his year with extra work in the Arizona Fall League.
Phillips, a well-rounded outfielder, headlines the roster of the Surprise Saguaros, but he had a day off in Monday's AFL season opener. The 21-year-old said he learned a lot this year, which began in the Class A California League with the Astros and ended in the Double-A Southern League for Milwaukee.
Then, after a few weeks to rest, he flew to Arizona to punctuate his season with Surprise. Phillips said that while all the players in Arizona are tired from a long grind, they're glad to still be playing.
"I was happy to hear I'm coming out here," he said. "The Brewers are giving me the opportunity to play with the best guys in the Minor Leagues. It's going to be a good experience playing with these guys I've played against and have seen in the Minor Leagues. It's an awesome opportunity to be here."
Phillips, a sixth-round selection in the 2012 MLB Draft, has posted a .295 batting average in 345 games in the Minor Leagues. Phillips batted .320 with 15 home runs in 66 games at Class A Lancaster last season, but he then combined for just one home run in 54 games between two Double-A affiliates.
And while the power wasn't necessarily there at the higher level, Phillips still hit for average.
Phillips managed to hit .321 in 31 games for Double-A Corpus Christi prior to being included in a four-prospect trade for Carlos Gomez and Mike Fiers. Following the trade, Phillips hit .250 in 23 games with Double-A Biloxi, and he even got a chance to play in the Southern League playoffs.
The year was a whirlwind, said Phillips, but he's doing his best to roll with the changes.
"It was bittersweet," he said of being dealt one day before the non-waiver Trade Deadline. "I established good relationships with those guys over with the Astros, but this is a good opportunity for my career. That's what it boils down to: You want to be wherever you're in the best spot for your career."
Right now, there's no better place. Phillips is playing alongside two of the prospects that came over in the Gomez deal -- Josh Hader and Adrian Houser -- and he's playing for Carlos Subero, his manager at Double-A Biloxi and the Southern League Manager of the Year this season. Subero, the Surprise manager, said he looks forward to watching Phillips grow.
"Phillips is a kid that has all five tools," he said. "He can run, he has some strength and he has ability to hit for average. He has a tremendous arm. He can go get them in center field. There's a lot of room for improvement, and it's just basically playing time. Play and develop. That's a pretty good player."
Phillips has slowly rounded out his game over the last few seasons, and he's managed to hit double-digit home runs and stolen bases in each of the last two years. Now, he just has to get more consistent, and Subero said that maturity will come just from playing and seeing the game at a higher level.
"I think he'll develop power as he gains experience," he said of Phillips. "Basically, the baserunning part and the base-stealing part [can improve], getting better angles and utilizing his speed the correct way. Being able to bunt and being able to get a hold of one in a hitter's count. It's just basically experience. The more experience you get, the better player you're going to be. And he has a lot of talent."
Phillips, a native of Seminole, Fla., has done quite a bit of winning in the Minor Leagues. He won the California League championship last season while playing with Houston, and Double-A Biloxi narrowly lost a best-of-five series against Chattanooga in this year's Southern League championship.
The youngster missed the final two weeks of the year due to a thumb injury but healed in time for the postseason, and he said he was proud of the way he played this season. Phillips noted that just about every player has room for improvement, and he knows he still has a lot to learn.
"It was a good season, and it's going to be a good season for me to build off. I just want to keep getting better each and every day," he said. "The moment you get complacent, that's the moment somebody's going to pass you up. It's just a matter of my overall game getting better each and every day."
Phillips is busy in the Arizona Fall League, but his old team is still on his mind. He's totally turned the page with the Brewers, but he admits that he can't help but wish the Astros well in their postseason run.
"Most of those guys are my boys," he said. "I played with Lance McCullers and Carlos Correa, and they're representing well for the rookies. I'm happy to see how far they've gone, especially after the season they had last year and the year before. I can only be happy for them. I hope they win the World Series."
Spencer Fordin is a reporter for MLB.com. This story was not subject to the approval of Major League Baseball or its clubs.