Castilla chosen for Colorado Sports Hall of Fame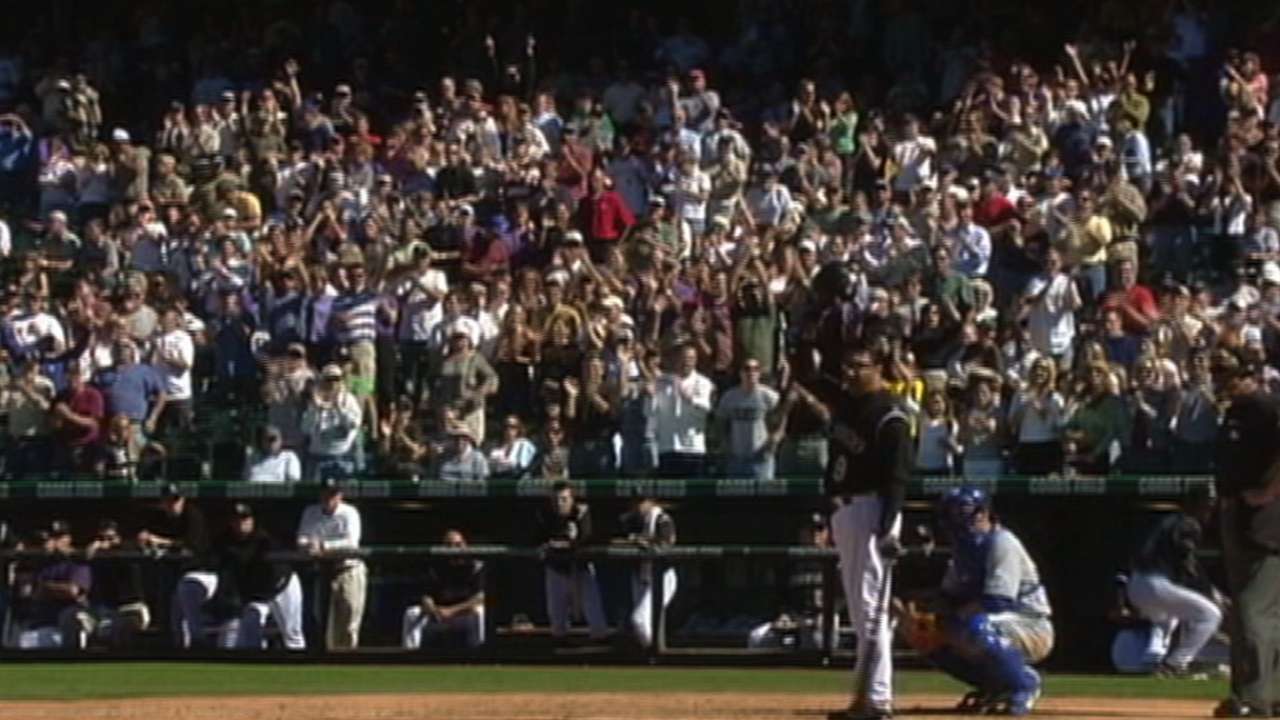 DENVER -- Vinny Castilla, one of the Rockies' earliest stars, was chosen Tuesday to the Colorado Sports Hall of Fame. He will be inducted during the 52nd annual banquet on April 19, 2016, at the Denver Marriott City Center.
Castilla, who played nine of his 16 seasons with the Rockies and represented the team twice in All-Star Games, will be joined by former Colorado Avalanche hockey star Milan Hejduk and former Denver Rockets/Nuggets basketball star Ralph Simpson as professional athlete inductees.
The Rockies selected Castilla from the Braves in the 1992 Expansion Draft, and he played for the club from 1993-99, with All-Star appearances in 1995 and 1998. He returned in 2004 and led the National League with 131 RBIs, and he also played the final 15 games of his career with the club in 2006. Castilla, 47, now serves as a special assistant to the general manager.
"Oh man, it's a great honor," Castilla said, not long after receiving a call from the Hall of Fame committee and sharing the news with his wife and family. "We enjoyed the news. I love the city of Denver and the fans, and it's special to be honored in Colorado."
Castilla, born in Oaxaca, Mexico, was also inducted into the Latino Baseball in La Roman, Dominican Republic, in 2014. Castilla has managed the Mexican National Team twice, in the 2007 Pan American Games and the 2009 World Baseball Classic.
Although Castilla also played for the Braves, the Rays, the Nationals and the Padres, the Rockies are simply special to him.
"My greatest memory was 1995, when we clinched out first playoff appearance. The game was exciting, Curtis Leskanic was pitching, and there was a ground ball to Big Cat (Andres Galarraga). When he stepped on first base, it was my happiest baseball moment.
"And the Rockies have always been a class act. In 2006, I was not having a good year, and San Diego let me go. But [then-general manager] Dan O'Dowd and [the late club president] Keli McGregor called me and said they wanted me to retire with the Rockies and be a part of the organization after that."
Castilla played 1,098 games with the Rockies and compiled a .294 batting aveage with 239 home runs and 745 RBIs. He hit 46 home runs in 1998 and 40 in the 1996 and 1997 seasons.
Also being inducted are Rhonda Blanford-Green, who spent 22 years as an educator and coach for Aurora, Colo., public schools and 16 years as an administrator with the Colorado High School Activities Association; Jim Danley, baseball coach at Eaton High School for 44 seasons and winner of 11 state championships; and Jim Toupal, longtime head basketball coach at Trinidad State Junior College.
Tickets for the banquet are $200, and sponsor tables start at $2,500. For more information, contact the Colorado Sports Hall of Fame at www.coloradosports.org or (720) 258-3535.
Thomas Harding is a reporter for MLB.com. Follow him on Twitter @harding_at_mlb, and like his Facebook page. This story was not subject to the approval of Major League Baseball or its clubs.