Super sub: Baez delivers big blast for Cubs
Amid year in which he dealt with family tragedy, demotion, shortstop delivers in place of Russell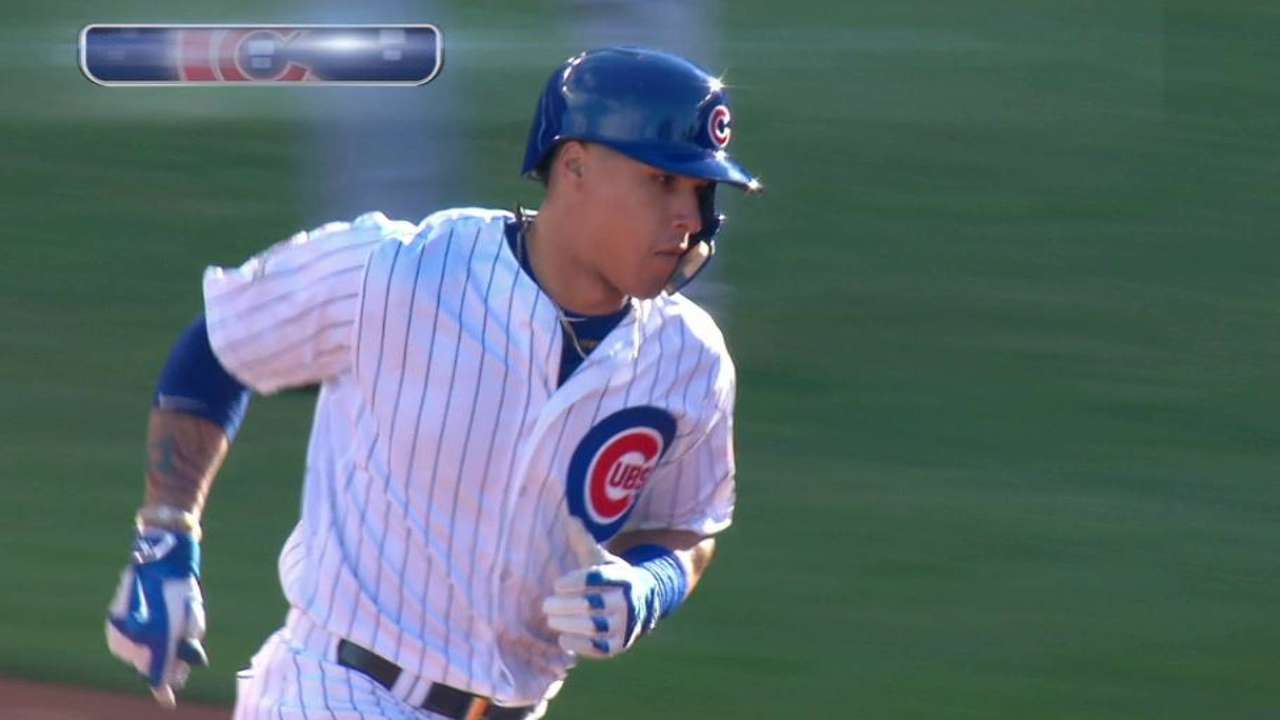 CHICAGO -- All the struggles, all the difficult times that Javier Baez had to deal with this year were gone with one swing Tuesday.
Starting in place of injured shortstop Addison Russell, Baez launched a three-run home run in the second inning of Game 4 of the National League Division Series to help the Cubs post a 6-4 victory over the Cardinals.
• Celebrate trip to NLCS with Cubs postseason gear
"Addy goes down -- hopefully, we get him back soon -- and Baez stepped up in a huge situation, stayed cool under pressure," Chicago pitcher Jake Arrieta said. "A huge swing of the bat by him helped us win this ballgame."
Baez was projected as the Cubs' starting second baseman, but after batting .173 in Spring Training, he was assigned to Triple-A Iowa. Then, tragedy struck, as his sister, Noely, 21, passed away in early April. She was born with spina bifida, a disabling birth defect that happens when the spinal column does not close all the way.
"It's been a tough year for me, but life continues," said Baez, who has his sister's name stitched on his glove. "I'm just living day by day and trying to get better at baseball."
Cubs manager Joe Maddon was just looking for solid defense from Baez, not necessarily another home run, after he committed an error in relief of Russell in Game 3.
"I asked him to own the game tonight, just own the game like you do," Maddon said. "I've seen him playing winter ball. I've seen him in San Juan last winter, it was the first time I saw him play, and I saw how comfortable he was and how well he played with that kind of confidence. And I've seen it this year, too. My advice to him tonight was just to own the game, and he kind of did."
Chicago totaled 10 homers in the NLDS; they had hit seven in their previous four NLDS combined (14 games). The 10 are tied for the most by any team in a Division Series since the Astros hit 11 in the 2004 NLDS against the Braves.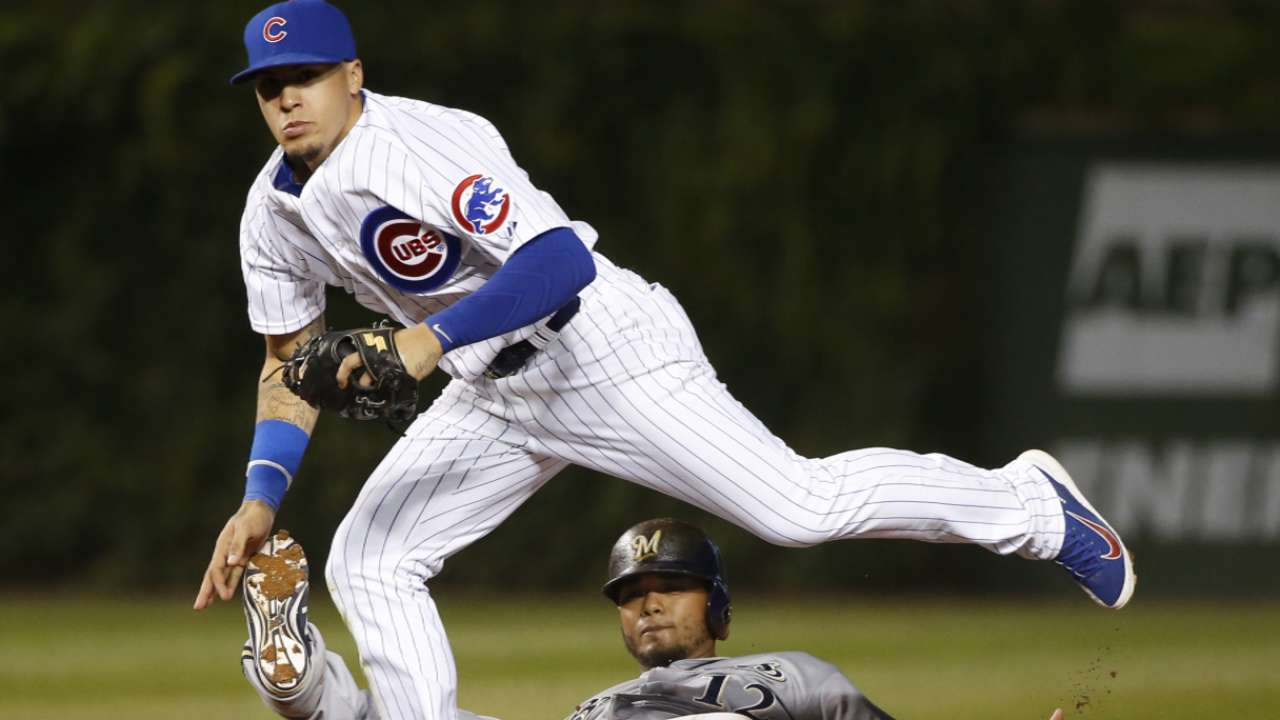 Russell's status for the remainder of the postseason was to be determined. He underwent an MRI exam on Tuesday, and the Cubs have a couple of days to let him get treatment. Baez's homer was one of three in the game for the Cubs, but it may have been the most significant.
"Everybody knew he had it in him," Chicago's Kris Bryant said. "I've been amazed by the adjustments he's made from last year to this year. The kid's going to be a stud. He hit a tough pitch, especially that time of the day with the shadows. I couldn't see the ball my first at-bat and he goes up there and hits a three-run homer. I'm so happy for him."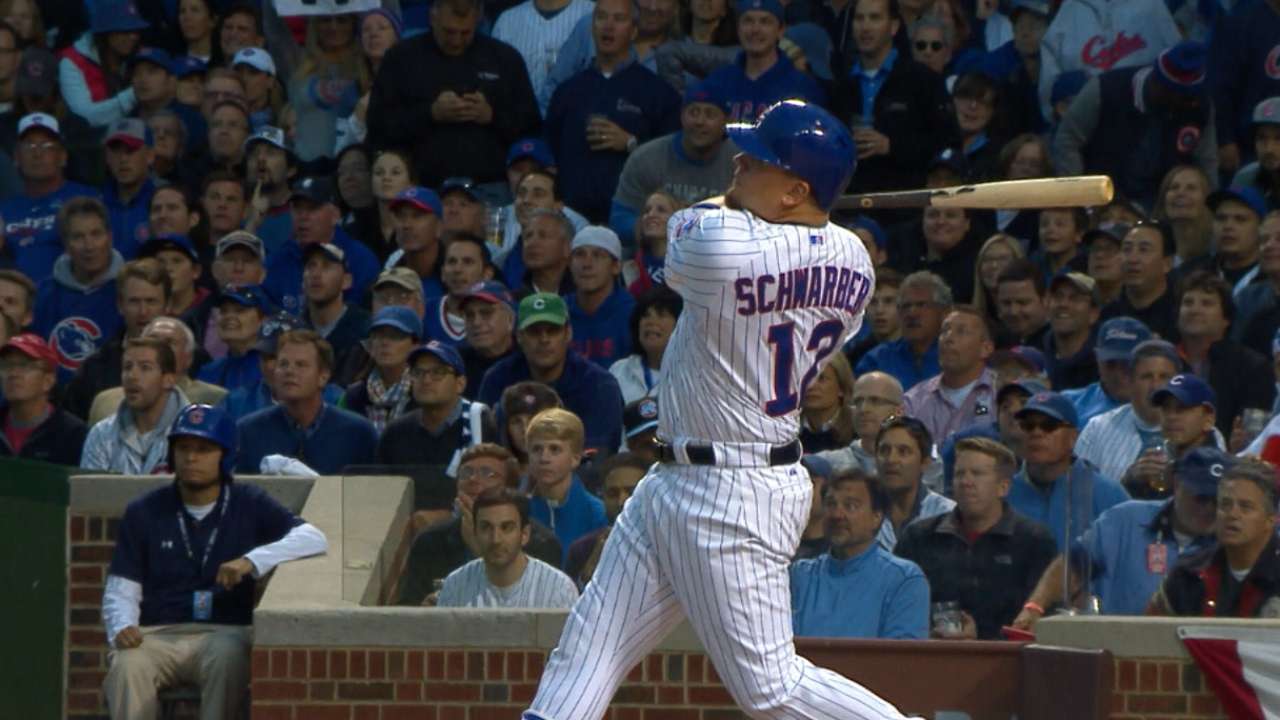 Said Starlin Castro: "I enjoyed that moment a lot. He was on the bench, but he's always ready to hit. Today, he's in the lineup and he hit that homer for us."
In Game 3 Monday, when Baez took over at shortstop, he made an error and looked a little shaky in the field.
"For right now, I have a lot of confidence [in Baez]," Maddon said.
Standing in the Cubs' clubhouse with a champagne bottle in his hands and protective goggles on his face, Baez enjoyed the moment.
"With Addy out of the lineup, I was just ready to come in the game and make something happen," Baez said. "We all stay ready the whole game just in case something happens."
He's been waiting for this moment.
"Javy, who was biding his time sitting on the bench and had a tough game [Monday], steps up and puts an unbelievable swing on a pretty good pitch and hits a Javy bomb and changes the whole nature of the game," Cubs president of baseball operations Theo Epstein said. "That was very 2015 Cubs. We are extraordinarily deep, really, really gutsy, and I think we're learning to count on these players when it matters most."
Carrie Muskat is a reporter for MLB.com. She writes a blog, Muskat Ramblings. You can follow her on Twitter @CarrieMuskat and listen to her podcast. This story was not subject to the approval of Major League Baseball or its clubs.