Sanchez locked in, dominating Rangers
Filling void left by Cecil, rookie effective vs. lefties, righties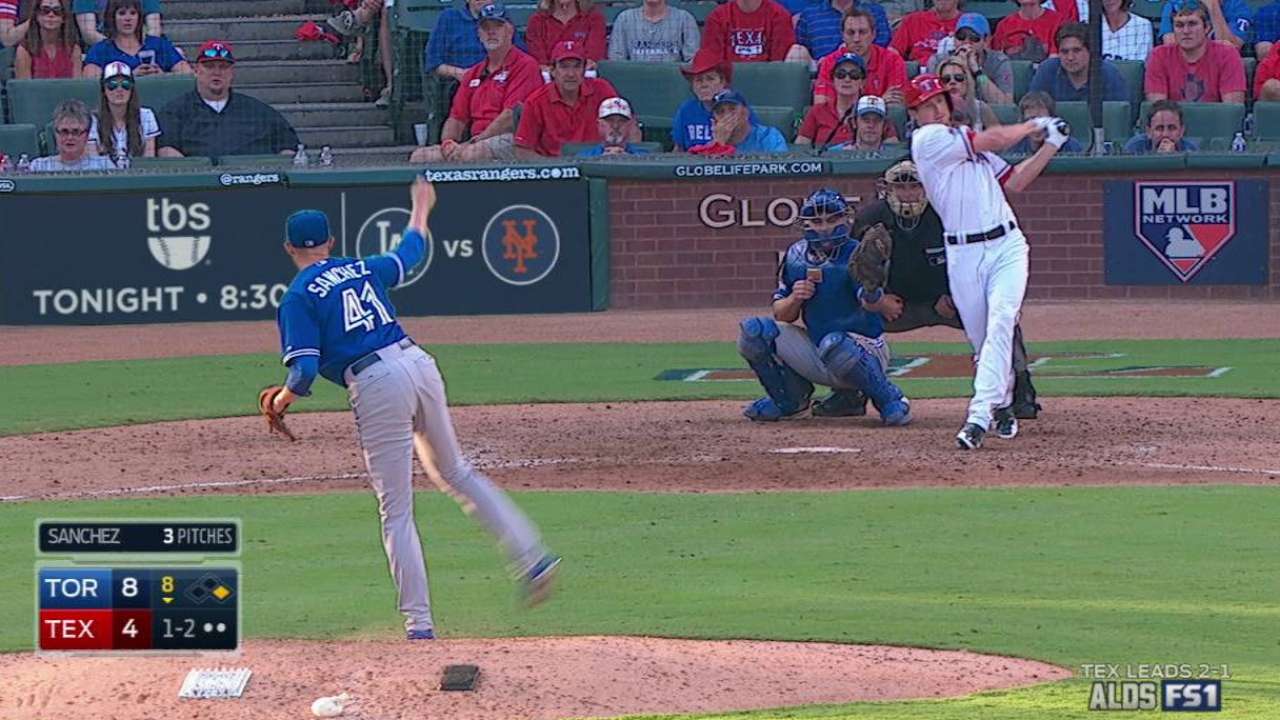 TORONTO -- The Blue Jays' road back into this American League Division Series needed major work to return here for Game 5 (Wednesday at 4 p.m. ET, FOX Sports 1/Sportsnet). If David Price was the bridge, carrying the early lead in Game 4 to the late-inning relief, then Aaron Sanchez has been a smooth, fast expressway.
Sanchez's numbers are quietly dominant: Four appearances in as many games, four shutout innings, one baserunner, five strikeouts. No rookie jitters.
• Shop for Blue Jays postseason gear
"He's had a very good series," Blue Jays manager John Gibbons said Monday. "He's really locked in right now."
Sanchez is so locked in that he's getting big outs beyond his comfort zone.
Toronto not only lost the early games in this series, it lost Brett Cecil when he tore a calf muscle on a rundown. Not only was Cecil the Blue Jays' best lefty reliever, he was a presence against batters of all sorts in the late innings, closing earlier in the season before handling eighth-inning leads down the stretch alongside Sanchez in support of closer Roberto Osuna.
Gibbons has found ways the last couple games to take care of the lefty matchups. Aaron Loup quieted a Rangers rally in Game 3 by retiring Rougned Odor with two on and one out in the seventh. With Loup unavailable for Game 4, Price stepped in and handled the lefty heart of the Rangers' order twice.
But the plan doesn't work if Sanchez can't pick up the late innings, including lefty hitters he previously might not have faced. In that, Sanchez has been effective.
After tossing a perfect ninth in Game 1 at Rogers Centre, then retiring five of six batters in the 12th and 13th innings to continue the marathon Game 2, Sanchez inherited a 5-1 lead in Game 3 and carried it. He retired the side in order in the eighth, capped by a 96-mph fastball for a called third strike on Shin-Soo Choo.
On Monday, Sanchez followed Price with two outs in the eighth inning and two runs already in, reducing Toronto's lead to 8-4, and struck out pinch-hitter Drew Stubbs, this time swinging at a 97-mph fastball.
During the regular season, left-handed hitters had a .282 average (48-for-170) and nine home runs off Sanchez. They're 1-for-4 off him in the ALDS.
Sanchez's repertoire is no secret. He has thrown 59 pitches, and all but two have been fastballs, sinkers or cutters. But even with barely an offspeed offering, he has thrown fastballs so precisely, especially for a 23-year-old with postseason adrenaline, Rangers batters have struggled to hit them.
"He's still primarily a one-pitch guy," Gibbons said. "When he can run that two-seam fastball, he runs it in on the left and brings it back to the plate. It will buckle you a little bit, especially as hard as he's throwing. I think that's a big pitch for him, instead of just having to sit out over the plate, and really they can lock in in that one zone. So moving the ball around, I think, helps -- and throwing strikes.
"When he's getting ahead, everything swings in his favor. Fall behind, as hard as it is to still hit him, they can really lock in on one thing."
The stakes rise for Game 5. Though Price said he could be ready for a short relief appearance, Gibbons downplayed the chances. Likewise, Gibbons said he wasn't sure if Loup would be back. If both are out, the Blue Jays would not have a lefty in their bullpen against a lefty-heavy Rangers lineup, and Sanchez would likely have another test.
Regardless, the bulk of the responsibility with an eighth-inning lead will fall on Sanchez. For his age and this stage, that is becoming a comfortable feeling.
Jason Beck is a reporter for MLB.com. Read Beck's Blog, follow him on Twitter @beckjason and listen to his podcast. This story was not subject to the approval of Major League Baseball or its clubs.