Feast or famine approach personifies Astros
At any moment, anybody can reach back and go deep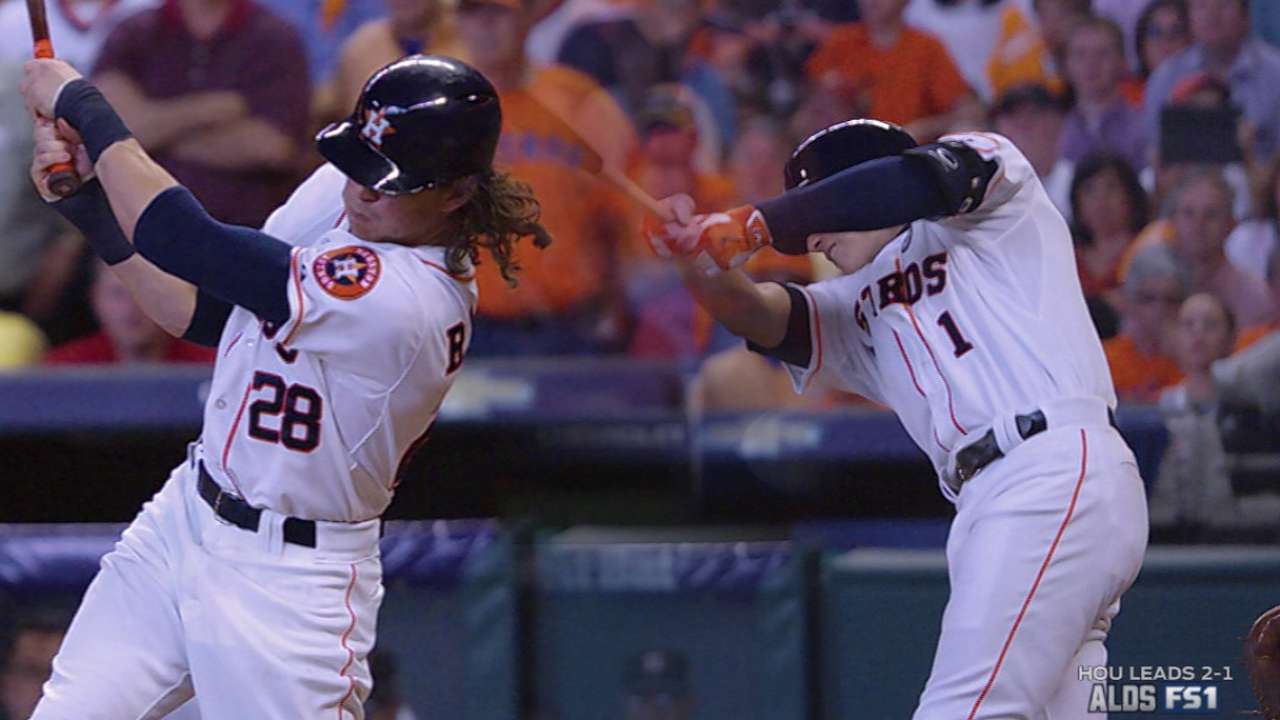 HOUSTON -- The Astros' offensive approach is frustrating, fitting for a franchise and fanbase who've weathered a decade of such emotions.
They have a Major League-record 11 hitters with 10 or more home runs but an American League-high 1,392 regular-season strikeouts and are defined by aggressive swings no matter the count -- a true feast or famine approach that's carried them further than most prognosticated before the season.
• Shop for Astros postseason gear
"But if you have guys that are capable of hitting home runs all up and down the lineup, literally any given time they come up to the plate, I like our chances," veteran catcher Jason Castro said.
Houston relished its time at hitter-friendly Minute Maid Park in Games 3 and 4, mashing five home runs in the two-game span. Four came in Monday's 9-6 loss -- a Royals postseason record for home runs allowed in a game.
Now back to the spacious Kauffman Stadium, where Houston hit three home runs in Games 1 and 2, for Game 5 at 8 p.m. ET on FOX Sports 1, the Astros' power remains its most lethal offensive weapon as they battle for their first berth in a League Championship Series since 2005.
"We've got power through the lineup, and a walk here, a base knock there and a home run and it's three runs," designated hitter Evan Gattis said. "I feel like we can always score runs really quick."
Gattis saw it firsthand on Monday. Holding a tenuous 3-2 lead in the home-half of the seventh, 11 pitches to Carlos Correa and Colby Rasmus produced back-to-back home runs that swelled the lead to 6-2 in front of a deafening crowd of 42,837.
Carlos Gomez, who epitomizes this Astros offensive approach perhaps better than anyone, preceded those theatrics with a solo shot of his own in the second. Playing through an intercostal strain hasn't slowed the aggressive Gomez, who ends many of his swings on one knee or without a helmet.
Leadoff man Jose Altuve and right fielder George Springer occasionally follow suit. Altuve even ended up on one knee himself after a swing in Game 4.
That's all fine
"We're not perfect hitters. We don't have perfect approaches. We have had a couple guys fall down trying to swing," manager A.J. Hinch said. "So we're very creative with how we go about it, but the reality is, if you do give us a pitch to hit, there is not a ballpark that can hold us."
Chandler Rome is an associate reporter for MLB.com. This story was not subject to the approval of Major League Baseball or its clubs.