Astros' bullpen remains confident
After struggling in Game 4 vs. Royals, relievers turn page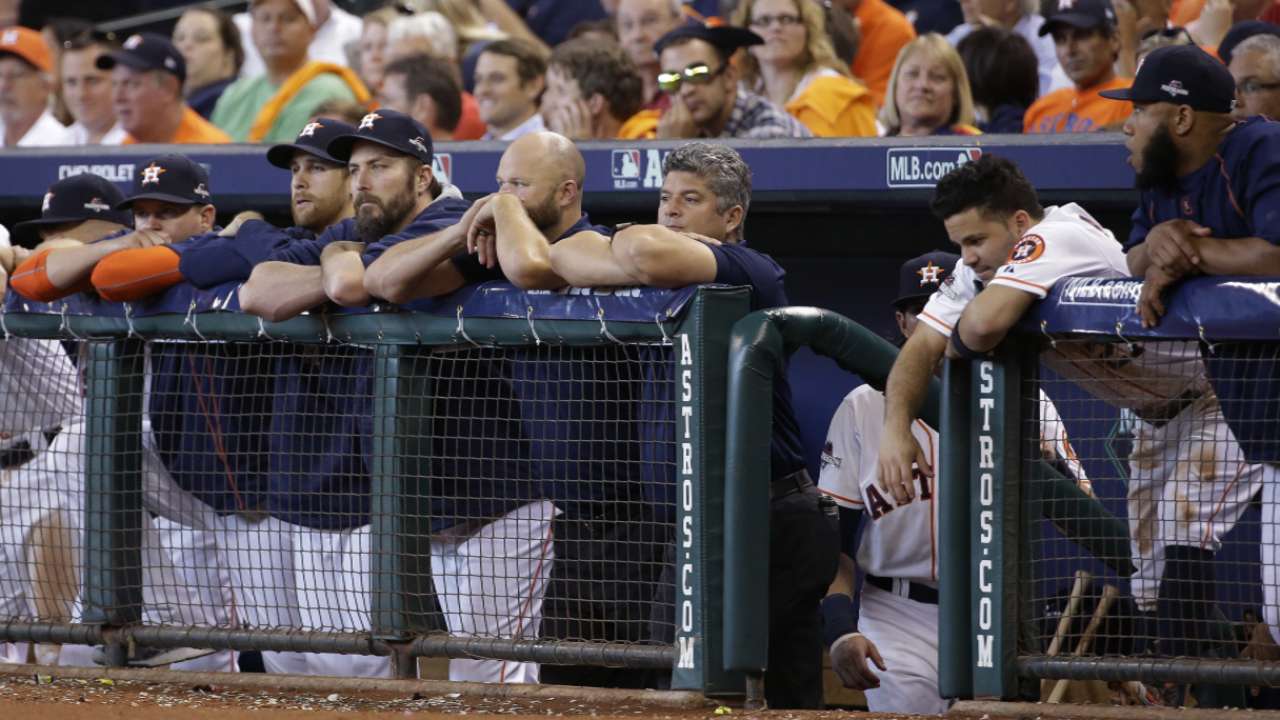 KANSAS CITY -- Will Harris attempted a smile and sheepishly shook his head.
The ever accommodating Astros reliever was honest when asked about the part of the night that followed a nightmarish performance against a Royals team that forced its way back into the American League Division Series with a stunning 9-6 victory in Game 4, setting up a winner-take-all Game 5 at Kauffman Stadium on Wednesday at 8 p.m. ET on FOX Sports 1.
• Shop for Astros postseason gear
"It wasn't too good," Harris said. "It was tough having to leave to go on the road again. It's good to be around your family. I have two kids, and so not being able to spend the night with them was tough. They make it a lot easier.
"But I woke up this morning, felt good, had a good workout here today, and I'm going to prepare for tomorrow like it's any other game and hopefully get a chance to go out there and do the job better this time."
Before Monday, when Harris recorded the final out in the seventh inning before giving up four consecutive hits to start the eighth, with all four runners scoring, he had not surrendered more than two earned runs in any game this season.
Then there was lefty Tony Sipp, charged with the loss after allowing a fifth consecutive single in the inning to Eric Hosmer, who scored the go-ahead run to cap the five-run eighth. For insurance, Hosmer added a two-run homer in the ninth off Josh Fields, further magnifying an already miserable day for an assembly of relievers the Astros relied on for much of the season.
The day after, confidence remained in the group, which on Wednesday could include added help in starters Dallas Keuchel, Scott Kazmir and Mike Fiers.
"These guys are professionals," said Collin McHugh, who will start the decisive game. "They have been nails all year.
"These guys have been around. They have seen it. They know what they're up against, and so one bad day is not going to make or break them. Not going to make or break their season. They don't need a hug. They don't need a pat on the butt. They're professionals, and I wouldn't take anybody else behind me."
Monday was the first time in 167 games the 2015 Astros lost after holding a lead as large as four runs. But their bullpen is no stranger to adversity, as its manager noted Tuesday.
"We had a rough lull at the beginning of September," manager A.J. Hinch said. "A lot of things weren't going our way. We came out of that, did tremendously well.
"So I would expect our guys to be able to mentally get back into it tomorrow. Our guys will have all the confidence in the world. If I take the ball out of McHugh's hand, whoever I put that ball's hand into, our team will believe in."
Said Harris: "All relievers want the ball as soon as possible. From one day to the next, it's the reason why we lose and the reason why we win. I would want nothing more to get back in there tomorrow and perform well. We've had our down spots in the year, but we've pitched well as a group the whole year, and I don't see any reason why we wouldn't come out tomorrow and pitch well again."
Jane Lee is a reporter for MLB.com. This story was not subject to the approval of Major League Baseball or its clubs.