Astros turn page, eye trip to ALCS
After tough loss in Game 4, ballclub likes its chances vs. KC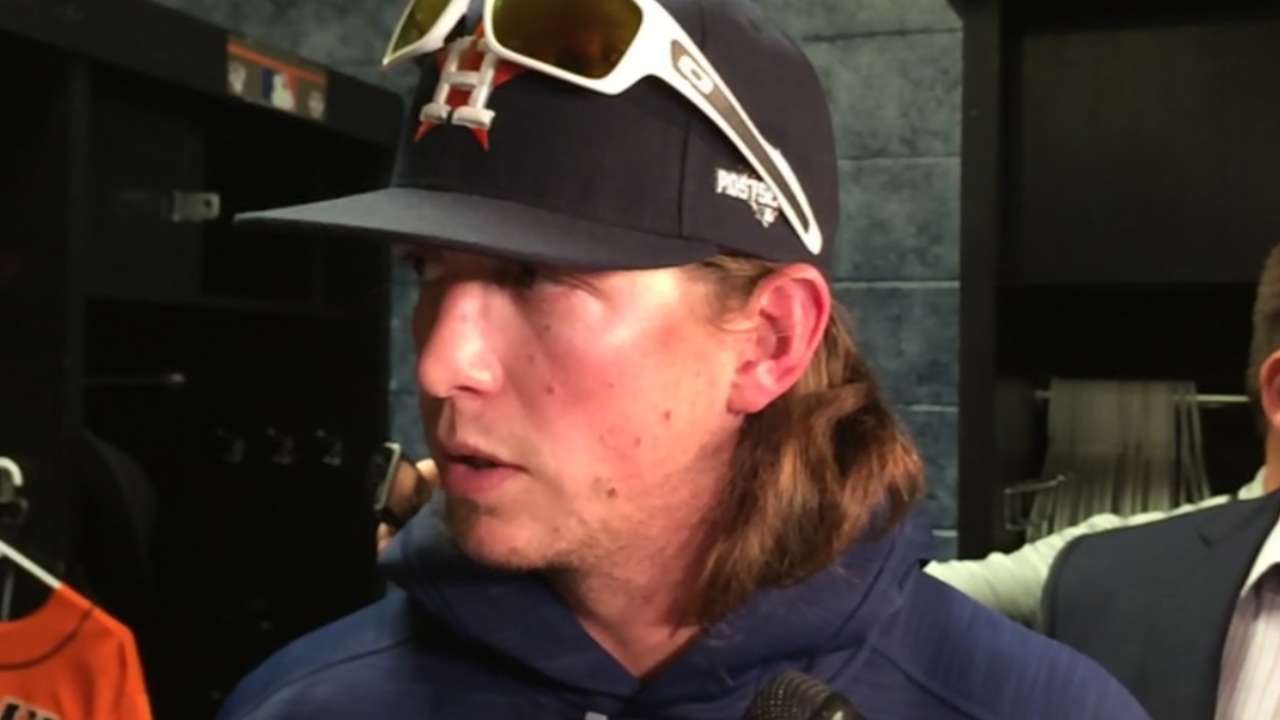 KANSAS CITY -- If they're feeling the pressure of a do-or-die game in October, they're not saying. If they think they've blown their best chance to win the American League Division Series by watching Game 4 slip away, it doesn't show.
The Astros maintain they don't have any more pressure on them than the Royals, who will play host to Houston in tonight's decisive fifth game at Kauffman Stadium at 8 p.m. ET on FOX Sports 1. The winner advances to the AL Championship Series, and the Astros still like their chances.
• Shop for Astros postseason gear
"One thing that's been very consistent throughout the year is our ability to turn the page and wash off any of the stink of things that don't go our way," manager A.J. Hinch said Tuesday. "We'll be ready to play."
The Astros were six outs away from dispatching the Royals in four games on Monday in Houston before Kansas City rallied to win, 9-6. Houston feels confident by sending 19-game winner Collin McHugh to the mound. He beat the Royals in Game 1 in Kansas City, but everyone will be asked to contribute to this game.
"We're excited to play here again," designated hitter Evan Gattis said. "I don't think we're deflated or anything. I know it was a tough loss, but we had an off-day today and just looking forward to winning the game [today]. It's always the same goal."
Ten years ago, when the Astros were one out from clinching the National League Championship Series in Houston before Albert Pujols' stunning homer forced a Game 6 in St. Louis, Astros catcher Brad Ausmus loosened things up. He got on the plane's microphone on the flight to St. Louis and told his teammates to look out to the left side of the plane, joking they could see the ball Pujols hit still in the air. Roy Oswalt shut the Cardinals down two days later to win the pennant.
There was no such icebreaker this time. Hinch and the players said the flight to Kansas City was as relaxed as ever, signifying they quickly put the Game 4 collapse behind them.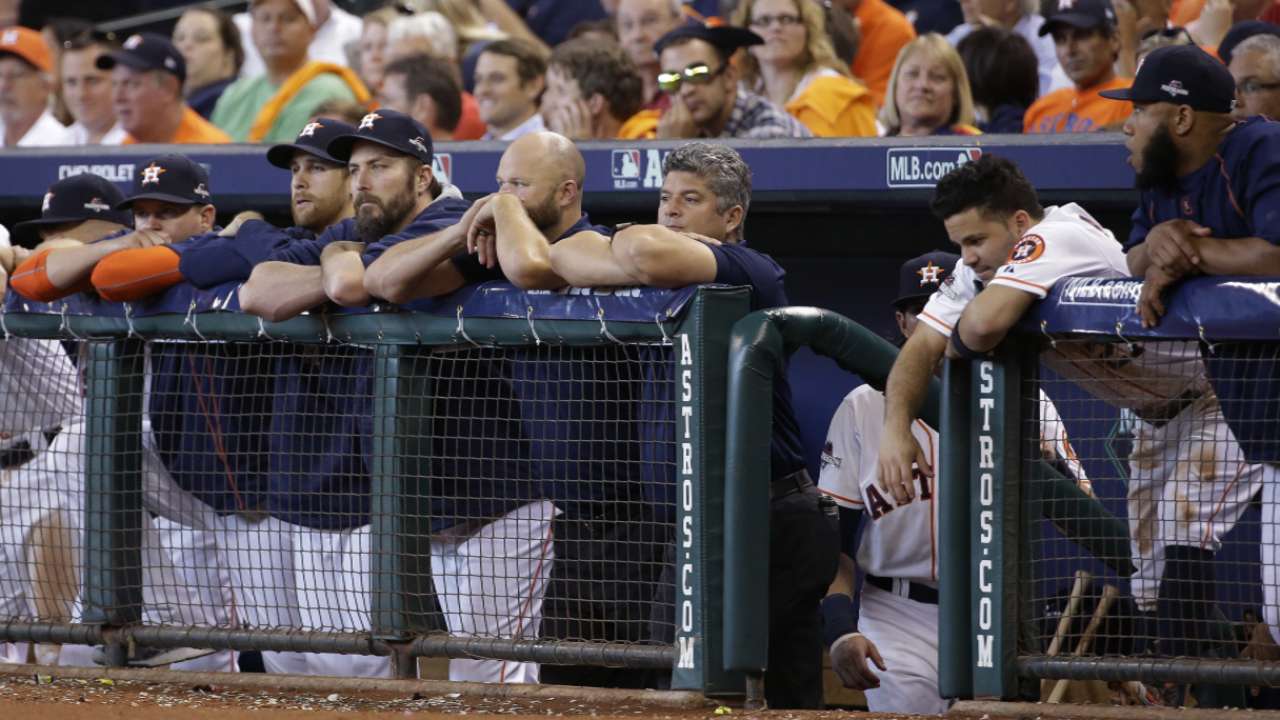 "We're pretty loose," rookie shortstop Carlos Correa said. "Everybody was joking around and all kinds of stuff. The media made it sound like the series is over, but the series is not over. We've been the best team out there; we've played the best baseball out of both teams. They had that inning [Sunday] and one inning when we were here and that's how they beat us because of a couple of innings, but we've been playing the best baseball."
The Astros have had their backs to the wall a few times this year. Most recently, they beat the Yankees in New York a week ago to win the AL Wild Card Game presented by Budweiser. Nothing seems to faze them.
"I feel we'll be fine," outfielder Colby Rasmus said. "Going into New York was about as hostile as it could get with our backs against the wall. I don't think there's any letdown. They know on the other side we've played them well. It's been an awesome series to play in, and I feel it's anybody's ballgame. We've got to get out there and compete and leave it all on the table. We've got a whole offseason to rest up."
Astros second baseman Jose Altuve said home-field advantage doesn't mean anything at this point. It's going to come down to execution.
"We're going to go play on the field," Altuve said. "Everybody [in the stands] will be wearing blue, but we don't care. We have good players. It doesn't matter what you have done all season long. It's about [today]."
Correa, dealing with a banged up elbow and knee, summed it up succinctly.
"I'm not ready to go home," Correa said. "I want to play all the way to the World Series."
The Astros will have their work cut out for them against a Royals team that has won nine of its last 10 games when facing elimination.

For Royals manager Ned Yost, past experience doesn't carry a lot of weight.

"We can't walk in and knock on Houston's clubhouse door and say, 'Look, we're pretty good in elimination games,'" Yost said with a chuckle. "You know, it doesn't work like that.
Brian McTaggart is a reporter for MLB.com and writes an MLBlog, Tag's Lines. Follow @brianmctaggart on Twitter and listen to his podcast. This story was not subject to the approval of Major League Baseball or its clubs.