Rangers no strangers to must-win games
Texas hoping crucial wins down regular-season stretch will help in Game 5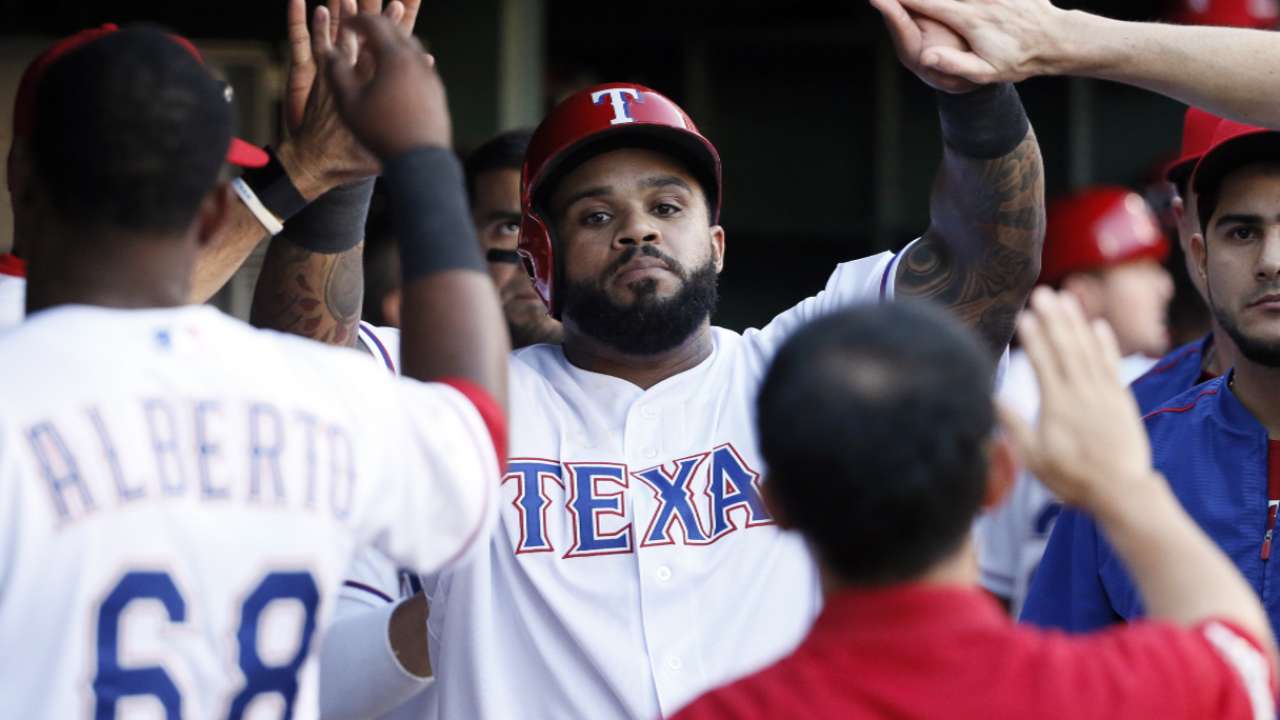 ARLINGTON -- The Rangers don't have to dig far back into their memory banks to recall the last time they faced a pivotal, elimination-type scenario. Just 10 days before Wednesday's American League Division Series Game 5 against Toronto, the Rangers defeated the Angels in the regular-season finale that decided the AL West race.
There were also seven crucial games against the Astros in the season's final three weeks, and the Rangers won five of them to overtake Houston for the division title. "Must-win" games have been plentiful lately.
• Shop for Rangers postseason gear
"What the season did for us prepared us right for this moment," manager Jeff Banister said. "We've been here, we've had our backs against the wall."
Catcher Chris Gimenez echoed his manager, saying the team rises to the occasion in critical situations.
"I kind of feel like we potentially play a little bit better with our backs against the wall," Gimenez said. "Based on basically the last month and a half, it's pretty much, we've had to win every series or five, six, seven games in a row to even to get to the position we are in right now."
Banister has experience in elimination games as a coach with Pittsburgh, which lost the NL Wild Card Game in 2014 to San Francisco, and the NLDS in 2013 to the Cardinals.
"What I learned from being in Pittsburgh in elimination games is that when you lose them, they hurt. They do," Banister said. "You don't want to feel that. Also, when you get in these scenarios, you can't let the moment overwhelm you, you've still got to go play a baseball game, you can never lose sight of that."
The Rangers have also been through another situation they'll face in this Division Series: winning two road games, losing the next two home games and needing to win on the road. In 2010 against the Rays, the Rangers won two in Tampa, lost two in Arlington and leaned on ace Cliff Lee to take the series in the final game in Florida.
Now the ace is Cole Hamels. Pitching coach Mike Maddux quoted Yogi Berra's famous "déjà vu all over again" comment Tuesday.
"In 2010, we were very let down in Games 3 and 4, because Games 1 and 2 were so high that we did have some letdown in Games 3 and 4," Maddux said. "I think our guys, because they've lived it and experience is on our side now, there's no panic. I remember going back into Tampa in 2010, we felt pretty good because we had the right guy with the ball. I think we've got the same thing working right now."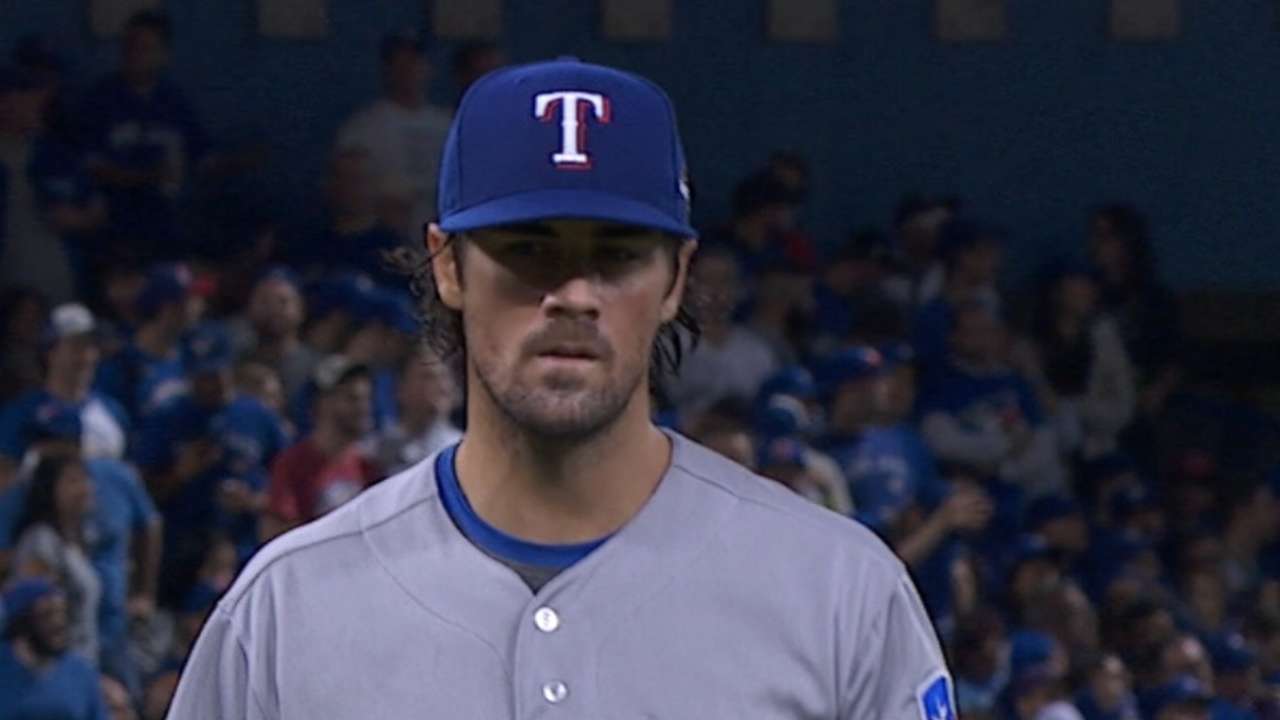 Worth noting
• Entering Game 5, the biggest power threats in the middle of the Rangers' lineup have not produced much in the series. Prince Fielder was 2-for-16 (.125) with no extra-base hits, Josh Hamilton was 2-for-15 (.133) with no extra-base hits and Mitch Moreland was 0-for-10.
"Short series and you're facing heightened competitive pitchers," Banister said. "There are some that are not going to attack the middle of the lineup, there are some that when they get to these type of scenarios, that their execution level goes up. So how I assess our offense is that in two games we scored enough runs to win. In two games, we didn't score enough runs to win. Simple as that."
• Outfielder Ryan Rua chose not to play in the Arizona Fall League and is being replaced on the roster by Jose Treviño, who hit .262 with 14 homers and 63 RBIs at Class A Hickory this season. The Arizona Fall League's season began Tuesday night.
• The Rangers will bring the same travel squad to Toronto as they did to start the series: catcher Bobby Wilson, reliever Andrew Faulkner, reliever Sam Freeman, reliever Anthony Bass and catcher Carlos Corporan.
Dave Sessions is a contributor to MLB.com. This story was not subject to the approval of Major League Baseball or its clubs.