Pillar is mixing solid bat with stellar defense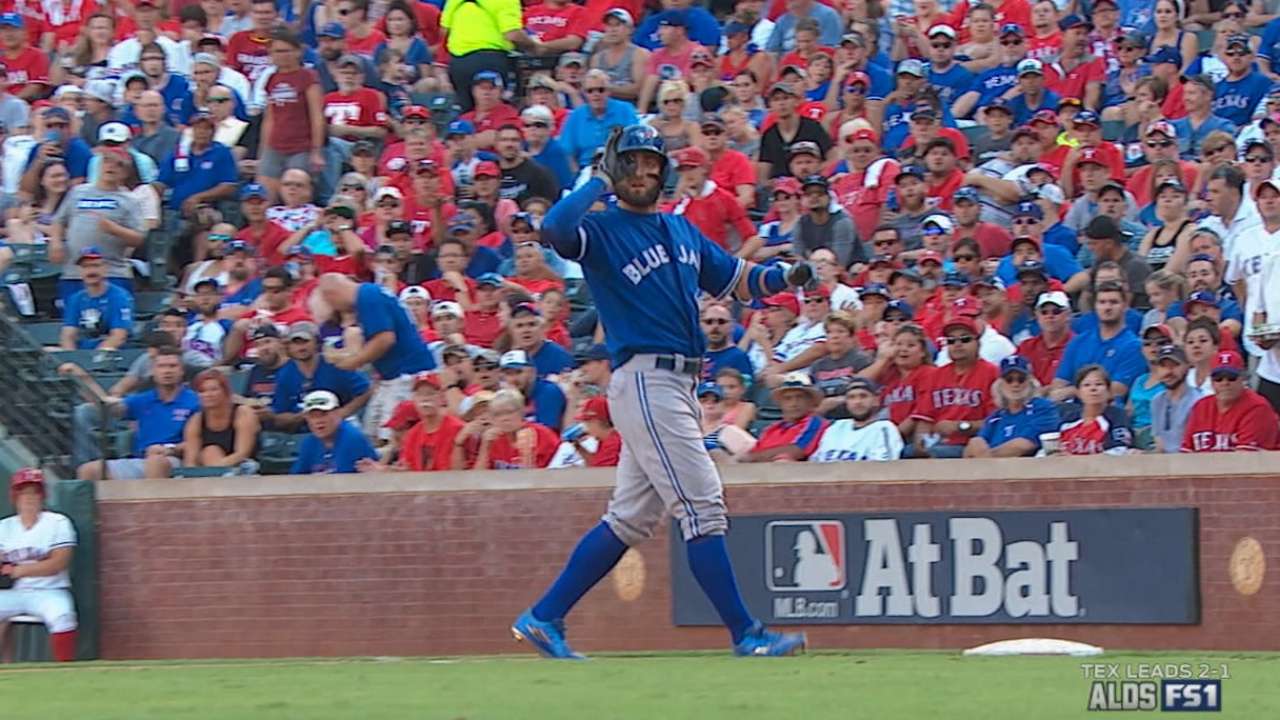 TORONTO -- Blue Jays outfielder Kevin Pillar became a household name on both sides of the border because of his uncanny ability to make highlight-reel catches, but he wants people to know there's some value in his offense as well.
Pillar isn't the all glove, no bat, center fielder that people might have once thought. He picked his spots this year, and in a lot of ways he held the keys to the bottom-third of the batting order that helped make Toronto so successful.
• Shop for official Blue Jays postseason gear
The 26-year-old Pillar is appearing in the postseason for the first time, but his inexperience can't be seen in the results. Through four games of the American League Division Series vs. Texas, he's hitting .412 (7-for-17) with two doubles, a homer and four RBIs. Game 5 is set for Wednesday (4 p.m. ET on Sportsnet/FOX Sports 1) at Rogers Centre.
"I was able to get to the big leagues because I could hit," Pillar said. "Nobody really talked about my defense, and then coming up here struggling a little bit my first two years, and being able to go out there and make plays in the outfield, that kind of became my calling card.
"I think to some degree the offensive performance got overshadowed, but I'm just a guy who wants to go out there and win. If I have to do it with the bat, or the glove, whatever it takes for me to be in the lineup every day, I'll take it."
Pillar has come a long way over the last six months. He entered Spring Training as the Blue Jays' fourth outfielder and it wasn't until Michael Saunders went down with a left-knee injury that Pillar was presented with an opportunity to have a significant role.
Once Pillar entered the starting lineup, he never looked back. He rose to fame with his "Spiderman" catch against the Rays on April 15, when he climbed the wall at Rogers Centre to take a home run away from Tim Beckham. The catch is still shown regularly, but his contributions to this Blue Jays team go well beyond one play or one moment.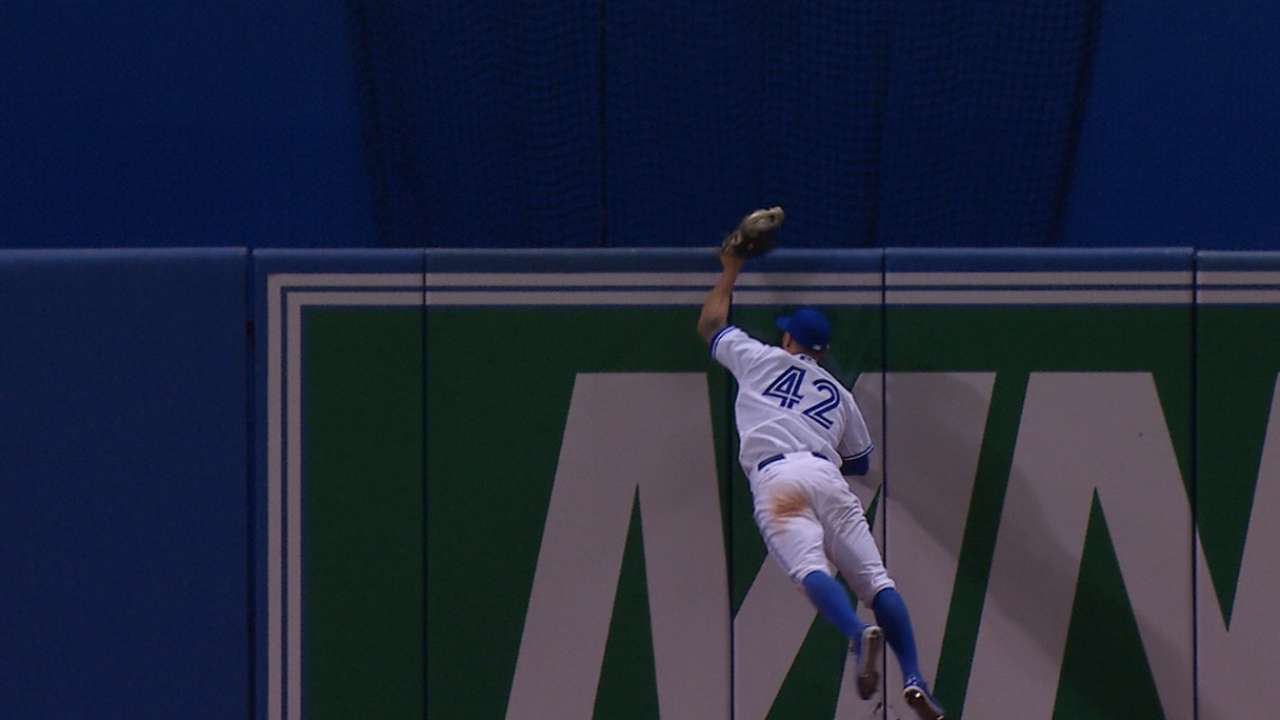 According to Baseball Reference, Pillar ranked second on the Blue Jays with a 5.2 WAR. Josh Donaldson was first with an 8.8, but Pillar found himself ahead of Jose Bautista (5.1), Edwin Encarnacion (4.7) and Marco Estrada (3.6).
The majority of that can be attributed to Pillar's range with 14 defensive runs saved, which ranked third among AL outfielders. However, Pillar's bat has been a factor. Pillar doesn't draw walks very often, but he finished the year hitting .278 with 12 home runs, 56 RBIs and a respectable .713 OPS.
"Kevin's had a tremendous year for us both ways, offensively and defensively," manager John Gibbons said. "I think a huge part of his success this year is the fact that he's in there every day. That's all he ever asked for in the past.
"He's made a huge difference for this team with his glove. You guys have all seen that, but along the way, he's had some of the biggest hits ... He's a free-swinger, and I think he sometimes gets in trouble with that a little bit, but when he tones it down a little bit and swings it, when he wants to, he's a good hitter, too."
The road to get here wasn't easy. When Pillar broke into the big leagues the Blue Jays promoted his arrival by consistently saying, 'He's hit at every level' to anyone who would listen. But for the next two years, he didn't hit well at all.
There were flashes of potential, but a .206 average in 2013 and a .295 on-base percentage in '14 didn't inspire much confidence. At times, the frustration boiled over and players who hit that kind of wall can respond in one of two ways. They can let the anger and disappointment eat away at them or they can use it as a turning point.
"I had to learn a lot," Pillar admitted. "There was definitely a period where I lost confidence. Getting my first call up to the big leagues and not being able to perform to what I thought I was capable of doing.
"I just took that as a learning experience, and every time I went back to Triple-A, I just tried to further my game, become a better player, a better teammate, and hopefully one day, I would be able to reap the benefits."
Gregor Chisholm is a reporter for MLB.com. Read his blog, North of the Border, follow him on Twitter @gregorMLB and Facebook, and listen to his podcast. This story was not subject to the approval of Major League Baseball or its clubs.