Ailing Beltre to continue playing through pain
Rangers expect third baseman to be in lineup for ALDS Game 5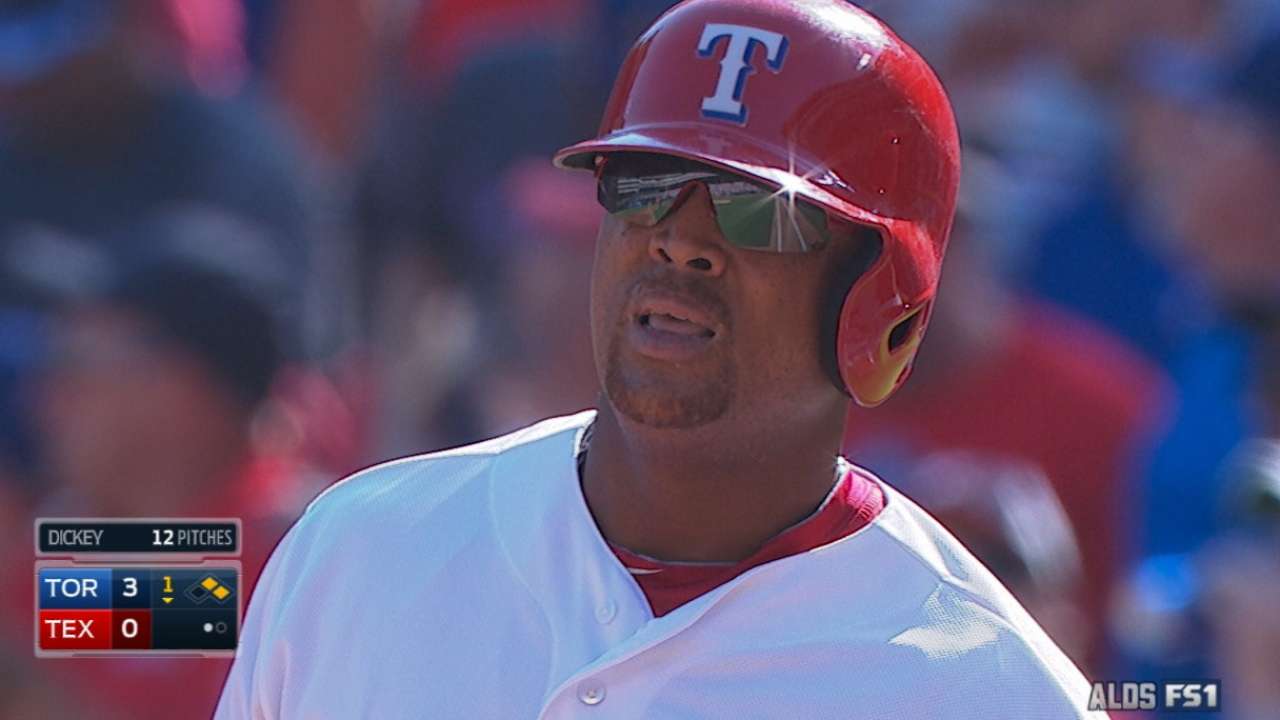 ARLINGTON -- Despite a lower back strain that kept him out of Games 2 and 3 of the American League Division Series still hindering his movement, the Rangers expect to have Adrian Beltre in the lineup for Game 5 on Wednesday.
Not that anyone is surprised at this point, given the third baseman's well-earned reputation for playing through pain and injuries.
• Shop for Rangers postseason gear
"How a person can will themselves continually to perform when I would say 99.9 percent of us would absolutely crumble. Incredible. Amazing ... the best I've been around," Rangers manager Jeff Banister said of Beltre, who had two hits in Monday's Game 4 loss, his first action since injuring himself early in Game 1.
Banister said Tuesday that Beltre did not suffer any major setbacks after playing all nine innings Monday.
"I'm sure that Adrian was sore at the end of the day, but I believe that if he'd felt any worse, we would have heard such [from medical staff]," Banister said.
Another indication that Beltre is good to go: third baseman Joey Gallo and utility infielder Ed Lucas didn't travel to Toronto as part of the club's travel squad. They were brought to Toronto as emergency options after Beltre was injured in Game 1.
Beltre is tied for fourth on the club with three hits in the ALDS, despite having only five at-bats.
"Even though he's not 100 percent, Adrian Beltre at 50 percent is better than most people's 100 percent," catcher Chris Gimenez said. "Having him back in this lineup does wonders for us."
Dave Sessions is a contributor to MLB.com. This story was not subject to the approval of Major League Baseball or its clubs.