Puig in Game 4 lineup; Seager returns to shortstop
Mets put d'Arnaud ahead of Duda in their order vs. Kershaw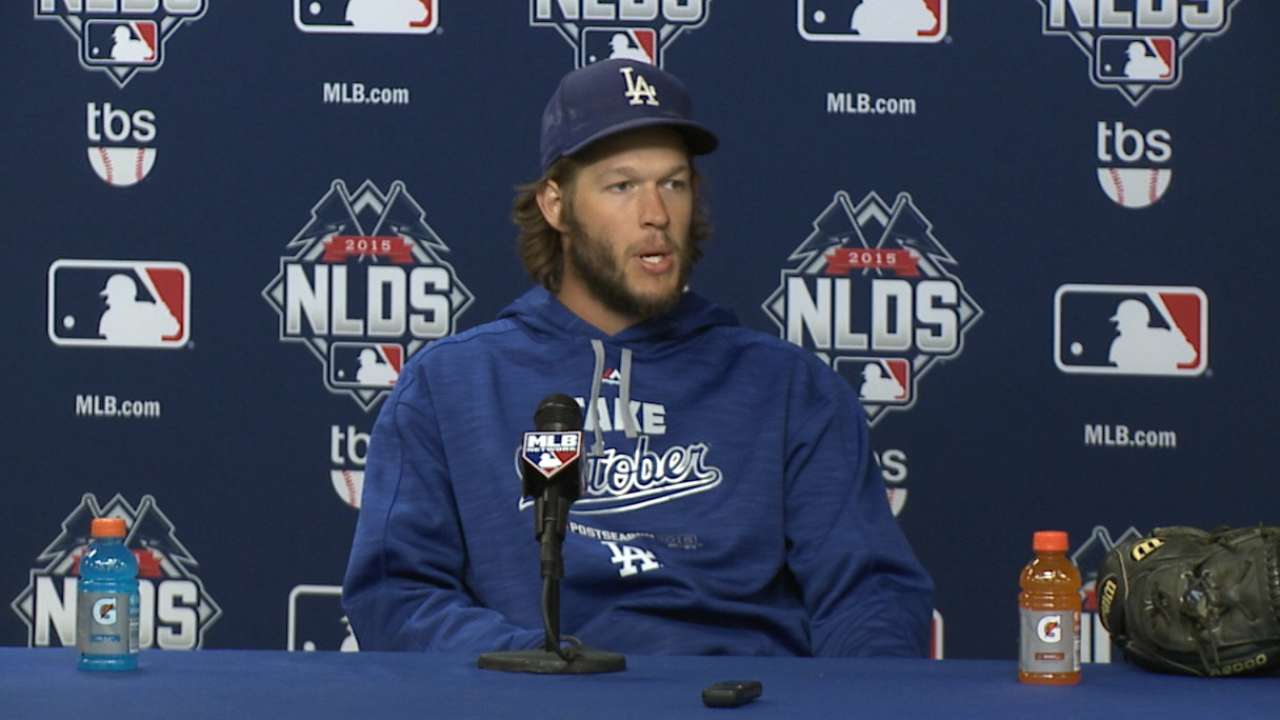 NEW YORK -- The Dodgers and Mets have posted their lineups for tonight's National League Division Series game against the Dodgers at Citi Field.
Game 4 of the best-of-five series, which the New York leads, 2-1, is scheduled to begin at 8 ET (TBS).
Puig to start, Seager back at shortstop
The Dodgers continued their lineup juggling, returning rookie Corey Seager to starting shortstop and giving outfielders Yasiel Puig and Justin Ruggiano their first starts of the postseason.
Seager, 1-for-8 in the first two games, was replaced for Game 3 by Jimmy Rollins, but entered the game in a double switch and had a single in his lone at-bat.
"At short, it hasn't really been a platoon," said manager Don Mattingly. "Corey came in and played really well and got the lion's share of the at-bats, part of it is Jimmy got hurt, the other part is Corey played really, really well. He hits both sides [of pitching], sees the spin really good. He's just the guy."
In addition to adding the right-handed-hitting Puig and Ruggiano, Dodgers manager Don Mattingly elevated center fielder Kiké Hernandez to the leadoff spot and returned A.J. Ellis behind the plate. Ellis has an 11-game postseason hitting streak.
Ellis was already likely to start with Clayton Kershaw pitching, but that became even more likely when Yasmani Grandal reinjured his left shoulder in his final at-bat Monday night.
Mattingly said Grandal is available to play, but hinted that he might need to be replaced "going forward," presumably meaning should this series continue or the club advance to the NL Championship Series. Austin Barnes would be the replacement catcher.
"We knew with a lefty [Steven Matz] in there, he'd be playing in [the injured Scott] Van Slyke's spot," Mattingly said of Puig's start, only his second since Aug. 27 because of a nagging hamstring injury.
Mattingly put the left-handed-hitting Seager fifth, behind cleanup hitter Justin Turner and ahead of Puig.
DODGERS LINEUP
Kiké Hernandez, cf
Howie Kendrick, 2b
Adrian Gonzalez, 1b
Justin Turner, 3b
Corey Seager, ss
Yasiel Puig, rf
A.J. Ellis, c
Justin Ruggiano, lf
Clayton Kershaw, p
Duda, d'Arnaud flipped
The Mets made sure not to tinker too much with the lineup that rapped out 13 runs in their 13-7 win in Monday's Game 3, making just one minor switch in their Game 4 lineup. Manager Terry Collins flipped catcher Travis d'Arnaud and first baseman Lucas Duda on the card, moving d'Arnaud up to fifth. Everything else was the same but the pitcher, Matz.
Most of the Mets' damage against Kershaw in Game 1 came via their regular left-handed hitters: Curtis Granderson, Daniel Murphy and Duda. Those three all found their way into the Game 4 lineup, with both Michael Conforto and Michael Cuddyer -- who started in Game 1 -- on the bench.
METS LINEUP
Curtis Granderson, rf
David Wright, 3b
Daniel Murphy, 2b
Yoenis Cespedes, lf
Travis d'Arnaud, c
Lucas Duda, 1b
Wilmer Flores, ss
Juan Lagares, cf
Steven Matz, p
Ken Gurnick is a reporter for MLB.com. This story was not subject to the approval of Major League Baseball or its clubs.