Five key factors in Marlins' managerial search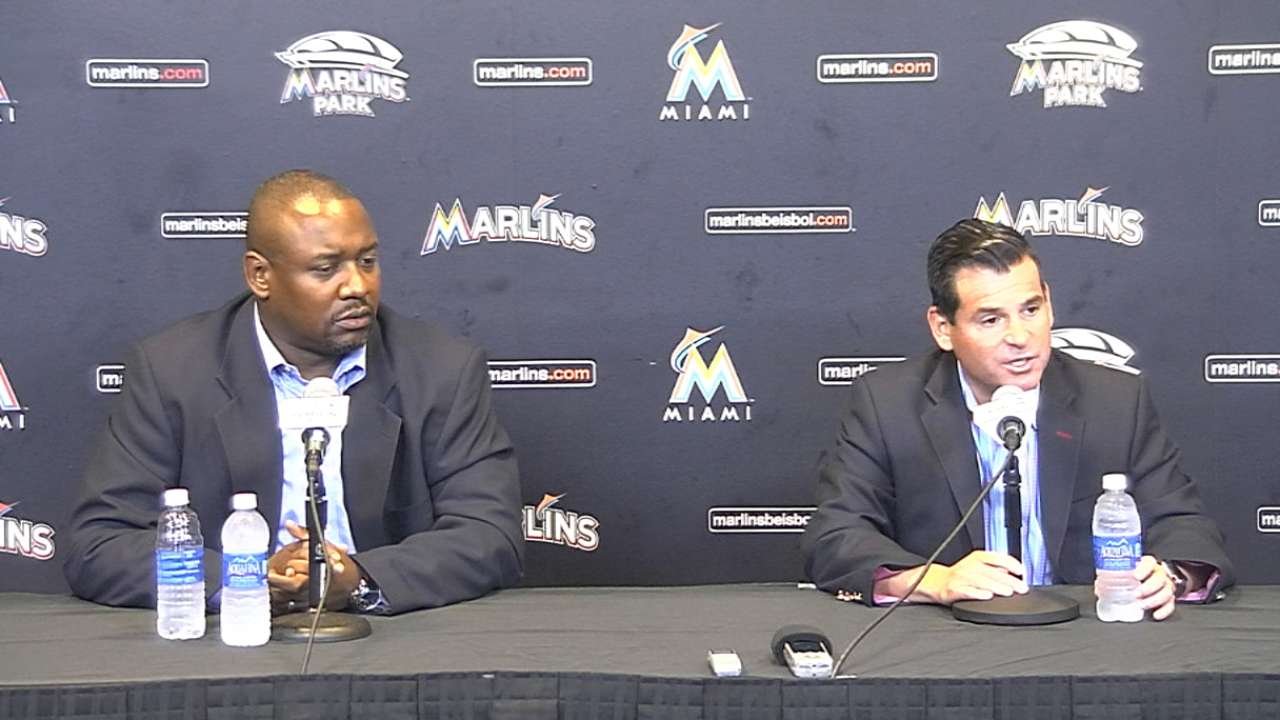 MIAMI -- Shortly after the season ended, Marlins president David Samson said at a news conference that the organization could interview anywhere from "four to 20" managerial candidates.
Barring any interviews that have not yet been reported, four have already met with team officials about the job. How the search progresses may actually hinge on the Dodgers' fate in the playoffs.
There are strong indications that Don Mattingly is the primary target of Marlins owner Jeffrey Loria. If that turns out to be the case, Miami may be awaiting the outcome of the Dodgers' series with the Mets.
If Los Angeles is eliminated, speculation will certainly grow that if Mattingly isn't part of its plans, he may wind up in Miami.
Here are five things to look for as the Marlins pursue their 10th manager since current ownership assumed control in 2002.
1. Mattingly watch
If the Marlins want to make a big splash, Mattingly would be an ideal choice. He brings star power, from his playing days with the Yankees to his success managing the Dodgers into the postseason.
Loria, who calls New York home, is a longtime fan of the Yankees. He's developed a friendship with Mattingly, and may view Donnie Baseball as the perfect fit to snap Miami's string of six straight losing seasons.
2. Mattingly, at what cost?
Say the Dodgers don't want to part with Mattingly. Then what? Do the Marlins take another avenue, or do they stay the course with who appears to be their No. 1 target?
The Dodgers may seek compensation -- perhaps a player or players or a future Draft pick. You may recall that the Marlins gave the White Sox a couple of Minor League players as compensation when they hired Ozzie Guillen to manage in 2012.
3. Coaching staff
Two coaches from the 2015 staff are under contract next year: infield/first base coach Perry Hill and bullpen coach Reid Cornelius. Whether either stays is unclear. The club, however, is on record saying that those on the staff are free to explore other options. They also would be granted permission to speak with the new manager about a possible return. Lenny Harris, who has coached third base since May, may wind up taking a position in the organization's Minor League staff.
4. If not Mattingly, then who?
If the field opens, then perhaps we may see up to 20 called in to interview. The team has said the process will be "extensive and exhaustive." Manny Acta, Bo Porter, Larry Bowa and Phil Nevin have already interviewed. There would be no shortage of choices throwing their names into the mix.
5. Prior big league experience
The general belief is that the next manager will have previous big league managing experience. People in the industry have heard that Miami doesn't want a "rookie manager" right now. However, the fact they interviewed Nevin, who doesn't have previous big league managing experience, shows they will at least listen to all possibilities.
Joe Frisaro is a reporter for MLB.com. He writes a blog, called The Fish Pond. Follow him on Twitter @JoeFrisaro and listen to his podcast. This story was not subject to the approval of Major League Baseball or its clubs.