Catching fire: Texas backstops keying offense
Chirinos, Gimenez have delivered with big knocks, small ball in clutch spots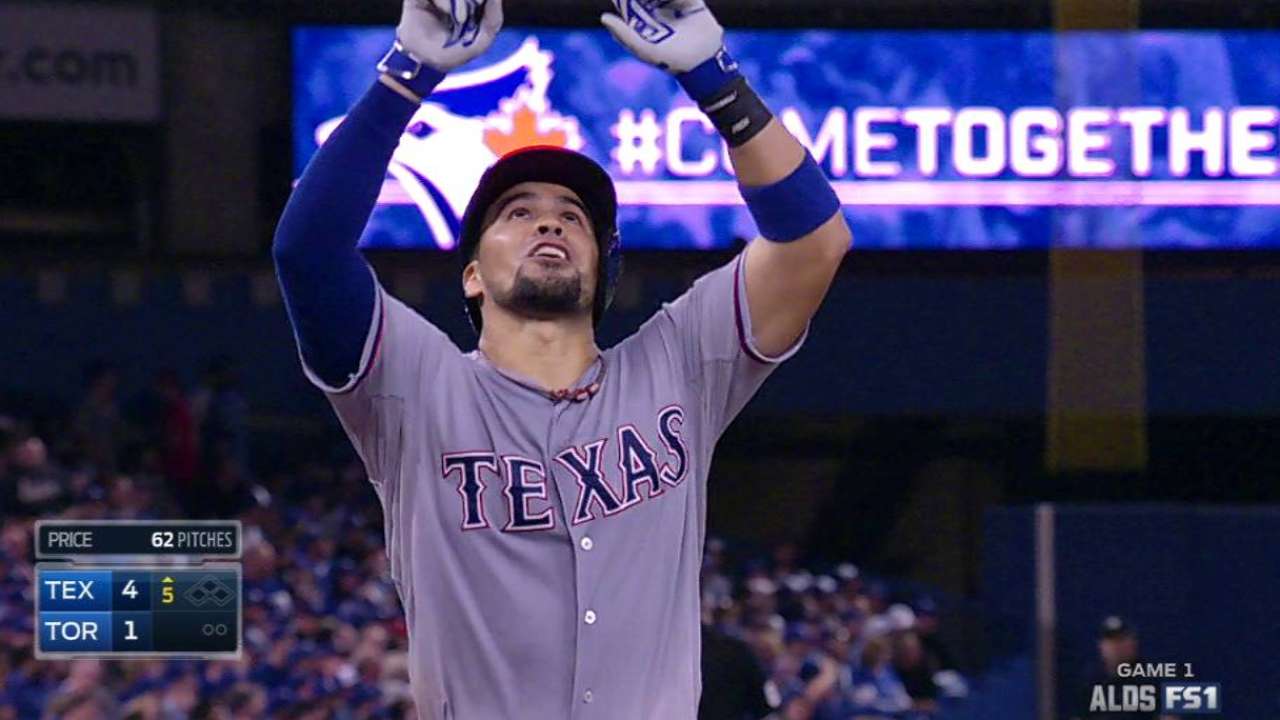 ARLINGTON -- The Rangers could use some big knocks from their offense if they are going to win Game 5 of the American League Division Series against the Blue Jays on Wednesday in Toronto (4 p.m. ET on FS1/Sportsnet).
So far, the biggest hit for the Rangers in the series was catcher Robinson Chirinos' two-run home run in Game 1 off David Price. Chirinos was also 2-for-4 with an RBI in Game 4, and fellow catcher Chris Gimenez had one of the four two-out singles in the Rangers' two-run 14th-inning rally to win Game 2.
In an ALDS where the Rangers' lack of offense is a source of concern, their unheralded catchers have been the ones who have been holding up their end against the Blue Jays pitching.
• Shop for official Rangers postseason gear
"I know -- especially for myself, and Robbie feels the same way -- I want to be able to have productive at-bats," Gimenez said. "I don't want to be an out. I know in the past, some people may feel that way about me, but I want to be productive and do whatever I possibly can do."
Together they have four hits in 17 at-bats, which comes out to just a .235 batting average. But it goes beyond just getting a base hit. In the playoffs, manufacturing runs in any way possible is paramount.
The Rangers' first run of the series came in the third inning of Game 1, when Rougned Odor was hit by a pitch, moved to second on Chirinos' hit-and-run grounder and scored on a single by Delino DeShields. In Game 2, Gimenez's high chopper in the second inning allowed Odor to go from first to third, and he ended up scoring on Hanser Alberto's sacrifice fly.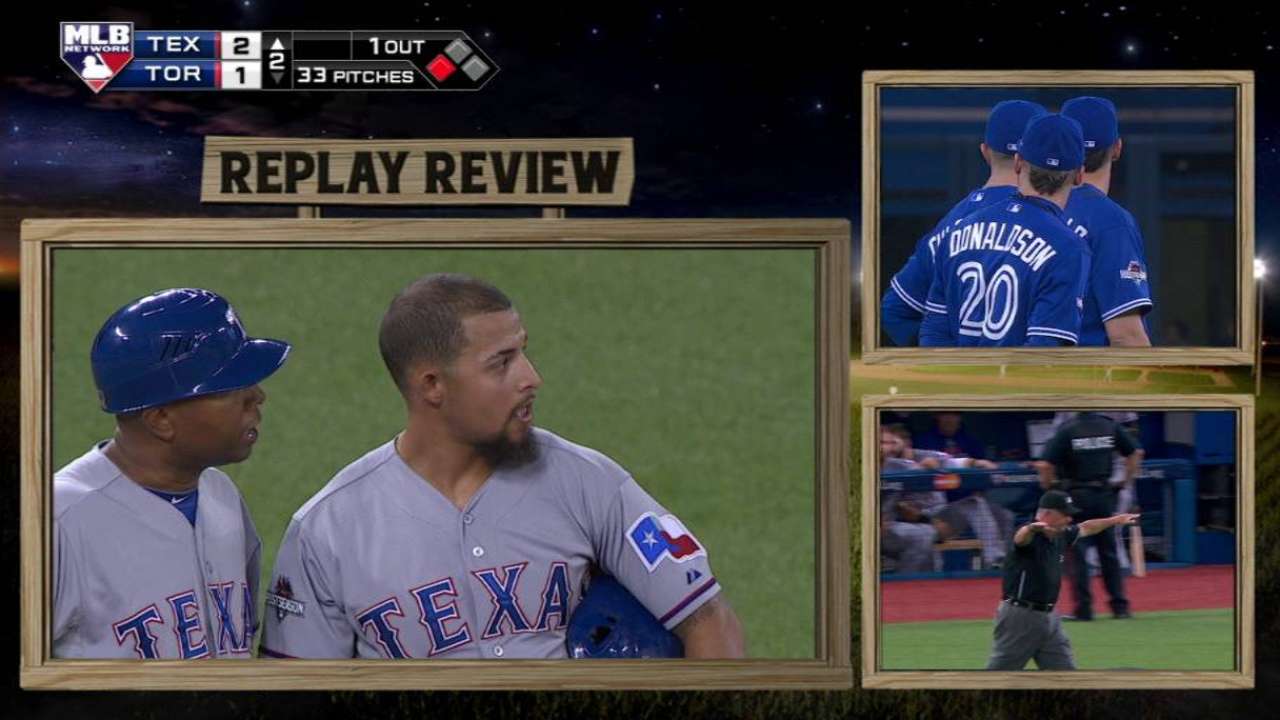 Base hits are not the only thing that makes an offense productive in the playoffs, as the Rangers' catchers have had a chance to demonstrate.
"I think they've done a great job for us, really," manager Jeff Banister said. "Not just the overall production, but the at-bats that they've been able to put together, quality at-bats, and a different skill set also every single night, whether it's been a ball out of the ballpark, whether it's been a hit-and-run, sacrifice bunt, moving a runner.
"If you want to draw up what it means to be a team hitter, that's what they've been for us, all of them, really."
Rangers catchers hit in the bottom third of the order all season. There were five starts in the sixth spot and 17 more in the seventh spot, and in all other games, they hit either eighth or ninth.
The combination of Chirinos, Gimenez, Carlos Corporan, Bobby Wilson and Tomas Telis ended up hitting a combined .225, but with 31 doubles, 19 home runs and 75 RBIs. Rangers left fielders hit .225 with 26 doubles, 21 home runs and 61 RBIs.
The Rangers' catchers combined 75 RBIs were the fifth most by a team's backstops in the American League and so was their .709 OPS.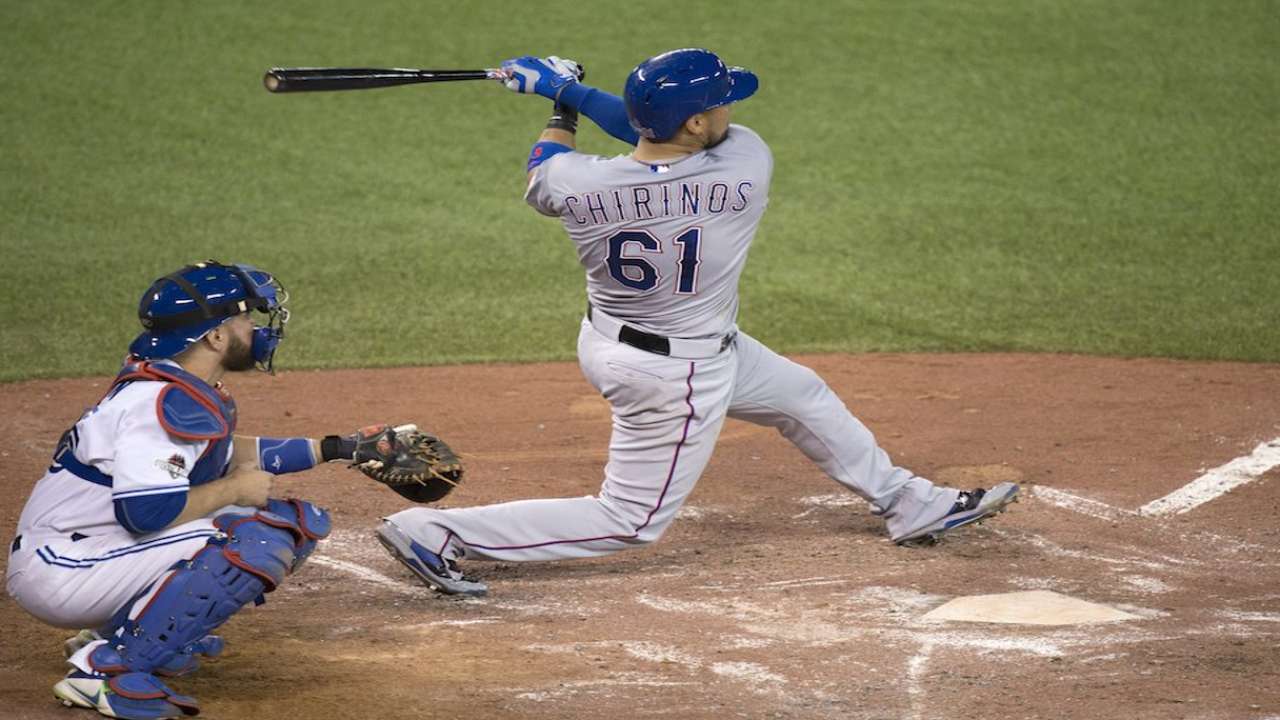 "It's a spot on the team where you focus on defense, but they have got some big hits, some timely hits," Rangers general manager Jon Daniels said. "All of them, everybody who has gone back there. They have been way selfless about it, but that's the nature of the position. We wouldn't be here without them."
The position almost fell apart at the end of July. Corporan was sidelined with a sprained left thumb, and Chirinos was out with a strained left shoulder. The Rangers talked about acquiring a catcher by trade, but instead called up Gimenez from Triple-A Round Rock and claimed Wilson off waivers from the Rays.
Those two got the Rangers through the final two months of the season while Chirinos was recovering from his shoulder problems. The Rangers weren't even sure until the final week if he would be ready for postseason, but they were ready to go with Wilson and Gimenez if he wasn't.
"I remember at the [July 31 non-waiver Trade Deadline], we inquired about one or two guys after Robbie got hurt," Daniels said. "But we claimed Bobby and brought up Chris because we knew both would be excellent at handling a pitching staff and being defense-first, team-oriented guys. That would have been enough, but obviously we got more production out of them than we could have expected."
Chirinos and Gimenez have held their own through four games of the ALDS. The Rangers need other spots in the lineup to do the same.
T.R. Sullivan is a reporter for MLB.com. Read his blog, Postcards from Elysian Fields, follow him on Twitter @Sullivan_Ranger and listen to his podcast. This story was not subject to the approval of Major League Baseball or its clubs.