To Girardi, Betances' workload was just right
Yankees manager kept close eye on pitch tally, said reliever 'became a little human'
NEW YORK -- There were moments down the stretch where Dellin Betances appeared a little wilder and a little more hittable than his norm, but the Yankees insist that those blips were not due to overtaxing the All-Star right-hander. In fact, stashed somewhere within Joe Girardi's locker is a detailed card that states exactly that.
Girardi said that he was closely tracking Betances' workload down to the pitch, guiding the 27-year-old through 84 innings this season -- more than any other reliever in the game. The Yankees manager said that he believes Betances saw just the right amount of mound time.
"As far as using him more than I would have liked to, no, I think I told you: I paid attention to Dellin's numbers in Triple-A, last year and this year," Girardi said. "And I even have a card in my locker that had the amount of pitches, the amount of innings, the amount of games of April 2014, 2015, May. I had it all written down. So it wasn't like I wasn't paying attention."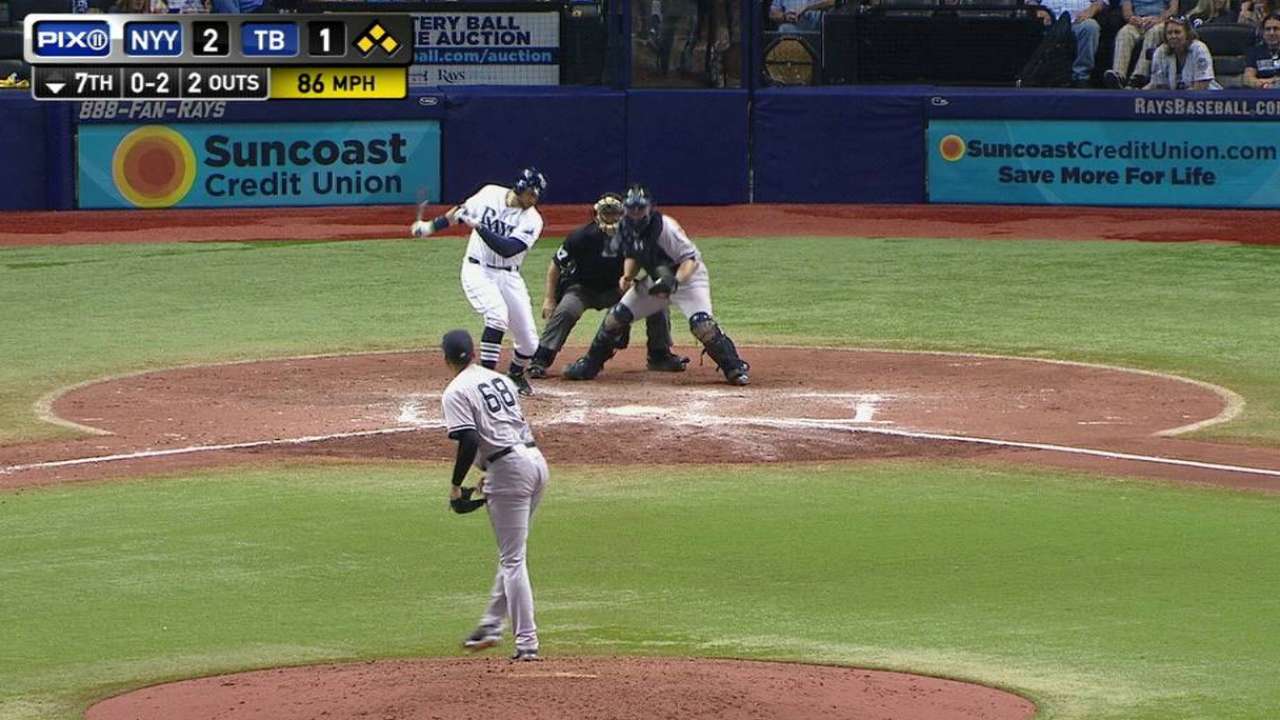 In fact, Betances prefers the regular work, which he believes helps keep his form. Betances said that his mechanics were a bit off in September, but he emphasized that any problems were not due to pitching too often.
"No, I don't think so," Betances said on Sept. 24. "It's just, sometimes I'm going a little too quick -- sometimes my hands are breaking late. But that's something I can fix."
In 16 2/3 innings over September and October, Betances permitted 13 hits and walked 12 while striking out 25, seeing his ERA for the month jump to 2.16 from 1.34 over the first five months.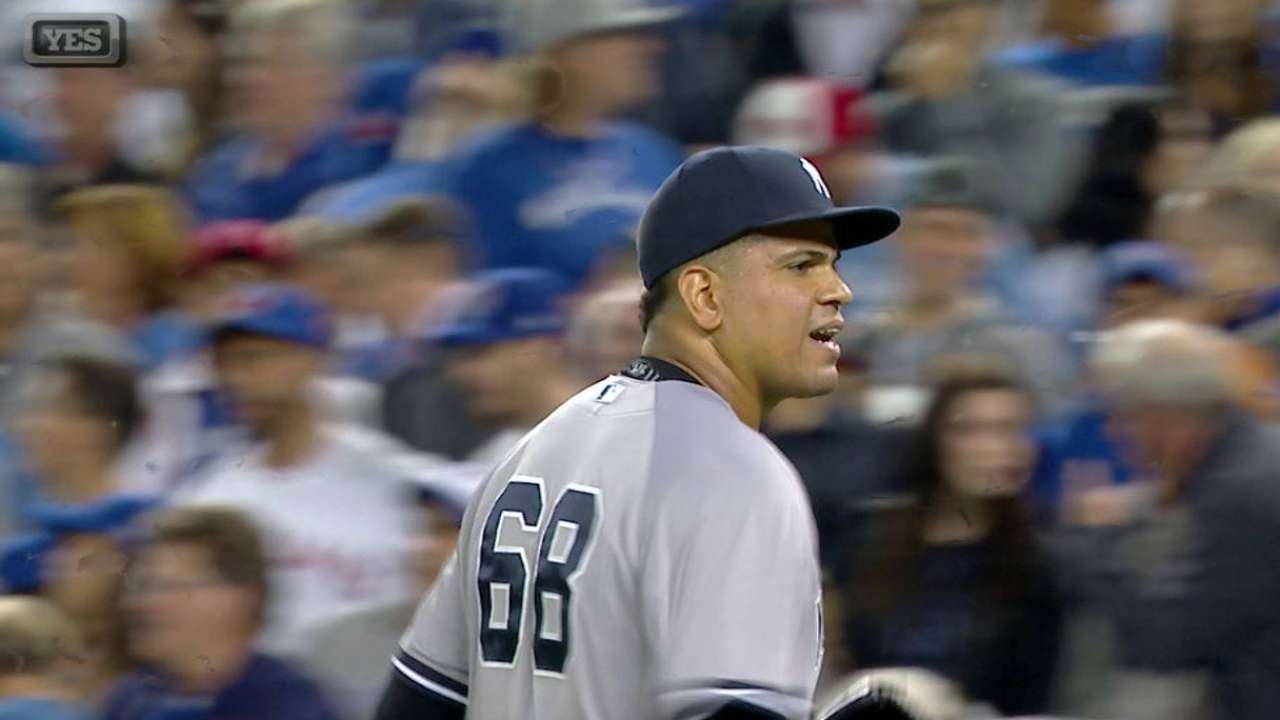 "I think he became a little human, that's all," Girardi said. "It's not like he had a 4.00 ERA in those months. He still pitched pretty well. ... There were a lot of question marks on me on how much I used Dellin during the course of the season, and was I using him more. Does anyone know how many pitches he threw this year compared to last year? I would bet not."
Those numbers, closely chronicled behind closed doors by the Yankees, show that Betances threw 1,370 pitches this season after throwing 1,365 in 2014 -- the most among American League relievers in each of the last two seasons. Betances is also the only pitcher to appear in the top five in both seasons.
This year, Betances was followed by the Orioles' Brad Brach (1,307), the Rangers' Shawn Tolleson (1,169), Kevin Jepsen of the Twins and Rays (1,164) and the Rays' Brad Boxberger (1,140).
With Betances having thrown 2,735 pitches over 174 innings in the last two seasons, the Yankees may look to find ways reduce his strain in 2016, adding another arm to absorb innings from the trio of Betances, closer Andrew Miller and left-hander Justin Wilson.
"I was cognizant of his workload," Girardi said. "I studied his workload the year he was in Triple-A and had so much success out of the bullpen. When I look at what happened to Dellin, he had a human month. We've seen other great relievers have a human month; really, really good relievers have a human month."
Bryan Hoch is a reporter for MLB.com. Follow him on Twitter @bryanhoch, on Facebook and read his MLBlog, Bombers Beat. This story was not subject to the approval of Major League Baseball or its clubs.