MLB.com Columnist
Anthony Castrovince
Mets' once-maligned offense flexes new muscle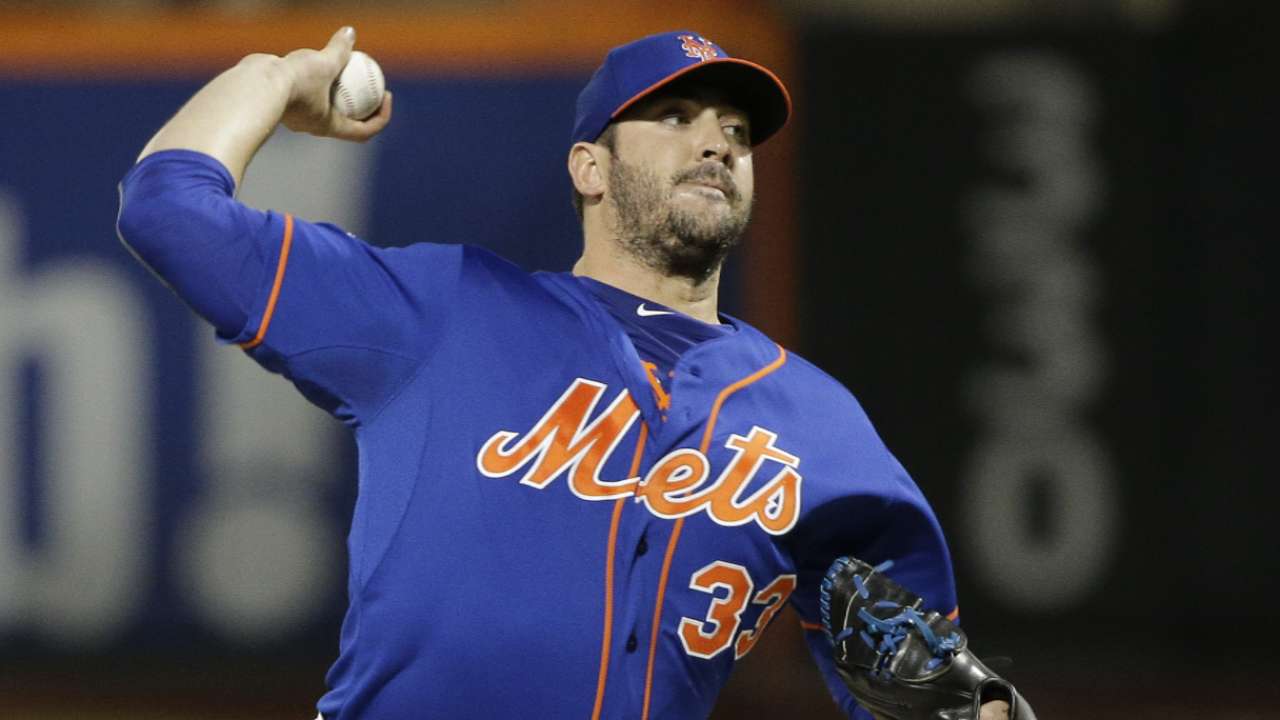 NEW YORK -- The boos rained down upon Chase Utley, just as the forecasts had figured. And there were moments Monday night when Citi Field faithful's demands for a pound of flesh -- voiced in those rhythmic "We want Utley!" chants -- were about as loud and nearly as long as the public discourse over Utley's takeout tactics.
The cheers, though. That's what will really be remembered from Game 3 of this National League Division Series. In the first-ever postseason game at Shea Stadium's replacement, they were more potent and more plentiful than the jeers. They were the sounds emanating out of an evening in which the Mets, in a 13-7 win over the Dodgers, got their retaliation in the best and least-barbaric means possible -- by brandishing their bats and showing the world just how deep and dynamic their once-worrisome lineup has become.
• Shop for Mets postseason gear
"It's not necessarily easy to go out there and score runs and score runs in bunches, like you were able to do tonight," leadoff man Curtis Granderson said. "When you do it, you're obviously grateful for it and hopefully you can feed off of it."
Revenge, as they say, is best served with a 110.7-mph upper deck blast off the bat of Yoenis Cespedes.
Well, OK, they don't really say that.
What they do say is that momentum in baseball is the next day's starting pitcher. And so, no matter how much promise we've seen out of the left arm of Steven Matz and no matter how unflattering the personal postseason history of Clayton Kershaw, who will be operating on three days' rest, may be, the easy assumption is that the Dodgers will feel fairly comfortable with their ability to swing the momentum -- and this series -- back in their favor with Kershaw in Game 4 and Zack Greinke in Game 5.
"I feel good with him," manager Don Mattingly said. "His stuff's always good. So yeah, I'm always pretty confident when he's pitching."
Still, the manner in which the Mets earned their revenge for the takeout of Ruben Tejada was jaw-dropping. Kershaw is always a tough assignment, but this is an assignment the Mets, on the verge of their first NLCS appearance since 2006, are far better equipped to handle than they were just a few short months ago.
Twelve times this season have the Mets compiled a double-digit run total in a ballgame. Ten of those games have taken place just since Aug. 1.
This is no coincidence, of course, because the arrival of Cespedes, the emergence of Michael Conforto and the upswing in performance of Daniel Murphy and health of Travis d'Arnaud and David Wright, among other factors, took them to another level.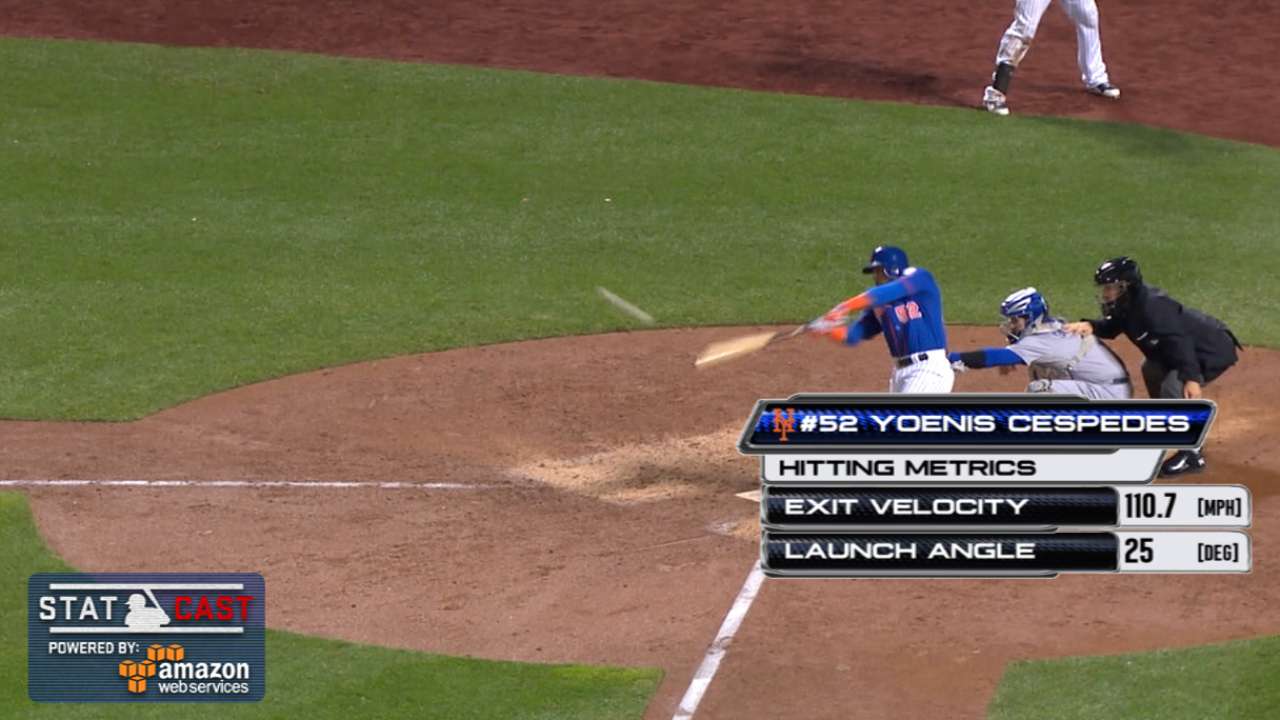 "We've been doing a lot better," d'Arnaud said. "You gotta give credit to K-Long and Sixer [hitting coach Kevin Long and assistant hitting coach Pat Roessler], though. They've been with us all year and they've been preaching, 'Trust the process. Trust the process, and the results will come.' And that's exactly what's been happening."
On Monday night, the process of particularly aggressive at-bats against an out-of-gas Brett Anderson resulted in franchise-record run-production for a postseason game. Down 3-0 early in a game in which Matt Harvey wasn't at his sharpest and at times ran the risk of being nicked to death by singles, the Mets roared back in a hurry off Anderson in the bottom of the second with d'Arnaud's two-run homer and Granderson's bases-clearing double with the bases loaded, then kept piling on against Alex Wood and the L.A. bullpen.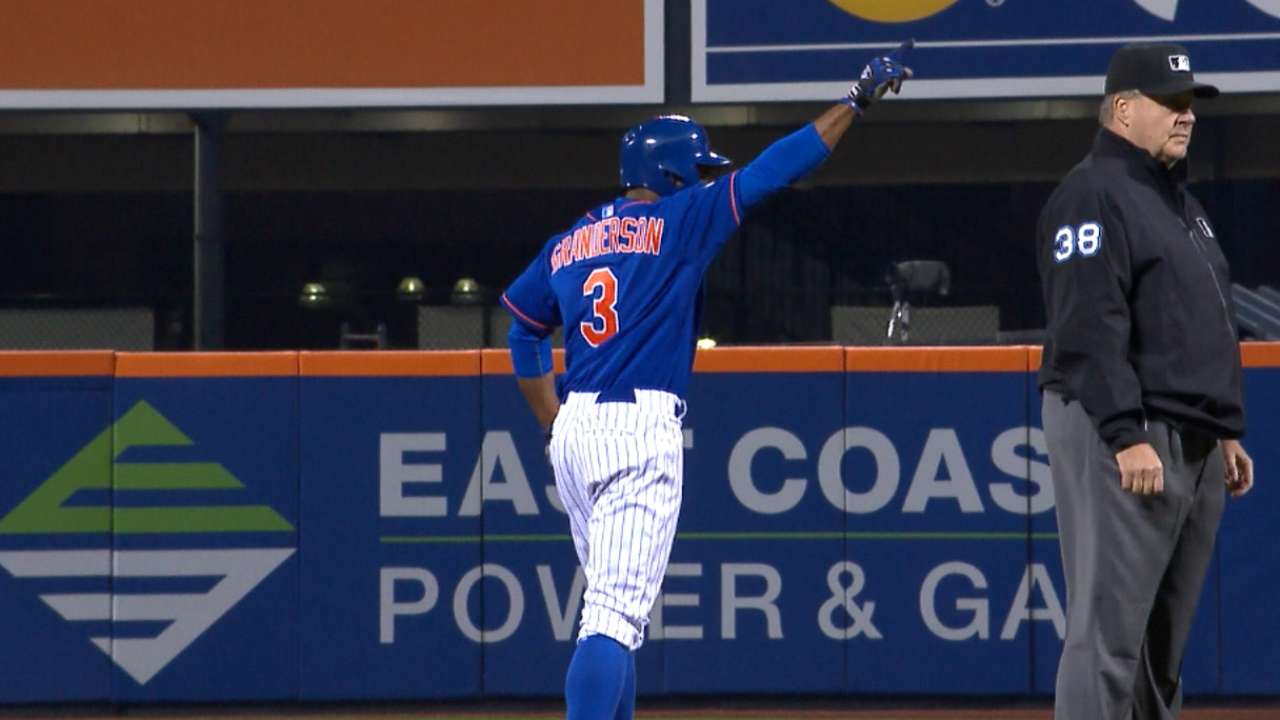 It won't be that easy against Kershaw. Not nearly. And all success against Anderson on this evening aside, the Mets are still a lineup that sets up far better against right-handers than southpaws.
But there's a confidence to this group right now that would have been inconceivable at the season's midway mark and a bit beyond. Contrary to the narratives put in place after the Trade Deadline, it wasn't all Cespedes, though his rocket shots have certainly enlivened this franchise and its fans in a profound way. The Mets have become a deep and relentless unit up and down, and, for one night at least, they got a seamless solution to the Tejada predicament with a 2-for-3 night from Wilmer Flores.
The question now is if they can ride this offensive momentum and the potentially galvanizing experience that was the ugliness in L.A. and nail this thing down at home. It's impossible to know the answer to that question in advance, but for now give the Mets this much: They've put the pressure on Kershaw, a guy who is much more accustomed to putting the pressure on his opponent.
Anthony Castrovince is a reporter for MLB.com. Read his columns and follow him on Twitter at @Castrovince. This story was not subject to the approval of Major League Baseball or its clubs.