Game 3 pitching a letdown for Dodgers
Anderson, Wood struggle to contain Mets, allow 10 runs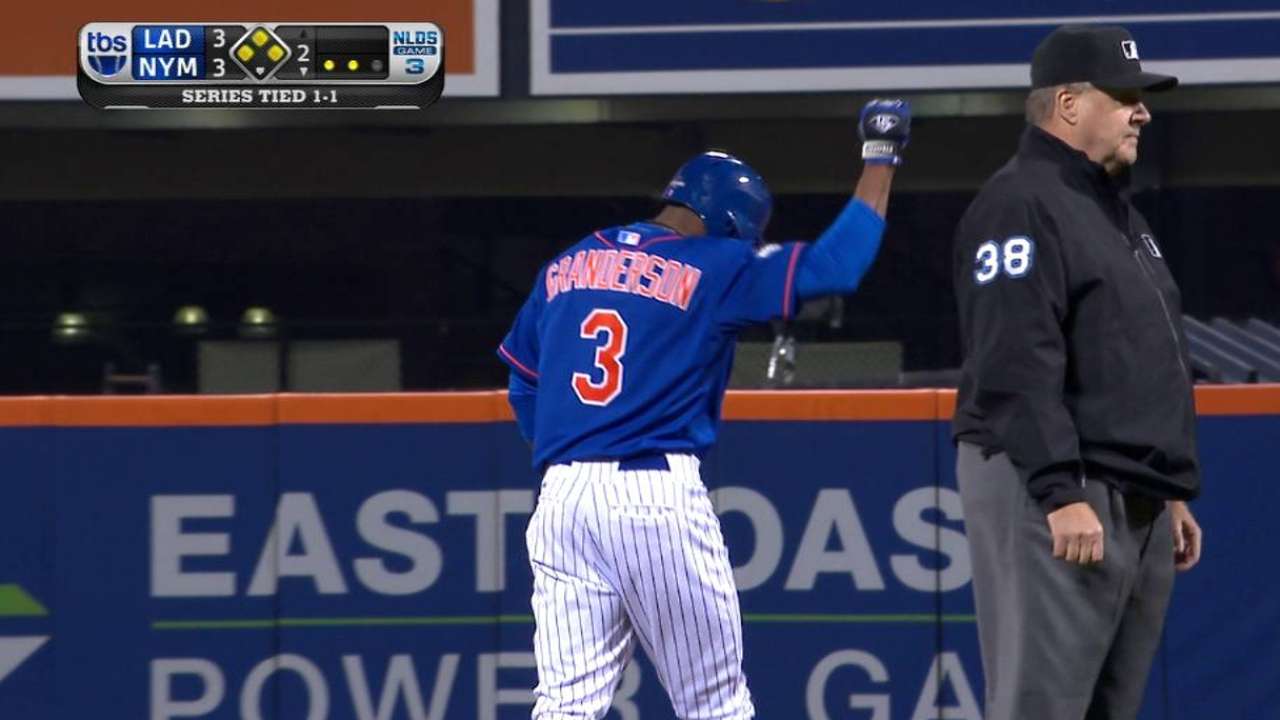 NEW YORK -- The Dodgers face first-round elimination in Game 4 on Tuesday night with Clayton Kershaw starting on three days' rest. Sound familiar?
A year ago it was the Cardinals, and now the Mets have the Dodgers by the throat after Monday night's 13-7 blowout gave New York a 2-1 advantage in the best-of-five National League Division Series. The 13 runs are the most the Dodgers have allowed, and the Mets have scored, in a postseason game.
Facing an openly hostile Citi Field crowd and a Mets team focused on avenging the Chase Utley slide that broke shortstop Ruben Tejada's leg, Dodgers starter Brett Anderson had a 3-0 lead but couldn't get past the third inning, and Alex Wood's first relief appearance of the year was a bust as well.
The Dodgers now need dominant pitching Tuesday to survive because they didn't get anything like it in Monday's swing game, still suffering from the losses of Nos. 3 and 4 starters Hyun-Jin Ryu and Brandon McCarthy in April, which turned Anderson from the fifth starter into the third starter by default.
And if Kershaw can get the series back to Los Angeles for a Game 5, then Game 2 winner Zack Greinke will start on regular rest.
"Our big, two-headed monster," catcher Yasmani Grandal said of Kershaw and Greinke. "If we're going to go down, we'll go down with our two horses."
• Shop for Dodgers postseason gear
But letting an early three-run lead against Mets starter Matt Harvey slip away could mean they won't even get to Greinke, who can opt out of his contract after this season and leave the Dodgers with a one-headed monster. Going into this season, teams that were down in the Division Series 2-1 won only 10 of 39 series, or barely 20 percent.
Pitching had more to do with this loss than the controversy surrounding Utley's slide, or the threats that prompted increased security everywhere the Dodgers went, or the pregame meeting involving both managers and Commissioner Rob Manfred to assure nothing more than a baseball game would break out.
Offensively, the Dodgers even had Harvey on the ropes after being overwhelmed by Jacob deGrom and Noah Syndergaard in the first two games.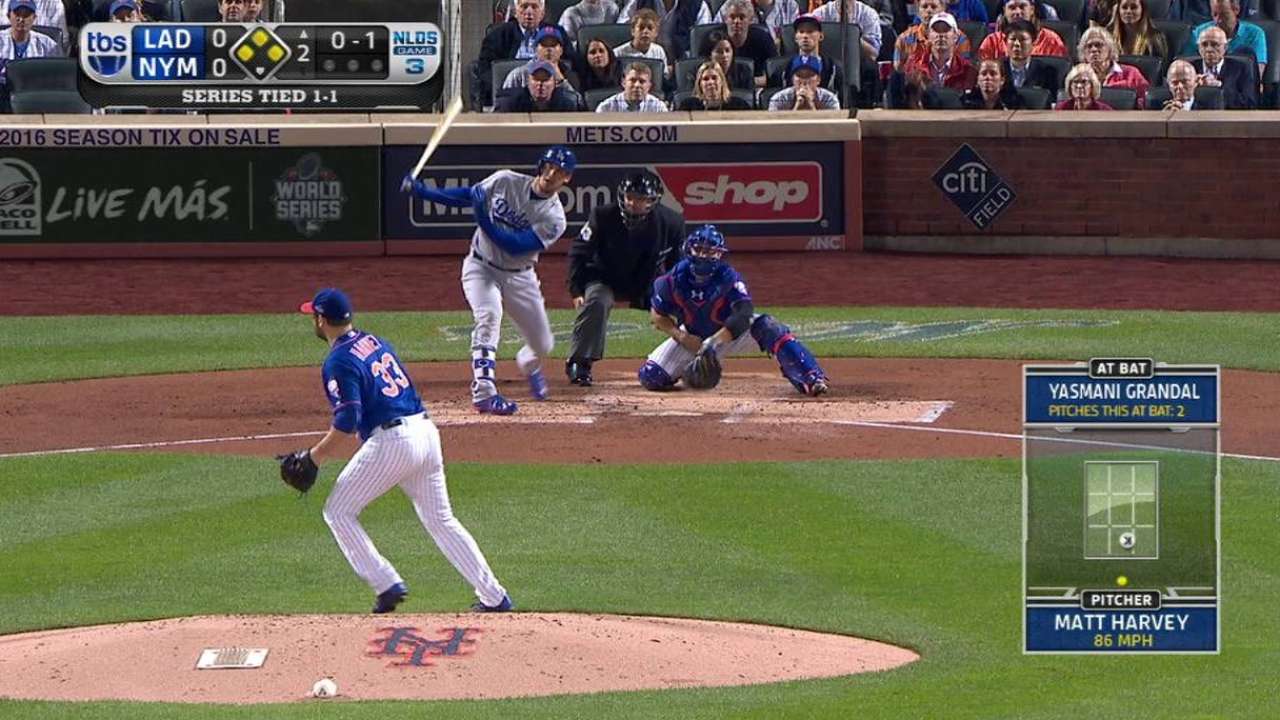 "Well, it kind of really felt like we did a pretty good job with him," Mattingly said of Harvey. "We got him on the ropes a couple of different times; we just don't get the hit. So I thought we did a pretty good job really of giving ourselves chances right there, and we just weren't able to get the hit."
And Anderson didn't get the defensive help he needed. Yoenis Cespedes led off the four-run second with an infield single that Jimmy Rollins, taking over shortstop for rookie Corey Seager, had trouble getting into position to throw to first. Three batters later, second baseman Howie Kendrick lost the grip on a do-or-die barehander for another infield single by Wilmer Flores, Tejada's replacement. Three batters later, Curtis Granderson doubled for three of his five RBIs and the 3-0 lead had become a one-run deficit.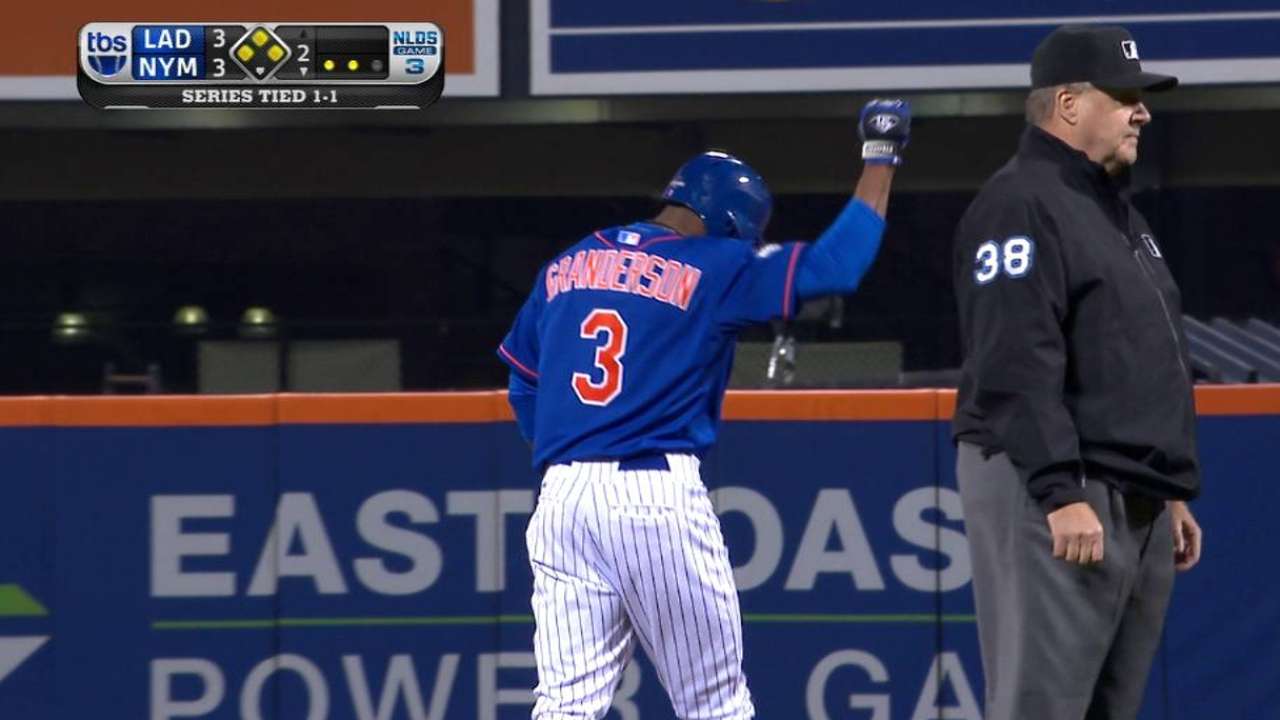 "Two pitches cost us the game," said Anderson. "The one to Granderson, tried to go in, should have thrown a breaking ball. It was in but not in enough. And I made a tremendously God-awful changeup to [Travis] d'Arnaud (hit for a three-run homer. Embarrassing on my part."
Wood served up a three-run homer to Cespedes, who took great pleasure watching the 440-foot blast sail out. Wood and Mat Latos were acquired for the stretch run, when Texas upgraded with Cole Hamels and Toronto landed David Price.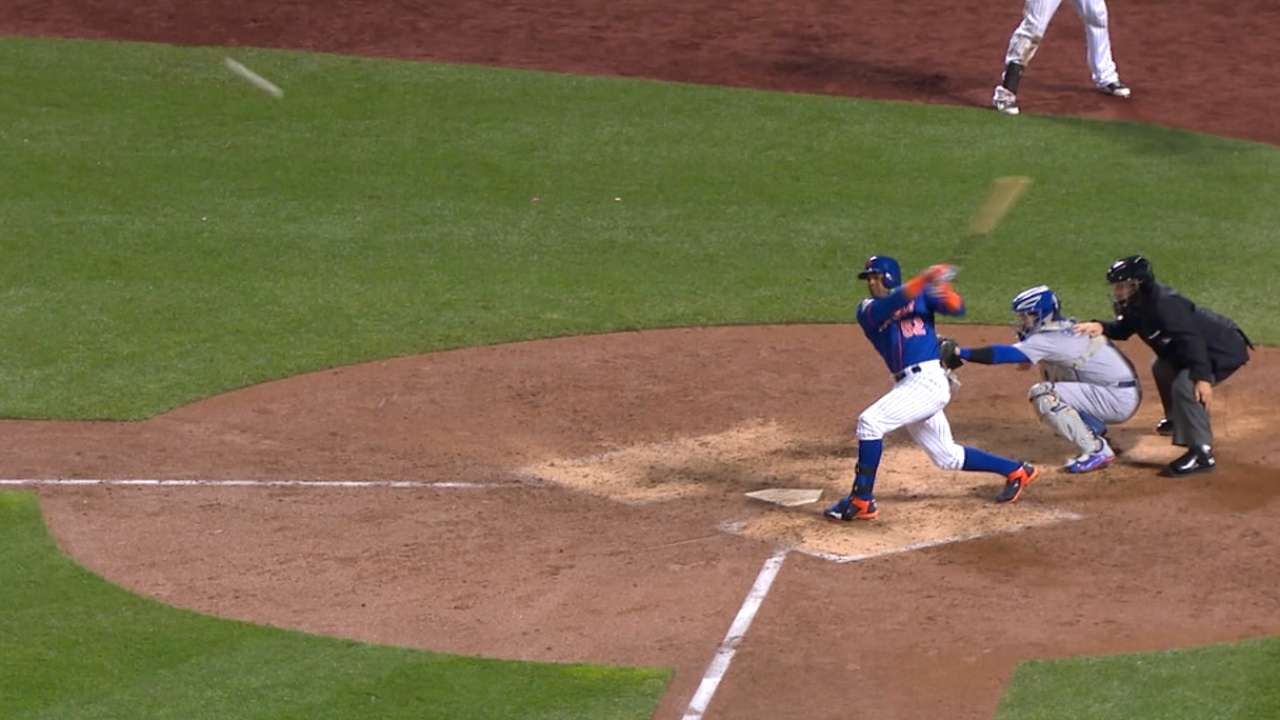 "The name of the game is location, especially to some of their big bats," said Grandal. "Miss over the plate, it's going to get hit, and that's what happened with Cespedes. Missed right down the pipe instead of where we wanted it and he hit it pretty far."
Mattingly took exception to the suggestion that Anderson and Wood haven't been solid down the stretch.
"Those guys have been OK," he said. "They've been OK. They've been fine. Actually, Wood is throwing the ball pretty good for us. Brett has thrown the ball good for the most part. No, they've been fine."
Ken Gurnick is a reporter for MLB.com. This story was not subject to the approval of Major League Baseball or its clubs.