Grandy makes up for error with dandy at plate
Right fielder ties Mets postseason record with 5 RBIs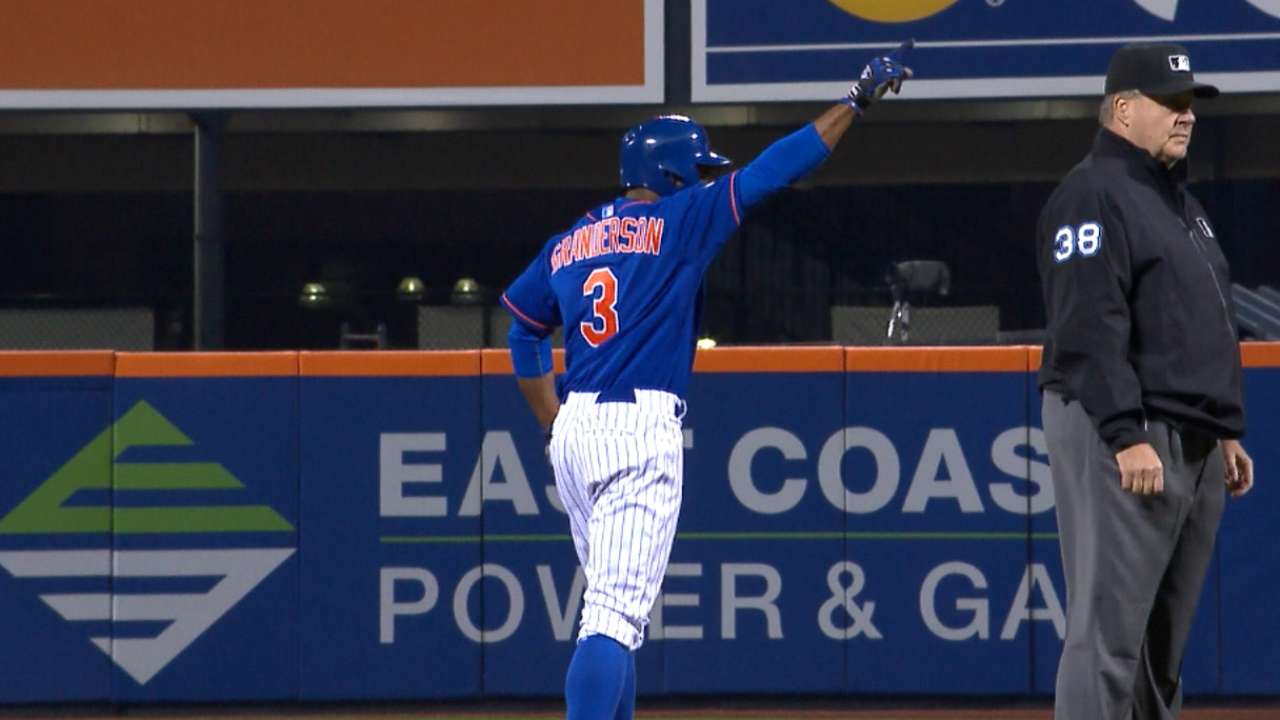 NEW YORK -- Curtis Granderson spent most of this season at the top of the Mets lineup as one of those unique leadoff hitters who possessed both plate discipline and power potential. While playing in the first postseason game at Citi Field on Monday night, the veteran outfielder proved once again that he is more than just a table setter.
Granderson highlighted a four-run second inning with a bases-clearing double and collected a personal postseason-high five RBIs while helping the Mets roll toward a 13-7 win over the Dodgers in Game 3 of the National League Division Series. New York needs one more win in this best-of-five series to advance to the NL Championship Series for the first time since 2006.
• Shop for Mets postseason gear
"This guy is the same way every day," Mets manager Terry Collins said. "He doesn't look for headlines, he just likes to play. He loves to be in the lineup. He doesn't care where it's at. When he shows up, you're going to get all you can out of him, and right now he's led the way most of the season. Right now, like tonight, you know, when he walks up there, he's dangerous."
On his way to tying a franchise record with his five RBIs, Granderson rewarded Collins' faith in him to produce against Dodgers left-handed starter Brett Anderson. After hitting a comebacker in his first at-bat against the southpaw, the Mets outfielder took advantage of the chance to erase the early deficit New York encountered after Matt Harvey surrendered three runs in the top half of the second .
After the Mets sprayed four straight singles, Granderson came to the plate with the bases loaded and two outs. He turned on Anderson's 92-mph fastball and drilled to straightaway center field for a three-run double that gave the Mets a lead they would not relinquish.
"Hats off to Grandy for getting us going," Mets second baseman Daniel Murphy said. "That swing right there on that 0-0 heater that he banged off the wall turned a 3-1 game into a 4-3 game with two outs. It really gave the fans something to cheer about. ... I thought it was the biggest swing of the game."
Granderson admitted that he came to the plate in the second inning looking to make amends for a throwing error that allowed the Dodgers to score their third run in the top half of the frame.
• LA had Harvey on ropes, but NY delivered KO
"The big thing prior to it is we ended up giving three runs up in the top of the second," Granderson said. "I added to that with the error at third base, which brought the third run across, and we come back in the bottom of the second inning and said, 'Hey, let's get guys on base. It's not over with. It's only the second inning. We have a lot of stuff to do.'"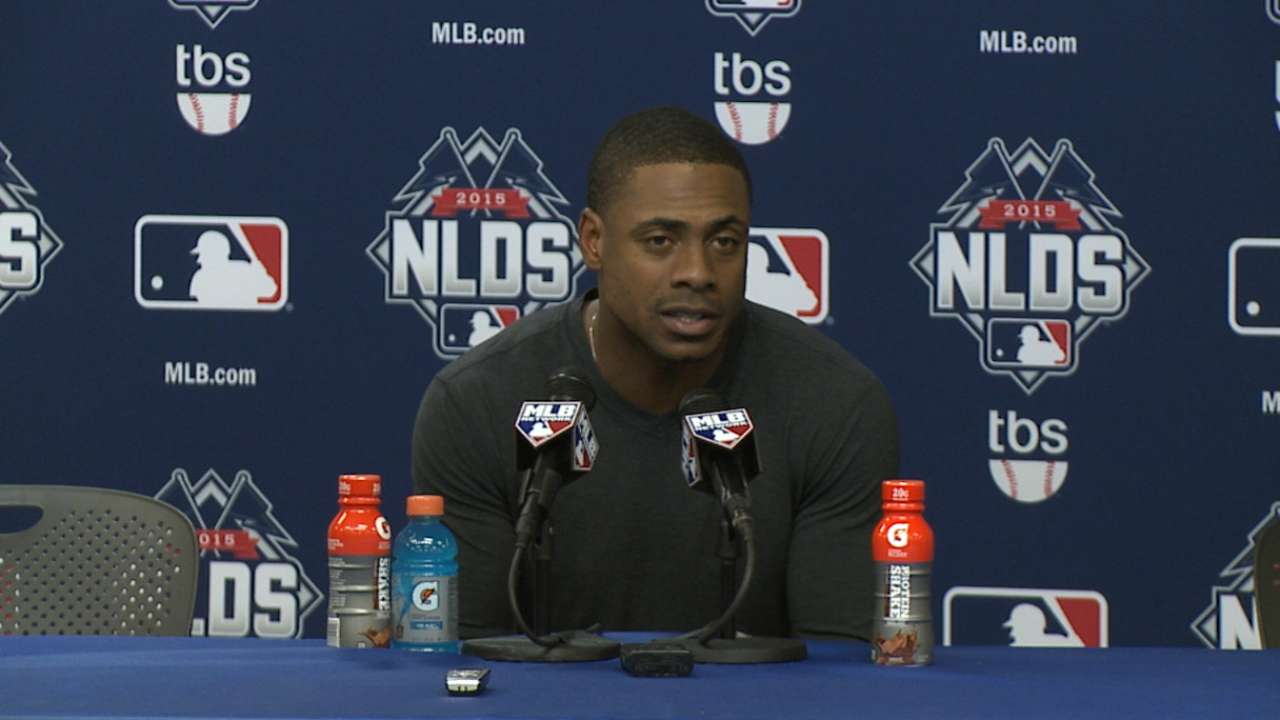 Granderson's two-run seventh inning double off J.P. Howell gave the Mets further comfort and provided the outfielder with his third consecutive multi-hit game in the series. Though he hit just .183 against left-handed starters during the regular season, he has recorded four hits in the eight at-bats tallied against southpaws during this postseason.
"I know his numbers aren't great against left-hand pitching, but I know one thing, you make a mistake and he can hit one over that fence in a hurry, or against the fence," Collins said. "So he's really played good for us."
Mark Bowman is a reporter for MLB.com. This story was not subject to the approval of Major League Baseball or its clubs.