Statcast breaks down a historic day of homers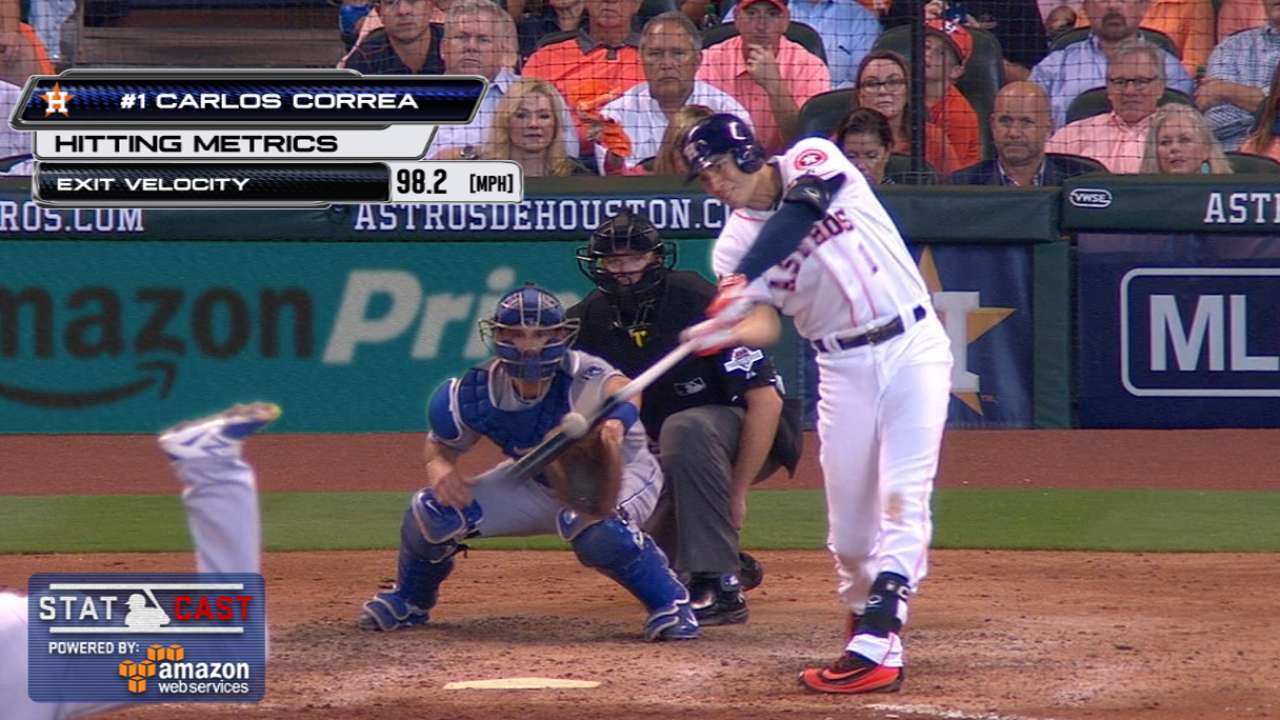 Here's a look at some of the top homers from Monday's action, as well as a closer look at a mad dash around the bases, courtesy of Statcast™.
Hosmer hits no-doubter
Eric Hosmer put a bow on the Royals' season-saving late rally in Game 4, crushing a mammoth two-run homer in the ninth inning to push Kansas City's lead to 9-6. The Royals first baseman teed off on a 94-mph pitch from Josh Fields, turning it around at 104.9 mph and sending it a projected 453 feet, his longest home run of the season. Hosmer's previous longest was a 446-foot shot against the Pirates on July 22.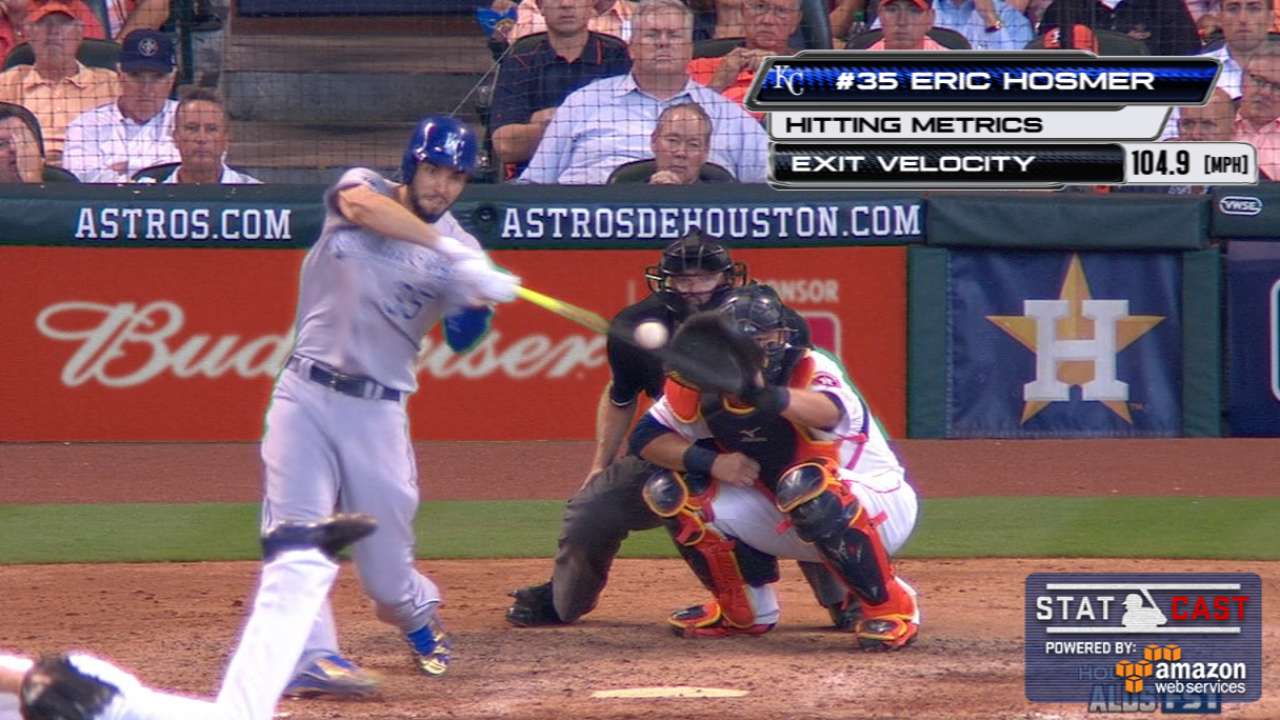 Cespedes hits another moonshot
Though Yoenis Cespedes has hit his share of big home runs in his short time with the Mets, none were hit as hard as his three-run blast in Game 3 of the National League Division Series on Monday night. With the Mets already leading 7-3, Cespedes blew the game wide open with a three-run shot that left his bat at a scorching 110.7 mph, his highest exit velocity on a home run since joining the Mets -- and second-highest this season overall. The only home run he hit harder came all the way back on April 19 with the Tigers when he sent one off his bat at 112.9 mph.
As for the distance, Cespedes' home run on Monday traveled a projected 431 feet into the second deck at Citi Field. That projected distance is the second-longest for Cespedes since joining the Mets, trailing only the 442-foot homer he hit against the Marlins on Sept. 14.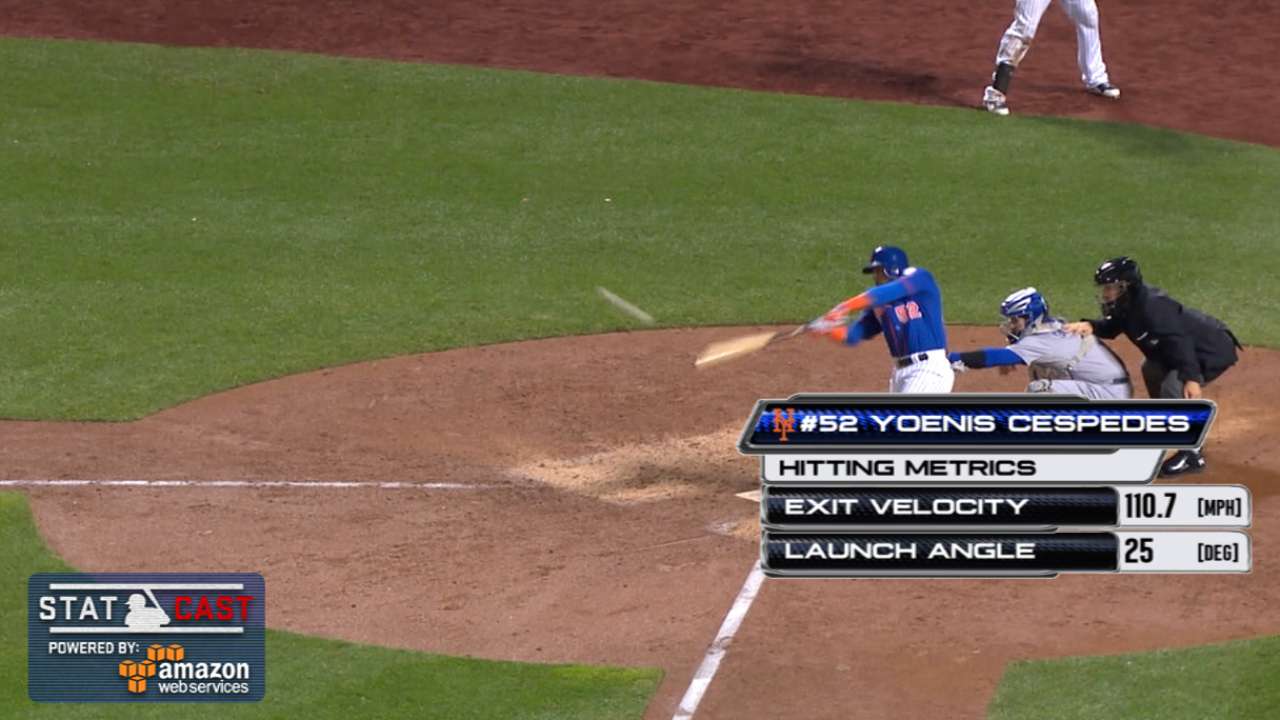 Rizzo homers on historic night
The Cubs connected for a postseason-record six home runs on Monday night, though none traveled farther than the one hit by Anthony Rizzo. Moments after Kris Bryant put the Cubs ahead, 4-2, with a two-run shot, Rizzo followed with a solo home run that registered a 104.1-mph exit velocity and traveled a projected 434 feet. That marked the third-longest home run hit by Rizzo this season, just fractions of a foot behind another 434-foot shot he hit against St. Louis on May 6. Those two blasts are six feet shy of the season-high, 440-foot homer he hit against Dodgers ace Clayton Kershaw on Aug. 28.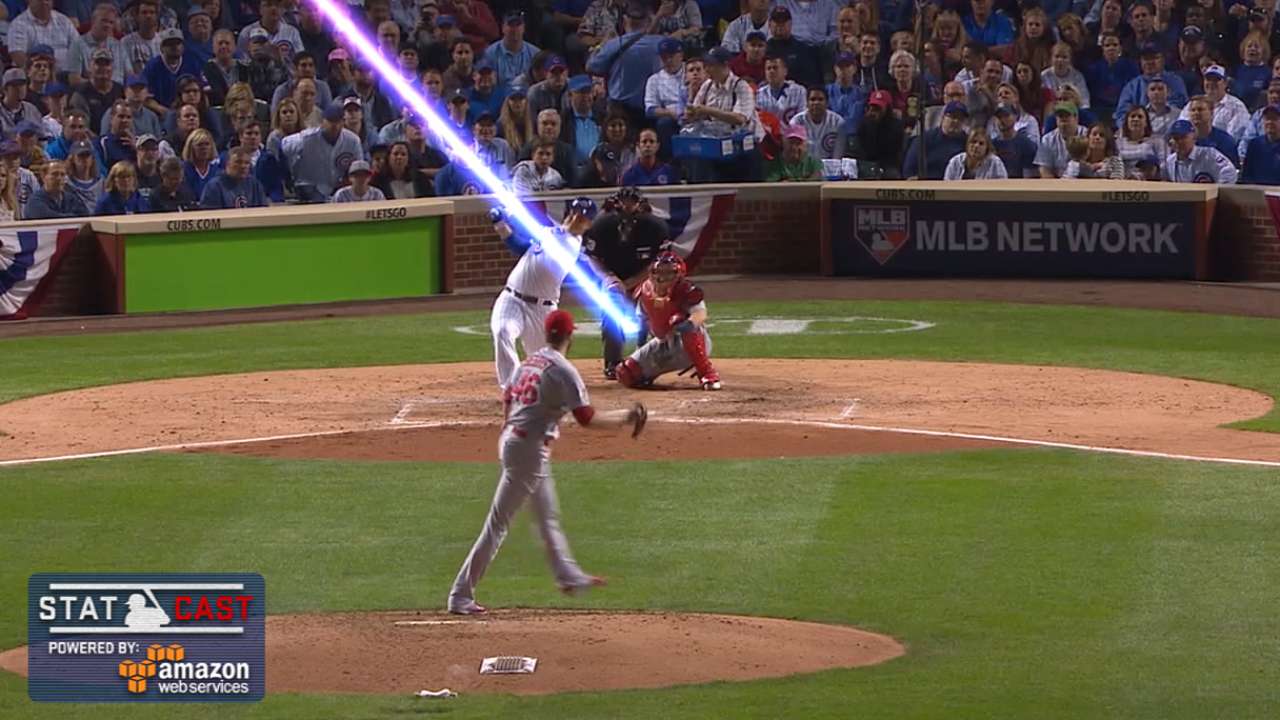 Springer dashes home from first
Astros outfielder George Springer flashed some wheels on Monday when he scored from first base on a double by fellow rookie Carlos Correa. Springer was moving on the 3-2 pitch, and the 9.6 seconds it took him to cross home plate marked the second-fastest first-to-home time by an Astros player this season. Along with getting an early jump, Springer reached a max speed of 20 mph on the play, allowing him to cross the plate standing up.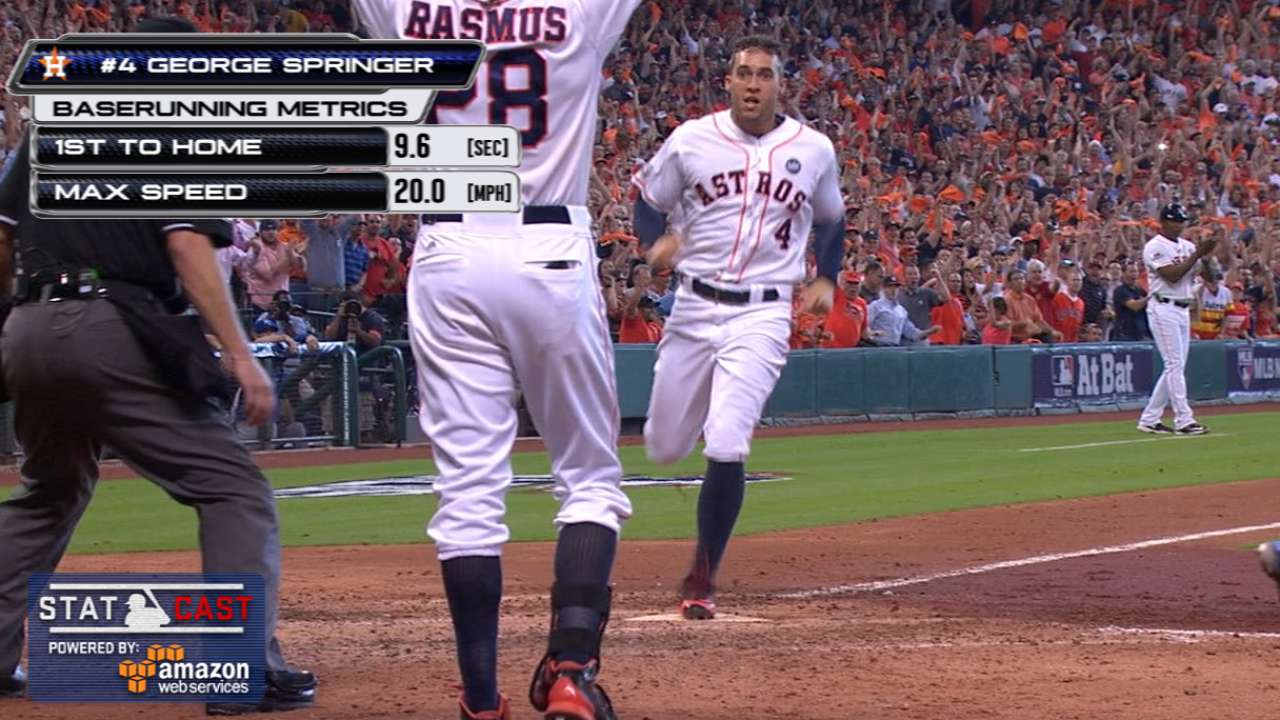 Correa crushes a pair of homers
Along with his RBI double to plate Springer, Correa also connected for two home runs in a losing effort. Correa's first homer, a third-inning shot off Yordano Ventura that tied the game at 2-2, jumped off his bat at 98.7 mph and traveled a projected 395 feet.
Four innings later, he hit a nearly identical two-run shot that pushed Houston's lead to 5-2. The second one registered an exit velocity of 98.7 mph and traveled a projected 395 feet. Correa had hit only three home runs with an exit velocity less than 100 mph, but both of his homers checked in below triple-digits on Monday.
Paul Casella is a reporter for MLB.com. This story was not subject to the approval of Major League Baseball or its clubs.