Harvey bears down, wins postseason debut
Mets righty off early, settles in to give offense chance to respond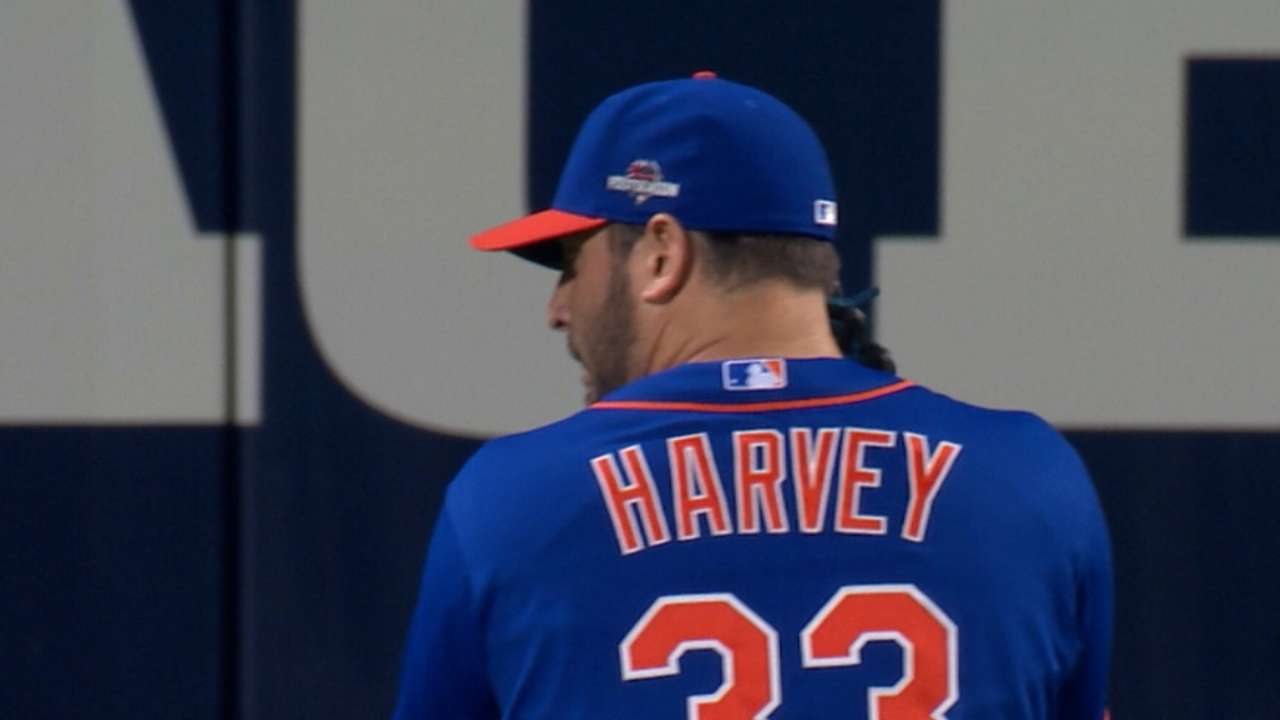 NEW YORK -- Scowling declarations are nothing new for Matt Harvey, so Mets manager Terry Collins was not particularly surprised to see Harvey walk into the dugout following a three-run second inning in National League Division Series Game 3 and vow, as Collins recalled it, that "that's all they're getting."
"And that," Collins said, "is all they got."
• Shop for Mets postseason gear
The result was a happy ending for the Mets, who rolled to a 13-7 victory over the Dodgers on Monday night to move within a game of their first NL Championship Series since 2006. After giving up three runs in the second, Harvey grew stout the rest of the way, needing 97 pitches to complete five innings, but completing them unscathed.
On a night when the Mets set a franchise record for postseason offense, it was plenty.
"I know Matt Harvey would say he's not as sharp as he's used to being, but that's also because he sets the bar so high," second baseman Daniel Murphy said. "He gave up three right there, but he threw up three zeros after that. It gave us a chance not only to get four, but also to try to extend the lead. I thought he was awesome tonight."
Consider it a net-sum victory for Harvey, who pitched a pivotal NLDS game -- the Mets lined things up that way on purpose -- without being dogged by questions of innings totals or pitch counts or his commitment to the team. By the time Harvey took the mound for Game 3, attention had shifted to Chase Utley, Ruben Tejada and both clubs' handling of that situation. By the time the game ended, Harvey found himself a footnote compared to the Mets' offensive onslaught.
But on a night in which the Mets had to win, Harvey won. The only damage against him came on four consecutive singles and a Curtis Granderson throwing error in the second, resulting in three runs. Though Harvey did not exactly cruise to victory from there, putting multiple runners on base in the third and fifth innings, he made the pitches he needed to escape those jams -- a 96-mph fastball to Andre Ethier with two men on in the third inning, for example, and a 95-mph heater to Carl Crawford on the inside corner in the fifth.
"He worked harder tonight to give us five quality innings than I have seen him work at any time at any start," Collins said. "He didn't have his good stuff. He had to work the entire night to make pitches. He was deep in counts. He was falling behind. He was missing targets and I mean, that's what you had to do. He had to go out there and battle."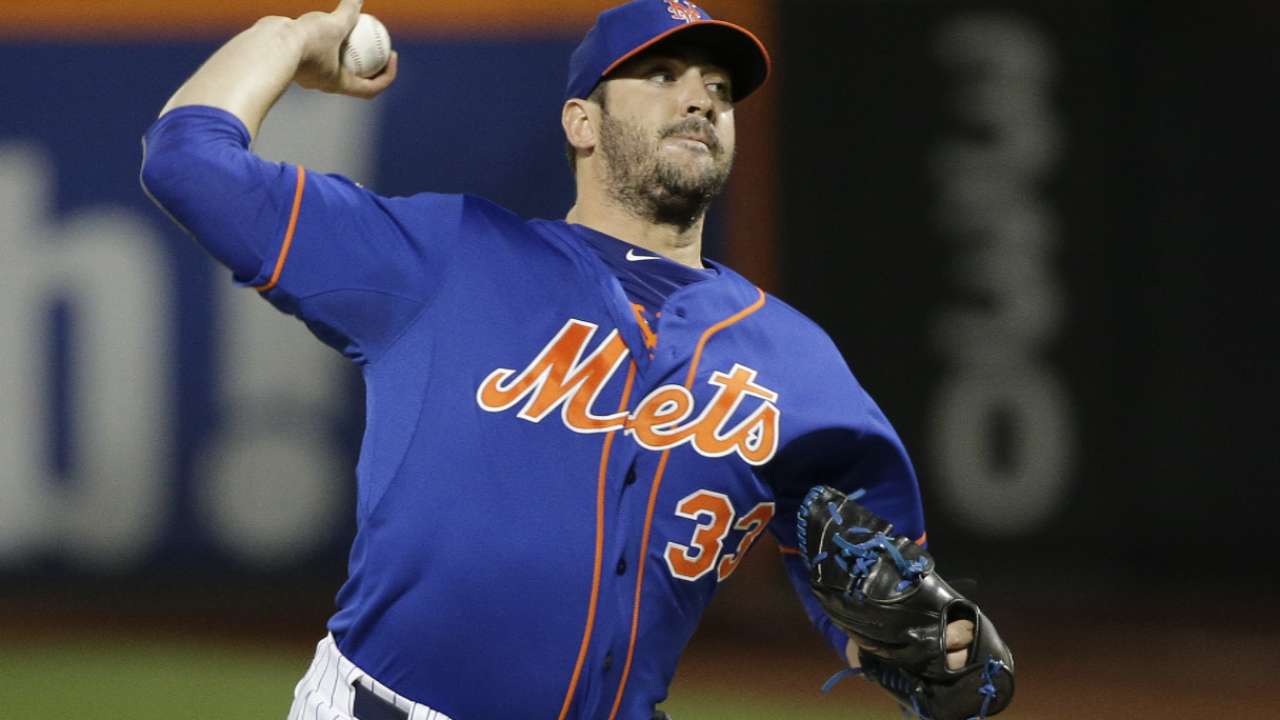 Though Harvey has alluded to being available out of the bullpen in a potential Game 5, he is more likely done pitching until the NLCS, if the Mets advance. At that point, he'll have taken the mound just once in two and a half weeks, seemingly keeping his innings total in check long enough to satisfy everyone -- himself included.
Until a potential NLCS start occurs, Harvey has accomplished what he wanted to accomplish, even if he didn't do it with his signature flair.
"It was definitely a battle," Harvey said. "It's obviously not ideal giving up runs like that early in the game, or any runs at all. But the offense came up big and really picked me up when I needed help."
Anthony DiComo is a reporter for MLB.com. Follow him on Twitter @AnthonyDiComo and Facebook, and listen to his podcast. This story was not subject to the approval of Major League Baseball or its clubs.