Oct. 12 Matt Harvey, Travis d'Arnaud postgame interview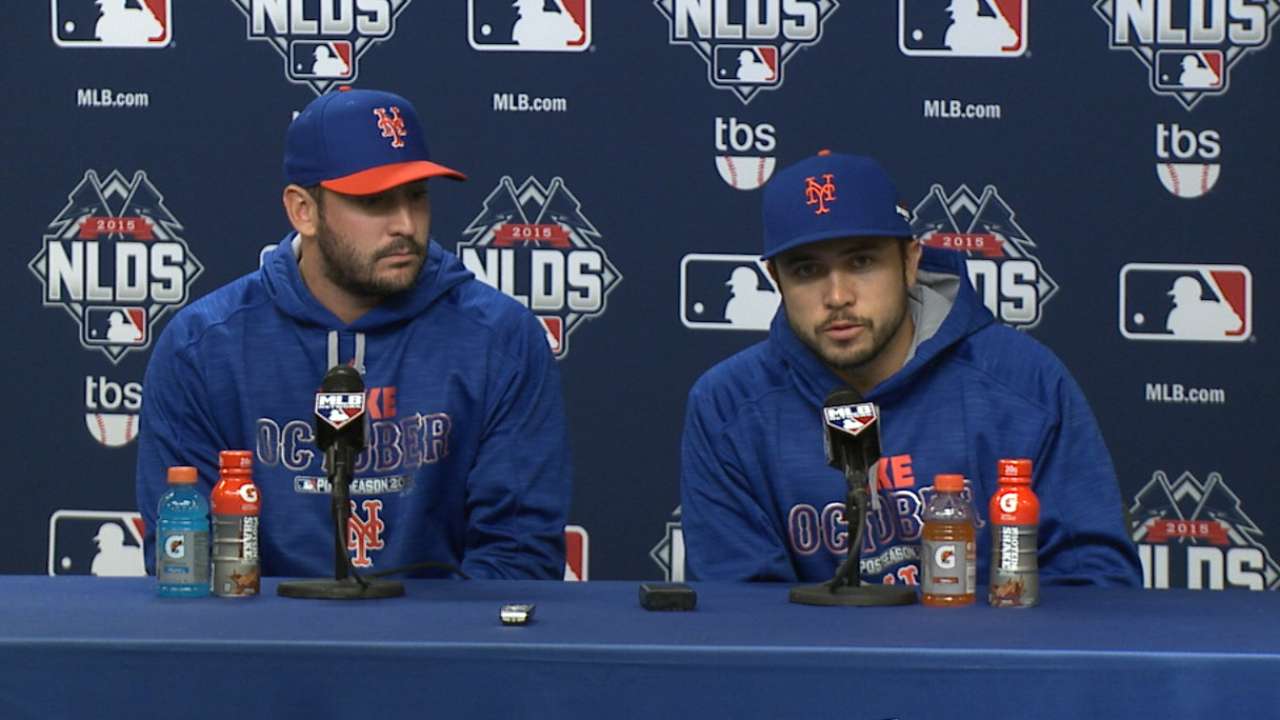 THE MODERATOR: We'll get started with Matt and Travis. Congratulations, you guys. First question for Matt and Travis.

Q. Terry said he talked to you guys before the game about making sure that the focus was on the game and not retaliation. When you heard what the fans were doing, how they were reacting, do you think they essentially retaliated for you guys and were you able to feed off them?
MATT HARVEY: Yeah, I mean I think -- I think the boos at the introductions were kind of a big statement leading into the game and we knew the biggest thing going in was coming on top and scoring as many runs as we did, and you know, that kind of did all the talking. So for us it was stay focused, go out and let our play do all the talking, and you know, all that stuff will be resolved later.

Q. Travis, before the game Terry said that you had worked with Kevin Long a little bit in the cage maybe trying to iron some things out. What specifically were you trying to fix with your swing today?
TRAVIS D'ARNAUD: Today I was just trying to keep things simple. I feel the last few weeks I've been overthinking and trying to do too much instead of just seeing the ball and I get the ball. So I gotta give credit to K-Long and Sixer (Pat Roessler) for helping me out with that.

Q. Terry said this was the hardest he's seen you work in and out and effort. Just wondering if you agree with that assessment?
MATT HARVEY: Yeah, I think it was definitely a battle. Obviously not ideal giving up runs like that that early in the game, or any runs at all. But you know, I think obviously the offense came up big and really picked me up when I needed help, and fortunately enough I was able to go five innings and wanted to go back out for the sixth and see if I could get a quick one and maybe go out for the seventh. But obviously putting up that many runs and getting into that situation, you know, he made the right call.

Q. Travis, you guys had three hits and five RBIs when swinging at the first pitch. Is there something in Anderson that dictated that approach tonight, to swing early and be particularly aggressive?
TRAVIS D'ARNAUD: No, I just think we were ready for our pitch. We were fortunate enough to get our pitch and make sure we put good swings on it. That's what I feel like our game plan was.

Q. Travis, what was your perspective between innings working with Matt and getting him through it, as Terry was talking about, the fact that he had to work pretty hard to get through it? What was your perspective like that working with him between innings?
TRAVIS D'ARNAUD: For me it was making sure he was getting out front and getting his good release point. He didn't have his best stuff today, but he showed what kind of heart he had, fighting right there and helping us out and going those five innings and putting up zeros for us.

MATT HARVEY: Thanks, buddy.

Q. Travis, can you put into words just how much this offense has evolved this season, they've come a long way from the first half.
TRAVIS D'ARNAUD: Yeah, we've been doing a lot better. You gotta give credit to K-Long and Sixer, though. They've been with us all year and they've been preaching, "Trust the process." Trust the process and the results will come and that's exactly what's been happening.

Q. How important was it for you guys to come back in that bottom of the second after Matt had given up the three runs in the top of the inning, to come right back, and particularly your single and Curtis's double, how important was that?
TRAVIS D'ARNAUD: That was huge for us, right when we got back the dugout everyone was saying, We got this, we got this, and we never give up, and it shows what kind of character and fight this team has, and I'm truly honored to be a part of it.

Q. Travis, when you look at the stuff that this staff has, all the high 90s and the ability that they have, what are they like to catch? Are they more just technically more difficult to catch than other pitchers or easier?
TRAVIS D'ARNAUD: You know, they all do throw hard. They all have great pitches, but the thing that impresses me the most is the command they have, also the demeanor they have out there. I got the best job in the world and I'm very fortunate.

Q. Travis, is it any different catching Bartolo when he's coming out of the bullpen? And what kind of weapon do you think he could be in the postseason in that role?
TRAVIS D'ARNAUD: No. He's the same guy out there, has a huge smile on his face and loves being out there. I think that role for him is perfect for us, and he's been loving it.

Q. Matt, you started the All-Star Game here. How did that energy compare to tonight, compared to the All-Star Game?
MATT HARVEY: I don't think it compares. I mean, they were both pretty impressive, but I think the fact that it's the playoffs and it's in New York, you know, the fans were, you know, from as soon as we all stepped on the field, they were electric. And I think they definitely were the tenth man, as you could say, for us, and you know, I know the offense definitely fed off of their emotions, and there's not much you can say, that they were awesome from pitch one.

Q. Travis, there was a note that there were actually more home runs hit today across Major League Baseball than any single day in a postseason ever. I know you're trying to win a game, not be part of a trivia question. How cool is that to see across MLB?
TRAVIS D'ARNAUD: It's really cool to see. It's good for the fanbase; get more people in the stands. Like I said, I'm very fortunate to be a part of it.