Cardinals primed to thrive with backs against the wall
Facing elimination in Game 4, resilient Redbirds relish chance to stay alive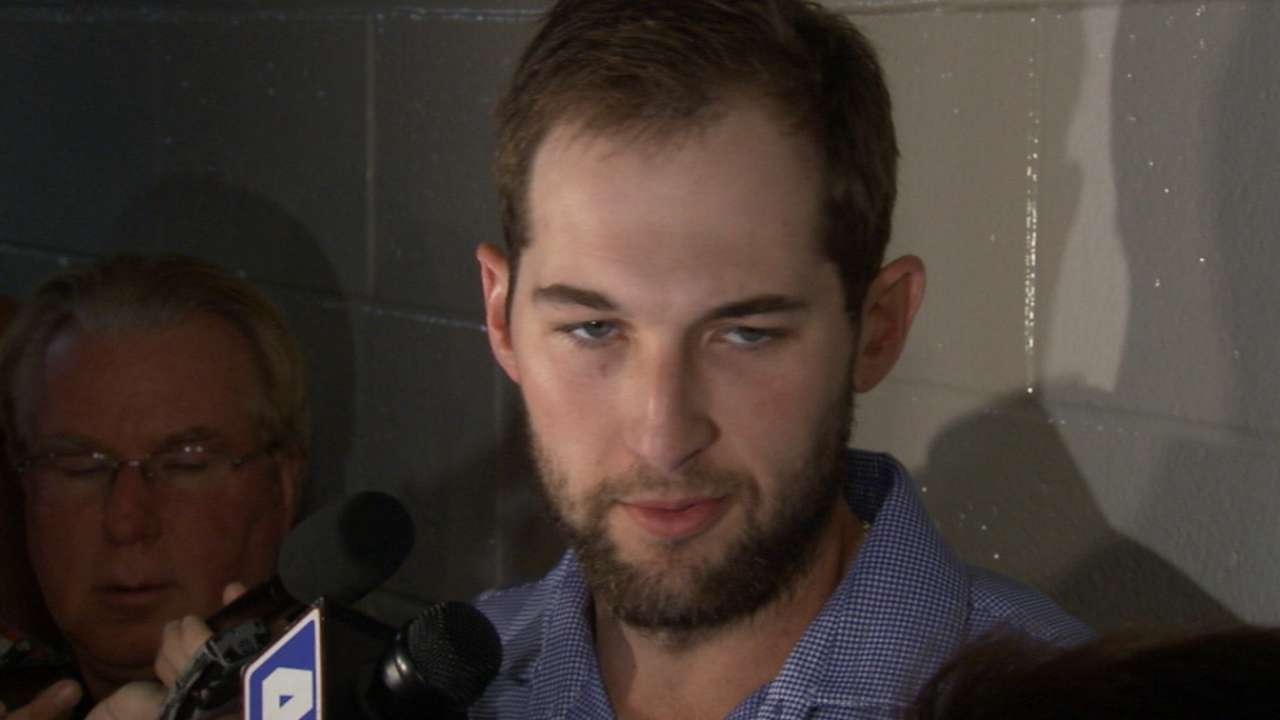 CHICAGO -- An historic show of power by the Cubs in an 8-6 win over the Cardinals in Game 3 of the National League Division Series on Monday leaves St. Louis on the precipice of its earliest October exit in Mike Matheny's managerial tenure.
But while history may not be in the Cardinals' favor, really, has much been all season?
• Shop for Cardinals postseason gear
A team whose 100-win season was defined by its resiliency will need it as much as ever on Tuesday (4:30 p.m. ET, TBS) when it takes the field in the Friendly Confines of a Chicago neighborhood ready to erupt with one more win by its home team. It will take a Cardinals victory to ensure they play at least once more at Busch Stadium this year.
"I love it," Jason Heyward said. "We don't ever stop. Ahead or behind, we don't ever stop playing the game. We're going to play tomorrow and are going to have some fun doing it."
As many of Heyward's teammates know first-hand, this is a group that has been in this precise predicament before -- and recently, too. It was just two years ago that Michael Wacha had to be nearly perfect in Pittsburgh to stave off NLDS elimination in Game 4 and direct that best-of-five series against the Pirates back to St. Louis, where the Cardinals finished off the comeback.
Two years before that, they beat the Phillies twice after dropping two of their first three NLDS games. That final win came in Philadelphia with Roy Halladay on the mound.
In total, however, teams up 2-1 in a Division Series have won that series 80 percent of the time. The Cardinals have been a part of two of the only 10 exceptions.
"We're a team that, I don't think we have to play harder than we have all year right now," Adam Wainwright said. "We're down 2-1. We've been in this situation before. We know we have to come out and play a good ballgame. When you simplify things like we can -- you don't worry about the situation, the games, up or down. We're going to come out and execute. And if everybody comes out and executes tomorrow, we're going to be just fine."
What the Cardinals will have on Tuesday is all hands on deck.
• Lackey to start elimination game on short rest
John Lackey draws the start on short rest, the Cardinals choosing to call on the veteran right-hander instead of initially scheduled Lance Lynn. It will be the fourth time in Lackey's career (second in the postseason) that he has pitched with just three days of rest between starts. Under such circumstances he actually won a World Series clincher for the Angels 13 years ago.
In three career starters where his team faced postseason elimination, Lackey is 1-1 with a 2.89 ERA. His team won two of the three games.
Manager Mike Matheny's decision to pull Lackey after 86 relatively stress-free pitches in Game 1 should have helped in his recovery.
"It's the playoffs, man," Lackey said after Game 3. "I'm not guarding against nothing. Pitch counts are out the window this time of year. It's compete and win the game."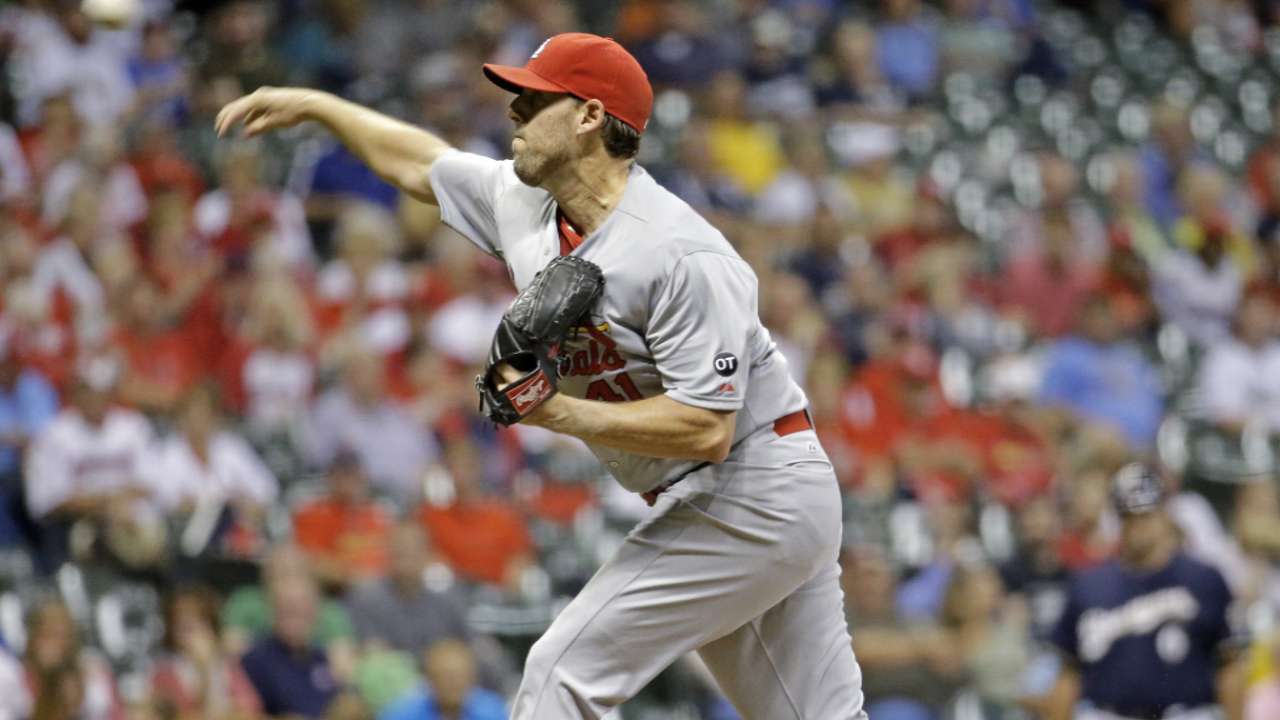 Should anything not look right with Lackey, Matheny can be aggressive in finding help elsewhere. Lynn is obviously available for as much work as is needed, and the Cardinals have two ready long relievers (Carlos Villanueva and Tyler Lyons) in the 'pen. Jaime Garcia said on Monday that he, too, is feeling well and ready for a potential call.
"I'll be available for whatever they need of me," said Garcia, who threw just 45 pitches in Game 2 on Saturday.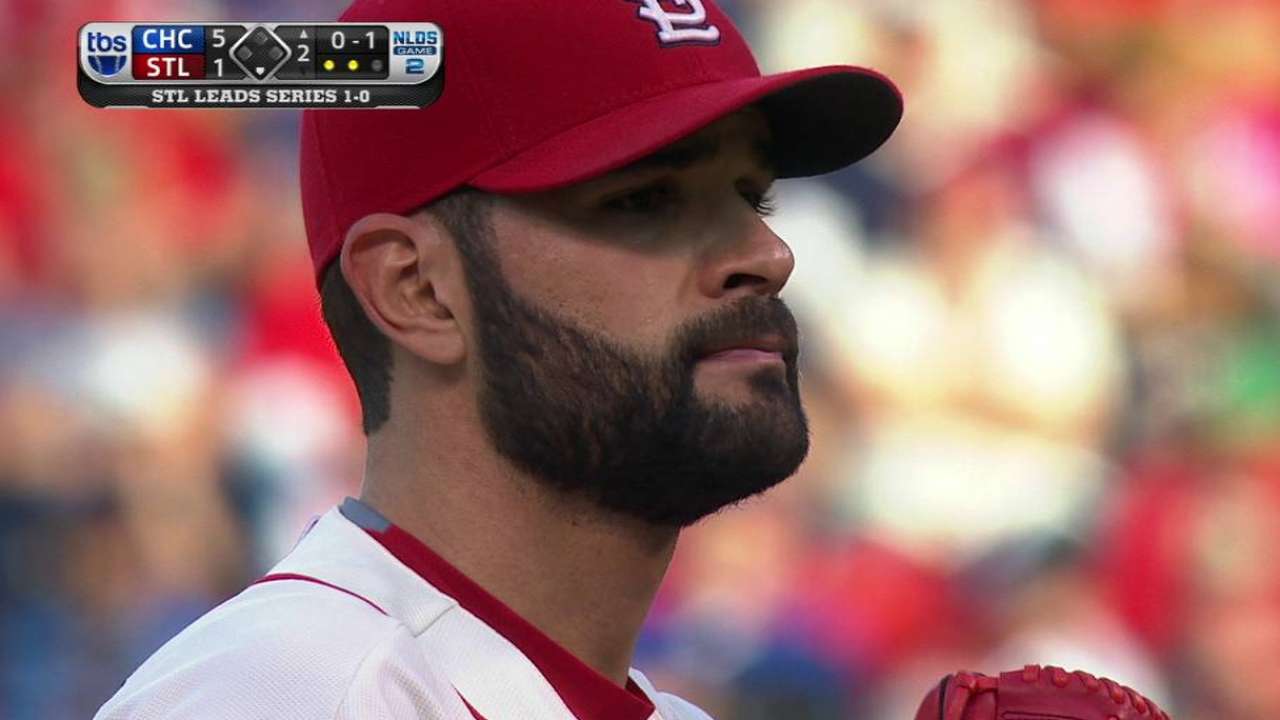 With an off-day built in before a potential Game 5 on Thursday, Matheny won't hesitate to use Kevin Siegrist, either, even though the lefty threw 27 pitches on Monday. Even Wainwright, who hasn't pitched on back-to-back days since 2006, said he can take another call.
"This is the postseason," said Wainwright, who allowed one run on three hits over 1 2/3 innings on Monday. "Whenever that phone rings, I'm expecting it to be me."
The Cards will have to do without Yadier Molina, whose left thumb became so compromised on Monday that Matheny had to pull his starting catcher for a pinch-hitter in the sixth. Unable to hit, Molina was not in the starting lineup for Game 4, replaced by Tony Cruz. The Cards' All-Star catcher is available off the bench to play defense only.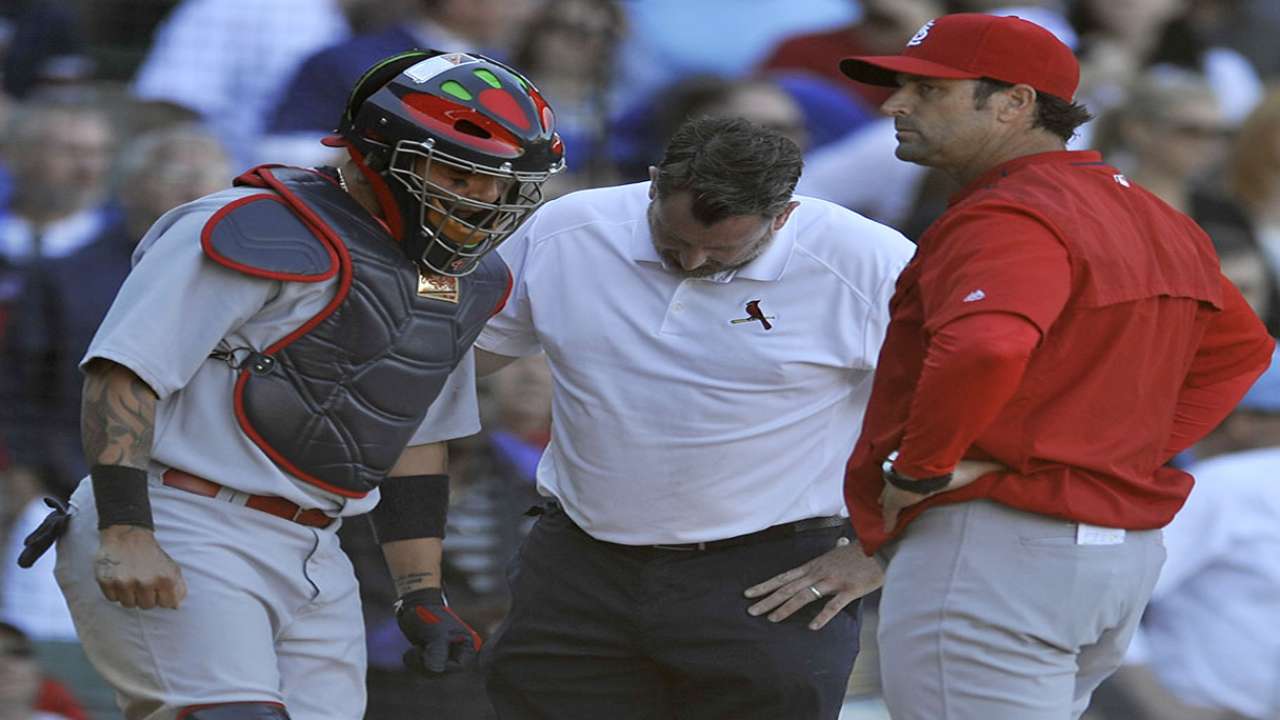 Molina (6-for-13) is one of several Cardinals with notable previous success against Chicago's Game 4 pitcher, Jason Hammel. Jhonny Peralta (9-for-23 with eight RBIs), Jason Heyward (9-for-18) and Matt Holliday (4-for-11) have also knocked him around. It can't hurt, either, that a club so starved for offense at times this season is coming off a six-run output in Game 3.
"I like our odds when our backs are against the wall," Matheny said. "This is the kind of team that we've had all season long, regardless of what anybody else thinks, regardless of odds, regardless of who we're stacked up against, this team just continues to fight, and that's not something that you lose, regardless of where you stand. I'm excited to watch them come out and compete. That's what this team does well. Tomorrow is the kind of game where they'll come out with a lot of heart ready to do their thing."
Jenifer Langosch is a reporter for MLB.com. Read her blog, By Gosh, It's Langosch, follow her on Twitter @LangoschMLB, like her Facebook page Jenifer Langosch for Cardinals.com and listen to her podcast. This story was not subject to the approval of Major League Baseball or its clubs.