Oct. 12 Kris Bryant postgame interview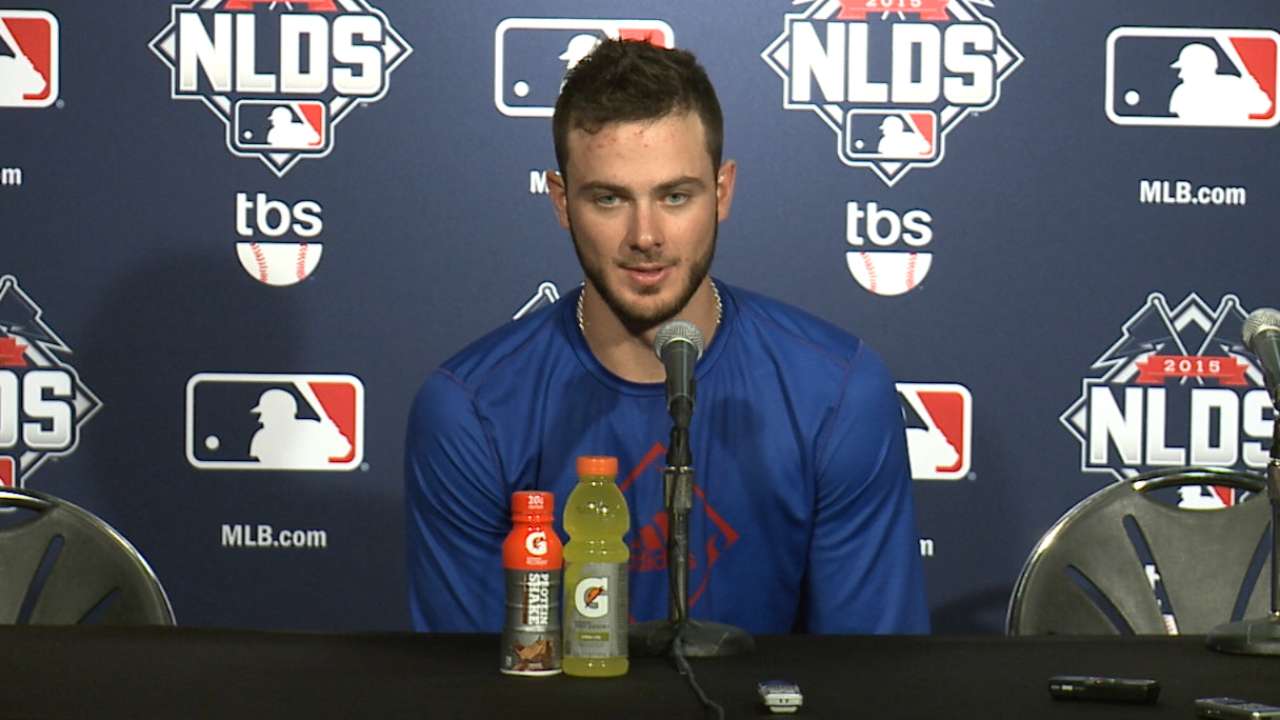 Q. Kris, you've been kind of struggling headed into tonight's game. What's it like to finally get out of that slump and were you doing anything different today as opposed to previous days?
KRIS BRYANT: No, not doing anything different at all, just taking advantage of a pitch when I get it, hitting it hard, and you know, the first one is obviously good to get out of the way, first hit in the postseason, first hit in the regular season is always good to get out of the way. But that's kind of just a monkey off my back, and moved forward from there, had some good at-bats, saw the ball really good, and it was just an overall good game for us.

Q. You've had kind of a bird's eye view of Soler there in the on-deck circle. What's going on with him? Is he so locked in right now?
KRIS BRYANT: Yeah, his at-bats are awesome. He's seeing the ball really, really good. You know, taking some borderline pitches there, and he's not missing his pitch when he gets it. You know, that home run he hit today was unbelievable. It was like a 2-iron. But it's good to see him. He's been hurt a lot the whole season, and stepping up huge for us right now. It was really good to see that.

Q. Kris, when you step out today, do you look at the conditions? Do you think it's within this team to even approach six home runs?
KRIS BRYANT: I wasn't thinking that number, but any time the wind is blowing out here, you've really got to take advantage of it, get some pitches that you can hit in the air, and you never know what can happen. But at the same time, you know, just because we had a four-run lead there, we couldn't let off the gas. The Cardinals are a very good team and they're more than capable of hitting some balls in the air, too. We saw that the last inning with Piscotty and Heyward hit a great pitch by Jake, I think, curveball on the outside corner, and put a good swing on it. Like I said, you never know with the wind blowing out.

Q. Kris, on your home run, you worked Wacha to a 3-0 count. Were you surprised he came back at you with three fastballs?
KRIS BRYANT: I was, especially after kind of selling out 3-0 there, really trying to do some damage, I figured they'd go changeup or something. But it's always a cat-and-mouse game there. You're thinking one way, they're definitely thinking a different way. You know, like I said, I was seeing the ball really good today. I was prepared for any pitch there, and I put a really good swing on it.

Q. Mike Matheny said John Lackey is going to be starting tomorrow. Given how Game 1 went, do you have any thoughts on how you'll approach that?
KRIS BRYANT: No, I mean, I think -- yeah, he had a good game against us. Obviously I think he took a no-hitter into I think it was the sixth or something, but he's a tough pitcher, and he's a competitor. You know, I'm sure they want him on the mound. But I don't know who we're throwing, but we're all excited for the game. Hopefully we have a chance to win the game at home. Obviously it would be nice to do that for the fans here. But just got to put this one behind us and take the good from it. Obviously it was a good game all around, but can't let that really get to our heads, just focus on the game at hand and have some fun with it.

Q. How was the atmosphere tonight, the fired-up crowd? Were you guys able to feed off that?
KRIS BRYANT: Yeah, crowd was unbelievable, all the towels and flags waving around. We love playing here in front of the fans. They've been great to us all year. Obviously today was a notch above what they've been all year. We just had a lot of fun feeding off of them. We hit some home runs, so those are always fun to see. The crowd was into it, and it was fun to see that.

Q. You've been through a few postseason games now, same as your other rookie teammates. How have you handled everything going into this, and what do you see now as you move ahead?
KRIS BRYANT: You know, I think personally, I think I've handled it pretty good, just kind of slowing things down and realizing that my individual goals are -- just because I had a hit there, it means nothing at all, and I think everybody in the clubhouse is feeling that way, too. We put all our individual -- our selfishness aside, and we're really focused on winning these games and doing whatever we can, whether it be just being a great teammate and supporting the guy who's doing it that day, but I mean, today was unbelievable. We had a lot of fun in there. Everybody is smiling, obviously. It's fun when you hit, what was it, I think it was six home runs or something.

It's been a lot of fun so far, and hopefully we can play many more games this year.