Matz treating Game 4 'like any other' start
Young righty opposes Kershaw as Mets eye NLCS berth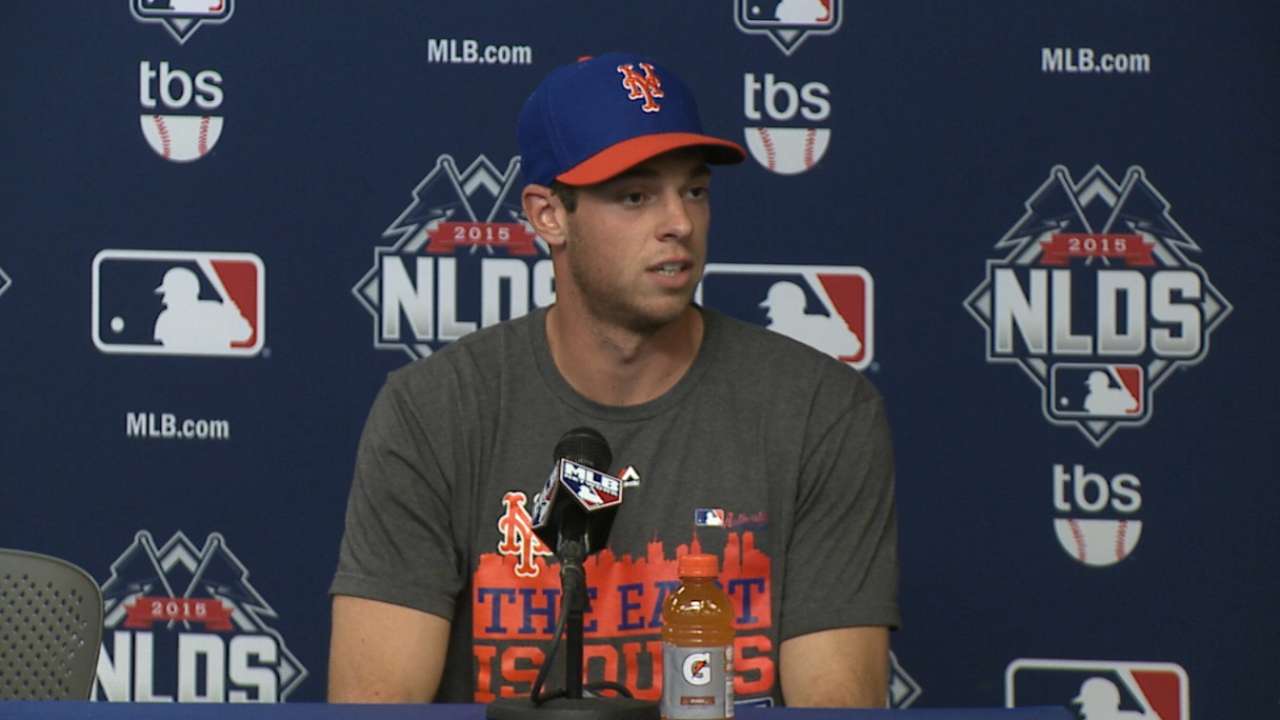 NEW YORK -- Steven Matz might have been too young to fully appreciate what transpired when New York's two Major League teams met in the 2000 World Series. But the Long Island native certainly has some fond memories of the 2006 postseason, when his beloved Mets fell one win shy of returning to the Fall Classic.
"I don't really remember what I was thinking back then, but I do remember watching it and thought it was pretty awesome," Matz said. "My dream was always to play in the Major Leagues, so it's safe to say that I was definitely thinking about being in that spot."
• Shop for Mets postseason gear
Nine years later, Matz finds himself with the opportunity to realize his childhood dream as he starts the Mets' most significant playoff game since Game 7 of the 2006 National League Championship Series. The 24-year-old left-hander will take his limited yet successful Major League experience to the Citi Field mound Tuesday night (8 ET, TBS) to start Game 4 of the NL Division Series against Clayton Kershaw and the Dodgers.
With one more win in this best-of-five series, the Mets will secure a spot in the NLCS.
"Postseason baseball is where you want to be," Matz said. "You want to be playing this time of year, and like I said before, I'm not really looking at it as a fan. I'm kind of taking the emotions out of it. We've got a job to do and I got a job to do [Tuesday]. and that's win the game."
Though six starts account for all of his experience since reaching the Major Leagues a little more than three months ago, Matz has already shown a knack for rising to the occasion.
As Matz limited the Reds to two runs over 7 2/3 innings June 28, he became the first Major League pitcher to collect four RBIs in a debut. The heralded prospect completed six scoreless innings at Dodger Stadium the following week and then missed two months with a back ailment. But he produced a 2.86 ERA in five September starts, and in the process, limited the Yankees to one run over six innings in front of frenzied Citi Field crowd Sept. 28.
"I watched him in Spring Training this year, and from the first bullpen that I saw him throw, I knew he was going to be really good," Mets veteran starter Jon Niese said. "His stuff is electric. Then coming up into the big leagues, you know, being a rookie starting and having the success he has, it's not easy."
Armed with a mid-90s fastball and an offspeed repertoire that includes both a changeup and curveball, Matz allowed two earned runs or fewer in five of his six starts. He felt some more back discomfort after surrendering three earned runs and 10 hits over 5 2/3 innings in Cincinnati on Sept. 24. But after a little extra rest, he completed a pain-free simulated game in Port St. Lucie, Fla., last week.
"I get butterflies before every start," Matz said. "You want to go out there and do well. But at this point, like I said, I'm taking the emotions out of it, treating it like any other game. You prepare for this point, so that's what I'm going to do."
Mark Bowman is a reporter for MLB.com. This story was not subject to the approval of Major League Baseball or its clubs.