Oct. 12 Joe Maddon postgame interview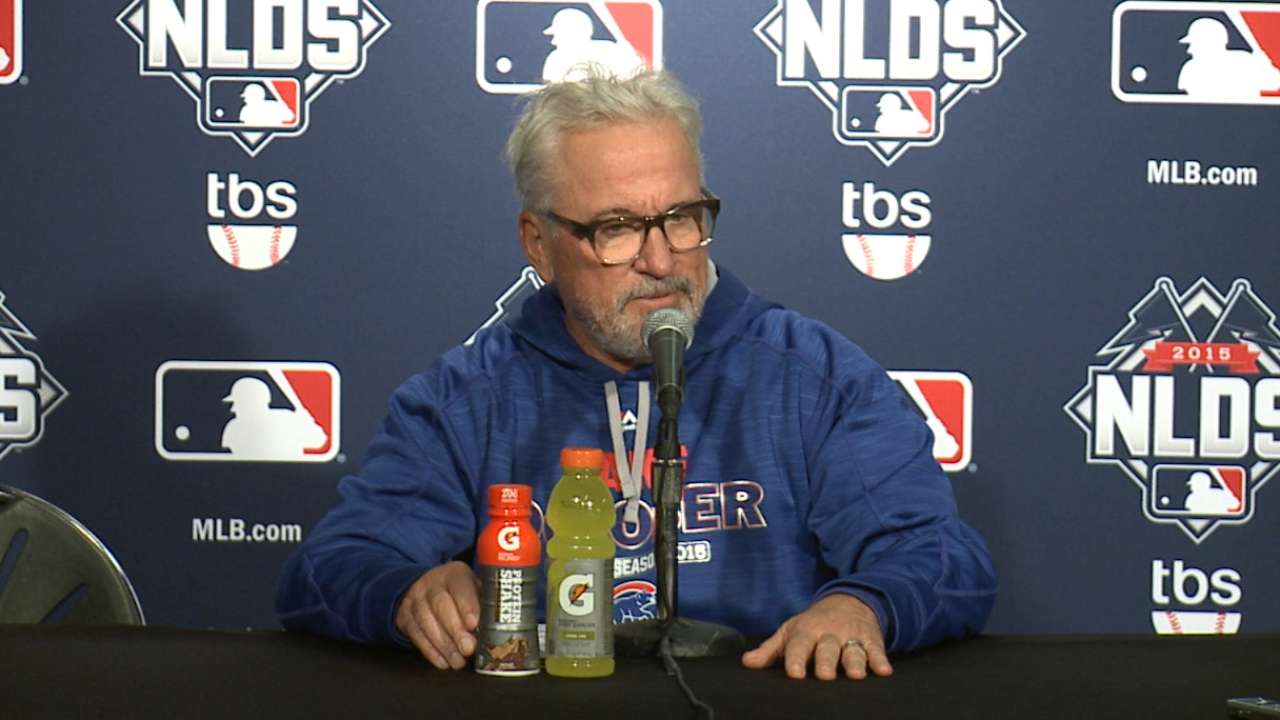 Q. Could you speak to your team hitting six home runs in a postseason game and in this situation?
JOE MADDON: Pretty impressive. You know, I know the wind was blowing out. We'll concede that. But most of them were properly struck. We are definitely capable of that. Coming into this series -- coming into the postseason I thought our guys were rather fresh. We tried to really the last couple weeks of the season we had so many good players we were bouncing the lineups back and forth trying to give guys rest. So I think you're seeing a pretty well rested group right now. I talked about the moment in the Wild Card Game, I think, once you win that, it permits you to exhale a bit. I don't mean that in a negative way, in a positive way because that's really the most intense moment outside of a Game 7 maybe of a World Series.

I just think that our guys have handled this properly. They're fresh, and our guys are definitely capable of what you saw tonight.

Q. Just wondering, I know you sometimes sneak peeks at games, if you watched any of Royals-Houston today and just in general how tough is it to finish off these best of fives?
JOE MADDON: I did happen to see a little bit at the end there. I know that Houston was in pretty good position, they didn't play. It's very difficult. It's just difficult to finish off good teams. They battled back in the ninth. We've done that all year. We've been behind a lot of times. We've battled back. We totally expect that out of the Cardinals. A lot of their better record against us was early in the season, their ability to battle back against us in the latter part of a game. So none of that surprises -- you can take nothing for granted. You don't pack up the bats with the last out ever, and I love it for that. I thought our fans were fantastic tonight. The vibe in the ballpark is unbeatable anywhere, anywhere, so the support was there. Our players responded. You had to be pretty much entertained if you're a baseball fan.

Q. Going Wood against Heyward in the seventh, was there something you didn't like seeing with Cahill or was it the matchup with wood against Heyward?
JOE MADDON: It was primarily -- Cahill is throwing the ball there great. What had happened if we did not make the error, that would have been the third out, Cahill would have been out of the inning, you would have never seen Heyward. I would have sent him back out to start the next inning. But once it had two guys on, you saw what Heyward did to Arrieta who's a pretty good right-handed pitcher. So I did not want to chance it right there. I know Heyward is a really good baseball player, but he's definitely a better hitter versus righties as opposed to lefties so I did not want to mess with it there, and if we're going to go any, if we're going to do what we want to do, the rest of this bullpen has got to play. Strop has got to pitch like he can, we've got to get Fernando out there, Grimmer, they'll have to play and they'll have to pitch up to their capability so you can't run away from that moment.

Q. Along those lines, can you just talk about overall the body of work with this bullpen in the last two games, and are you prepared to empty it out tomorrow?
JOE MADDON: Yeah, I mean, we are. The body of work, the bullpen is really -- again, going back to these last couple weeks of the season, we've been able to balance the workouts, so we backed off on Strop, we backed off on Rondon. Their number of games and innings pitched during the season became more tolerable, so now you're seeing much fresher guys. I know Piscotty hit that homer and God bless him, Piscotty is a good player, but that's going to happen. I prefer that he hit a homer there than walk him actually, so I think they're all fresh. The body of work of the bullpen recently has been outstanding. I really anticipate they're going to stay that way because they're good and they're fresh.

Q. There have been a lot of personal people around this team on this journey, but how important is Manny Ramirez been around these young players?
JOE MADDON: Manny has done a wonderful job in the background. A lot of it has to do with our young Hispanic players. He does a great job with them. He does a great job in general but I've always been a big believer in the Hispanic culture regarding having a coach specific to that group who they could really relate to. Manny was a pretty good player himself. It's such an easy fit, and the fact that Manny and I became friends several years ago makes it even easier the way he's seamlessly just jumped into this clubhouse. And I watch what he does. I don't just stare him down but I know what he's doing all the time, and it's been pretty special.

Q. How would you evaluate Jake's night overall? Did it seem like his command --
JOE MADDON: Wasn't as sharp as he normally is. I saw that from the beginning. I knew that it wasn't going to be complete game tonight unless something dramatically happened differently, so I was already plotting, planning mentally when is this going to come to an end tonight. Yeah, it just wasn't the same. Of course he still had good stuff. He wasn't as sharp as he normally is, thus he can't be perfect every night, man. This guy has been on such an incredible roll, it just had to come to an end at some point in that regard. But he kept them in check, permitted our bullpen to come in with a lead, which is important, and then hold onto it.

Q. Along those lines, how much is being an ace, being that front-line guy a part of battling when you don't have your A-plus command?
JOE MADDON: It's absolutely, incredibly huge. That's what an ace does. Again, it's not going to be an oil painting every night. You cannot be perfect. You cannot. Although, like I said, with him, it's been like two months' worth of almost perfection. But you can see the thoroughbred in him. You can see the champion's heart within him. He's not going to give in.

The ball just was not -- he just was not throwing it where he wanted it tonight. You could see it from the side. The finish was not the same. But he gave us the lead. He handed the lead off to the bullpen, and that's all that matters right there. Give him a lot of credit, not just a little bit of credit. Give him a lot of credit for what he did tonight.

Q. Soler was on base eight or nine times in a row, it's a Major League record, how locked in is he?
JOE MADDON: Yeah, the big component there is he's accepting his walks. You talk to hitters all the time and if they're struggling they want to change their mechanics. A lot of times they're just swinging at pitches they can't hit. So right now he is basically forcing the pitcher into the strike zone and that's where you're seeing the hard contact, and if it's out of the zone he's just running to first base. That's obviously the optimal situation for all hitters but I like where he's seeing it right now. He's figuring it out right now. Obviously that's good for us. But with all of our young guys, now and down the road, what this moment means to us developmentally over the next couple years, so this is something that he can hold onto and understand how it plays now and in the future.

Q. About Addison, is that something that you saw as he was running, that he --
JOE MADDON: No, I didn't know until Jonesy called us out. I didn't see it. I was pretty much locked into where the ball was hit, but then I was watching the replay, I didn't know it hit the bottom of the wall. I didn't even know if it was one of those possible boundary calls we might have had to look at, so I was looking at that, and then Jonesy called us out. I talked to Addy, and Addy, he's a quiet dude, man, and just got to pull it out of him. When he started explaining to me what he was feeling, then we knew that he needed to come out of the game. He didn't fight it, and that told me immediately that he needed to come out of the game.

Q. (Inaudible).
JOE MADDON: We're going to find out. We have to do some tests on it. The tests will be tomorrow morning. For right now we are absolutely not certain what the severity is, so absolutely not certain. Is that like a medical phrase? That's why doctors practice all the time. We're absolutely not certain.

Q. Do you think it's an advantage to have young guys where this is their first playoff go-around so they don't realize, get stressed out or worry about postseason pressure?
JOE MADDON: Only because we've been doing well. If we had not been doing well then this lack of experience would be working against us. That's pretty much what's happening right now. Whatever is happening right now, that's going to read their impact or their reaction to the moment. I think obviously to this point our young guys, they've reacted to the whole season pretty well. Middle of the year we called up Kyle Schwarber, and he's been like you saw tonight, he's been like that pretty much all year. Addison at the beginning had to work through some issues. He's been locked down since. KB worked through some issues. He's where he's at right now. Soler got hurt. You saw what he's doing right now. The thing that I like is that a lot of our guys have met adversity on the Major League level which is different than meeting adversity on the Minor League level. When you have to handle it or meet it here and overcome it here, it's absolutely different and absolutely has a chance to be more long-standing in a sense because you've done it here and you know how to do it again.