Rookies have Cubs on precipice of NLCS
Schwarber, Bryant, Soler account for 3 of record 6 HRs in Game 3 win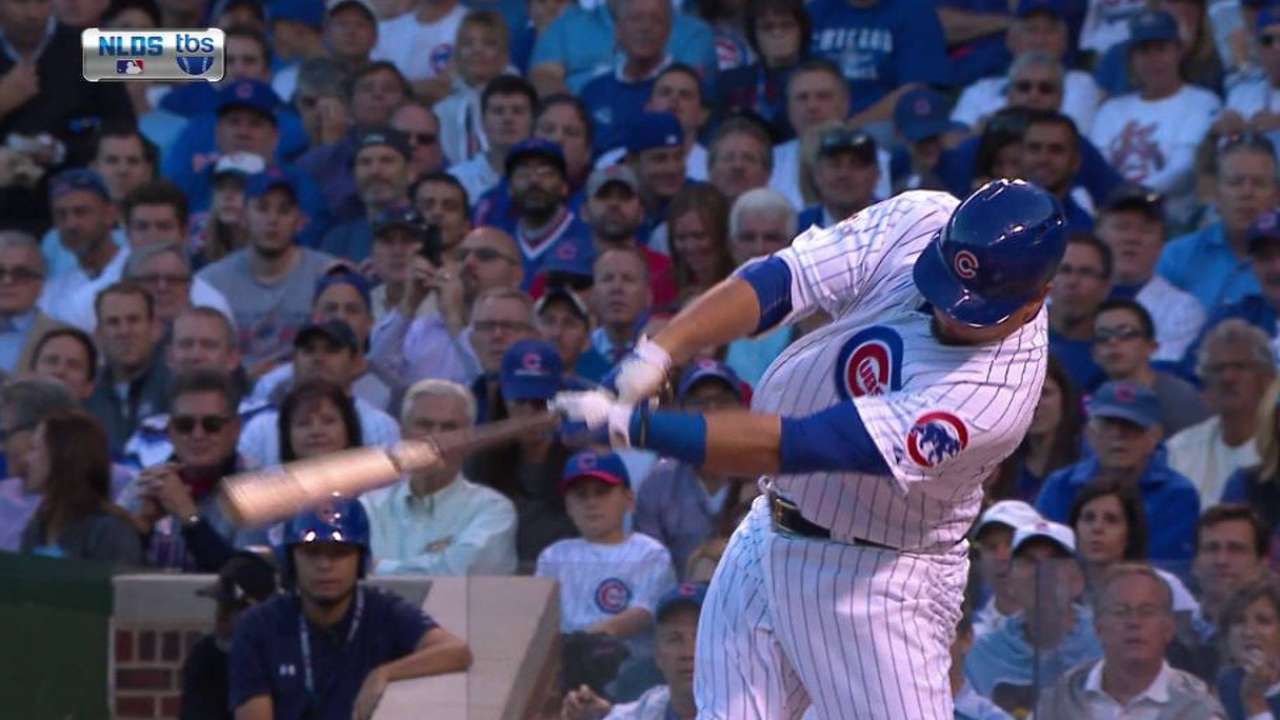 CHICAGO -- About four hours before first pitch Monday, rookie Kyle Schwarber was sitting by himself in the seats at Wrigley Field. He hadn't changed his pregame routine, arriving early as usual, even though it was Game 3 of the National League Division Series. For Schwarber, and the other Cubs rookies, Monday was just another day at the ballpark.
"It's another baseball game," Schwarber said. "The only thing I did different today was I sat in the stands. I sat down, thinking. I was thinking about what the fans were going to be like, thinking if I'd be able to hear myself today."
• Shop for Cubs postseason gear
Could he?
"At some points, I could," he said. "It was a lot of fun."
Schwarber was one of three Cubs rookies to homer in an 8-6 victory over the Cardinals in front of 42,411 very loud fans at Wrigley Field. With the win, Chicago has a 2-1 lead in the best of five NLDS with Game 4 on Tuesday at 3:30 p.m. CT on TBS, as the Cubs try to clinch a postseason series at Wrigley Field for the first time in franchise history.
What's been impressive is the way the Cubs' kids have handled the so-called pressure of the playoffs. There is none as far as they're concerned.
"If we had not been doing well, then this lack of experience would be working against us," Cubs manager Joe Maddon said. "That's pretty much what's happening right now. I think, obviously, to this point our young guys, they've reacted to the whole season pretty well."
The Cubs' Nos. 1-6 batters all homered -- Schwarber, Starlin Castro, Kris Bryant, Anthony Rizzo, Jorge Soler and Dexter Fowler -- and they are the first team in Major League history to have five different players age 26 or younger hit a home run in a postseason game. Only two teams -- the 2013 Astros and 1996 Brewers -- have ever done that in the regular season.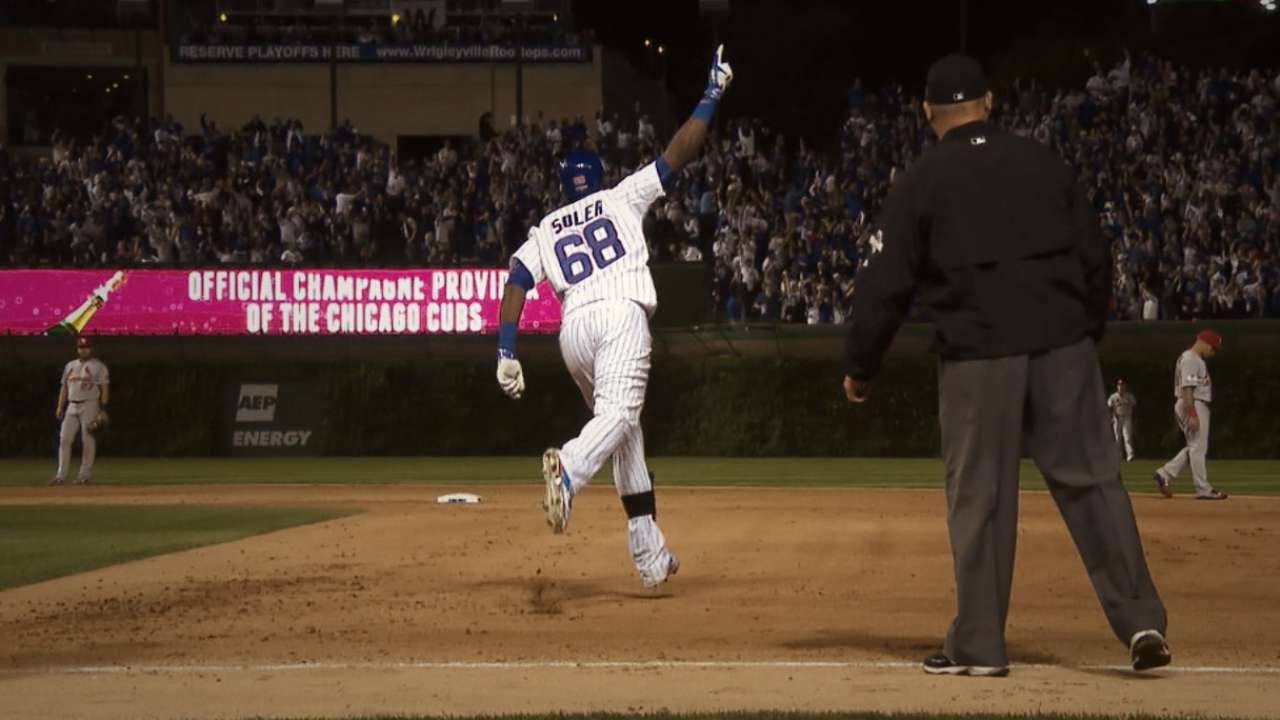 The Cubs started four rookies -- the first time a team has had four in the lineup for a postseason game since the 2007 D-backs did in Game 3 of the NLDS against the Cubs. Chicago catcher Miguel Montero was one of the D-Backs rookies, joining Mark Reynolds, Justin Upton and Chris Young.
"In '07, nobody thought we were going to win the division, and then we swept the Cubs and set the bar really high," Montero said. "It's nice to be the underdog sometimes. It takes a little bit of pressure off your shoulders. I never looked at it that way -- I want that pressure. I want everybody to know we are good and we can compete against anybody."
By the way, Montero uses "We Are Good" in his Twitter posts. The Cubs players wear T-shirts that say that.
For the game, the Cubs' four rookies were a combined 6-for-12 with three home runs, a triple, and five RBIs. Soler has yet to make an out in his brief postseason experience. The rookie is the first player in MLB history to reach base safely in his first nine postseason plate appearances. The Cubs' record was seven, set by Hack Wilson in 1929.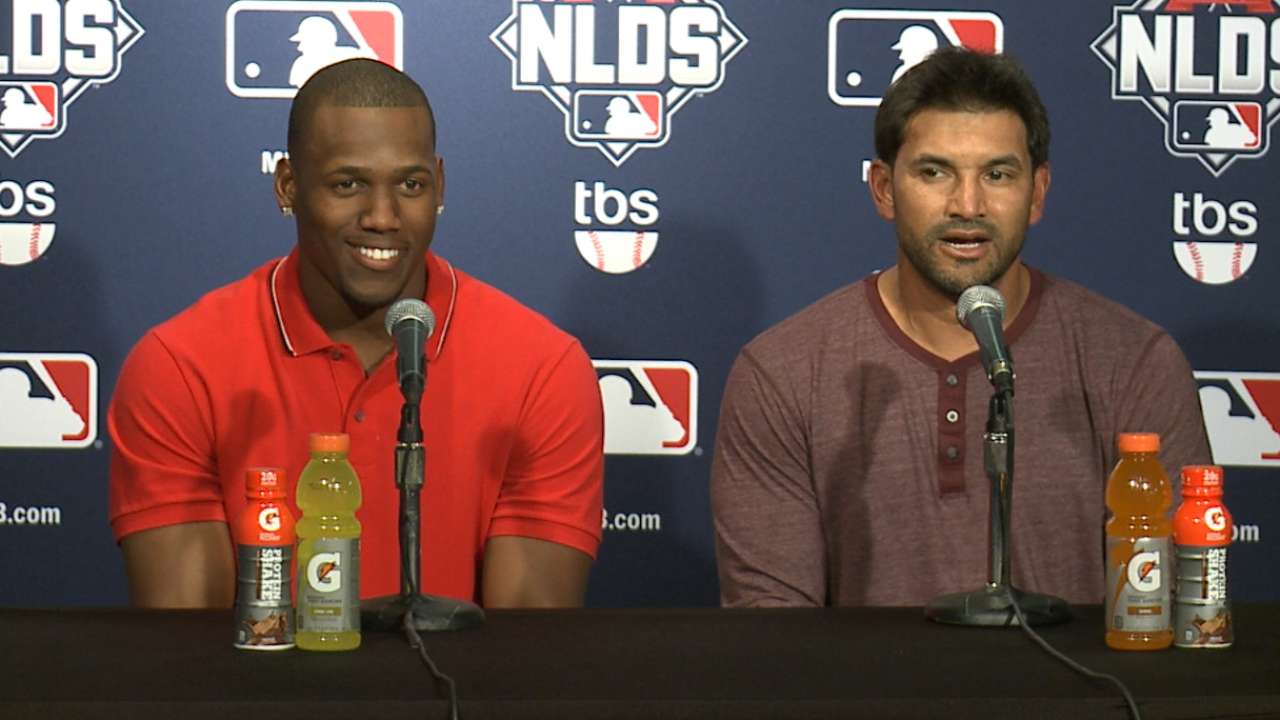 What's the secret to Soler's success? Schwarber yells at him.
"I told him to get mad at the baseball," Schwarber said of his pregame message. "I tell him to get mad at the baseball every day."
Schwarber delivers his message in English, so Soler may not know exactly what he's saying, but the Cuban outfielder has gotten the message.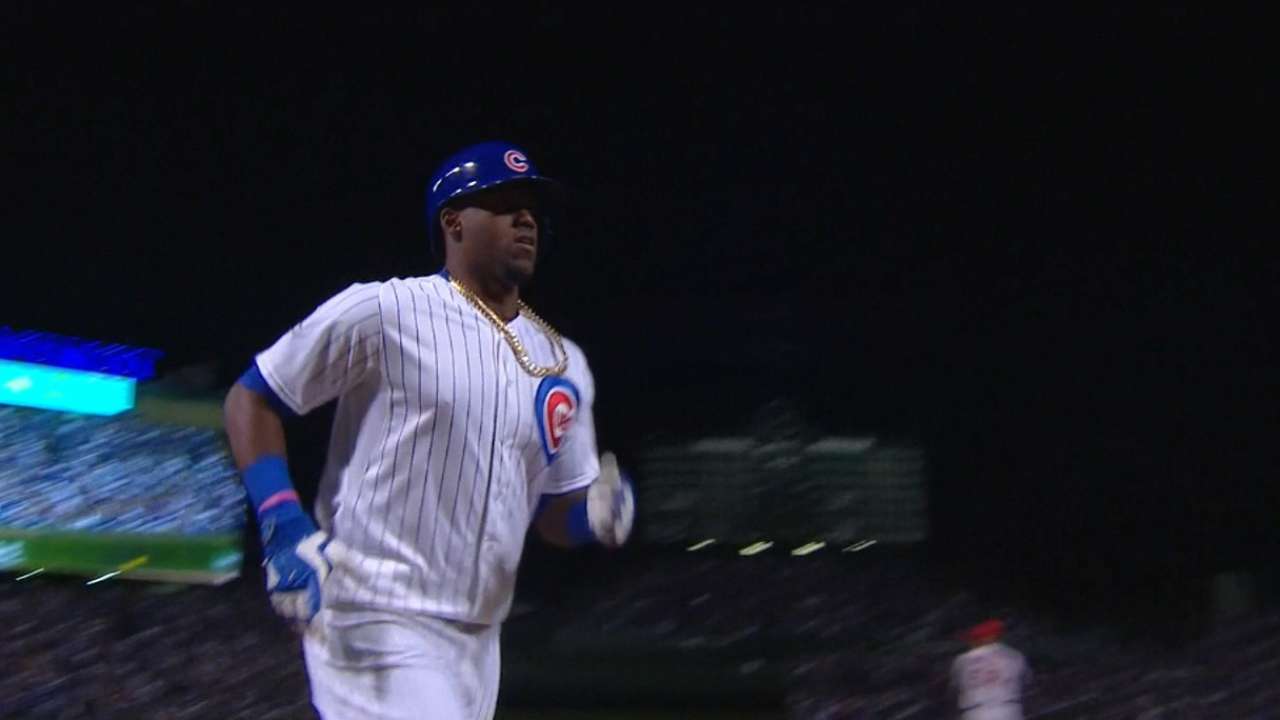 "He might not understand, but I tell him to get mad at the baseball every day," Schwarber said. "I told him again today and he hit a screamer."
Speaking of screaming, Monday was the first time Schwarber said he ever saw Bryant yell. The quiet third baseman, who prefers to let his bat do the talking, was pretty pumped after his homer. Bryant was riding an 0-for-11 streak, which ended with a first-inning single. He became primal after his homer.
"His emotions took over right there," Schwarber said of Bryant. "That's good. Besides his walk-off homers and stuff, that was a key home run that we needed right there. He came up big and I got right in his face and screamed at him and he screamed back. It's all about having fun and your emotions come out in a game. It's awesome."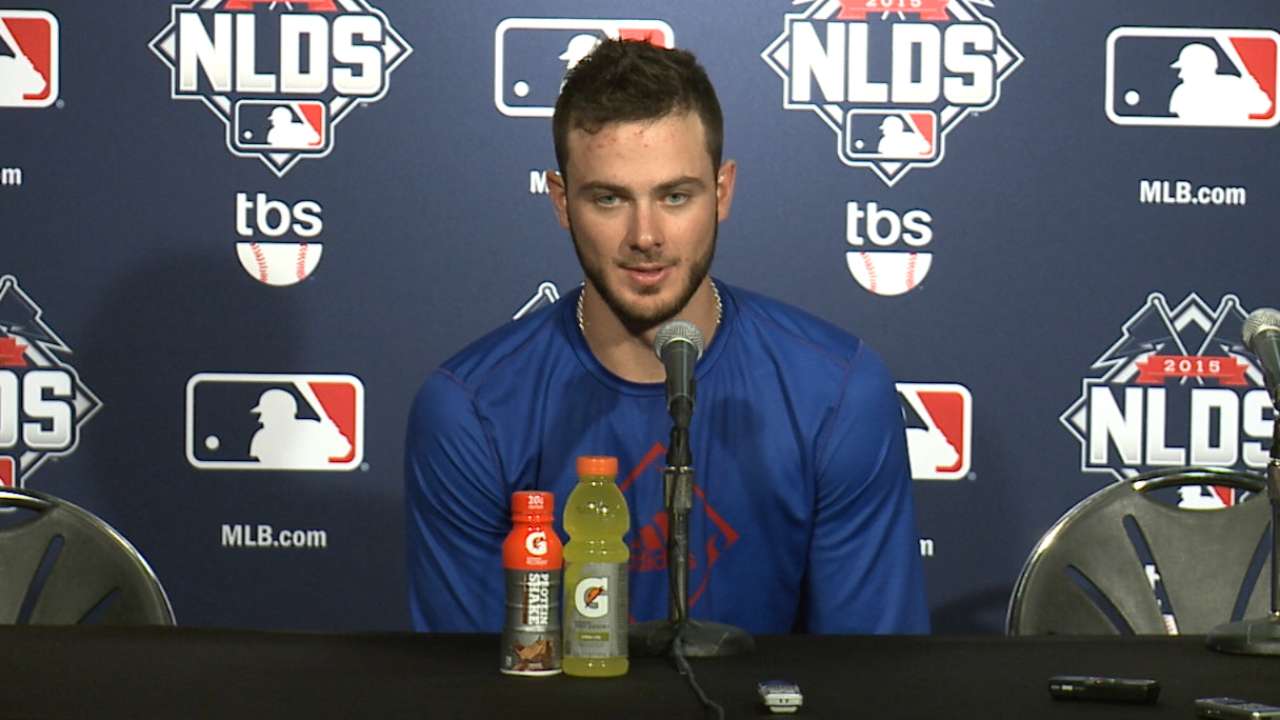 The Cubs weren't worried about Bryant.
"When Kris stands in the box, even if he can't swing the bat, him just standing in the box, his presence alone means more to this team than anyone can imagine," Rizzo said. "It's just a matter of time before he starts hitting and does what he does."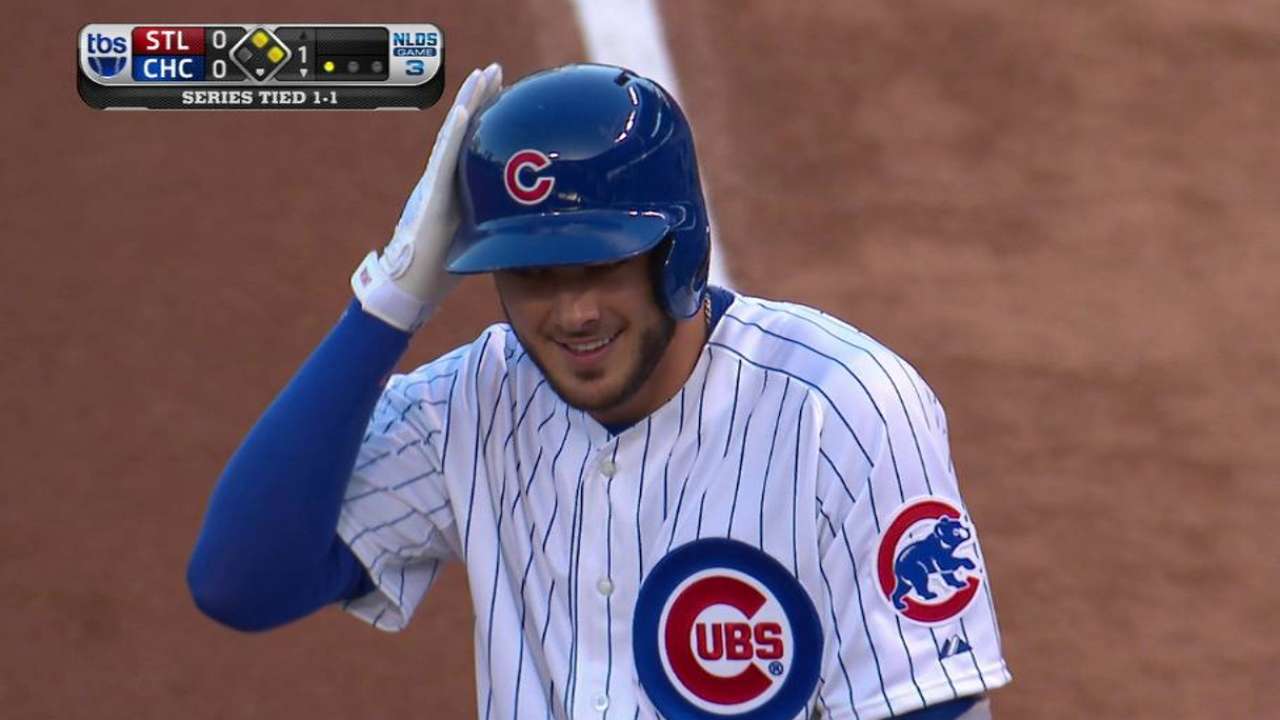 The young Cubs are doing OK.
"Nothing with the younger guys amazes me," Fowler said. "When they came up, they made an immediate impact and that's all you can ask for."
Does Fowler think any of them have a future?
"I think all of them have a future," Fowler said.
Carrie Muskat is a reporter for MLB.com. She writes a blog, Muskat Ramblings. You can follow her on Twitter @CarrieMuskat and listen to her podcast. This story was not subject to the approval of Major League Baseball or its clubs.