Facing road elimination, Rangers recall 2010 ALDS
Club also dropped two at home before booking its ALCS ticket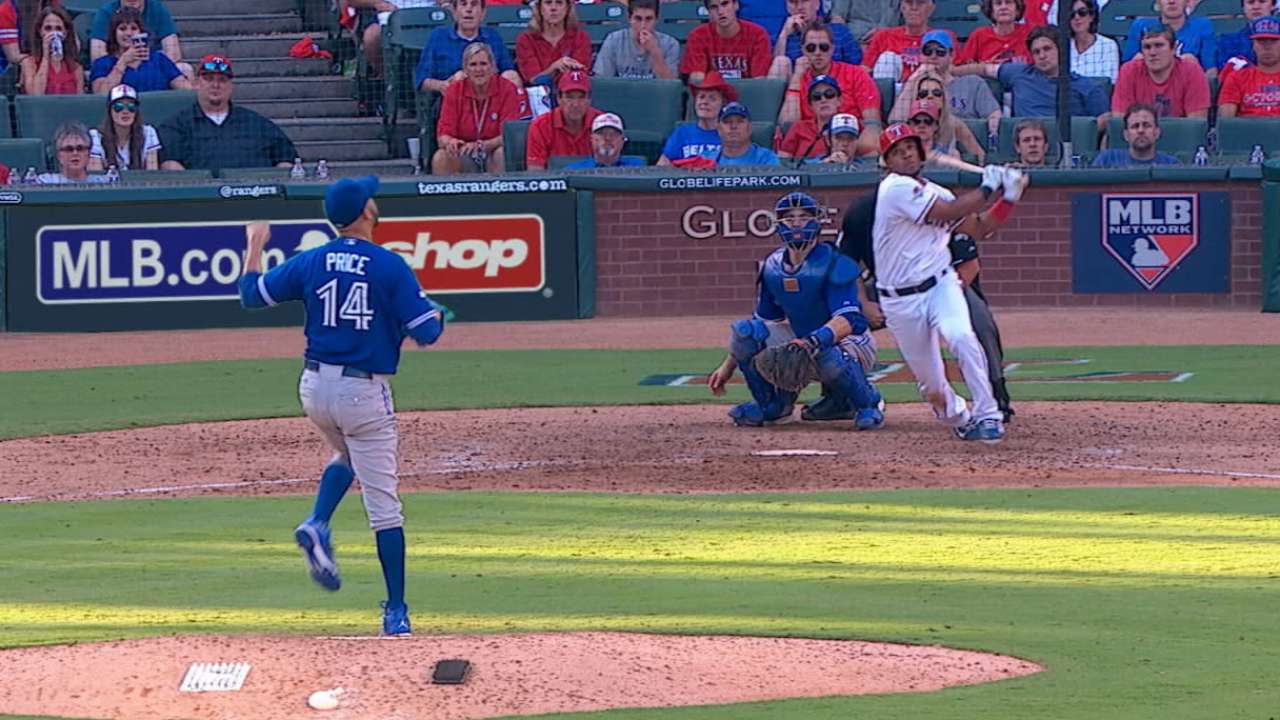 ARLINGTON -- Rangers shortstop Elvis Andrus and others said a few days ago they weren't thinking about what happened in 2010. They might want to start thinking about it now.
A good history lesson might be the one consolation the Rangers need as they try to recover from two rough games against the Blue Jays at Globe Life Park in Arlington. The Rangers were hoping to do some home-field celebrating, but those hopes were dashed when the Blue Jays won their second straight here, with an 8-4 victory in Game 4 of the best-of-five American League Division Series on Monday afternoon.
• Shop for Rangers postseason gear
The victory forced a winner-take-all Game 5 on Wednesday in Toronto (4 p.m. ET on FOX Sports 1/Sportsnet) -- a familiar scenario for a few members of the AL West champions.
"We knew that we were facing a really good team in the Jays, and their offense is really good," third baseman Adrian Beltre said. "Even though we lost the last two games, we're still confident. We know we have the team to do it, and we've gone and won there twice, so why can't we do it one more time?"
They've been here before. Through four games, this series is following the same pattern as the Rangers' ALDS against the Rays in 2010. The Rangers won the first two games at Tampa Bay and then lost two straight when they came back to Arlington.
But they ended up advancing to their first AL Championship Series anyway when Cliff Lee pitched them to a 5-1 victory in Game 5 back in St. Petersburg. Now the Rangers have Cole Hamels on the mound -- and they have won his last 11 starts, including Game 2 in Toronto.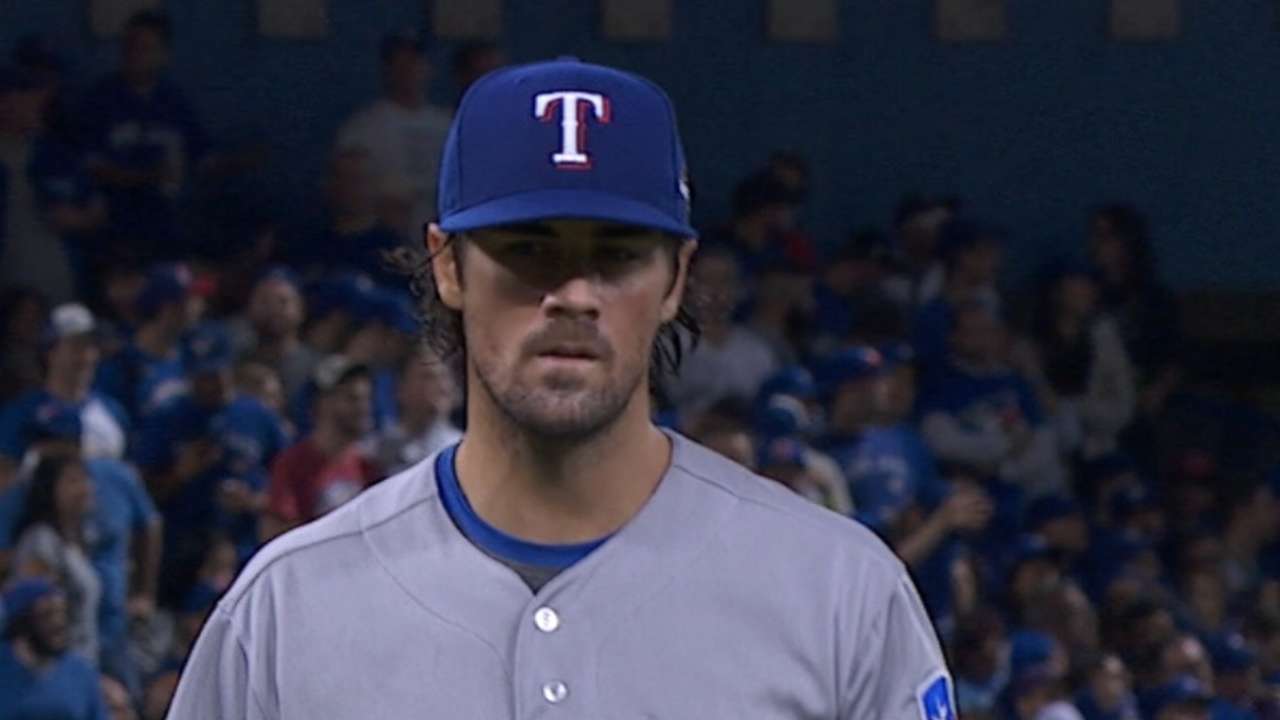 "I didn't want to think about it, but if we can do it in 2010, why not 2015," Andrus said.
"Anytime you have Cole on the mound you feel confident," first baseman Mitch Moreland said. "Game 5 is probably momentum enough for both sides. It's win or go home."
The Rangers were also in this situation 10 days ago on the final weekend of the regular season. They were one win away from clinching the division title when they lost on Friday and Saturday to the Angels. They needed a win on Sunday with Hamels on the mound in the final game of the season -- or there was a possibility they could have ended up in the AL Wild Card Game presented by Budweiser.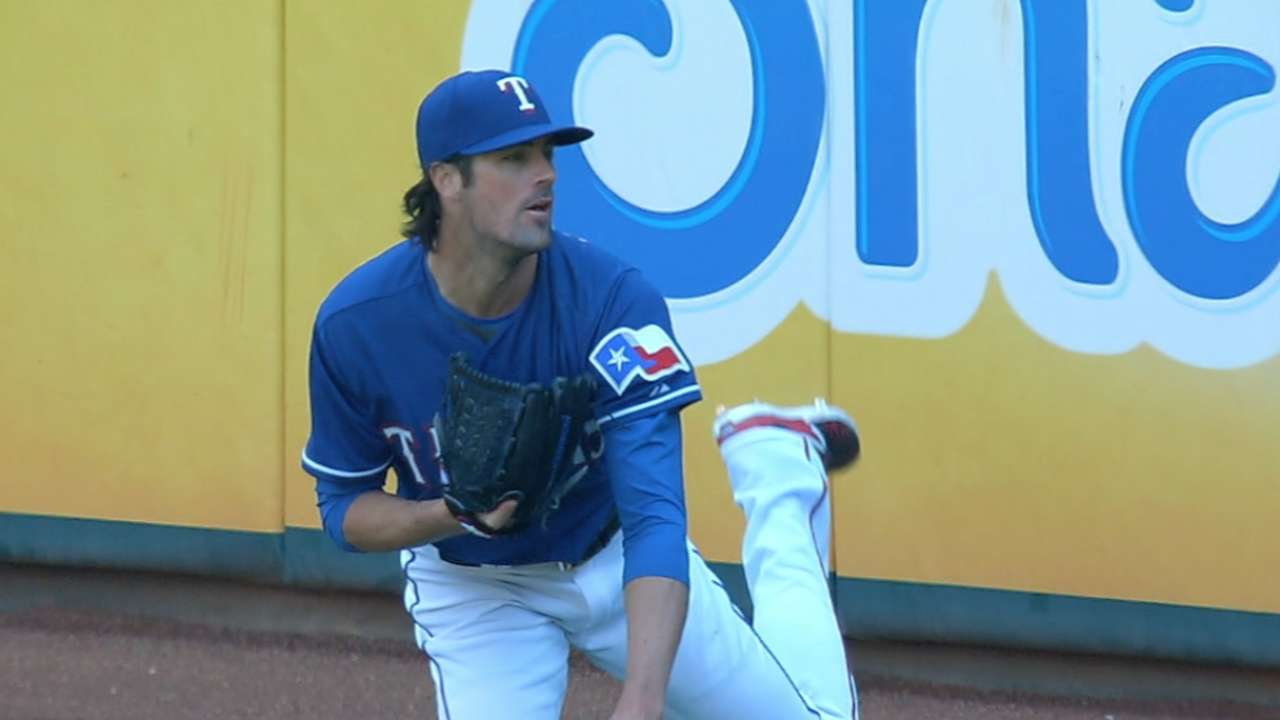 Instead, Hamels delivered a complete game, and the Rangers ran away with a 9-2 victory. It's another history lesson to lean on as they go into Wednesday's game at Rogers Centre.
"Look, we're still playing," Rangers manager Jeff Banister said. "We've got another game to play. I like the fact that we've got a pretty special starter going for us also. He also energizes this ballclub. I believe that this is still an energized, confident group of players that -- and again, I mean, we've been here before. We've been in this very similar situation.
"There's no quit in this ballclub. No quit in any one of those players in that locker room. We'll get on a plane tomorrow and travel to Canada, and we'll play a baseball game the next day. And I'm sure that however it turns out, that this is a group of players that will play as hard as they can play for each other. That's why you can never count them out."
T.R. Sullivan is a reporter for MLB.com. Read his blog, Postcards from Elysian Fields, follow him on Twitter @Sullivan_Ranger and listen to his podcast. This story was not subject to the approval of Major League Baseball or its clubs.