LA had Harvey on ropes, but NY delivered KO
Dodgers open with 3 in 2nd, Mets counter with 4 and more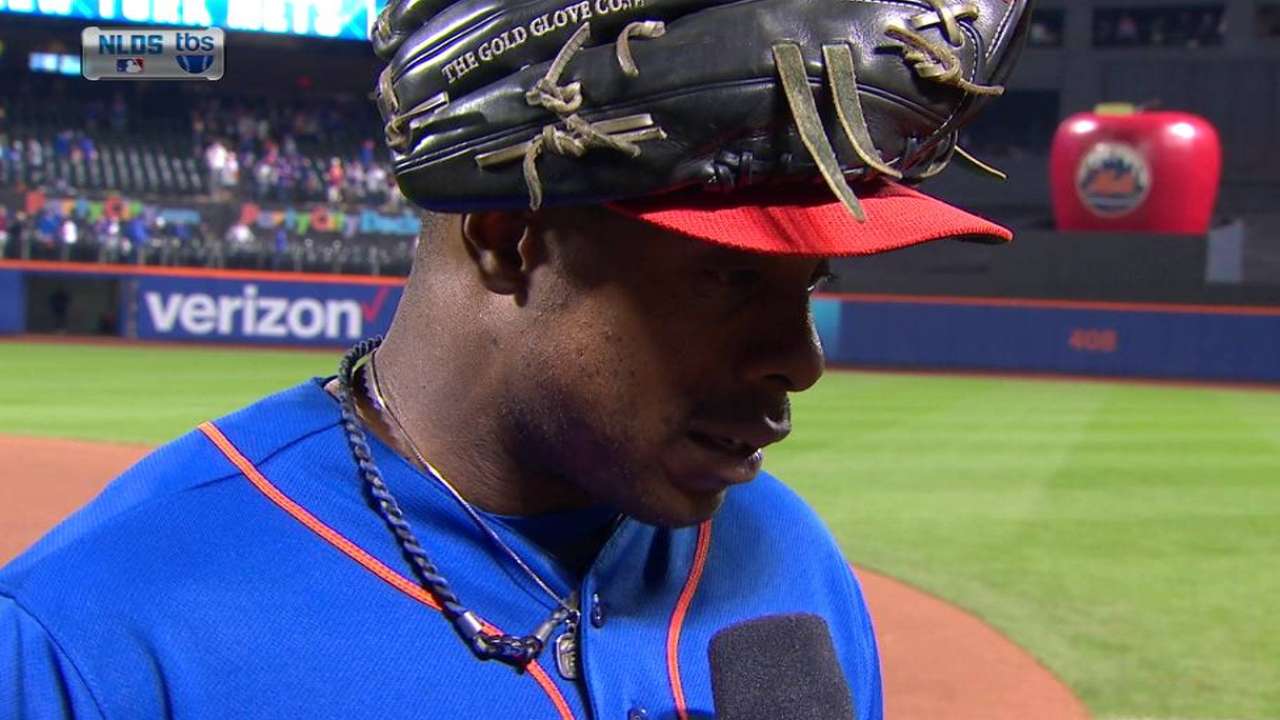 NEW YORK -- The Dodgers had Mets right-hander Matt Harvey on the ropes in the second inning of Monday night's 13-7 loss to the Mets in Game 3 of their National League Division Series. And then they didn't.
The Dodgers took a 3-0 lead on consecutive singles by Justin Turner, Andre Ethier, Carl Crawford and Yasmani Grandal. Toss in a throwing error by right-fielder Curtis Granderson and Los Angeles had a runner on second, no one out and those three runs already in.
• Shop for MLB postseason gear
But Harvey, who struggled through five innings to earn his first postseason win, retired the next three batters and the Dodgers didn't score again until Adrian Gonzalez homered with two out in the seventh at a raucous Citi Field.
The hardest-hit ball of the second inning was Howie Kendrick's liner snared by third baseman David Wright for the final out. The shot was ticketed for the left-field corner and might have altered the course of the game.
"I've seen this guy pitch a lot of baseball games," Mets manager Terry Collins said about Harvey. "He worked harder tonight to give us five quality innings than I have seen him work at any time in any start. He didn't have his good stuff. He had to work the entire night to make pitches. He was deep in counts. He was falling behind. He was missing targets.
"He had to go out there and battle, and he just kept us in the game. He was bound and determined that they weren't scoring again, and as a matter of fact, he came off [the field] after the second inning and said, 'That's all they're getting.' And that's all they got off him."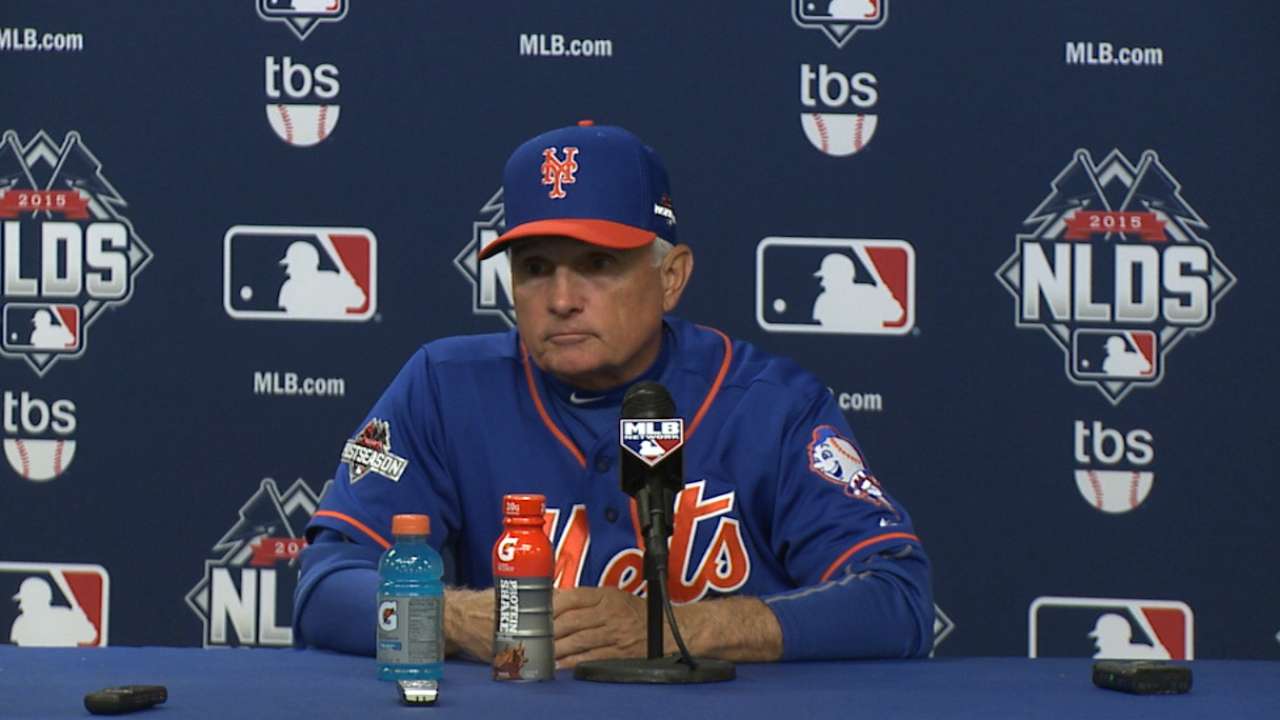 And with that, the Dodgers are right back where they were last year at this point of the NLDS against the Cardinals: down 2-1 in the best-of-five series with Clayton Kershaw starting on three days' rest in a must-win Game 4 on Tuesday night (8 p.m. ET, TBS).
Last year, Kershaw lost at Busch Stadium and the Dodgers went home short once again of the World Series. They haven't been there since defeating the A's in 1988. In 2013, it was Kershaw losing Game 6 of the NL Championship Series at St. Louis to end that posteason run.
"There's no secret about what we have to do now," Turner said. "We have to go out and win."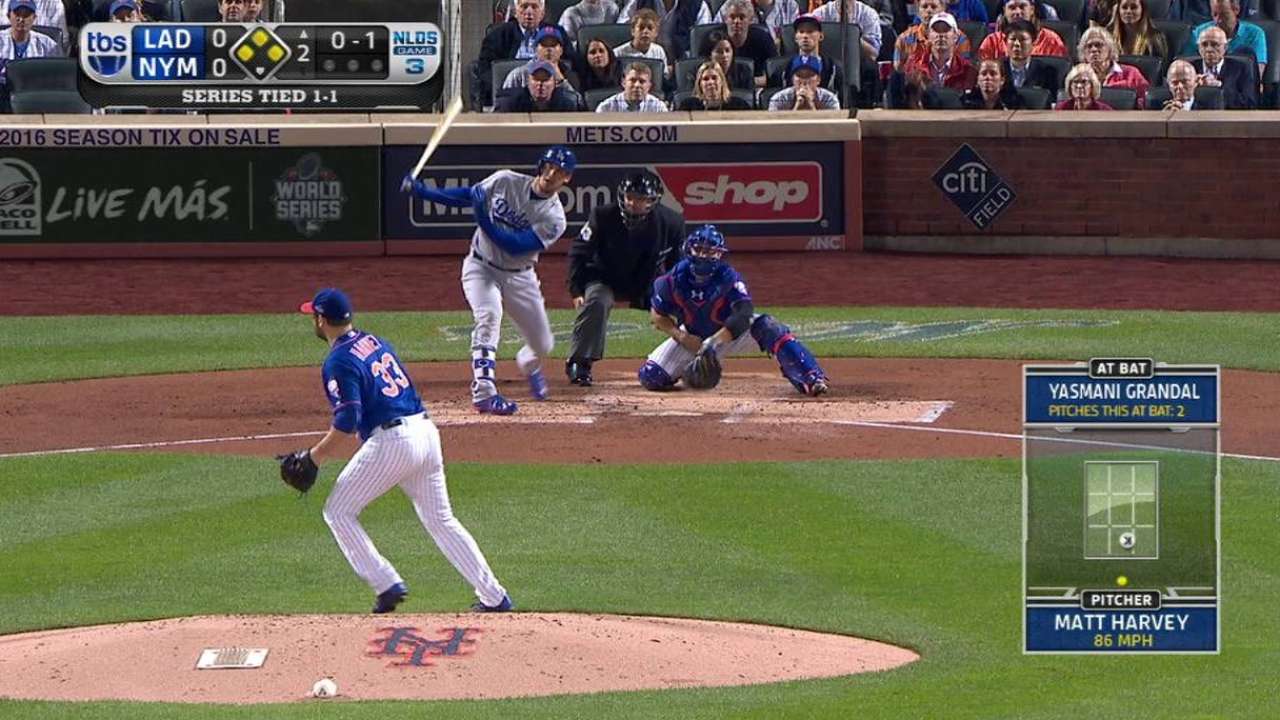 In didn't help on Monday that the Mets came back in the bottom of the second with four runs against Dodgers starter Brett Anderson and kept piling it on from there, scoring two in the third and four more in the fourth.
"We had Harvey where we wanted to for a short period there, but then they came right back," said veteran Jimmy Rollins, who started at shortstop instead of rookie Corey Seager. "They kept putting up runs. Four, two and four in consecutive innings makes it tough on anybody. They came out and defended home territory."
Harvey threw 97 pitches through five innings. But the Dodgers couldn't take advantage of it.
"I felt like we did a pretty good job with him," Dodgers manager Don Mattingly said. "We had him on the ropes a couple of different times. I thought we gave ourselves some chances right there, but we just weren't able to get the hit."
And because of it, the Dodgers are back again in all too familiar territory.
Barry M. Bloom is a national reporter for MLB.com and writes an MLBlog, Boomskie on Baseball. Follow @boomskie on Twitter. This story was not subject to the approval of Major League Baseball or its clubs.