Tejada gets loud ovation before Game 3
Mets' legend Staub throws first pitch at Citi Field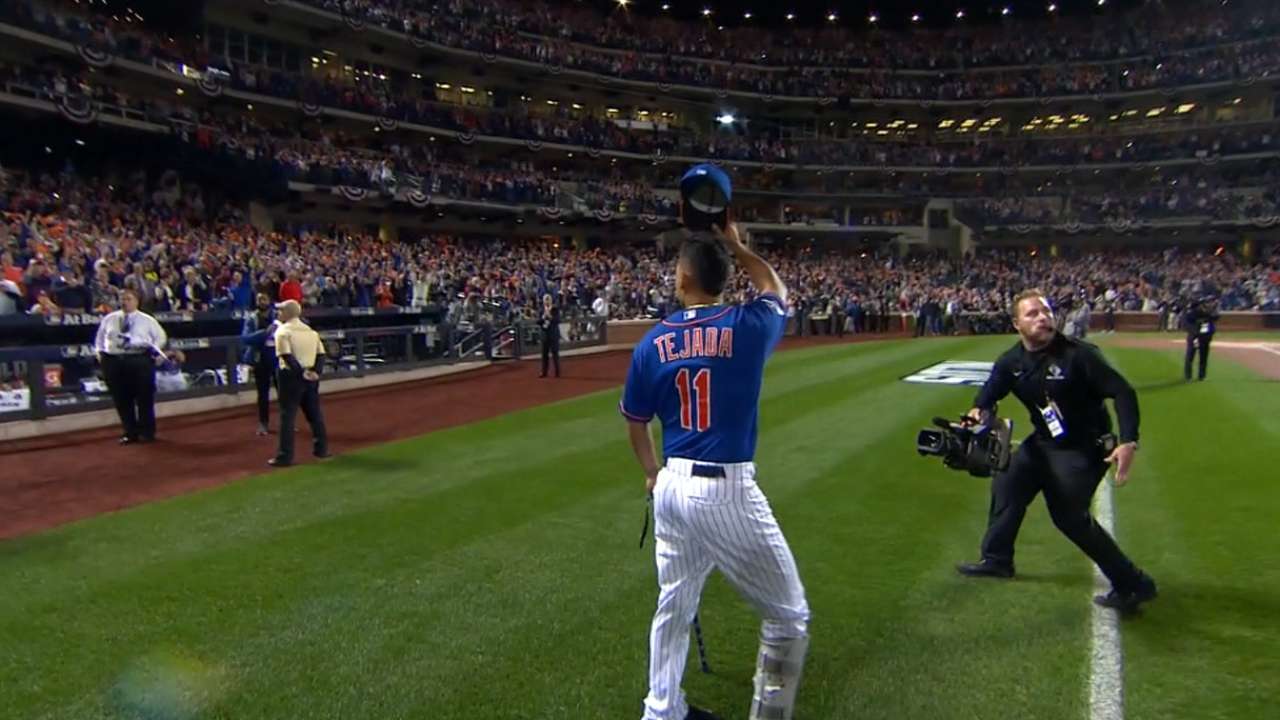 NEW YORK -- Mets fans flooded Citi Field for the first postseason game in its history, and the franchise's first since 2006 -- Monday's 13-7 Mets win over the Dodgers in Game 3 of the National League Division Series. They came with purpose, many with signs saying "Win For Ruben," alluding to injured Mets shortstop Ruben Tejada.
Tejada received a thunderous applause when he limped from the dugout, his name announced over the loudspeaker. Minutes earlier, fans mercilessly booed Dodgers infielder Chase Utley, who is appealing a two-game suspension for a late slide that broke Tejada's fibula during Saturday's Game 2.
• Shop for Mets postseason gear
"[When] Ruben's name was announced, the roar from it I think even exceeded my expectations in terms of the energy and the entire fan base just coming together to show their support for him and everything he's been through," Curtis Granderson said.
Said manager Terry Collins: "Certainly Ruben, him walking out there, I thought meant a lot to all the guys on the club and the fan base. They were tremendous, and when we fell behind, they were still 100 percent into it and I think it helped us come back."
Tejada's applause trumped even that given to Game 3 starter Matt Harvey, as well as the deafening round given to Jacob deGrom. deGrom's 13 strikeouts led New York to a 3-1 win in Game 1.
"I've never played a home game with so many fans in the stands," Yoenis Cespedes said after Game 3, which drew 44,276, the largest crowd for a Mets game at Citi Field. "I think it helped how we played."
U.S. Army Master Sgt. MaryKay Messenger performed the national anthem, complete with a dramatic flyover. The cheers continued when Mets Hall of Famer Rusty Staub threw out the ceremonial first pitch.
Staub, 71, suffered a heart attack Oct. 3. He played nine seasons with the Mets from 1972-1975, then again rom 1981-1985, and is best remembered for hitting .423 with six RBIs in the 1973 World Series against Oakland.
Joe Trezza is an associate reporter for MLB.com. This story was not subject to the approval of Major League Baseball or its clubs.